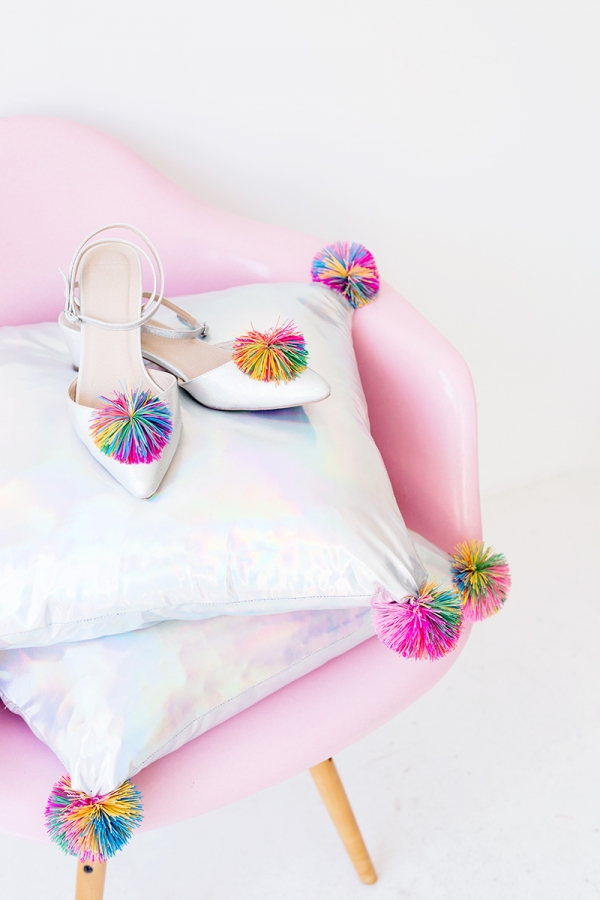 You guys all went BANANAS over my koosh ball shoes and after wearing them approximately 1,000 times… I was way deep into a rebirth of my childhood koosh ball obsession. I mean, do you remember these things!? They were just THE BEST!!!!!!!! Turns out, you can still buy 'em! So we are dedicating this Throwback! post to incorporating these weird guys into your adult life, with koosh ball pillows!! We also chose iridescent fabric because even though we're pretending to be adults, that doesn't mean we can't love on some holographic MADNESS too!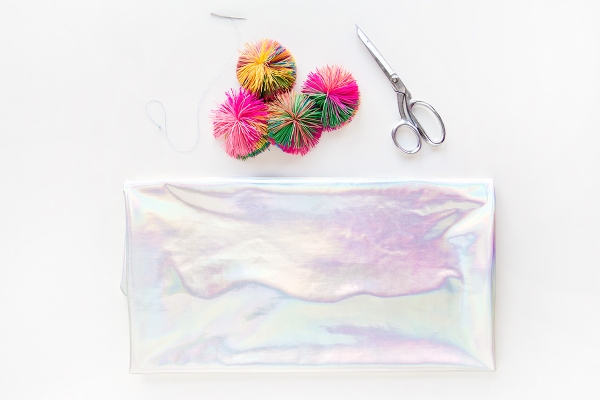 Iridescent Fabric (We purchased ours locally at a fabric store!)
Pillow Stuffing/Pillow Form
Koosh Balls (Four per pillow)
Scissors
Sewing Machine
Sturdy Needle (An embroidery needle works great!) + Thread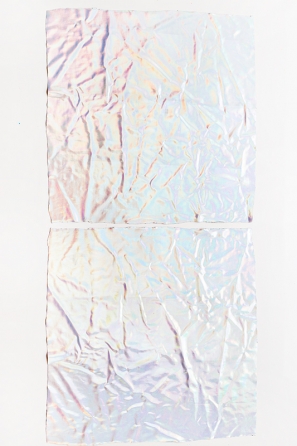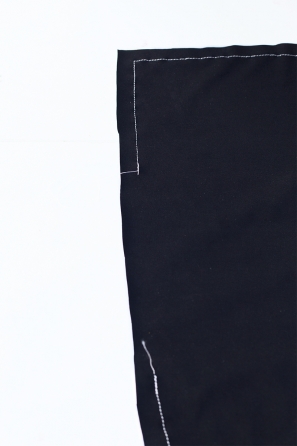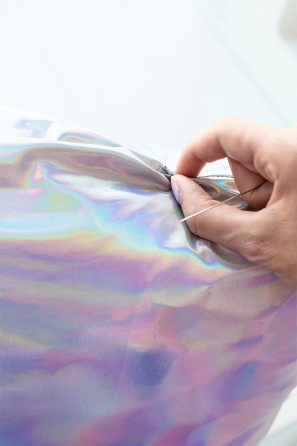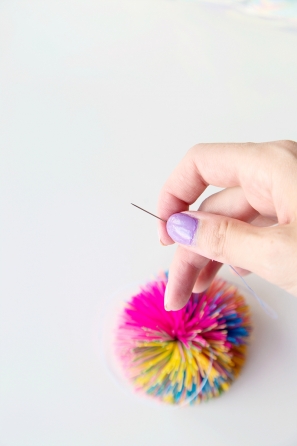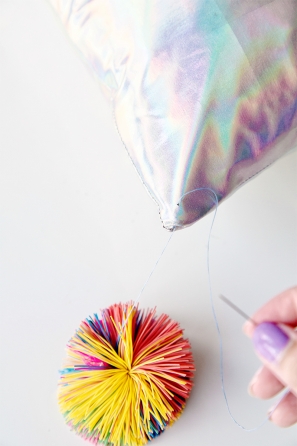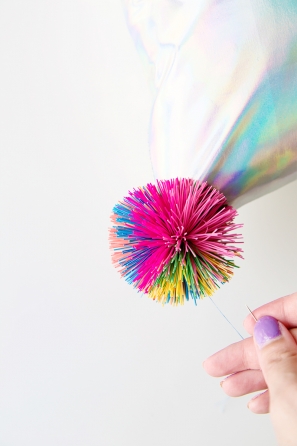 1. Cut two squares of fabric, one square inch bigger than the size of your pillow (or the size you want your final pillow to be).
2. Place your two squares together, good sides facing in, and sew around the square with a 1/2″ seam, leaving a 5-6″ opening on one side.
3. Turn the pillow cover right side out and stuff. Hand stitch the opening closed with a needle and thread using a basic slip stitch. (You could also use fabric glue here if you really don't like hand sewing!)
4. Thread the needle again with thread and tie a knot at the end. Run the thread right through the very center of the koosh ball and pull through to the knot.
5. Make a small stitch in the corner of your pillow. Then thread the needle back through the center of the koosh ball and pull tight, until the koosh ball is at the point of the pillow.
6. Repeat a second stitch to make it extra secure and then tie a knot in the thread and trim excess. Repeat with all corners!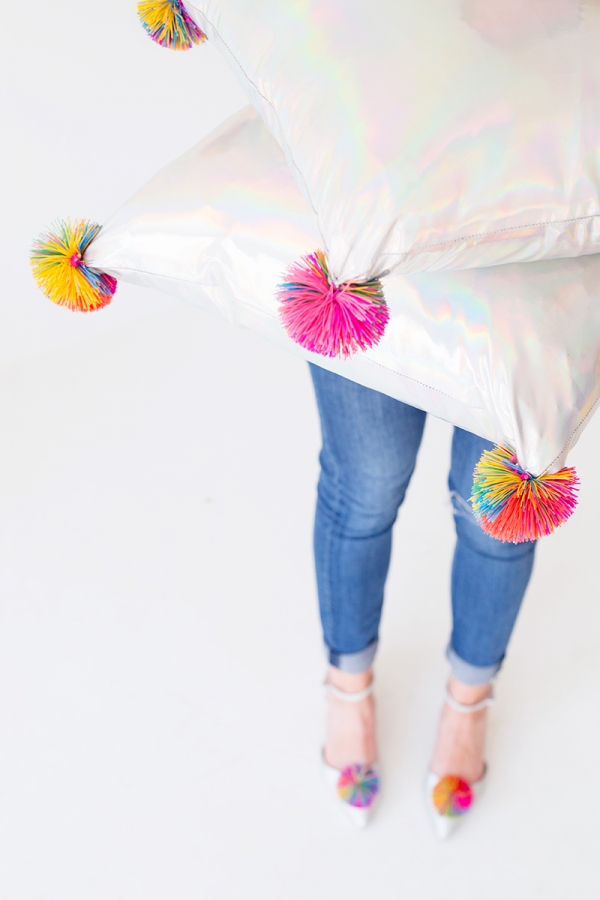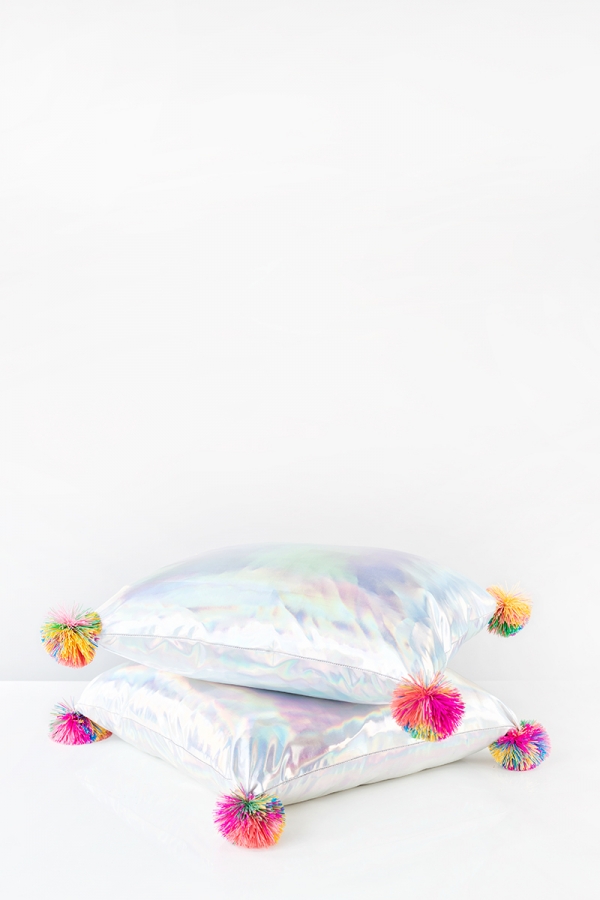 Photos by Jeff Mindell
If Koosh balls weren't on the pricey side, I would make a whole RUG out of them. COULD YOU EVEN IMAGINE!? What else should we put koosh balls on? All the things. All of 'em.
p.s. Dunkaroos ice cream!