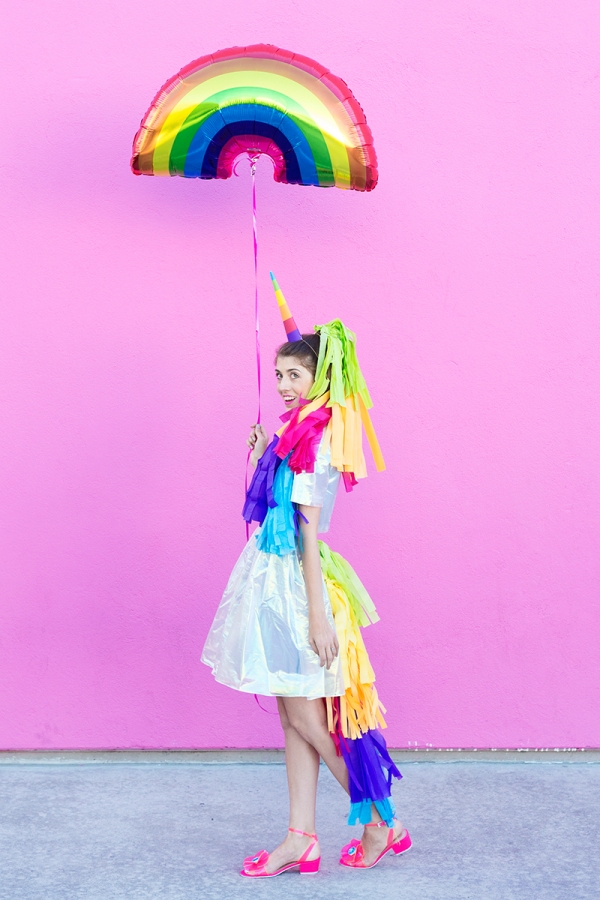 After several of you called these "Lisa Frank S'mores", I just KNEW we were soulmates. And then I knew we had to do some Lisa Frank costumes!!!!!!!!!! Honestly, I am angry. WHY did I not think of this during the multiple times I needed a group costume in high school or college!? GET IT TOGETHER, KELLY! I'm hoping some of you still have a good excuse to get your group costume on because we have not one but three Lisa Frank inspired costumes: Markie the Unicorn, Spotty & Dotty the Dalmatians and Painter Panda…. plus a few more ideas for the rest of your group below those. BEST GROUP COSTUME EVER!!!!!!!!!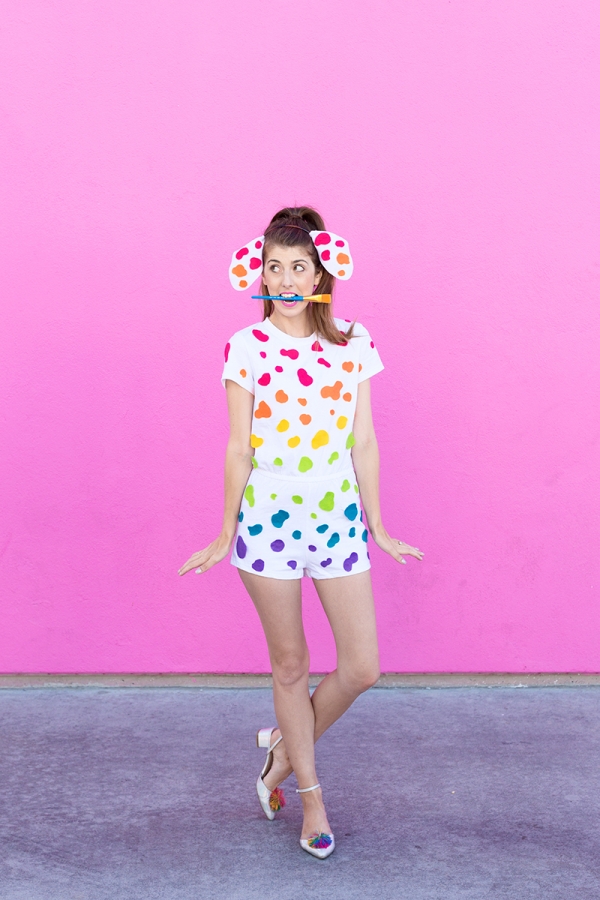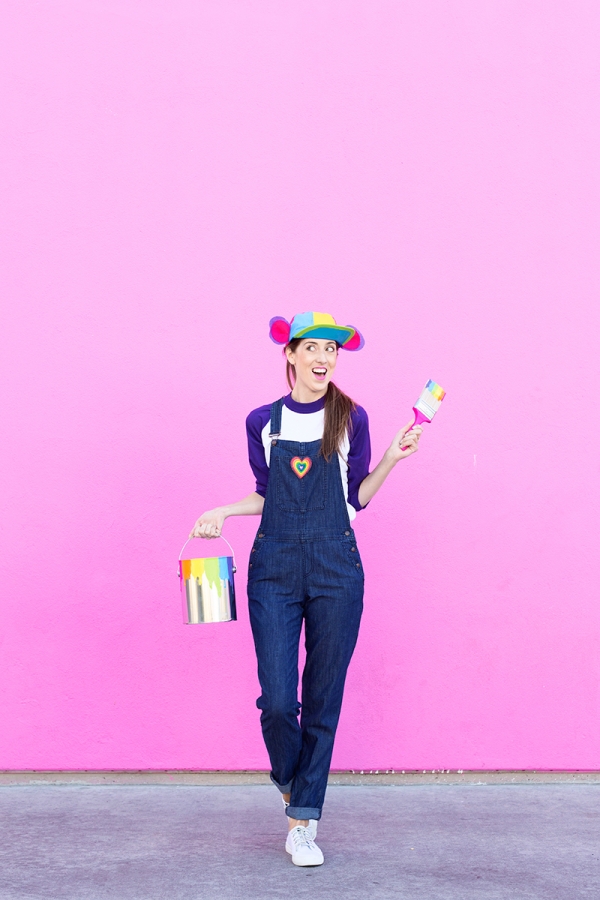 First up we have Markie the Unicorn! Of course, a unicorn costume on it's own would be pretty PERFECTION too!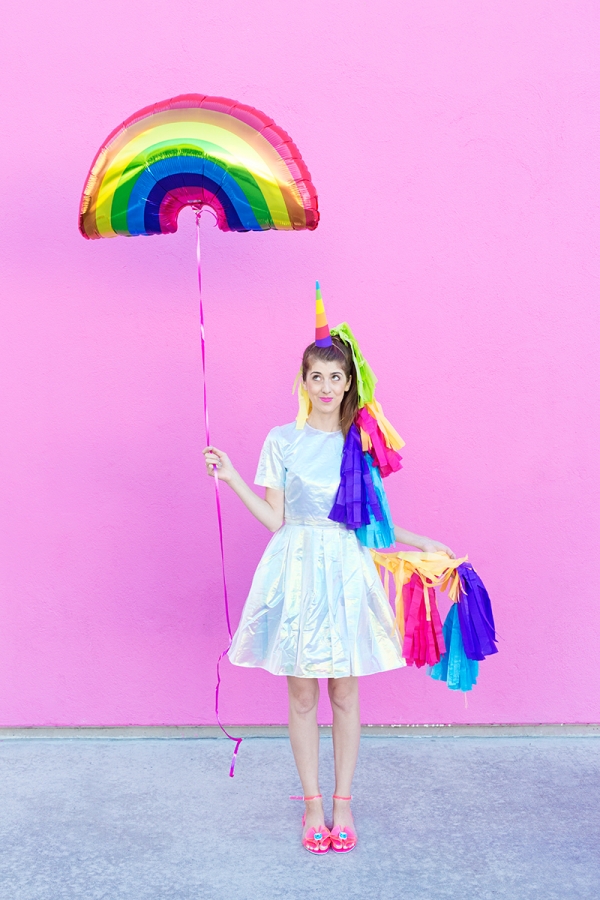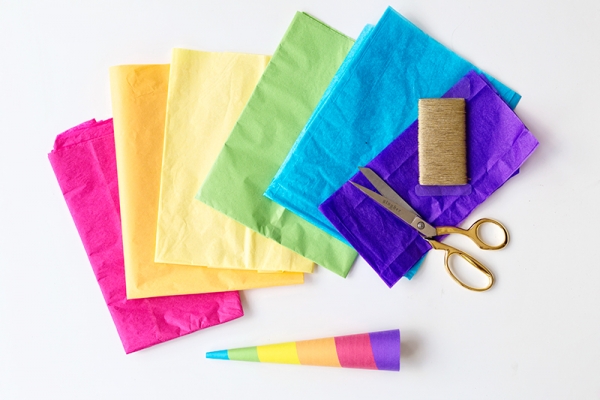 Holographic Dress (Ok, you could use a white dress too.. but this one is so much more fun!!!)
Tissue Paper in hot pink, orange, yellow, lime green, turquoise and purple
Unicorn Horn Printable (Or you could use these party hats!)
Metallic Cord or String
Scissors
Hot Glue
Safety Pins + Bobby Pins (For attaching)
Fun pink shoes! (Ok, that's optional, but strongly encouraged.)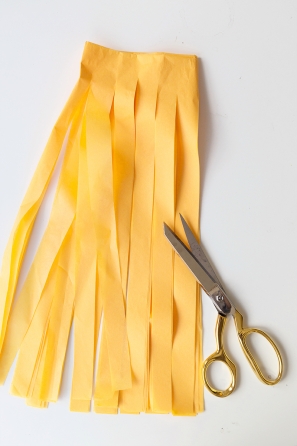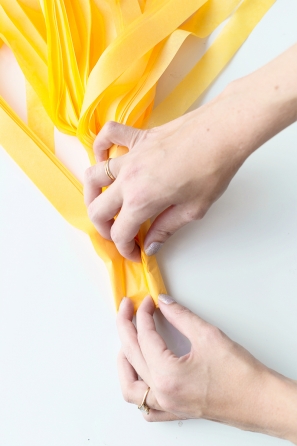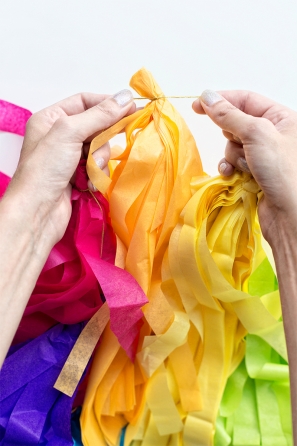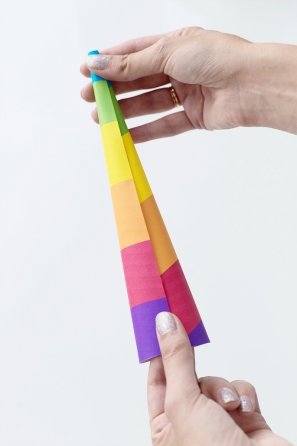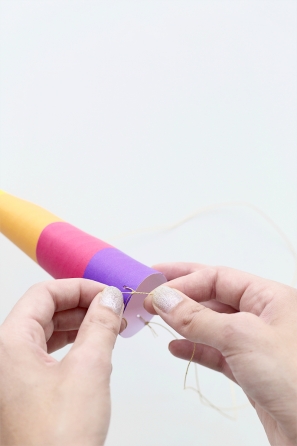 1. The mane and tail are essentially tassel garlands! To make each tassel, fold two sheets of tissue together in half (width-wise) and then into fourths.
2. Cut fringe through all layers, leaving about one inch by the folded end uncut.
3. Roll the paper along the folded end to form a tassel.
4. Tie onto a piece of string or cord. Repeat with your next tassel and tie it about five inches from the last tassel. Do one of each color for both the mane and the tail.
5. To make your own unicorn horn, print and cut out the template, then roll it and hot glue the seem.
6. Poke two tiny holes, one on each side, and slip a piece of string through each and tie a knot. You'll use this to tie it around your head.
7. To assemble: safety pin the top tassel to the center back of your dress. Put your hair in a high pony tail and tie the string of the mane around the pony tail holder. Then bobby pin the top tassel to your hair for extra security. Tie the horn on top of your head, behind your ears.
Next up is one half of the Spotty + Dotty Paws dalmatian duo!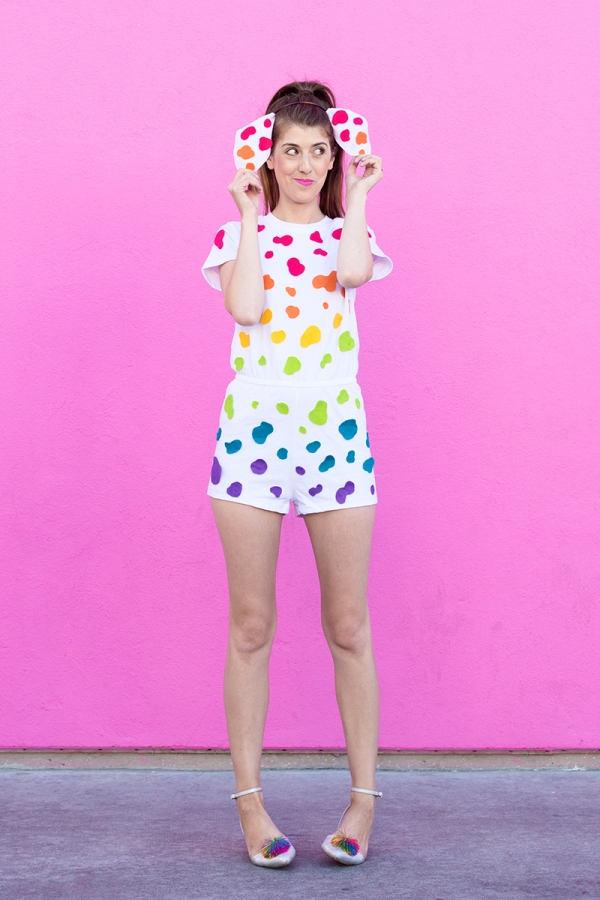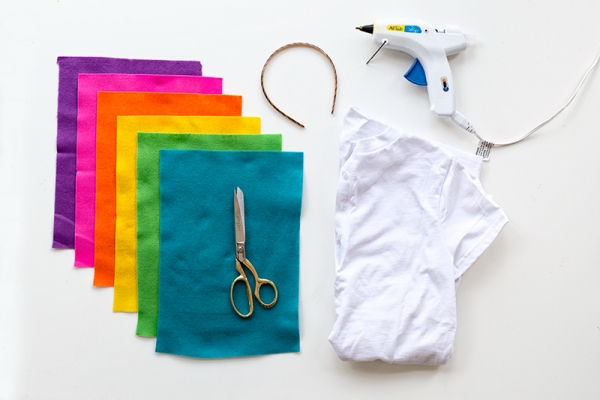 White Romper (Ours was from the American Apparel Factory Store) or Dress
Felt in white, purple, hot pink, orange, yellow, green, turquoise (We found a great pack at Target that had all the colors!)
Headband
Hot Glue Gun
Scissors
Paint brush! (As a prop, since they are often seen with paint brushes in their mouths!)
1. Cut out all different sized spots spots from each color of felt.
2. Cut out two dog ear shapes from white felt. These are kind of like a tear drop shape with a flat top instead of a point.
3. Wrap one of the ears around the side of the headband as shown and glue. Make sure to not only glue the ends of the felt to eac hother, but also to the headband itself.
4. Then glue on a couple spots to each ear. We followed the palette of the puppy on the left so we started with pink and orange on the ears.
5. Lay out your romper or dress on a flat surface and place the spots, fading in a rainbow as desired (depending on whether you're creating Spotty or Dotty!).
6. Once you're happy with how it looks, start gluing! Place a bead of hot glue on each spot and adhere to the romper. I like to do one entire color at a time to ensure I don't miss any before moving onto the next. Flip over and repeat on the back of the dress/romper.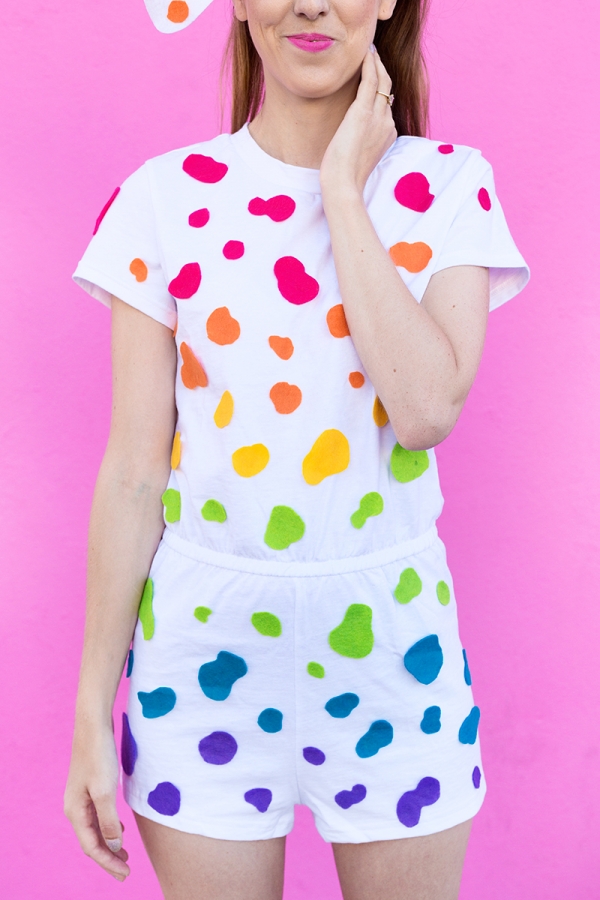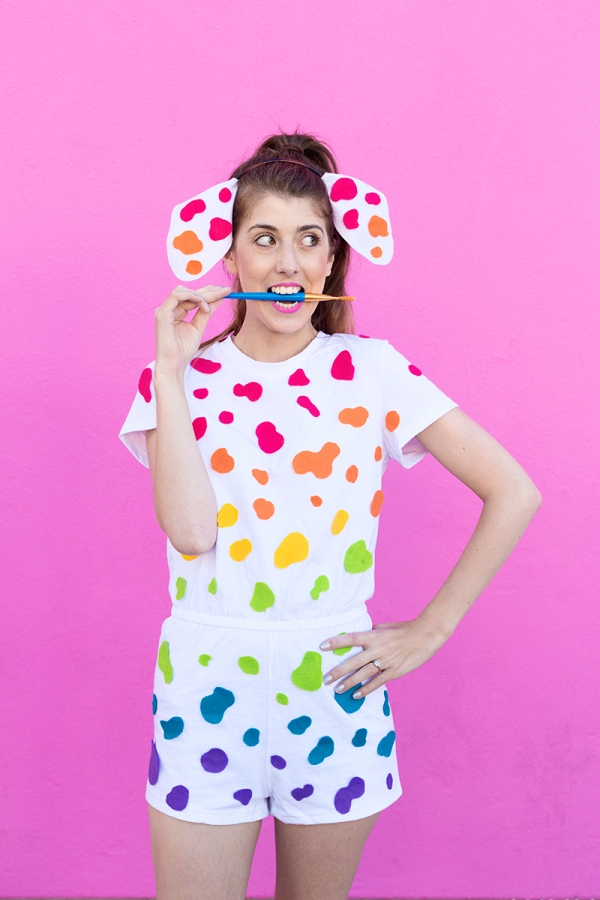 And last, we have Panda Painter!!!! JUST THE CUTEST.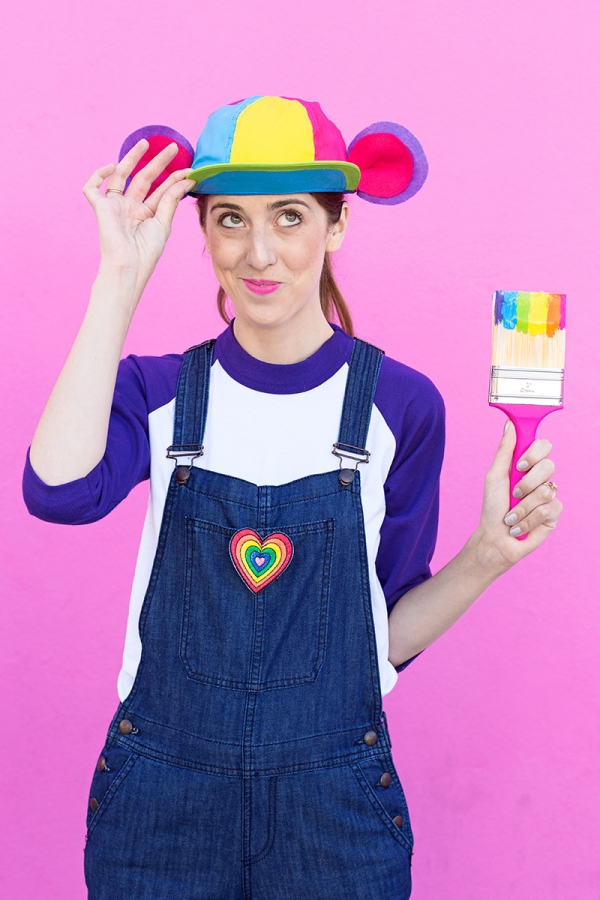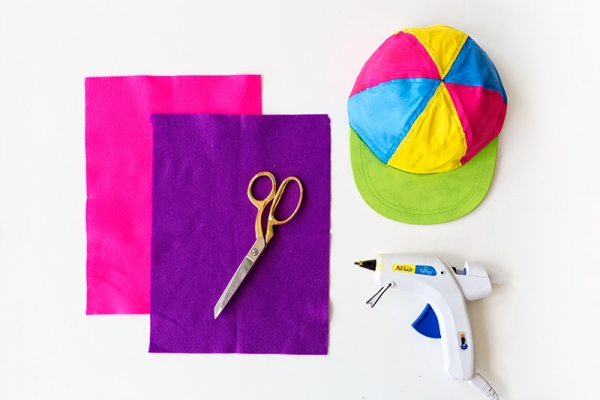 Overalls (Other options here and here)
Purple + White Baseball Tee
Rainbow Heart Patch
White Sneakers
Propeller Hat
Paint in Pink, orange, yellow, lime green, turquoise, and purple
Felt in pink and purple
Scissors
Hot Glue Gun
Empty Paint Bucket + Wide Paint Brush (As props!)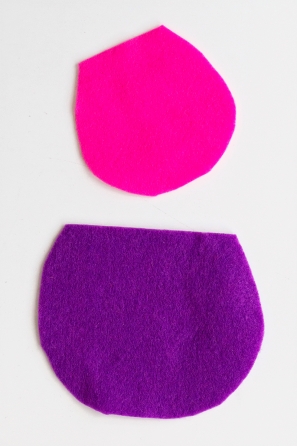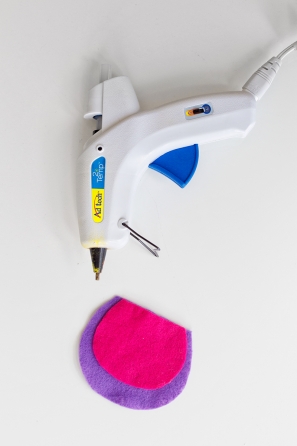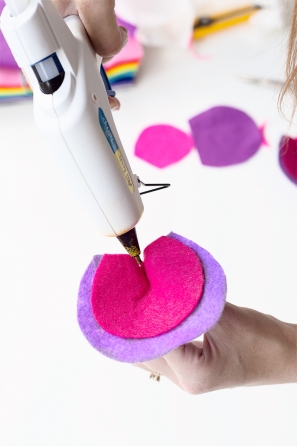 1. Cut out two bear ear shapes from purple felt, followed by two slightly smaller ear shapes from pink felt.
2. Hot glue the pink ears onto the purple ears.
3. Pinch the ear in the middle and place a bit of hot glue in-between to hold in place.
4. If you are crazy about details being perfect like me, you're going to want to paint your hat. Remove the propeller at the top. Then paint all the red sections hot pink and all the royal blue sections turquoise. Then paint the the top of the brim green and the underside turquoise. Let dry. Finally, using the "tab" you created with the pinch in your ears, glue the ears to the side of the hat.
5. To assemble: We just used a safety pin to attach the patch to the overalls so we could wear it again. For the paint bucket, I painted a section of each color around the paint bucket so it looked all rainbow like Panda Painter's bucket does! Then, I added some thicker "globs" of paint so it really gave it the drippy look. For the brush, I placed a dime-sized dot of each color next to each other on a piece of scrap paper. The colors should all be touching. Then I just ran the paint brush right through it and let it dry.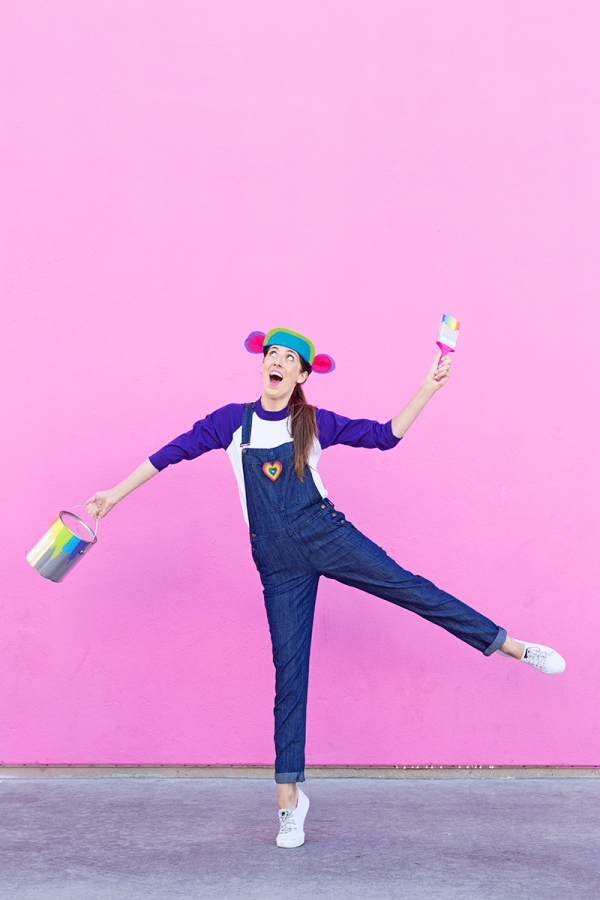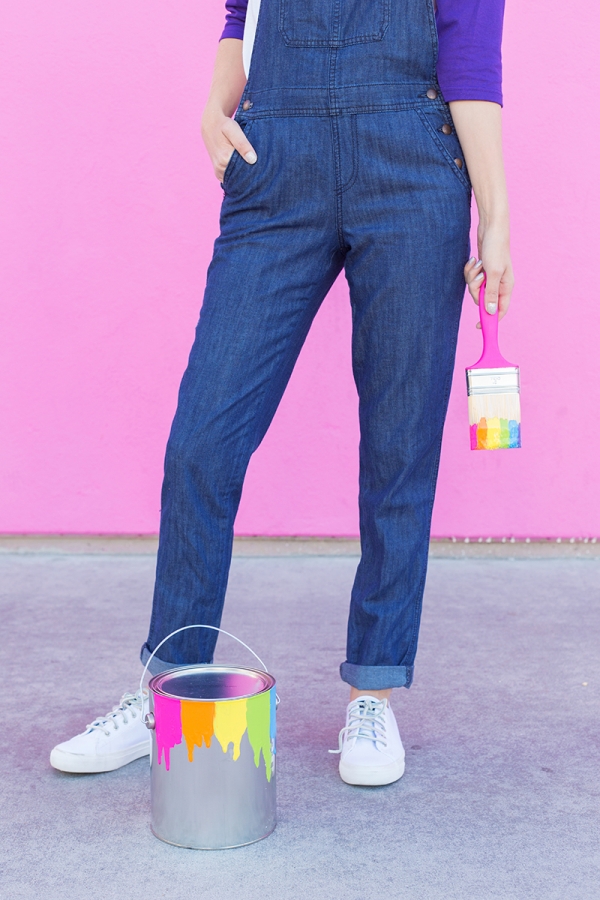 While we only made three, I have one ZILLION ideas for making the other characters, if you're looking to outfit a big group in Lisa Frank costumes! Here's a few more ideas:




So… who's recruiting all their friends to go as Lisa Frank characters this year!?!?!?!?!? There's so many more characters than even the seven we mentioned. It seriously is the PERFECT costume for a big group. Or family. (If you are the coolest family ever. Related: Can you adopt me?)
If you make a Studio DIY costume, share it on Instagram with #studiodiyincostume to be featured here on the blog (and for a chance at some other cool surprises we have in store!)!!
p.s. Lisa Frank s'mores!