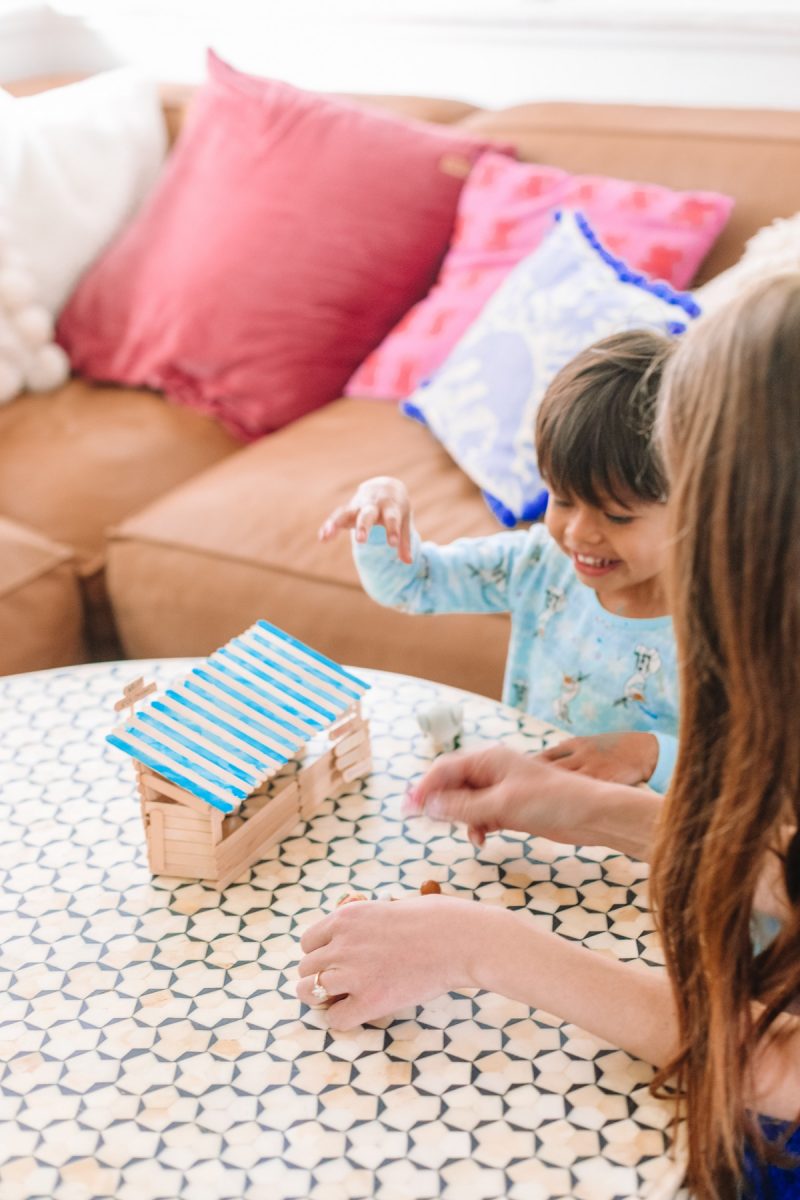 Welcome to Toddler Camp! A daily itinerary of themed ideas to keep your toddler busy while you're at home! You can find more themes and the full guide to Toddler Camp here.
Ice cream is a BIG DEAL in our house. We are almost always "getting ice cream" when we do imaginary play or you know, asking for ice cream… at all times. Ha! So it seemed like the perfect theme for a day of Toddler Camp.
The crafts, games and sensory activities below will help you make a whole day out of kids very favorite thing, including making a yummy "ice cream" alternative!
Movies + Shows To Watch
Here's a few fun ice cream (and frozen!) themed shows and movies to watch on Ice Cream Day:
Frozen – Available on Disney+
Bluey: The Claw (Ep 19) – Available on Disney+
Daniel Tiger: Daniel Tries A New Food (Season 2, Ep 6) – Available on Amazon Prime
Active Play
Ice Cream Relay Race
Do an egg-and-spoon style race with your kids using play ice cream, if you have it, or just any sort of balls sitting atop an ice cream cone. For the cone, you could use a real cone, a play ice cream cone or make a cone by rolling a piece of thick paper into a cone shape!
Ice Cream Shop
Turn any table, fort or play kitchen into an ice cream shop for the day! Use the moon sand recipe below, or play food, pom poms or balls of clay as your ice cream flavors and make cones out of paper (as noted above).
Create play money out of paper as well, or use a toy cash register if you have one, and it becomes the perfect set up for imaginary play!
Sensory Play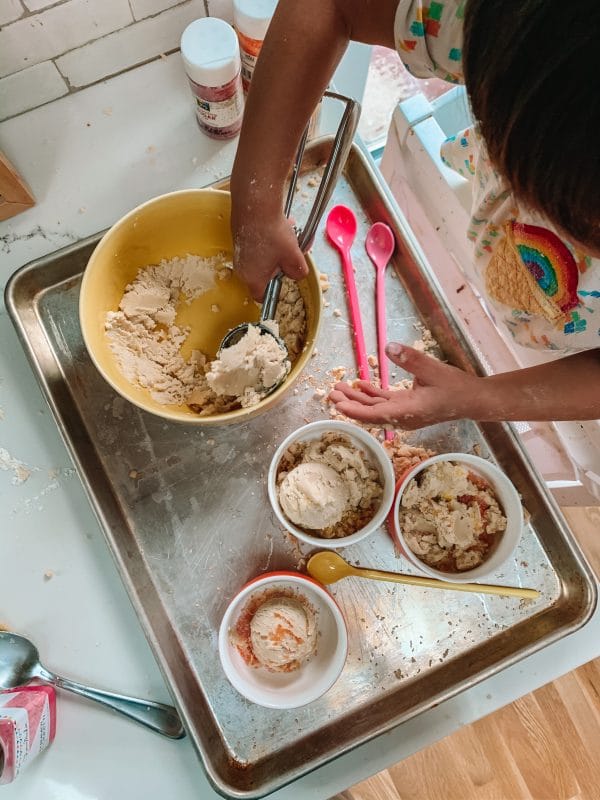 Moon Sand Ice Cream Play
I got this idea from The Mama Notes! We made moon sand (one cup flour to 4 tbsp oil, we used canola oil… just mix with your hands!) and set out a few bowls, an ice cream scoop and sprinkles. Hours of fun scooping and re-scooping!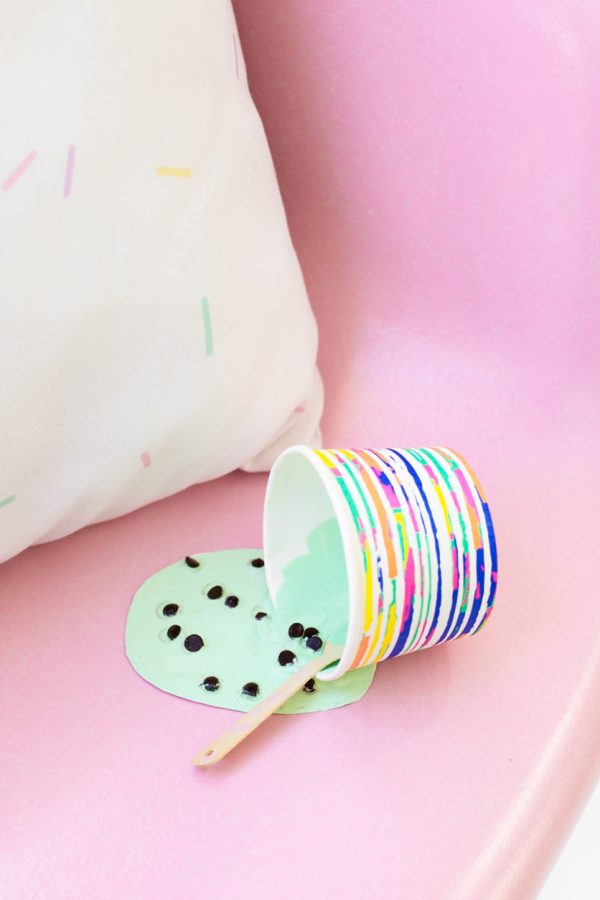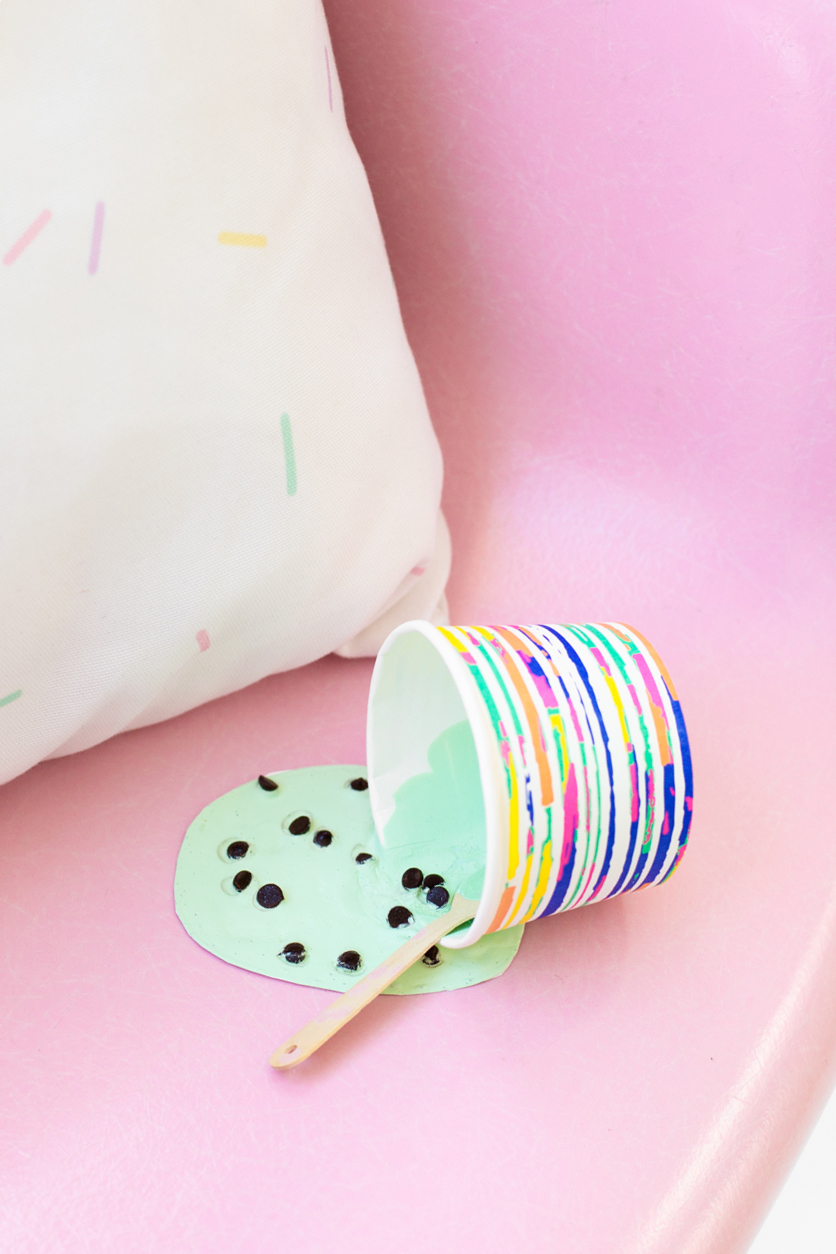 Faux Ice Cream with School Glue
Mix up a faux ice cream cup or cone with school glue and paint! You can get the full tutorial here. It makes a fun prank too to play around the house. 😉
Crafts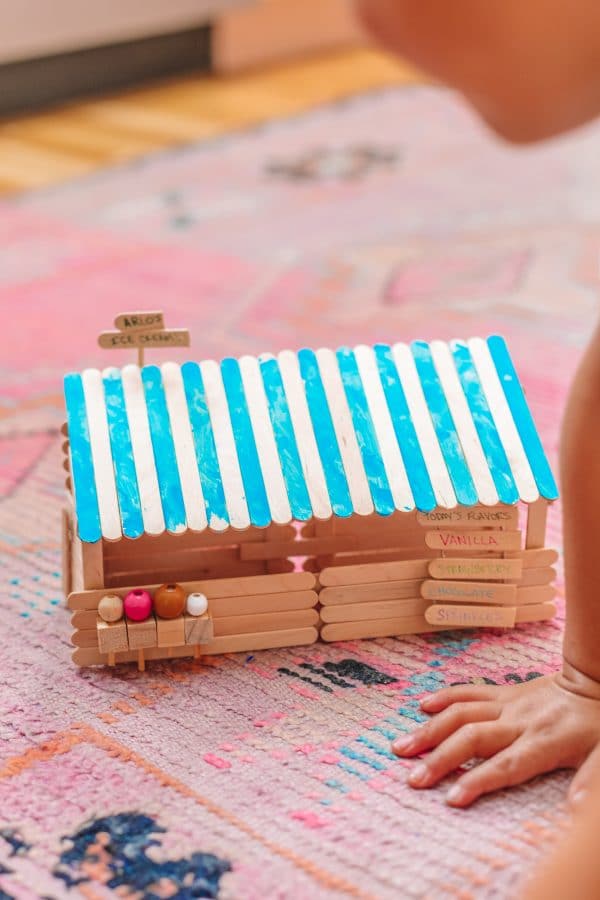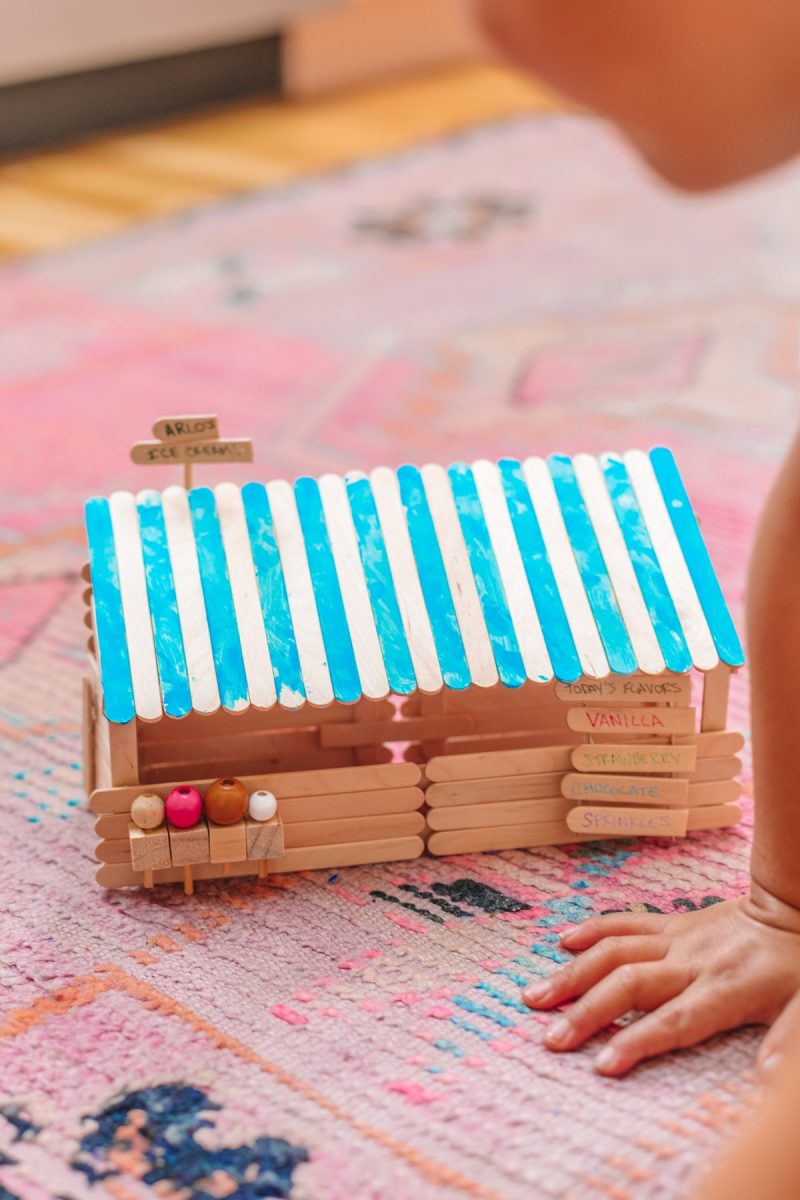 Popsicle Stick Ice Cream Stand
I pulled this project out of our Martha Stewart's Favorite Crafts for Kids book but the detailed tutorial can be found here.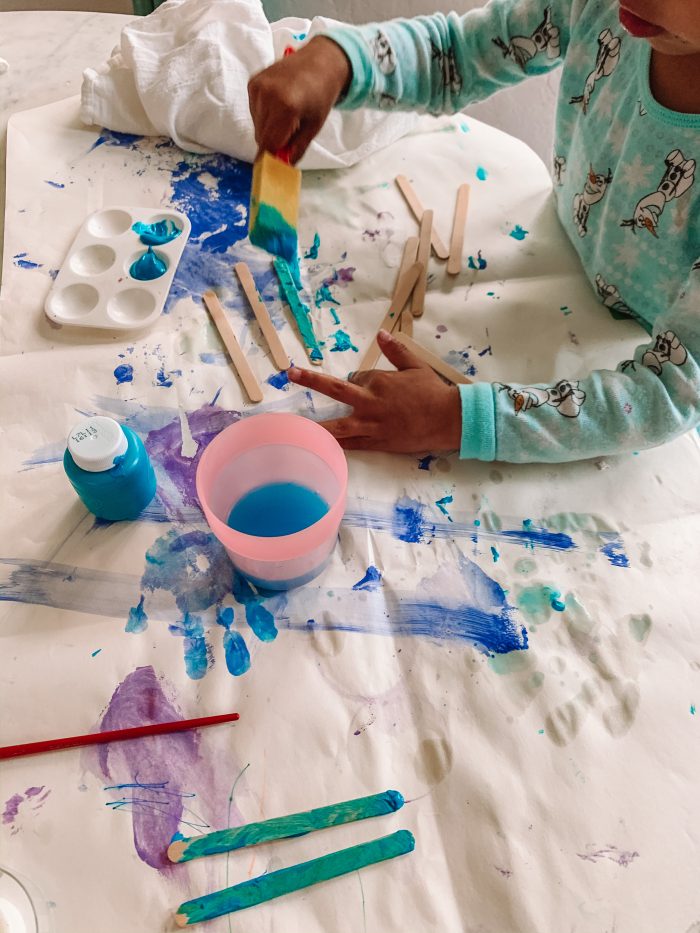 Have the kids help paint the popsicle sticks and pick the ice cream flavors, and then you can glue it together for them! (They recommend wood glue but I used hot glue so it went quicker!)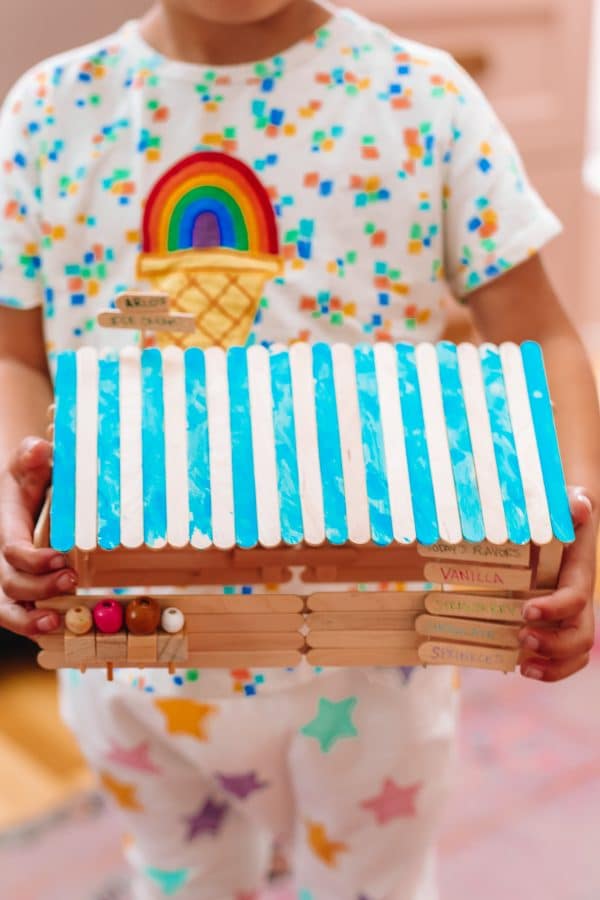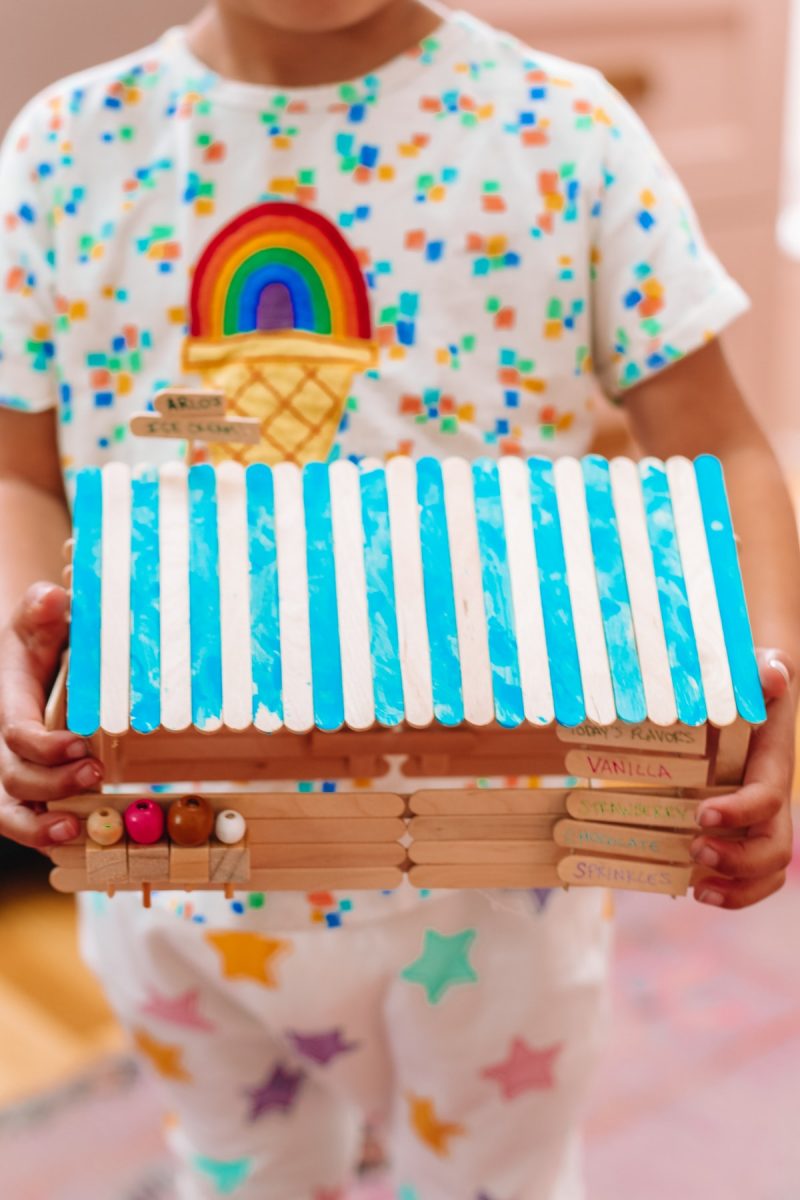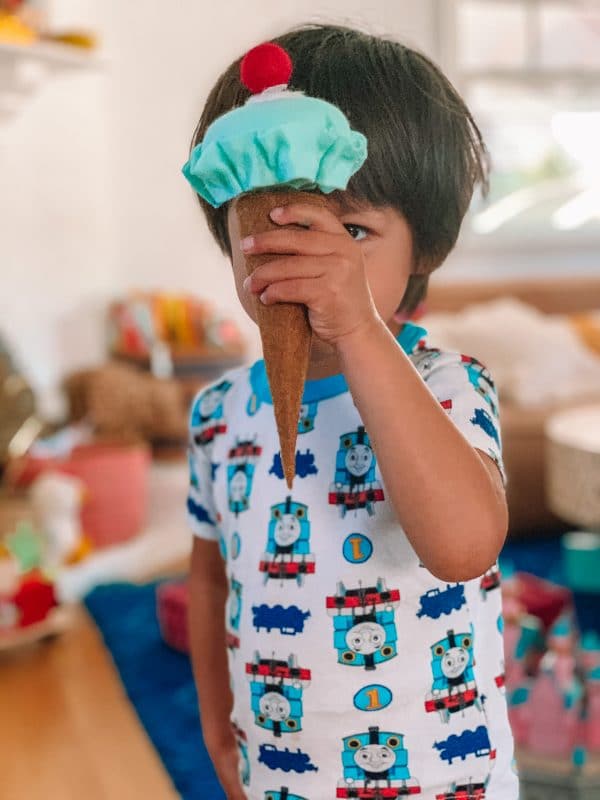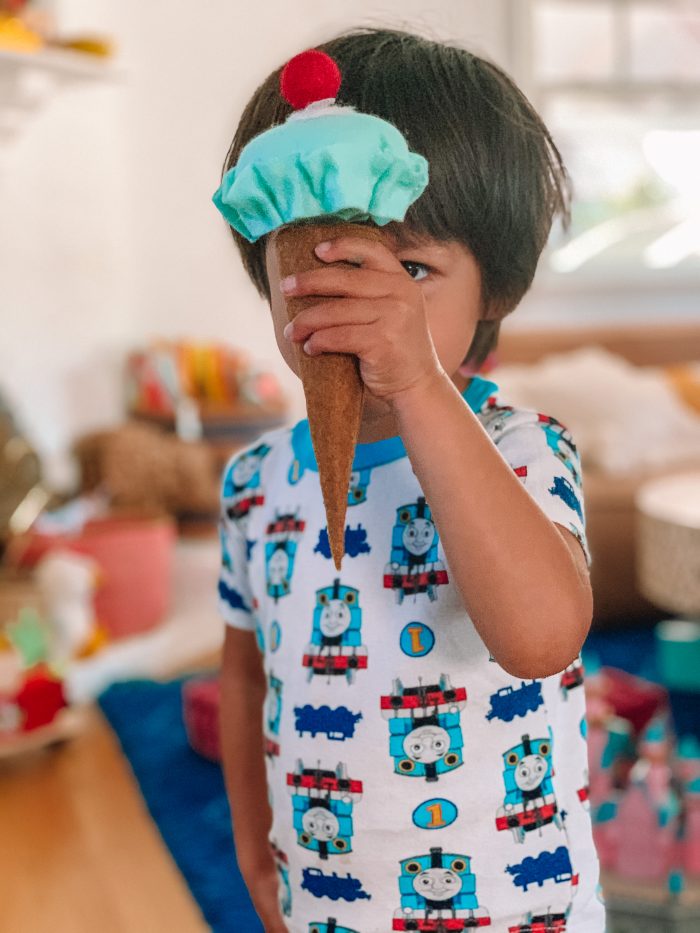 No-Sew Felt Ice Cream Play Food
If you have felt and a hot glue gun, you can make this stackable, no-sew felt ice cream project!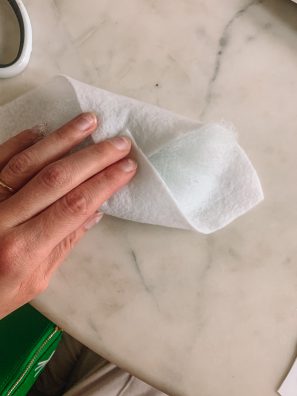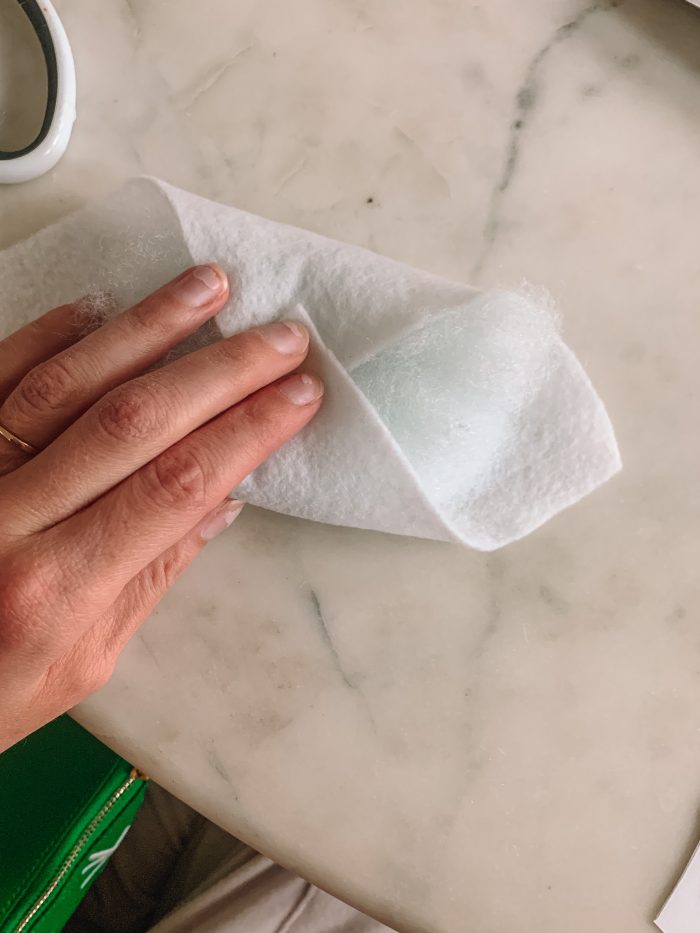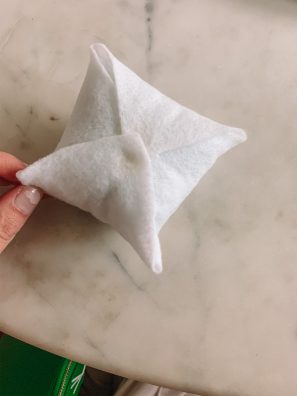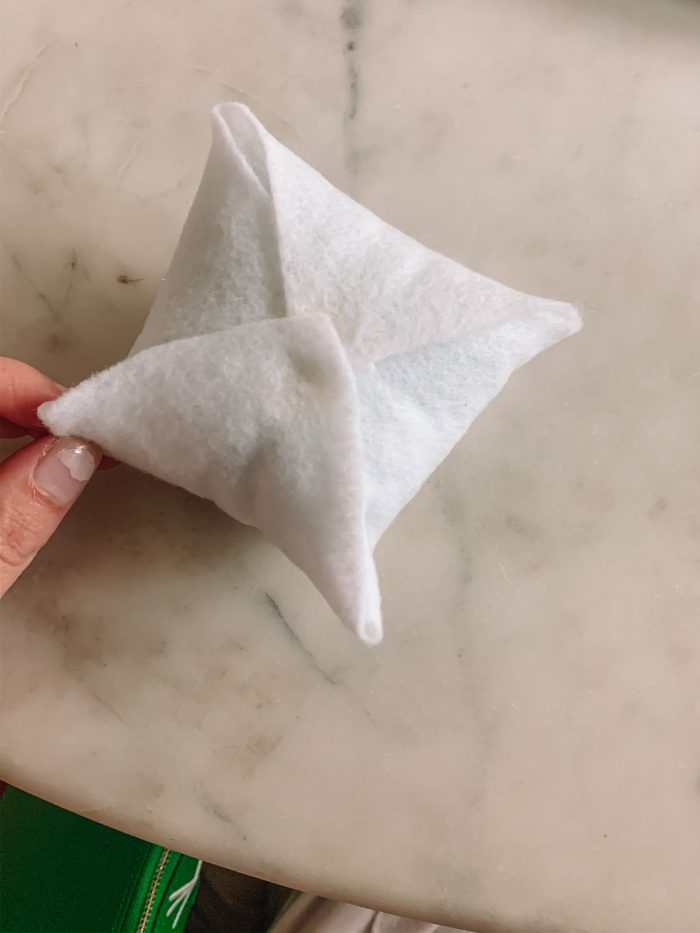 To make the ice cream, cut a square out of felt. Put a handful of stuffing (or just extra scraps of felt) in the center and wrap two opposite corners over it and hot glue. Then do the same with the opposite two corners.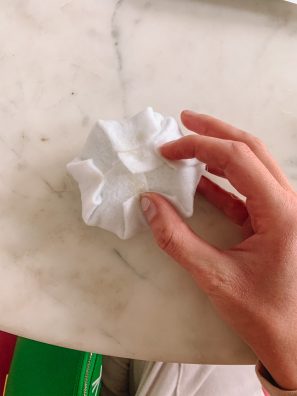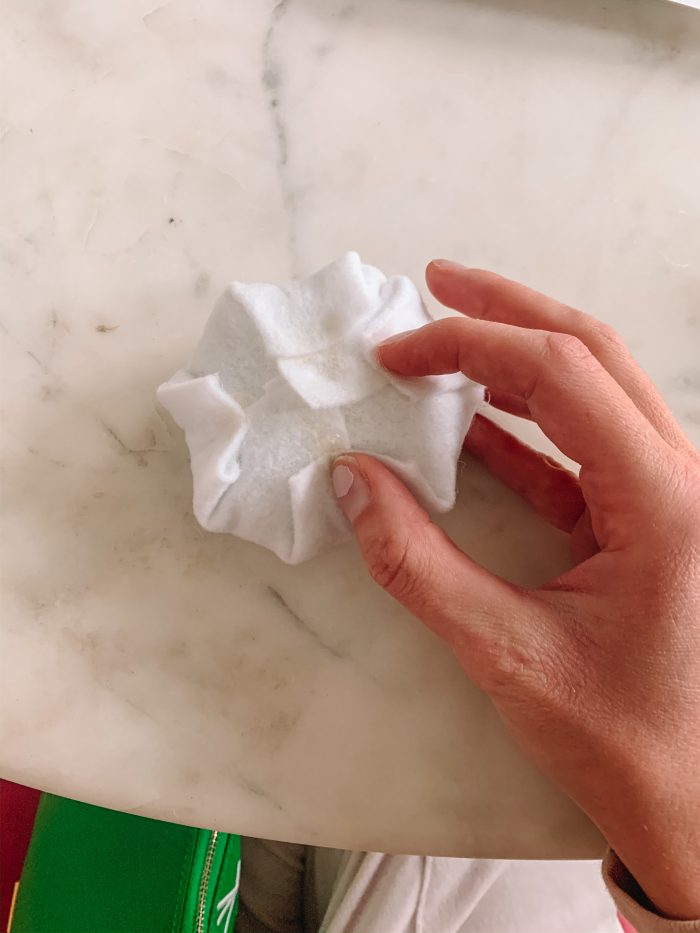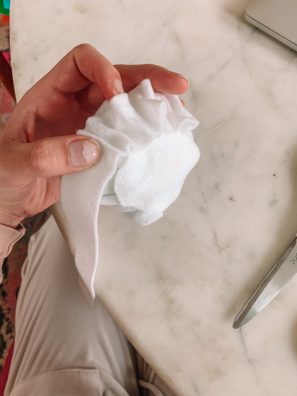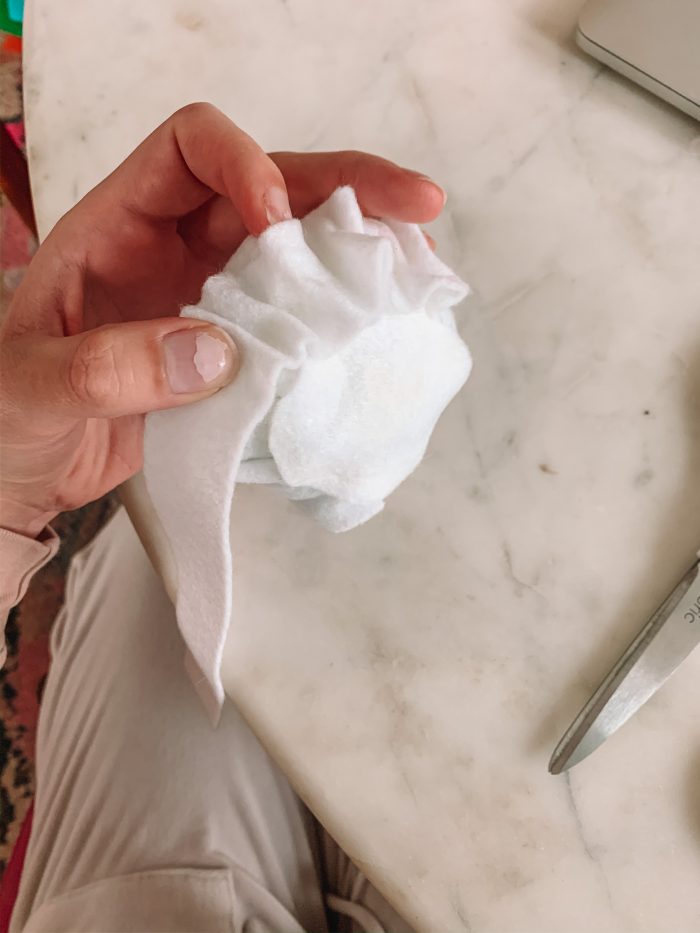 Now, fold up and glue the new four corners you just created. Cover with a circle of felt.
Cut a long narrow strip of felt and hot glue it, ruffling it as you go, around the side of the new "puff" you just created. If you have velcro, add velcro to the top and bottom of each ice cream "puff" so they can stack.
To make the cone, wrap a piece of felt into a cone shape and hot glue. Trim the top so it's flat, stuff with stuffing or felt scraps, and hot glue a circle on top to close it up. Add velcro if you have it so the ice cream can stick to the top!
Banana "Nice" Cream
Did you know you can blend frozen bananas to make "ice cream"!? It's true! And you can add in peanut butter, chocolate or other fruit too. We used two frozen bananas and two tablespoons of peanut butter, blended until smooth and it made about two servings!
Games + Puzzles
Books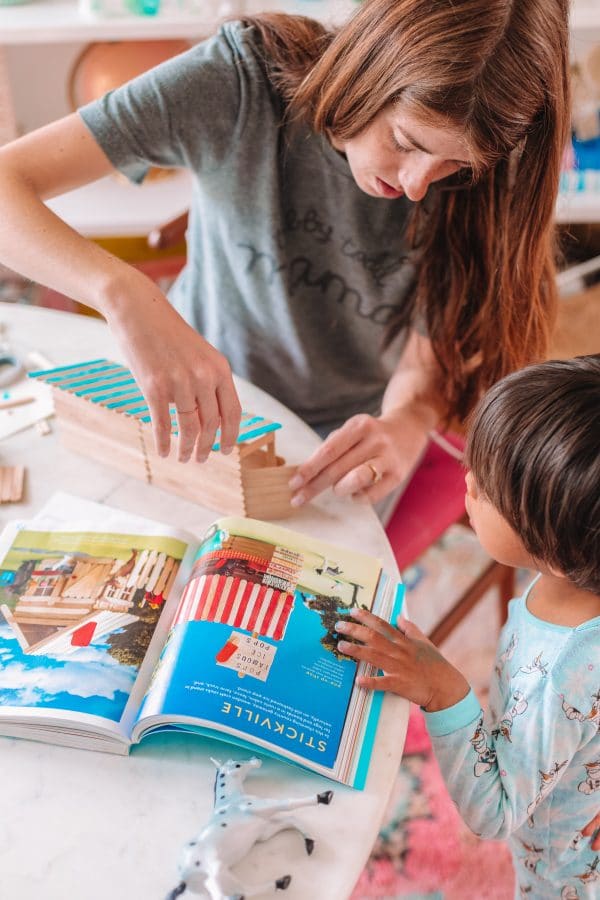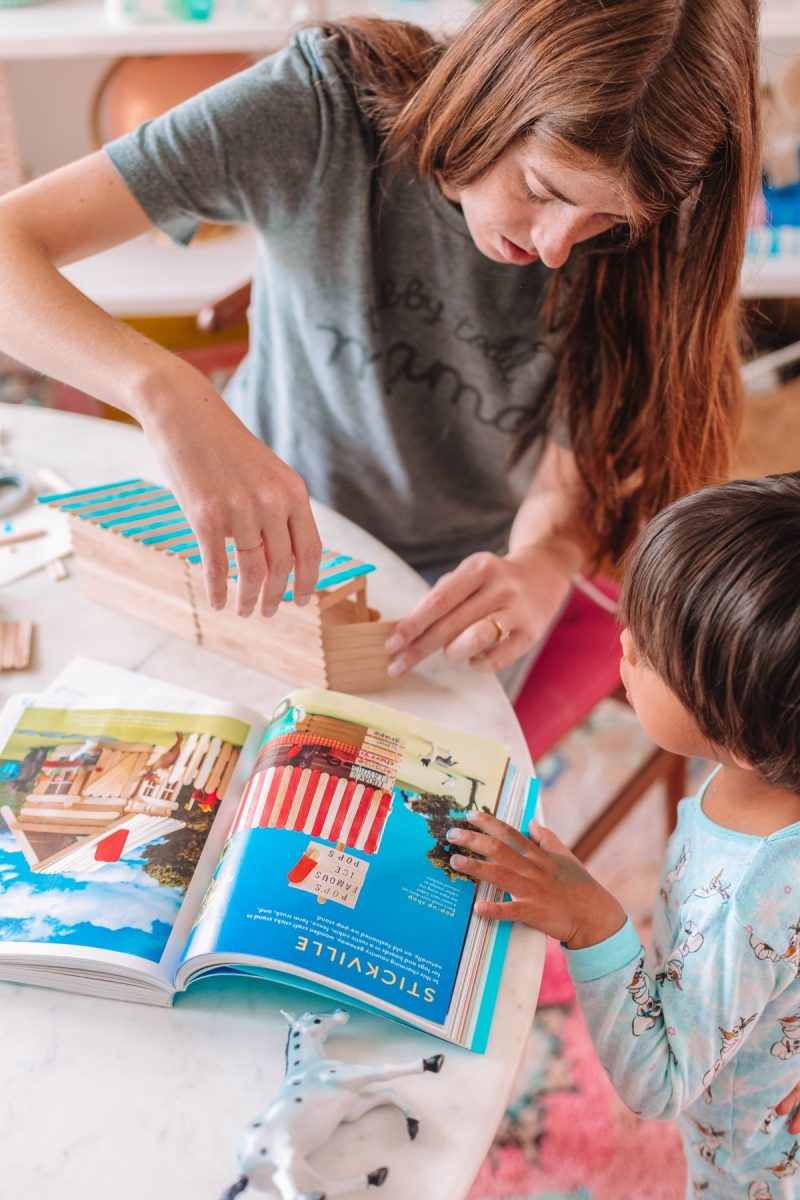 Here's a few fun books to read that are about ice cream or have fun ice cream scenes in them:
Should I Share My Ice Cream? by Mo Willems
Yum Yummy Yuck by Amanda Jane Jones and Cree Lane Jones
Purplicious by Victoria Kann and Elizabeth Kann
Martha Stewart's Favorite Crafts for Kids by Martha Stewart
Shop them all in my Amazon shop here!
If you want to learn more about how I structure our "camp" days, check out this post. The schedule allows for free play and downtime as well.
And of course, if you make or do any of these projects, please tag me if you share a picture or story on Instagram so I can see!!