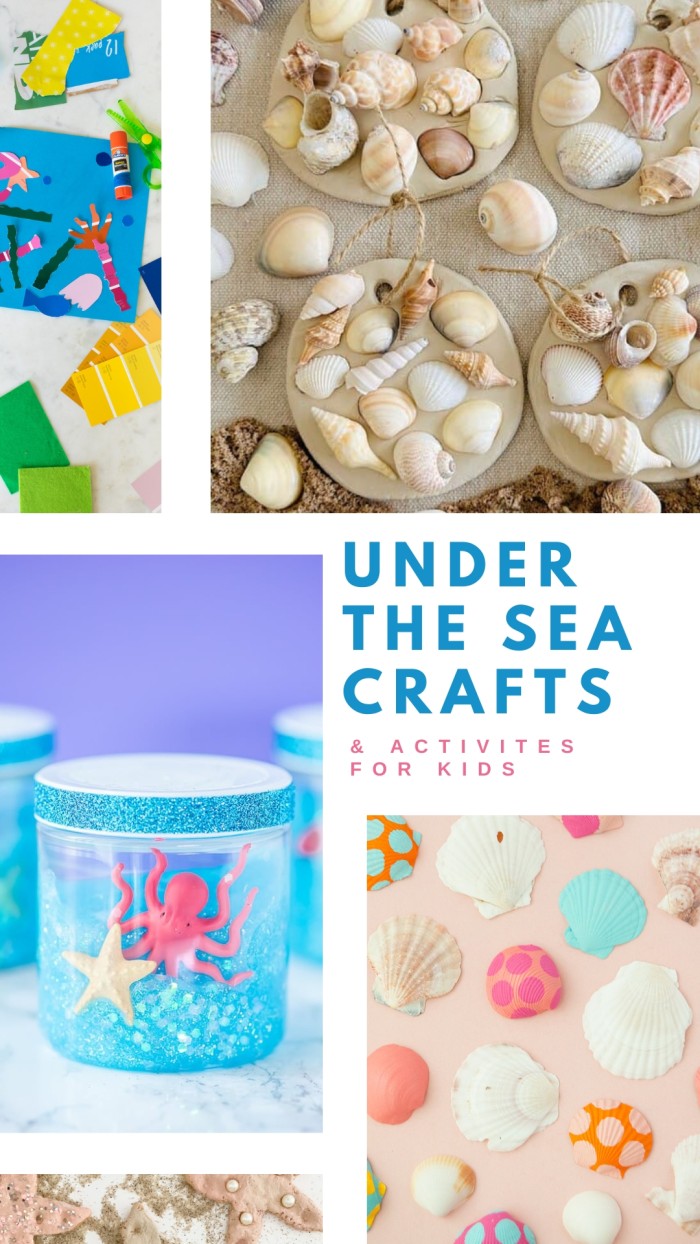 These under-the-sea crafts & activities for kids are the perfect way for your kids to learn more about nature in a fun way. They also make fun additions to an Under the Sea birthday party or camp day! These ocean and under-the-sea-themed craft projects and activities are ideal for toddlers but many of them would also work for older kids as well!
Shell Crafts
Use shells from the beach, or household items to create your own shells, for these creative under the sea craft ideas.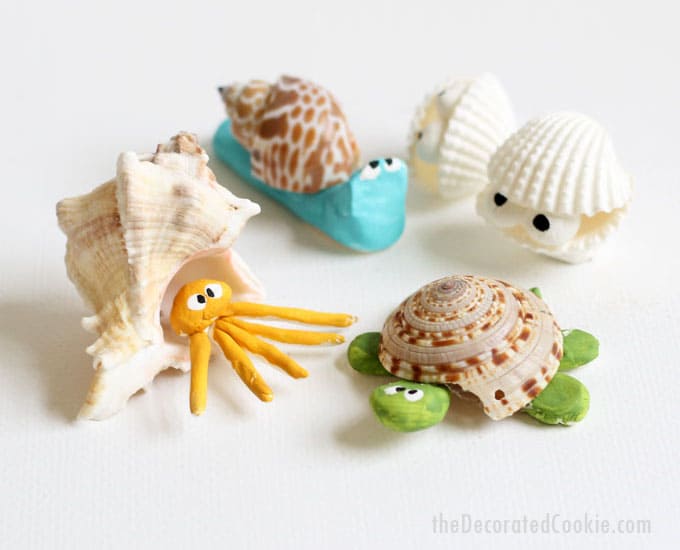 Seashell Creatures
These friendly seashell creatures are so fun to make with your kids to play in their sandbox. Use regular crafts store seashells or ones you found along the beach and air dry clay makes up the bodies!
Photo source and inspiration by The Decorated Cookie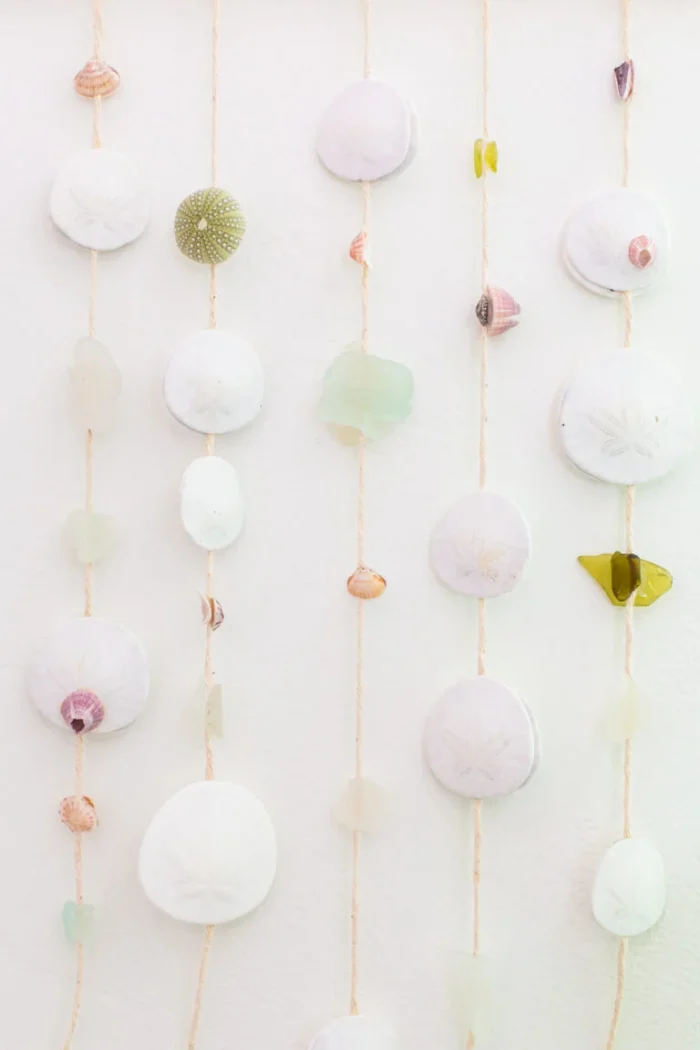 Wall Hanging Seashell Craft
This seashell craft would look so good in a nursery, a child's bedroom, or as a unique decor piece. Create it using craft store seashells or ones found on your last beach trip! Hot glue the seashells to a cotton cord secured to a wooden dowel or driftwood for a more rustic look!
Photo source and inspiration by Lovely Indeed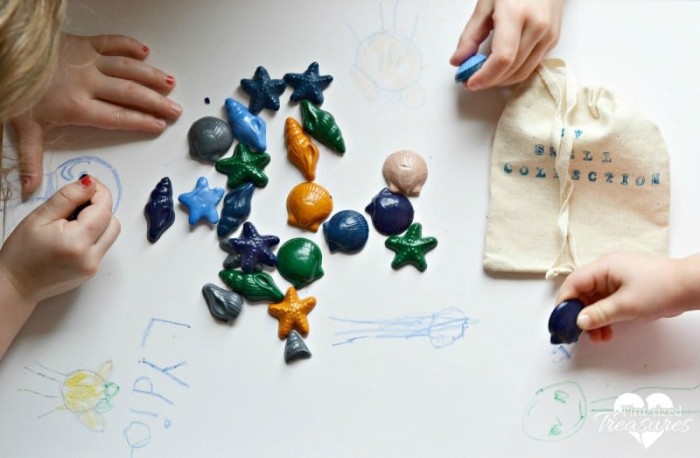 DIY Sea Creature Crayons
If you have kids, you probably have some broken crayons lying around the house! Use them to create these sea creature crayons by melting them down and cooling them in fun sea creature molds.
Photo source and inspiration by Pint Sized Treasures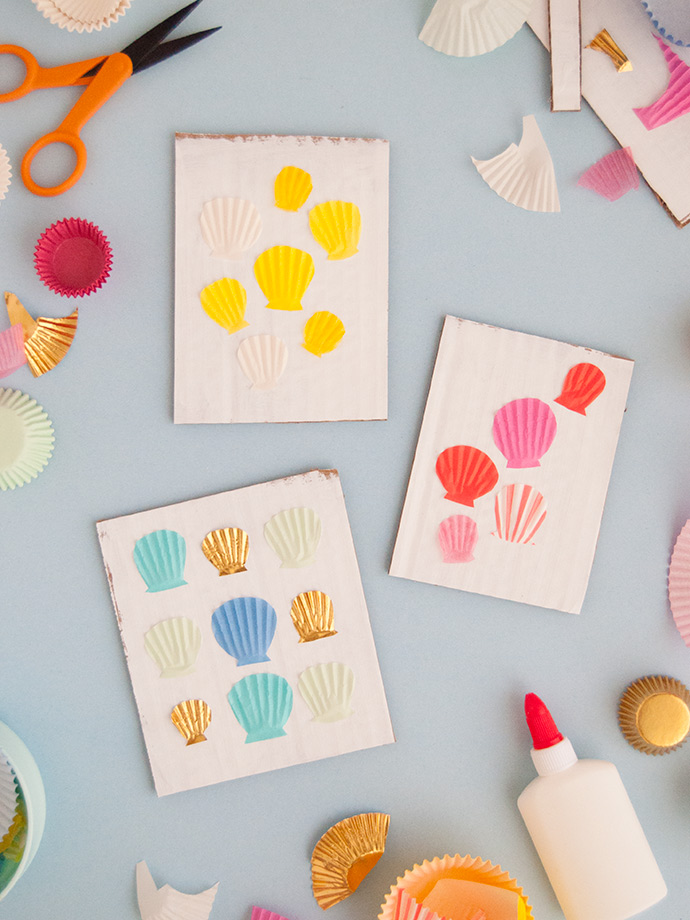 Cupcake Paper Seashell Art
The pleats of cupcake paper liners look like the natural grooves of seashells. Your kids will have fun cutting, painting, and gluing them onto cardboard to create a piece of art.
Photo source and inspiration by Handmade Charlotte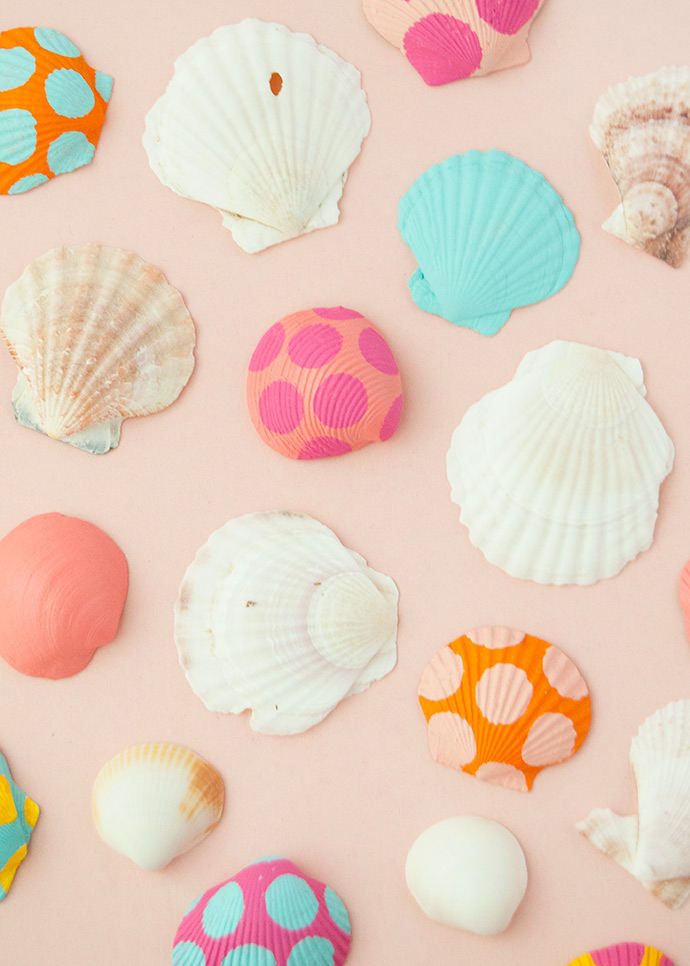 DIY Painted Seashells
If you or your kids have a growing seashell collection paint them with bold colors! Painted seashells make awesome decor or they can be a fun activity for kids at an ocean-themed party.
Photo source and inspiration by Handmade Charlotte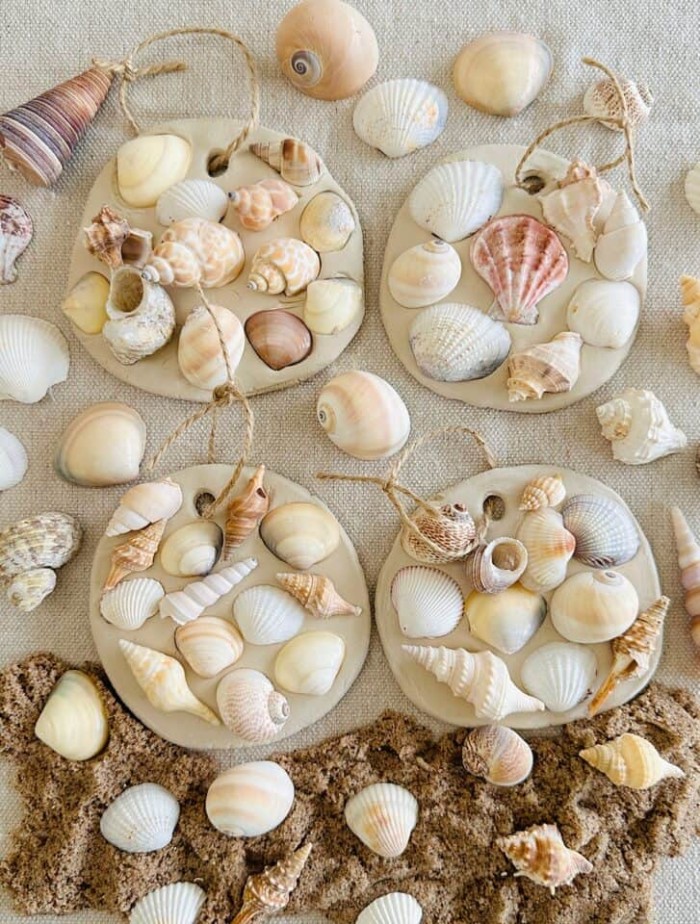 Clay Seashell Craft
Another unique way of using seashells is by making this clay seashell craft. Press your seashells into air-dry clay and that's it! I love the idea of painting the shells or pressing in pearls or beads too!
Photo source and inspiration by Hello Wonderful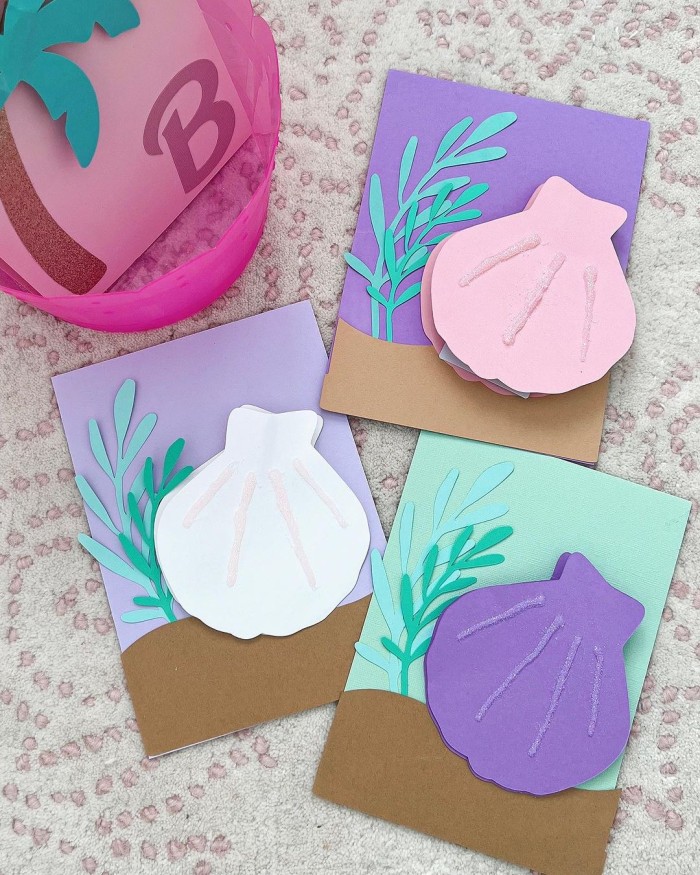 Under The Sea Party Favor Photo Backdrop Craft
This photo backdrop craft is made by cutting craft paper to look like seaweed and seashells. Brown paper is used to make the ocean floor. Inside the shell add Polaroid pictures of your kids or use it as a party favor gift for guests where they can insert their own pictures from the party!
Photo source and inspiration by Mama.jots(Instagram)
Water Theme Activities & Crafts
Sensory activities are so important for toddler aged kids and these under the sea themed sensory activities will get them so excited to get right in there and explore!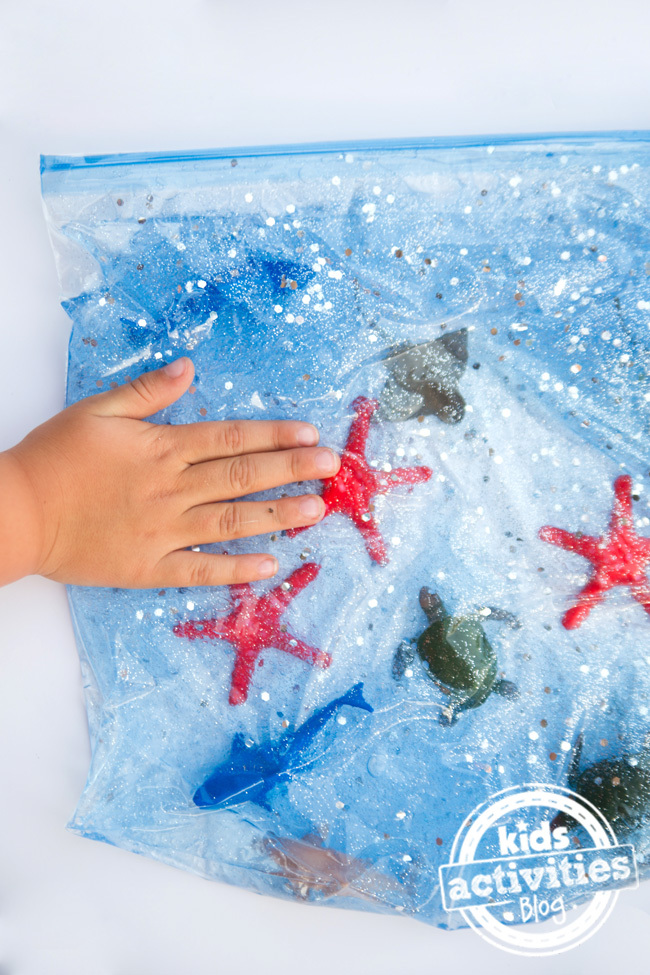 Ocean Sensory Bag
Fill up a ziplock with a few Ocean themed supplies to create this interactive sensory bag that is attention grabbing and entertaining for toddlers.
Photo source and inspiration from Kids Activities Blog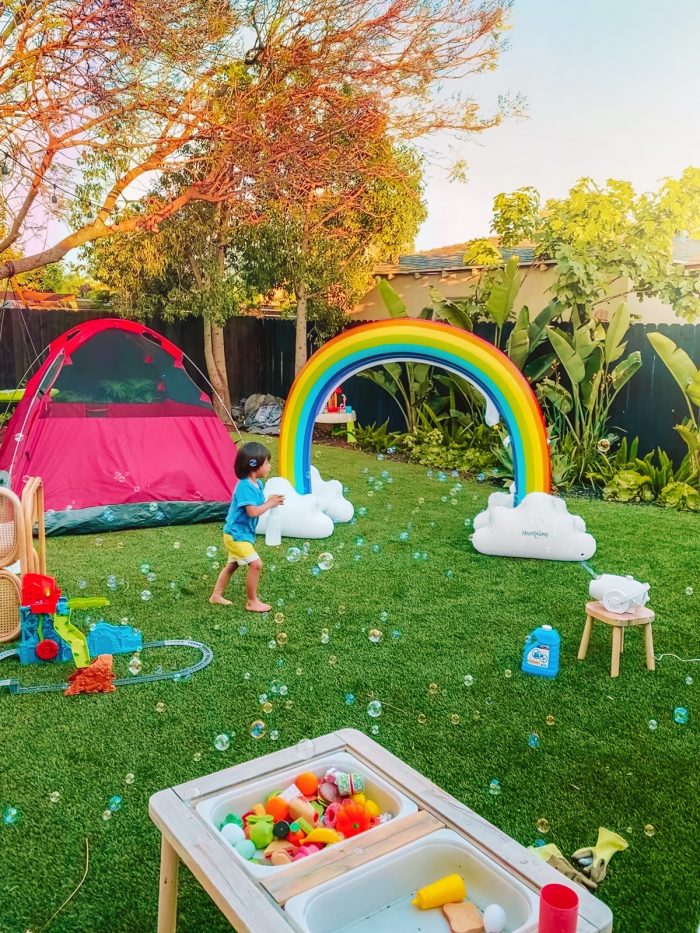 Just Add Water
These water activities will make your kids feel like they are in the ocean! All of these ideas are so super simple because all you need are a few toys you already have and water!
Run your sprinklers to pretend it's a waterfall.
Add a few rocks to the bottom of a kiddie pool filled with water so your kids can have fun looking for them.
Add a toy boat to a kitchen sink, bathtub, or kiddie pool full of water.
Have fun watering your plants and pretend they're seaweed and anemones at the bottom of the ocean.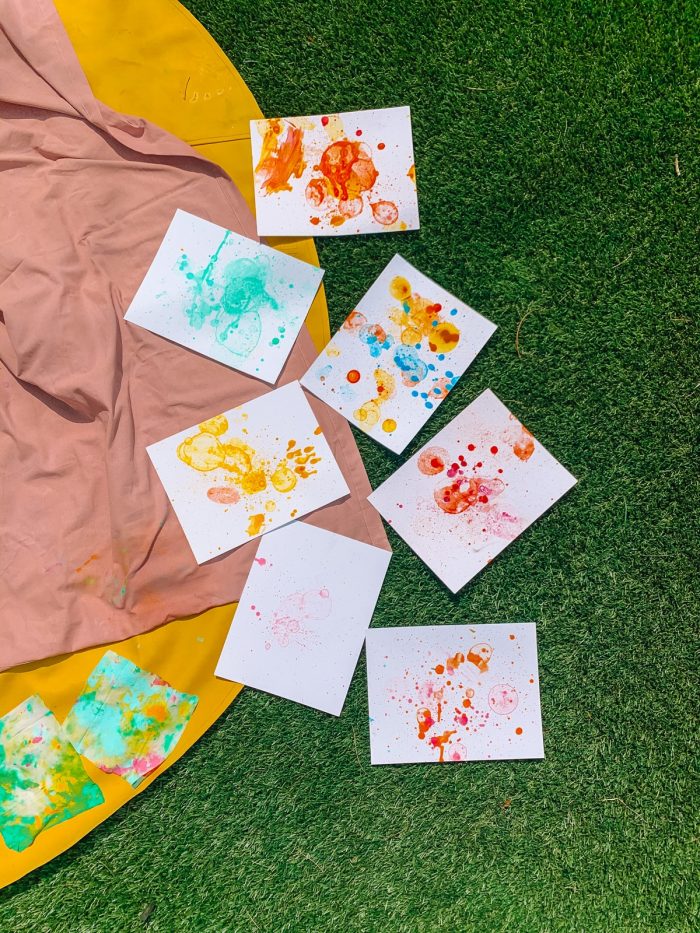 Bubble Painting
Bubble painting is another interactive under-the-sea activity perfect for kids of all ages. Mix 2 parts non-toxic paint with 3 parts bubble solution. Acrylic paint can stain so this is an outside activity!
Prop up pieces of watercolor paper for your kids to blow bubbles using the paint bubble mixture. Add more paint or bubbles depending on how "bubbly" you want your solution or how vibrant you want the colors to be.
When you're finished allow the paintings to dry completely in the sun.
Fish Crafts
Perhaps the most exciting part of the ocean for little ones, the fish and creatures who live there! These easy kid crafts feature our favorite ocean-dwelling animals.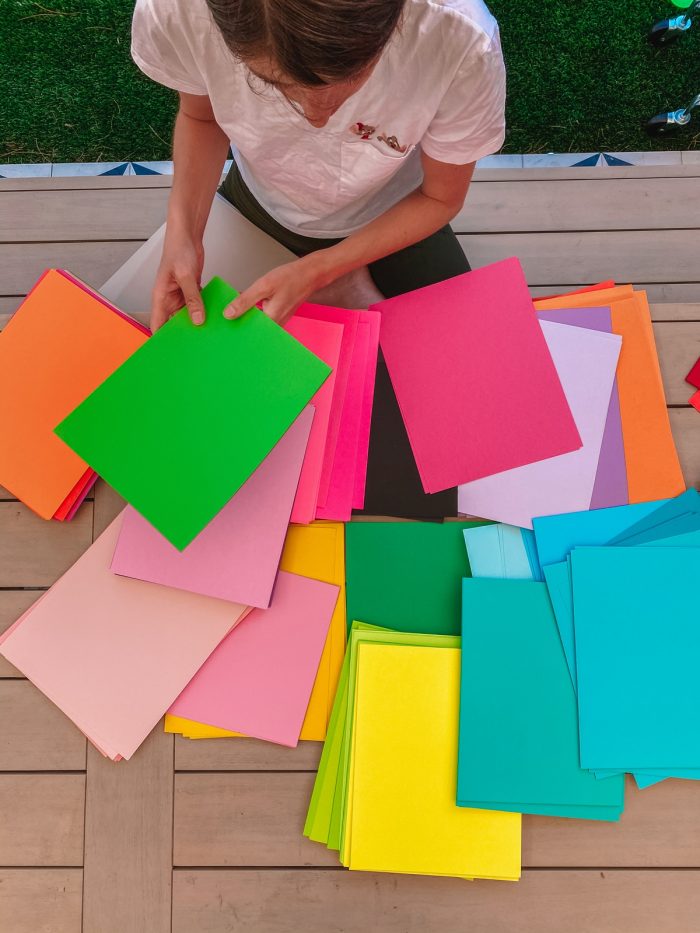 Handprint Crab
Trace your kids' hands on colorful craft paper to create these handprint crab crafts. Don't forget to add the googly eyes- they are always a hit with toddlers and preschoolers!
Find the full tutorial by Simple Everyday Mom and photos by Studio DIY
Circle Punch Paper Fish
If your kids are obsessed with circle punchers this fish craft will be perfect for them! Using a bunch of colorful craft paper, allow them to punch out a ton of circles. Then, cut out a fish shape and let them glue all the circles on like scales! Add a googly eye and some details with a marker.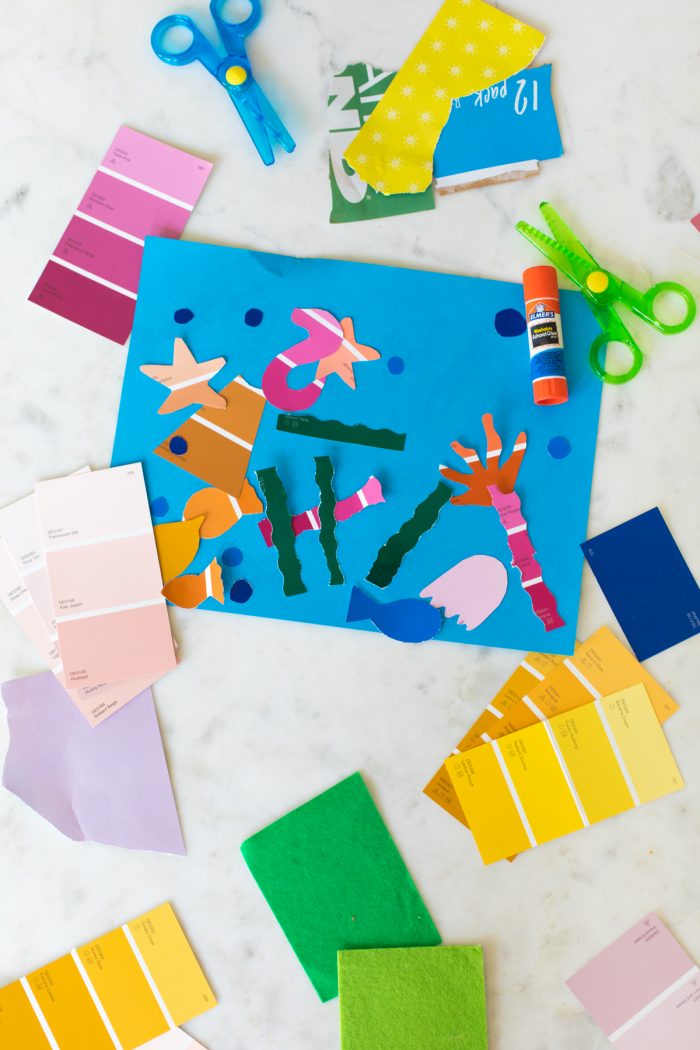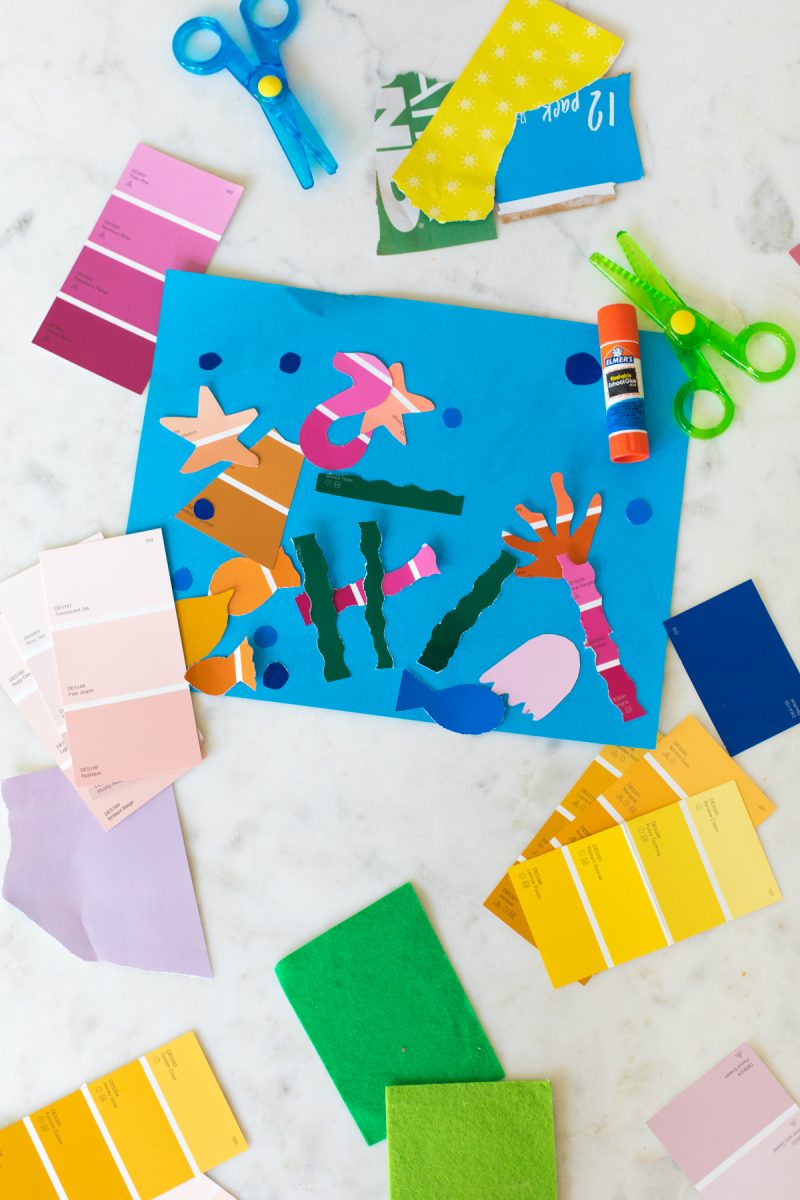 Under the Sea Paint Swatch Collage
Use regular paint swatches from your local hardware store then cut out seahorses, fish, and seaweed shapes. Glue everything onto a piece of poster board or watercolor paper to create an under-the-sea collage.
Photo by Studio DIY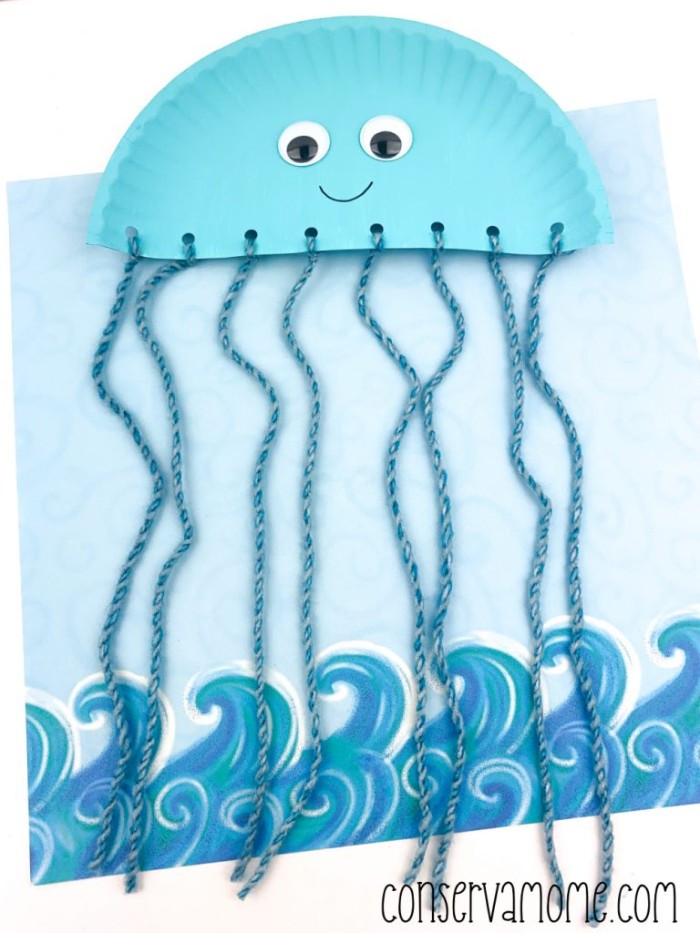 Jellyfish Paper Plate Craft
Do your kids love jellyfish? This under-the-sea craft is made by painting regular paper plates with blue paint. Add googly eyes and use a hole puncher to attach string to make their tentacles.
Photo source and inspiration by ConservaMom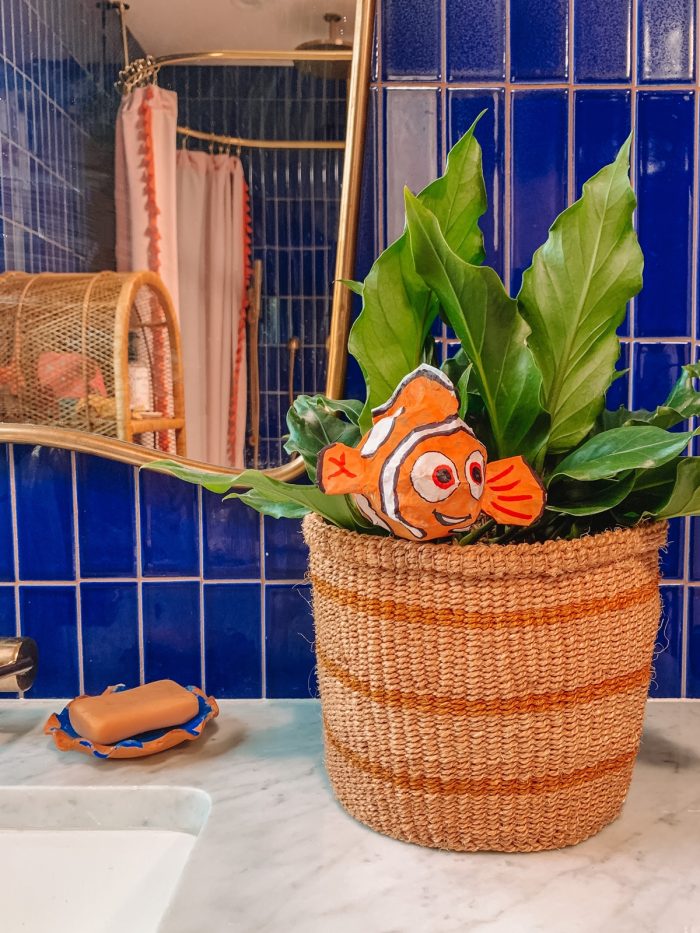 Paper Mache Fish
Paper mache is a classic kids craft, so messy but so fun! And the best part is, you can make paper mache with items you likely already have in your home. Try out our paper mache fish tutorial to make a whole school of cute fish you can display on a child's shelf!
Photo source and tutorial via Studio DIY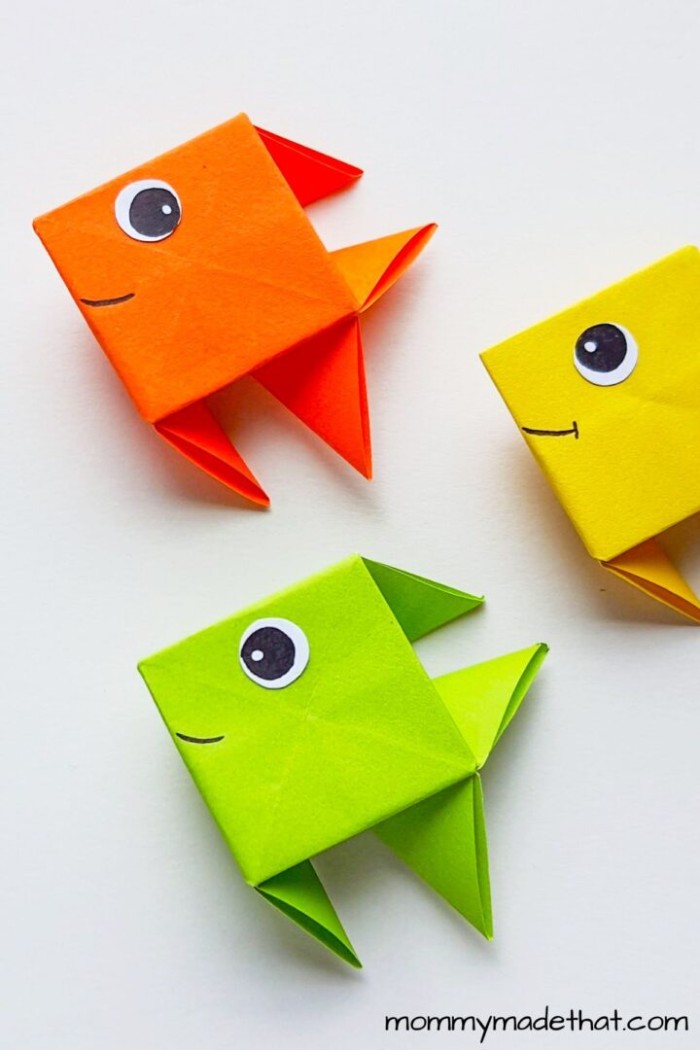 Origami Fish Craft
Origami fish is a creative craft made entirely out of paper. Origami looks hard to do but this fish craft is actually very simple and it only takes 5 minutes to complete. Don't forget to add the eyes and a smile to bring these little guys to life!
Photo source and inspiration by Mommy Made That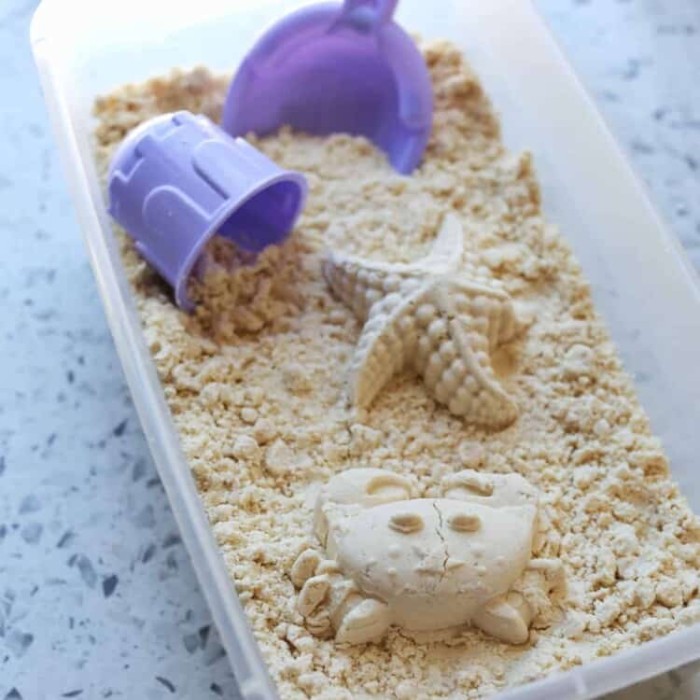 DIY Moon Sand
Homemade moon sand acts similar to ocean sand so it can be used as a sensory play activity. Grab crab, starfish, or fish molds, or make a sand castle!
Photo source and inspiration by Childhood Magic
Under The Sea Diorama
Dioramas are a 3-dimensional craft that can be a really hands-on activity for kids and a great way to illustrate the ocean and the creatures inside of it. If your child is younger cut out a hole in a box for them then have them paint a picture to stick inside. Add blue tissue paper and little paper sea creatures to complete this ocean theme.
Photo source and inspiration by Almost Makes Perfect(Instagram)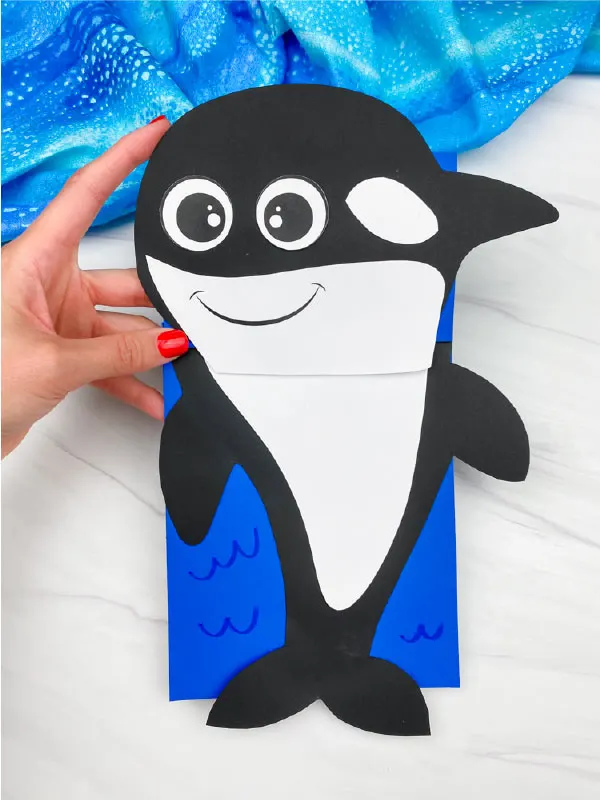 Killer Whale Paper Bag Puppet Craft
Putting on an ocean-themed puppet show? These killer whale paper bag puppets are just the thing you need to complete your show! This craft is awesome for kids of all ages but especially preschoolers and elementary ages.
Photo source and inspiration by Simple Everyday Mom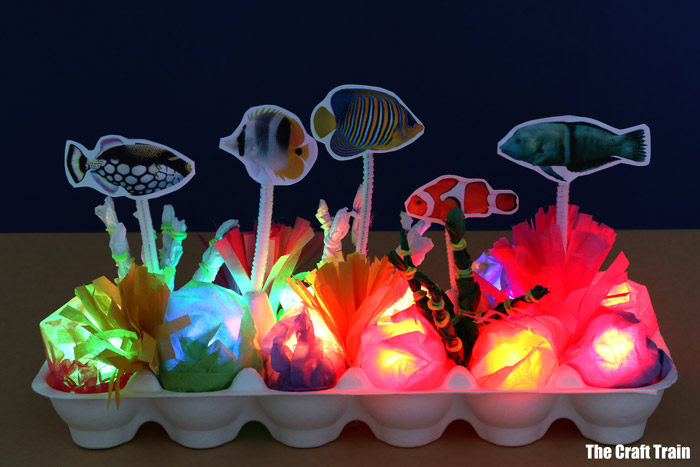 Light up Tropical Reef Craft
This ocean craft lights up in the dark, so you know your kids will love it! Repurpose an egg carton then fill it with colorful tissue paper and LED light candles. Pipe cleaners make up the stem and paper fish are placed on top so it looks like they are swimming in the ocean!
Photo source and inspiration by The Craft Train
Mermaid Crafts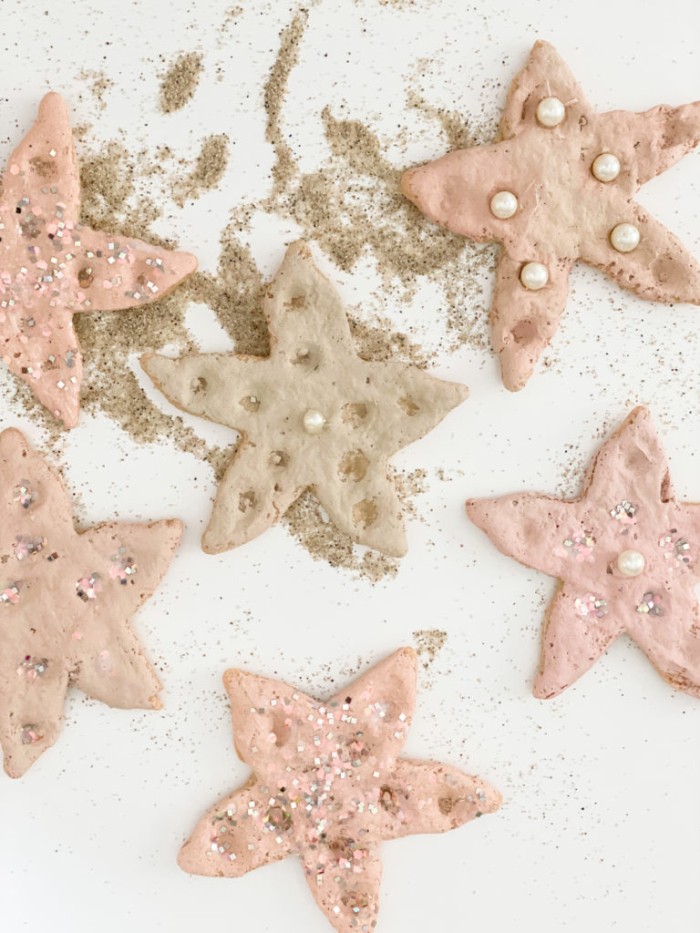 Salt Dough Starfish
Salt dough starfish is an excellent activity for kids of all ages. This can also be a really fun activity for an under-the-sea/ ocean or mermaid-themed birthday party for guests. Simply make the salt dough, roll it out, and allow the kids the cut out their favorite sea creatures. Paint the starfish then decorate with glitter or glue on beads or pearls.
Photo source and inspiration by The Mama Notes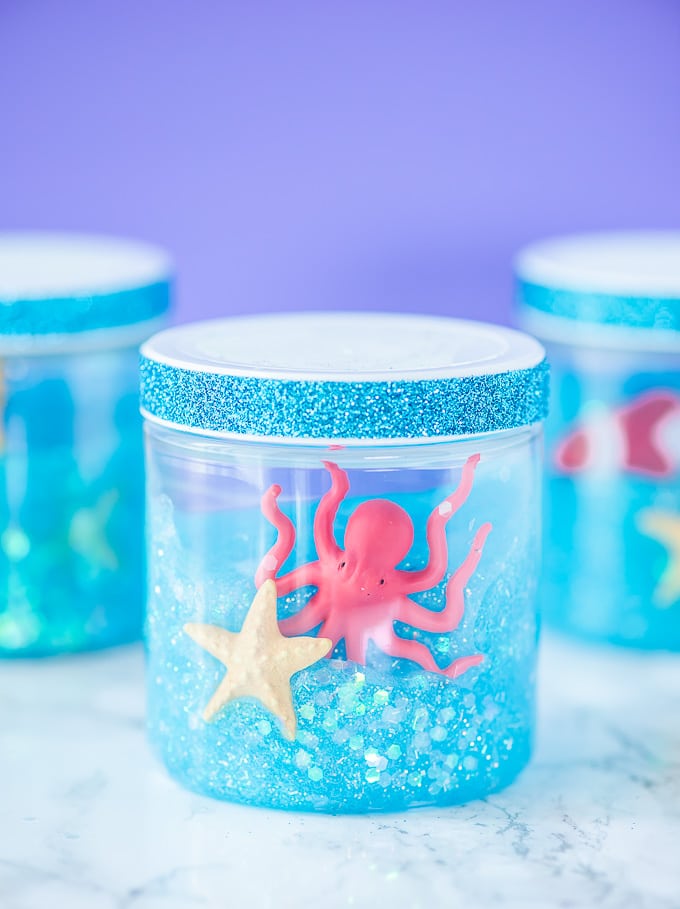 DIY Glitter Ocean Slime Jars
Glitter ocean slime jars are an aquarium in a jar! Fill small jars with glittery slime then have fun adding toy ocean creatures like starfish and octopus!
Photo source and inspiration by A Pumpkin & A Princess
More Activities and Crafts for Kids
The ocean is vast and the ideas for different activities and craft projects to do with your kids are as well! Whether you are putting together an ocean or mermaid party or just want something to do with your ocean-loving kids, these craft projects are sure to be fun for all!