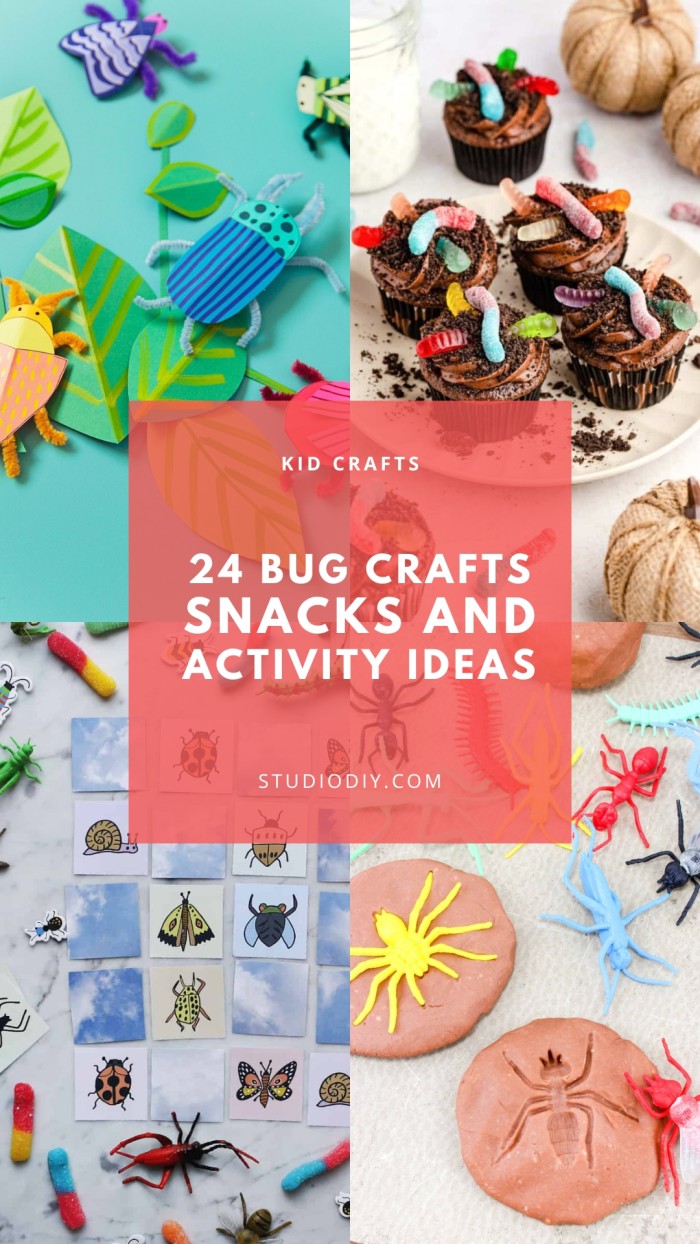 If your child is curious about insects these bug crafts and activities are sure to interest them! Insect crafts are perfect for preschoolers and super simple and fun to create with items you probably already have in your home!
This post has 23 bug crafts and activities perfect for kids who are interested in nature. These bug-themed crafts, activities, and snacks are a great way to keep little ones busy while learning important observational skills and more about the world around them!
Bug Crafts for Preschoolers
These easy projects use basic kids craft supplies like pom poms pipe cleaners and colorful paper to make all sorts of cute insect art!
Clothespin Butterflies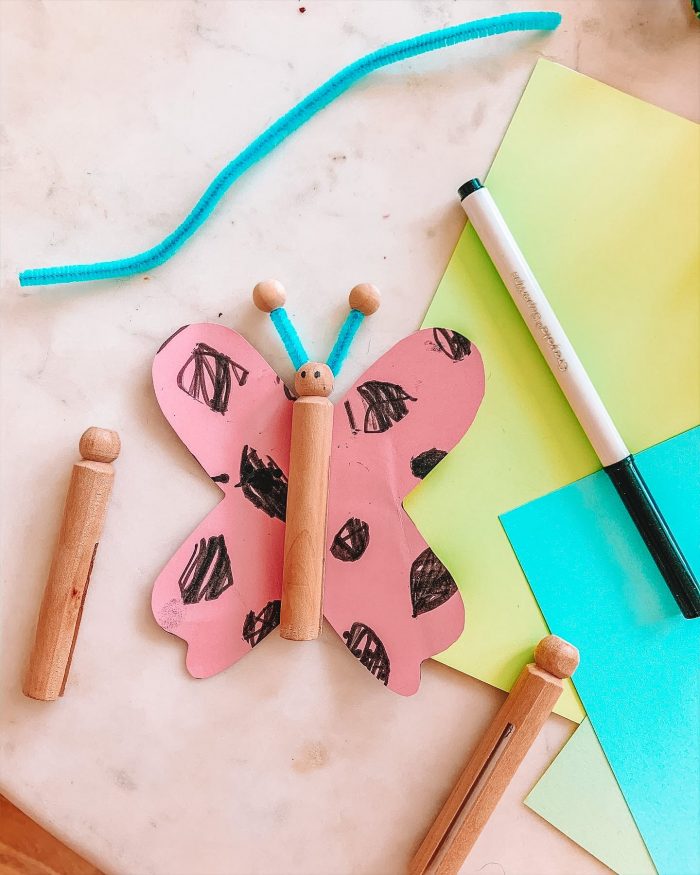 Inspired by Mer Mag's clothespin butterflies, we turned some stamp art into a really cute wall decoration!
First, set up a drawing, painting or stamps and stenciling activity with a few different pieces of paper. Let the art pieces dry if necessary.
Then, cut out a butterfly wing shape from the art. Glue a clothespin to the center of each. If you don't have a clothespin, try a popsicle stick! Add pipe cleaner antennae (add little wood beads to the ends if you have them)!
DIY Paper Bugs Craft
Paper bug crafts are a great activity for preschoolers. Simply cut colored cardstock into the shape of different bugs. Use paint pens and markers to decorate the bug bodies and then hot glue everything together! Super easy!
Photo source and inspiration from Tell Love and Party
Pom Pom Caterpillar Craft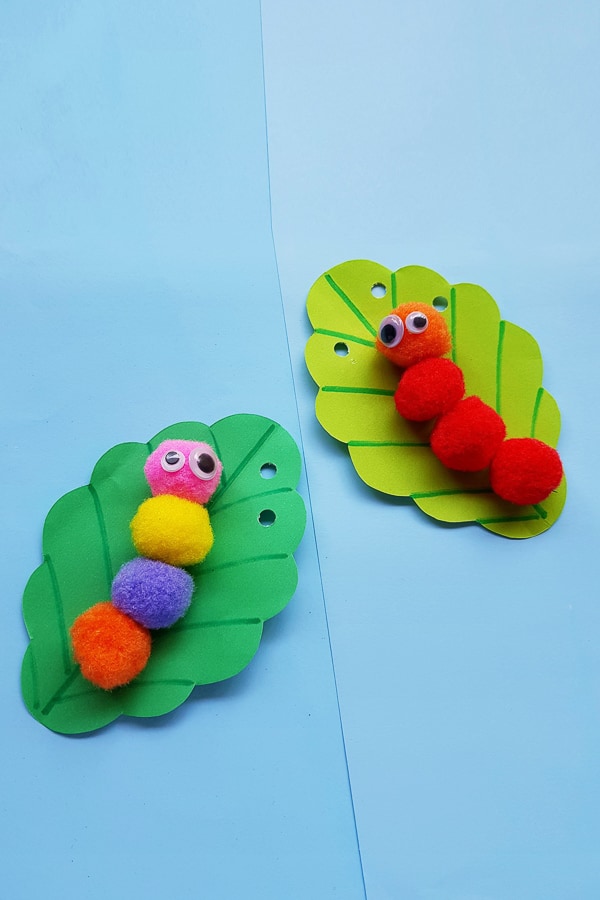 Your kids will love these adorable pom-pom caterpillar crafts. Grab some colorful pom poms, googly eyes, and glue to create these colorful critters, then use green craft paper to create the leaves.
Photo source and inspiration from Mommy Made That
Butterfly Storage Craft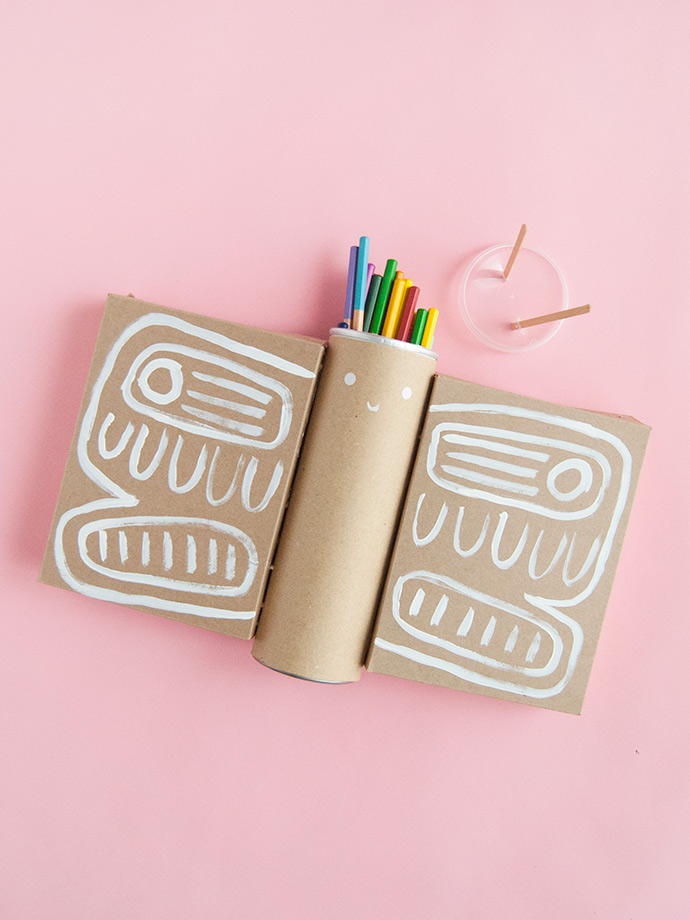 This craft doubles as storage for craft supplies! A cardboard tube and two cardboard boxes turn into the cutest butterfly storage box.
Photo source and inspiration from Handmade Charlotte
Egg Carton Ladybug Craft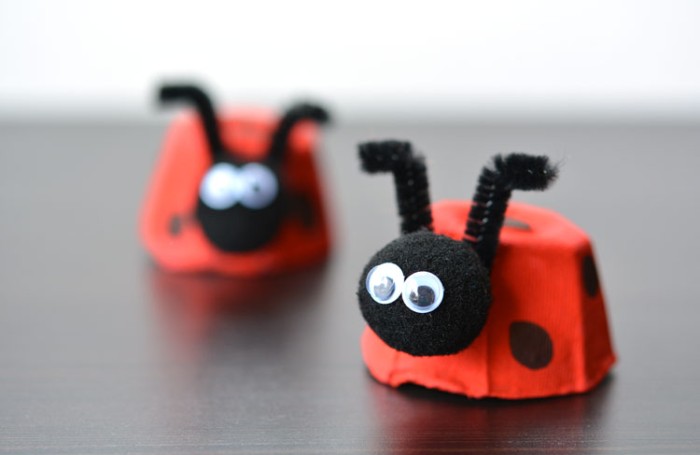 Pull that egg carton from the recycling bin and turn them into these adorable little ladybugs!
Photo and inspiration from One Little Project
Movable Caterpillar Craft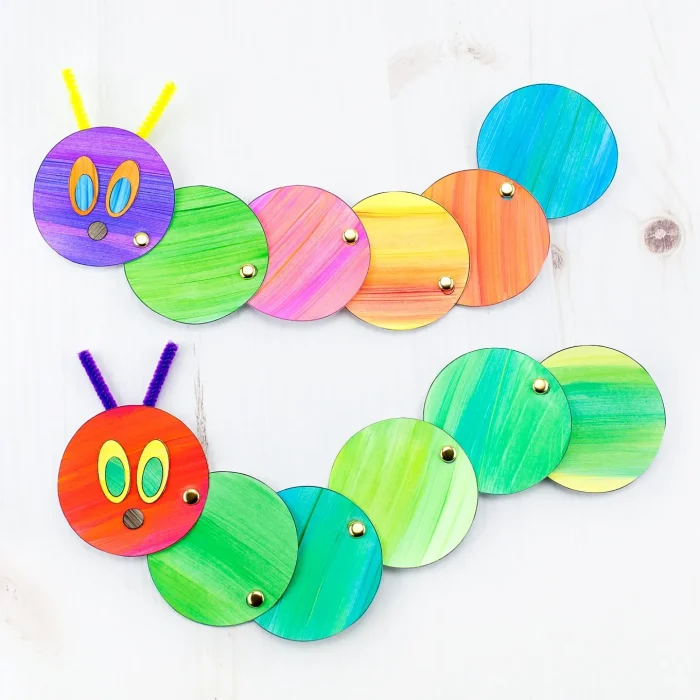 This sweet caterpillar craft is movable. It's great painting or coloring practice for little kids, too!
Photo and Inspiration by Fireflies and Mudpies
Handprint Bee Craft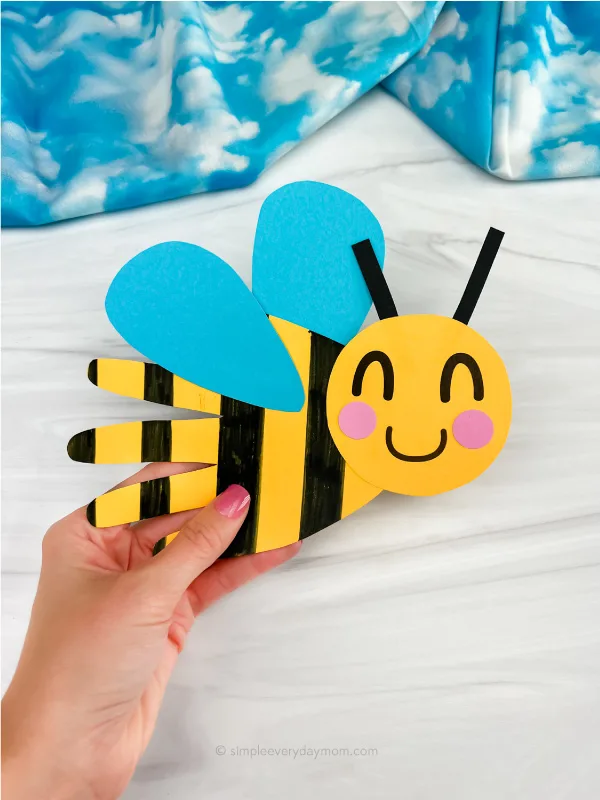 Handprint crafts are always a hit! Turn their latest handprint into a cute little bee with just colorful paper and a black marker.
Photo and inspiration from Simple Everyday Mom
How To Draw Insect Fingerprints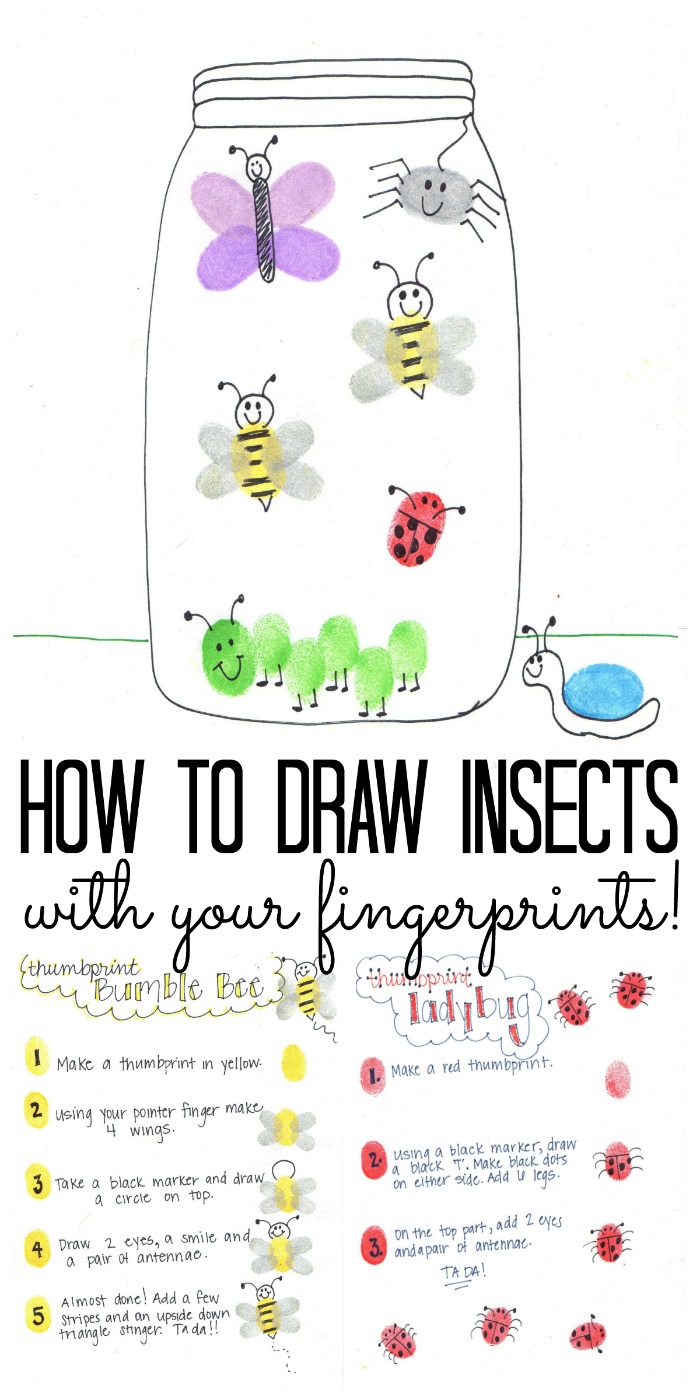 Learn more about how to draw insects using your fingerprints in this ladybug craft! Create colorful insects using stamp pads, paper, sharpies, and your fingers!
Photo source and inspiration from The Country Chic Cottage
DIY Firefly Suncatcher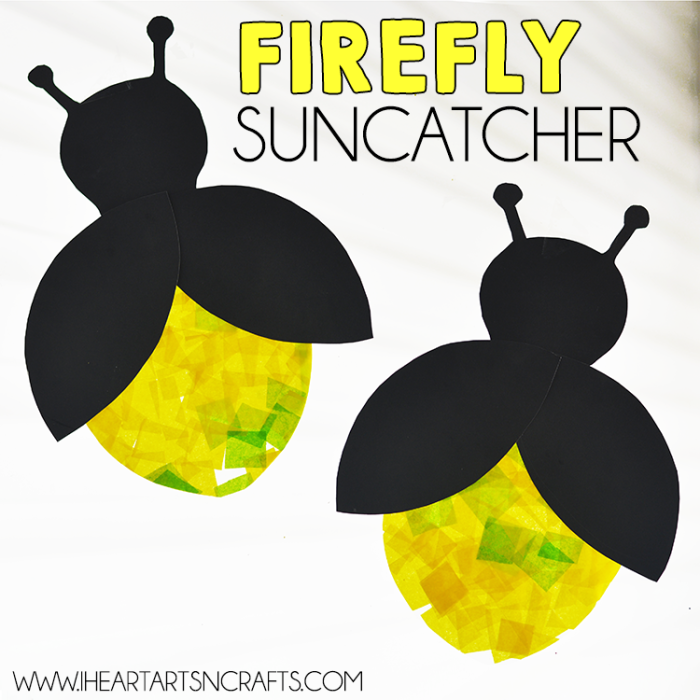 Fireflies are such fascinating bugs! Create your own firefly suncatcher with colored tissue paper, contact paper, glue, and black card stock. When you're finished stick your craft onto a window and watch the sun's rays shine through it!
Photo source and inspiration from I Heart Arts N Crafts
Handprint Butterfly Craft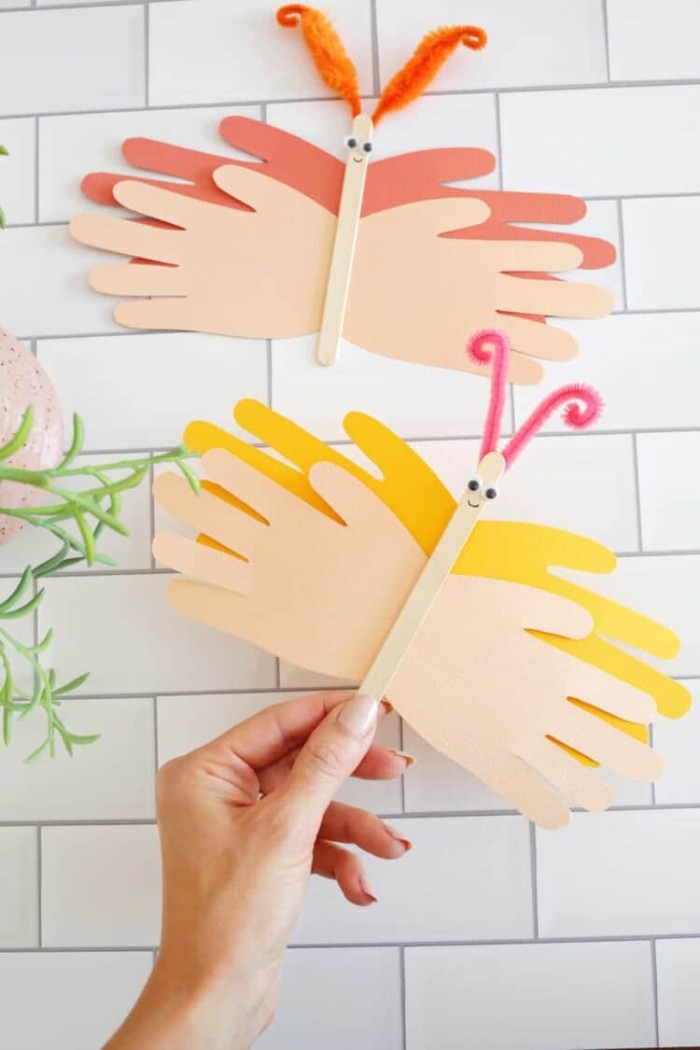 Handprint butterflies are an easy and colorful craft to make with your toddler! Grabbing colored card stock your child's handprints make up the butterfly's wings. Have fun decorating the wings with markers and putting on googly eyes!
Photo source and inspiration from Childhood Magic
Paper Loop Bugs
This preschool bug craft allows your kid's creativity to truly shine! Colorful craft paper makes up the bug's body and the wings can be any color, shape, or design of your child's choice!
Photo source and inspiration from Our Kid Things
Bug-Themed Activities for Kids
These bug activities will get kids moving, strategizing and exploring in nature!
Caterpillar Scavenger Hunt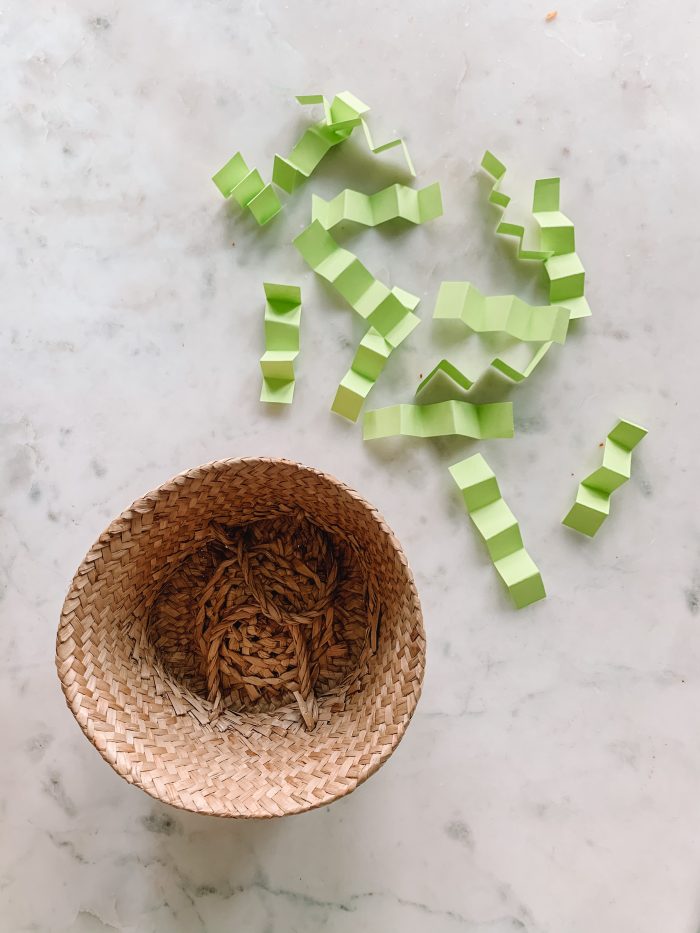 This caterpillar scavenger hunt is the perfect interactive insect craft for preschoolers!
Cut thin strips of paper and accordion fold them to make paper "caterpillars." Keep track of them by adding a number somewhere on each one. You can draw on a face too, if you'd like!
Then, hide them all over your home or yard and hand your child a basket or bowl to collect them in! Easy and such a toddler crowd pleaser!!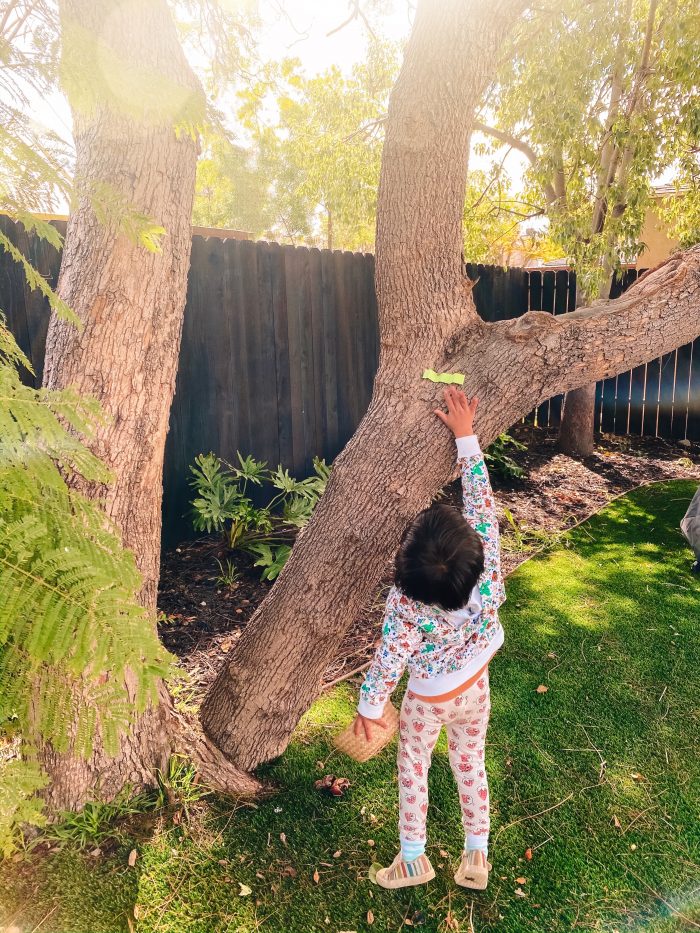 Bug Fossil Activities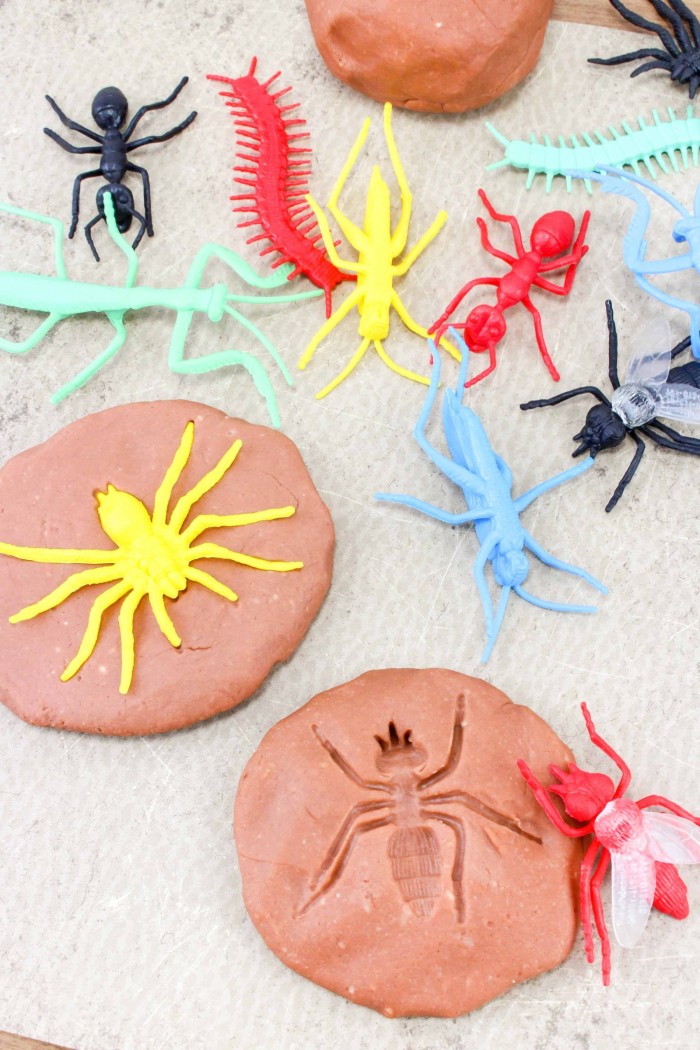 Round up any toy bugs you have and some play dough to create these fossils as an easy bug activities for preschoolers!
Photo and Inspiration from The Inspiration Edit
Dig for Bugs Sensory "Dirt" Bin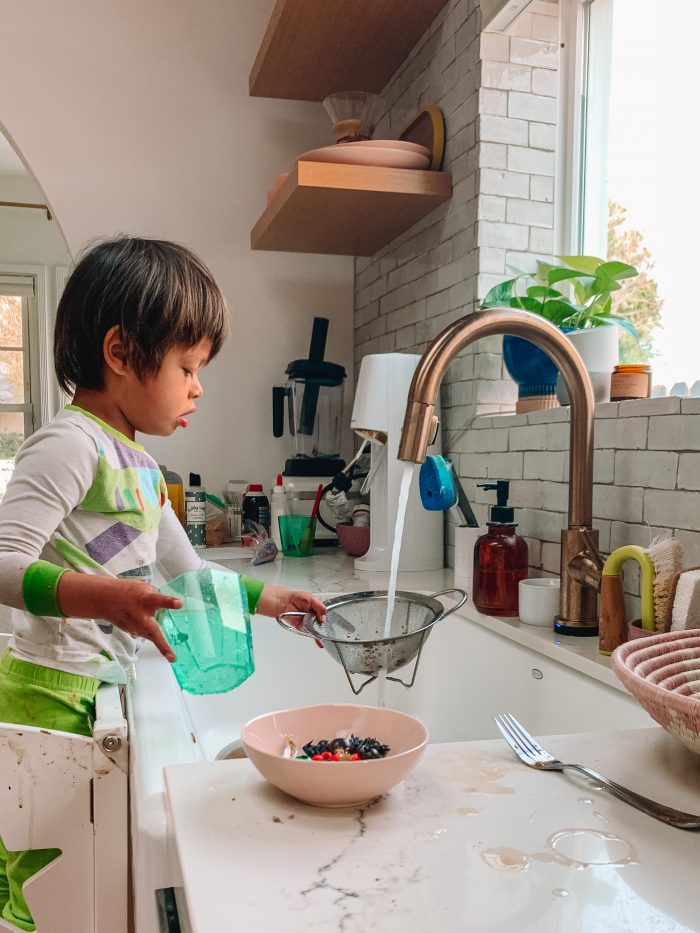 Bug sensory bins are a great way for your child to learn about nature!
First, make your fake "dirt", using 2 cups flour OR baking soda plus about 1/2 cup cocoa powder. Add water to make the "dirt" a little clumpy or add extra water to make it more like 'mud'.
Put the dirt in a large bowl or plastic bin, and then hide "bugs" inside of it. Use toy or plastic bugs, beads, rocks, or pieces of pipe cleaner.
Your kiddo can use spoons, bamboo tongs, or cups to dig everything out. If you have a sieve, have them put everything in that and then they can rinse it all off in the sink for a bonus additional activity!
Insect Memory Game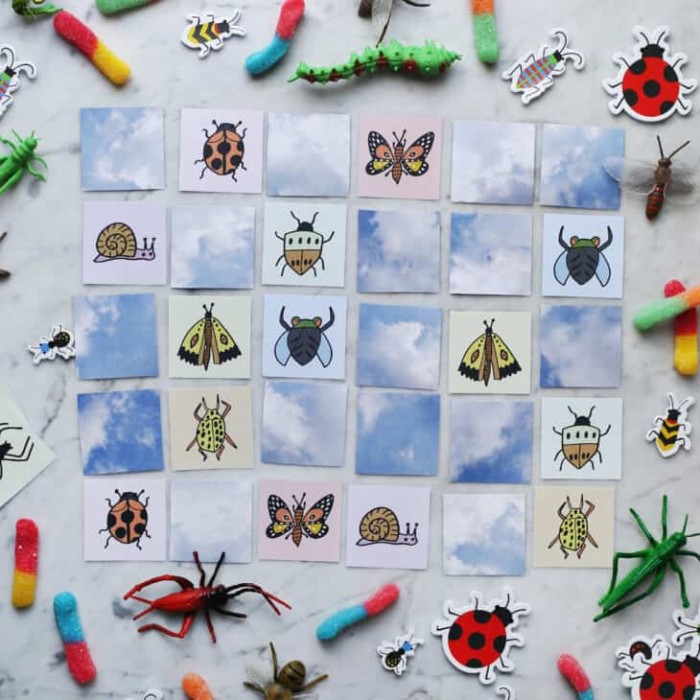 Memory games are always fun and this insect-themed activity is perfect for bug day! Cut out the template onto cardstock and have fun mixing and matching the pictures seeing who gets the most matches!
Photo source and inspiration from Childhood Magic
DIY Bug Observation Box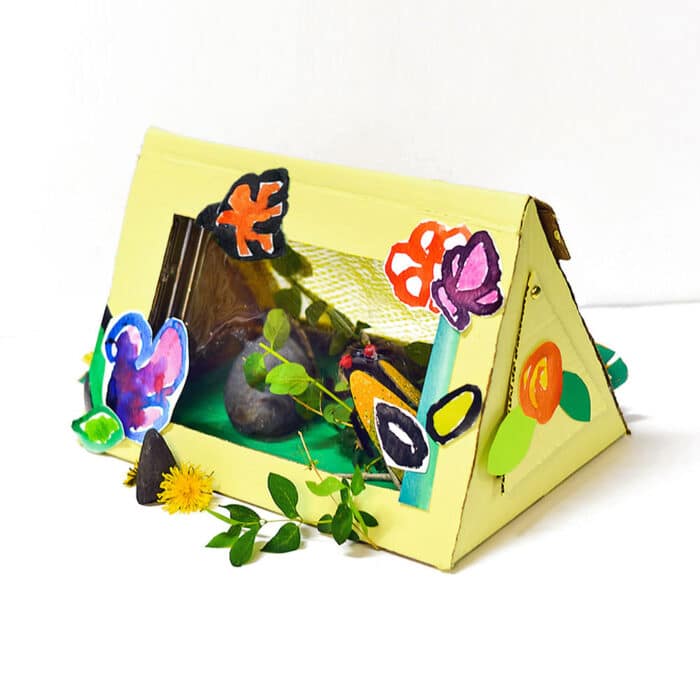 This bug observation box is a unique idea that combines craftiness and observational skills! Using whatever materials you have at home, create a box to put flowers, leaves, or sticks into from your backyard. Leave it outside then come back later to investigate your findings with your kiddo!
Photo source and inspiration from Barley and Birch
Bug Hotel Activity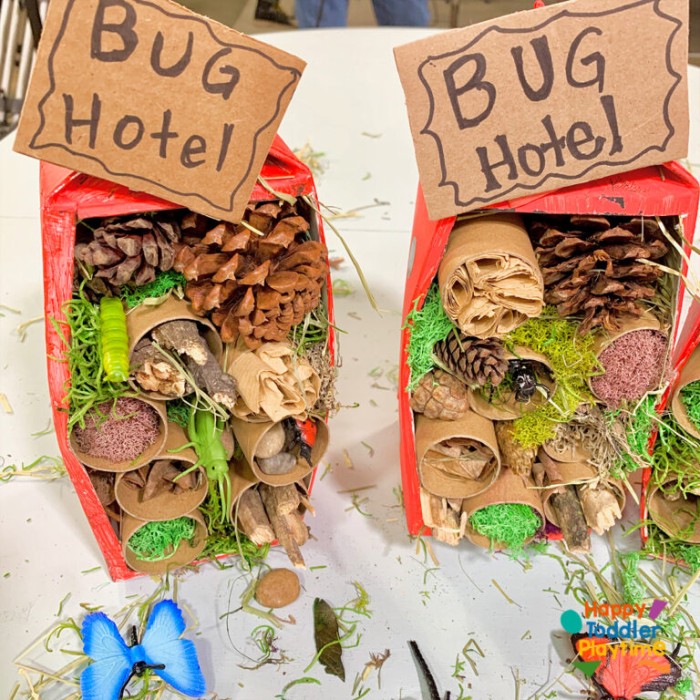 This bug hotel is an insect activity perfect for preschoolers to teach more about the natural habitats of bugs. Using natural materials like rocks, moss, sticks, and pinecones your kids can create a bug shelter to keep outside!
Photo source and inspiration Happy Toddler Playtime
Autumn Leaf Butterfly Craft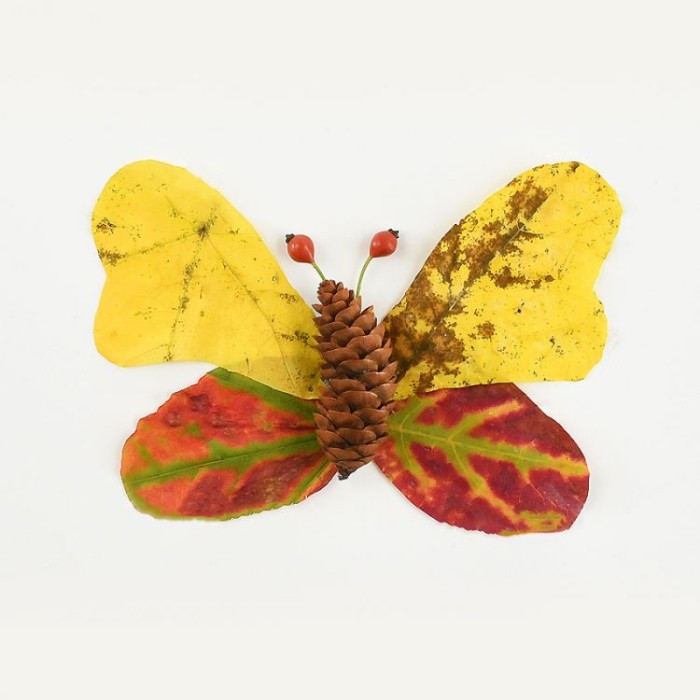 These butterflies and dragonflies made of leaves and pinecones are another activity that gets your preschooler out into nature! Search for leaves to create the wings, try looking for two large ones and two small ones, and a stick or pinecone to create the body.
Photo source and inspiration from One Little Project
Bug Themed Snacks
If you're going to embark on a bug craft project, why not make one you can eat!? These activities do double duty as a project and a snack.
Dirt Cupcakes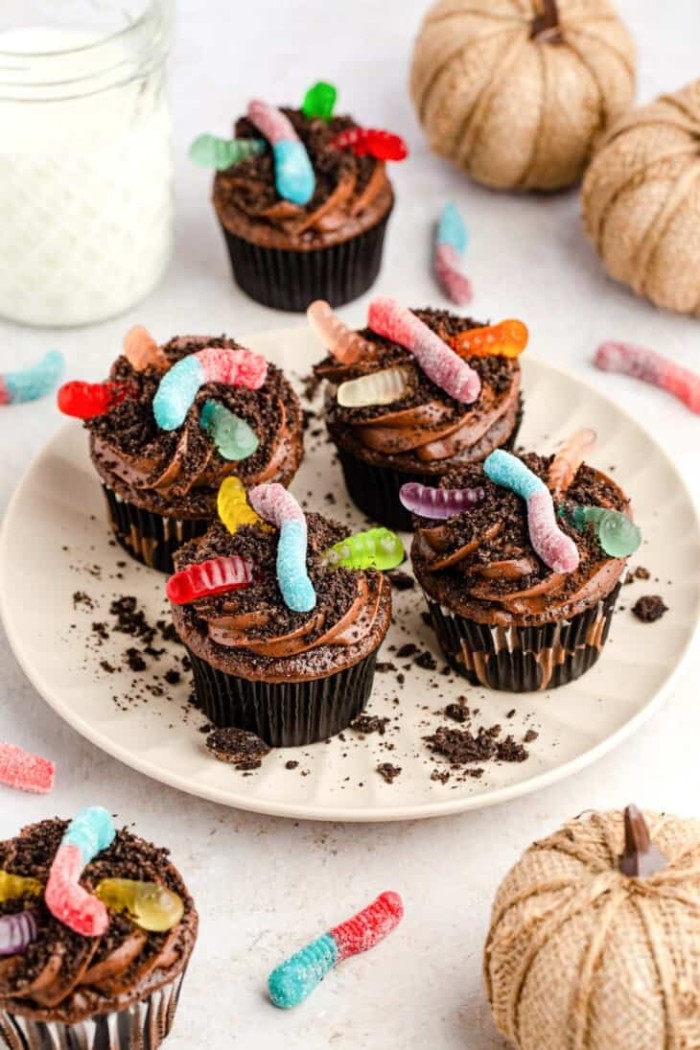 Bring the fun into the kitchen by creating these bug-themed dirt cupcakes with your child! Top homemade cupcakes with chocolate icing, and crushed Oreo cookies to create "dirt" and finish with sweet and sour gummy worms!
Photo source and inspiration from Little Sunny Kitchen
Insect Cookies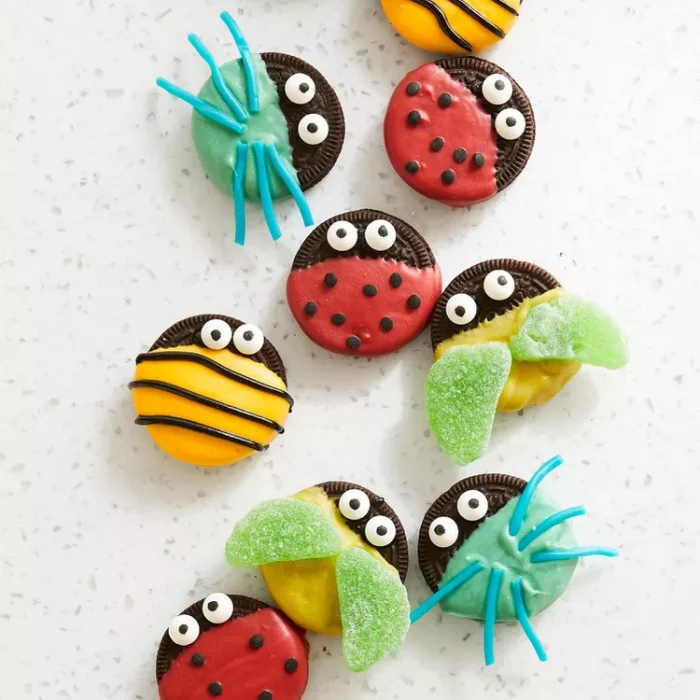 Photo source and inspiration from Allrecipes
Fruit and Veggie Insect Snacks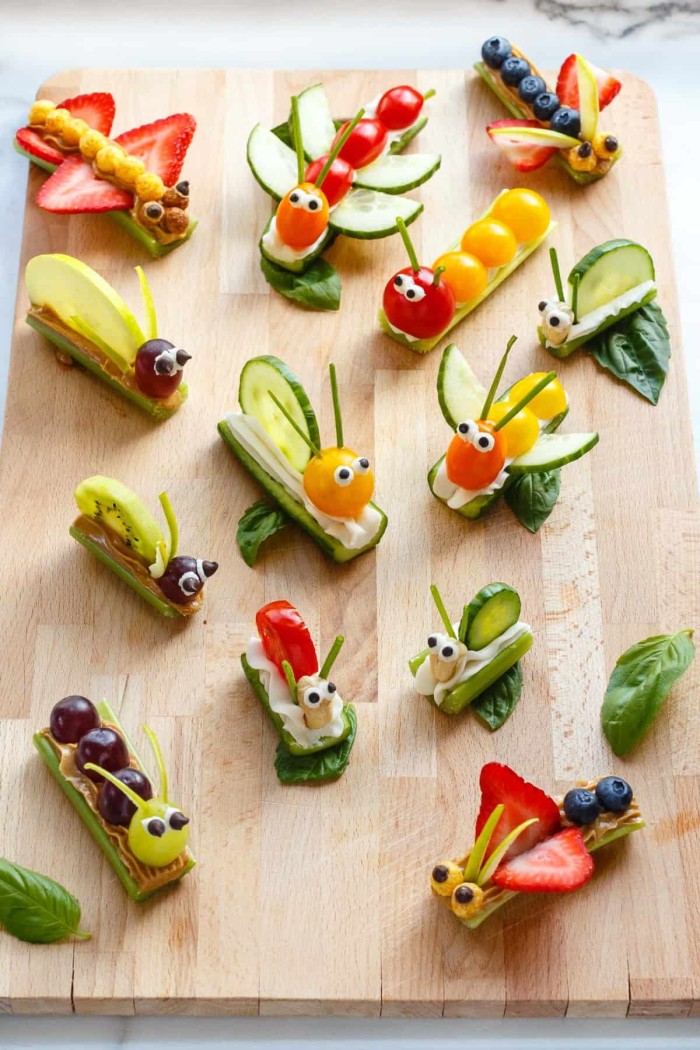 Photo source and inspiration from I Love Vegan
Healthy Fruit Bug Snacks
Cut up some favorite fruits and veggies and turn them into little insects with some peanut butter or cream cheese. An edible bug activity is always fun!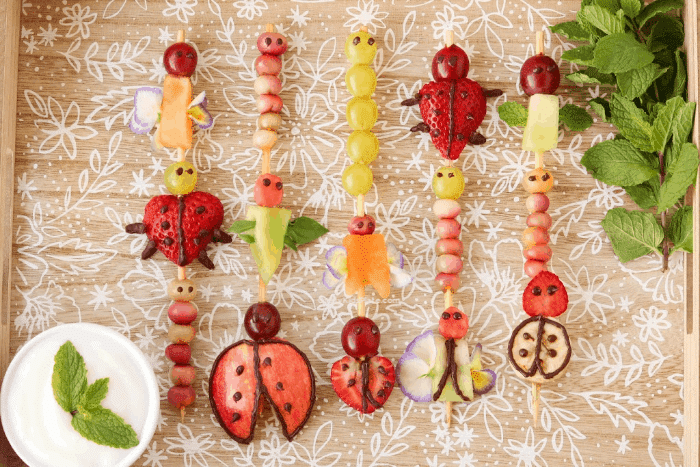 Try another version of fruit and vegetable bugs, as kebobs! These make a great after-pool summer snack.
Photo source and inspiration from On My Kid's Plate
Peanut butter butterfly snacks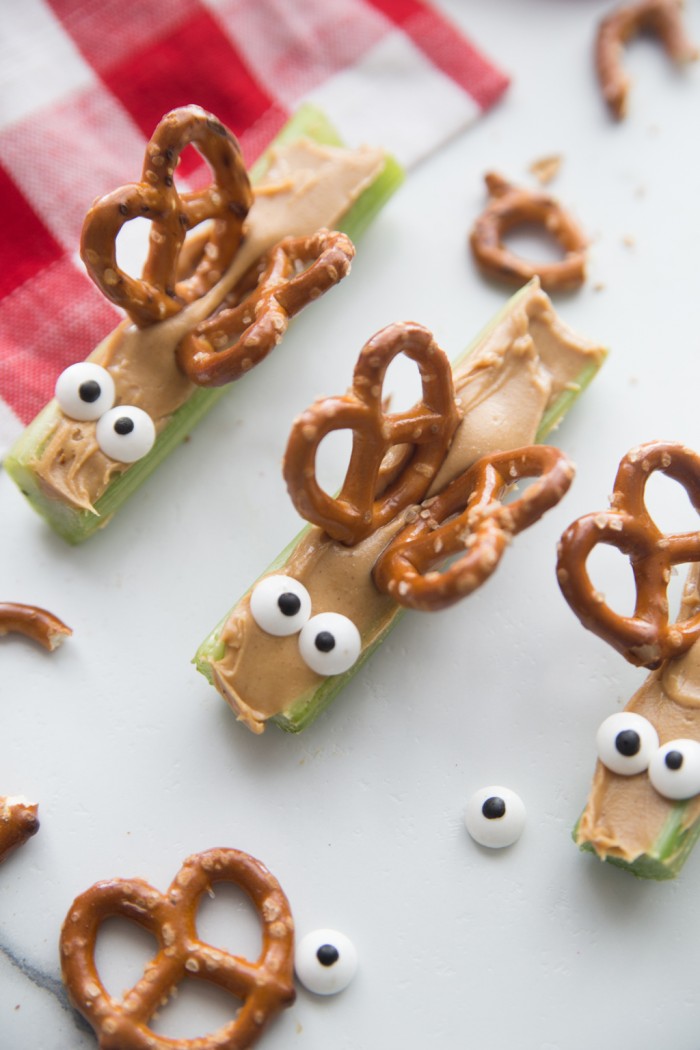 Instead of ants on a log, make butterflies out of those same classic snack supplies: peanut butter and celery!
Photo source and inspiration from The Crafting Chicks
Ladybug Pretzels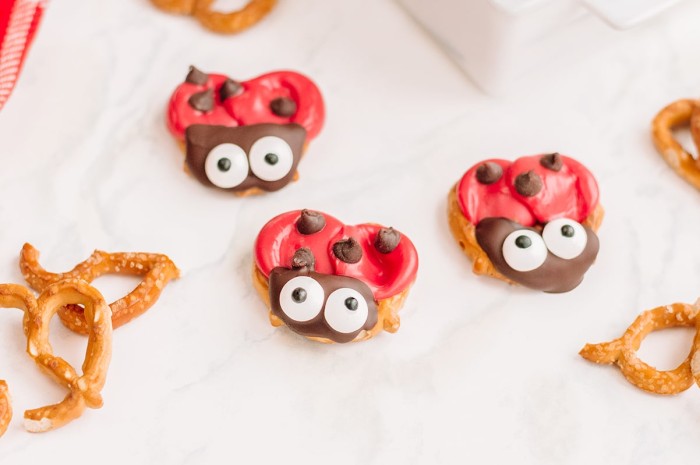 Candy melts and chocolate make a fun after school or after camp snack when they turn pretzels into edible ladybugs!
Photo and inspiration from See Lindsay
More Themed Crafts and Activities Ideas
Bugs are always a topic of fascination for kids. Learning more about them in nature through insect activities, creating bug crafts, or simply in the kitchen are all great ways for your little one to explore the exciting world of bugs in a fun way!