It appears I went Valentine crazy this year! Holy moly! To help all you last minuters out, I've gatehred all of the Valentine's Day DIYs I featured this year right here, in one post! Now you have NO excuses not to do anything before tomorrow! For the quickest options, I'd look to the chocolate heart wall, the giant balloon heart, the love bugs and the conversation heart cakes (Shortcut version: Buy a store bought sheet cake, cut into a heart, frost and then add letters). But hey, if you're ambitious you could get a hefty amount of the rest done just in time too! Time to craft with love, my friends!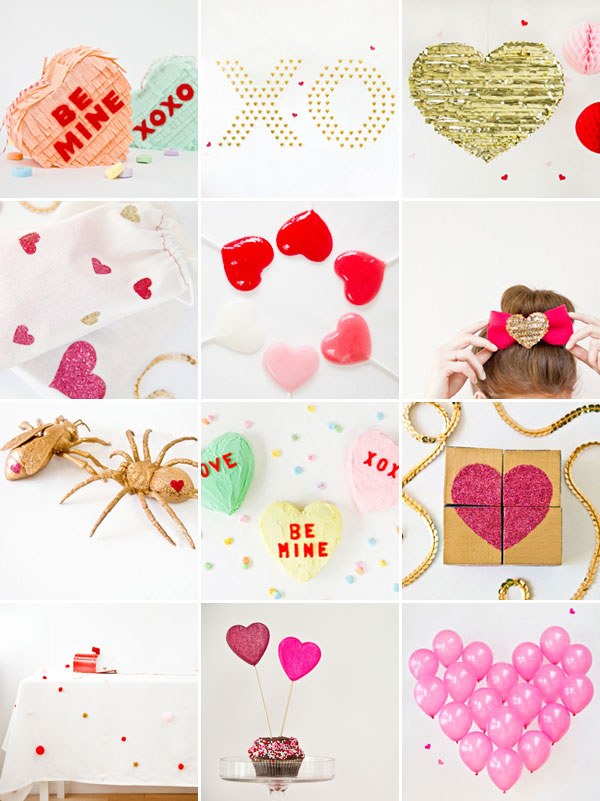 (From Top to Bottom, Left to Right)
DIY Conversation Heart Piñatas, DIY Chocolate Heart Wall, DIY Gold Heart Piñata
DIY Glitter Heart Bags, DIY Heart Lollipops, DIY Sequin Heart Hair Bow
DIY Giant Love Bugs, DIY Conversation Heart Cakes, DIY Glitter Block Puzzle Valentines
DIY Pom Pom Tablecloth, DIY Glitter Heart Cake Toppers, DIY Giant Balloon Heart
If you end up crafting up any of these ideas, please oh please send me a picture! I just love to see them!
For even more DIYs you're going to want to head here.