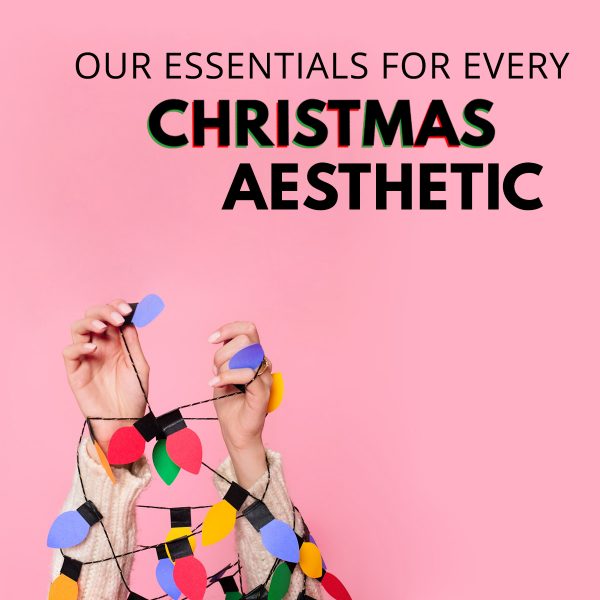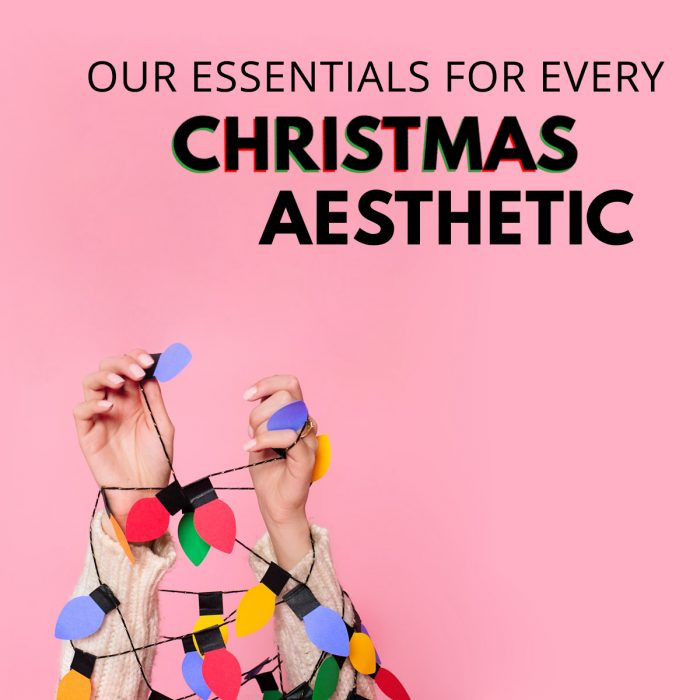 I had a blast putting together our summer aesthetic post, and since I very much believe everyone has their own Christmas aesthetic too, I had to do another! Are you someone who keeps a tried and true traditional Christmas style every year? Or do you change it up each holiday season?? Tell me in the comments which aesthetic fits YOUR vibe!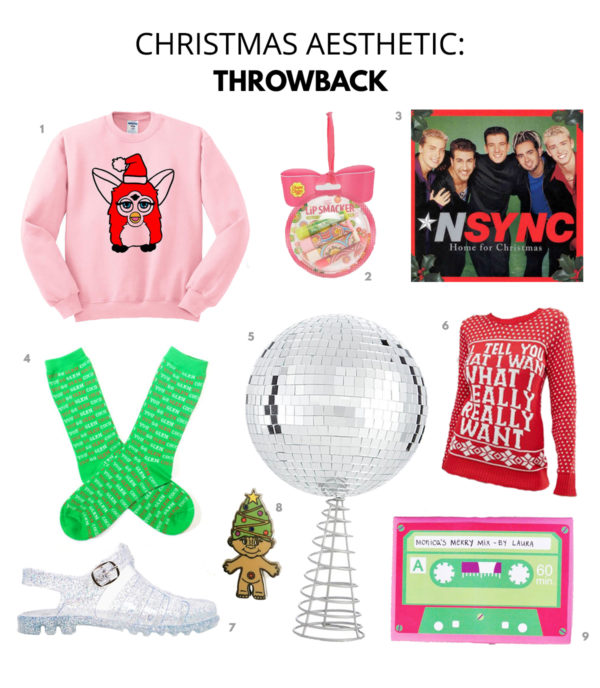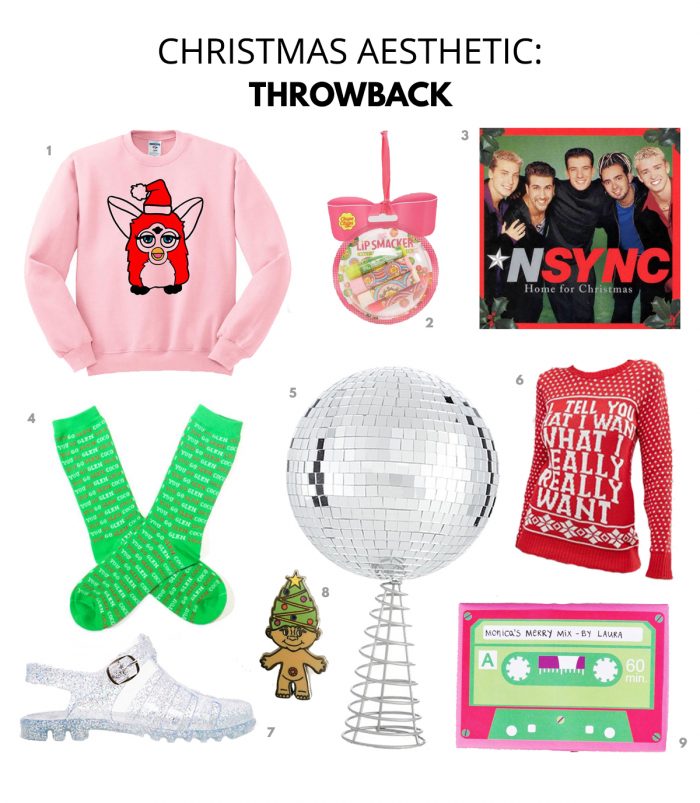 No.1 Furby Sweatshirt | No. 2 Lip Smackers Ornament
No. 3 *NSYNC Christmas Album | No. 4 Glen Coco Socks
No. 5 Disco Ball Tree Topper | No. 6 Spice Girls Sweater
No. 7 Glitter Jelly Sandals | No. 8 Christmas Troll Pin
No. 9 DIY Cassette Tape Gift Wrap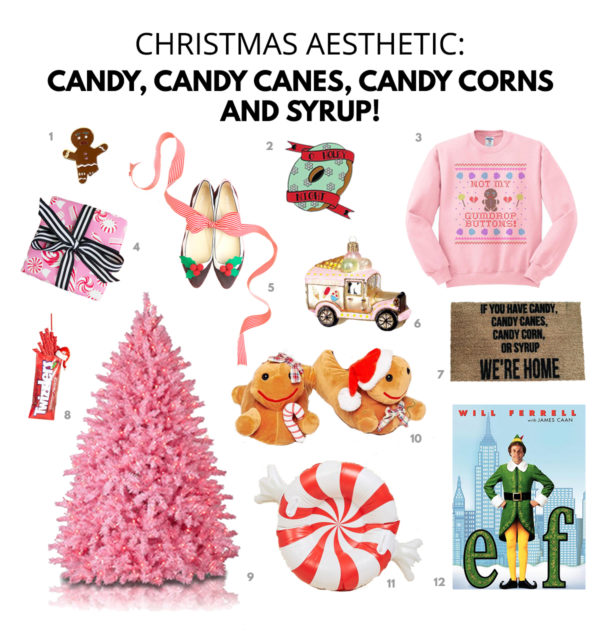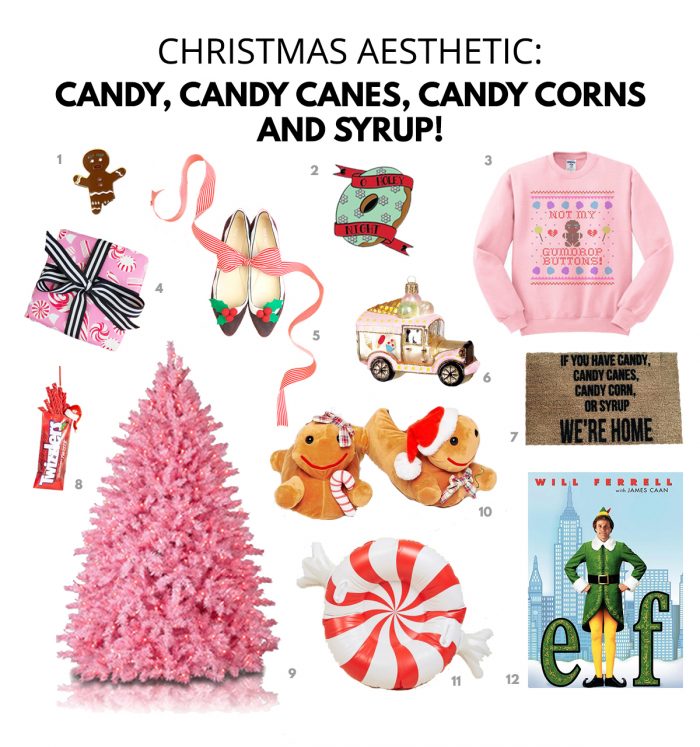 No. 1 Gingerbread Man Pin | No. 2 Donut Pin
No. 3 Sweatshirt | No. 4 Peppermint Gift Wrap
No. 5 DIY Figgy Pudding Flats | No. 6 Ice Cream Truck Ornament
No. 7 Doormat | No. 8 Twizzlers Ornament
No. 9 Pink Tree | No. 10 Gingerbread Slippers
No. 11 Peppermint Snow Tube | No. 12 Elf Movie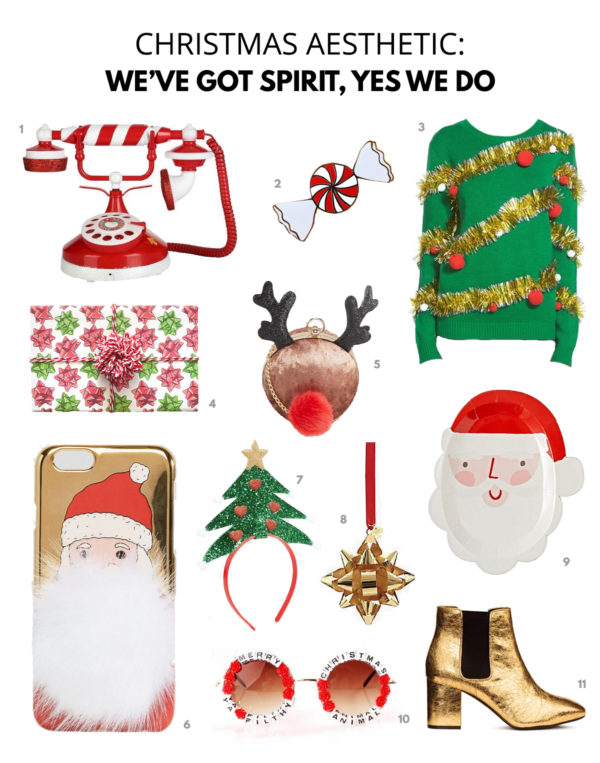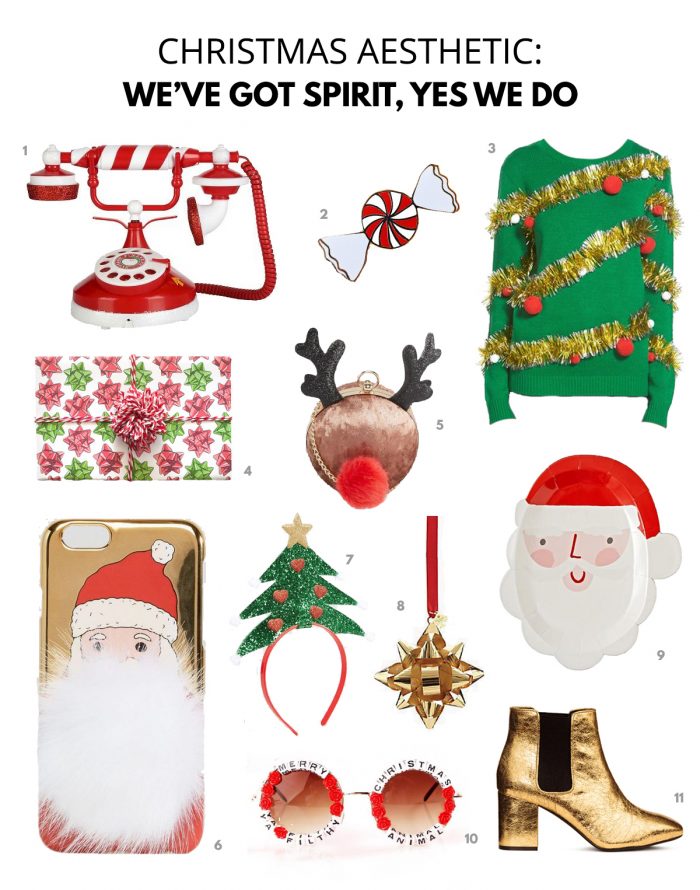 No. 1 Christmas Phone | No. 2 Peppermint Pin
No. 3 Christmas Sweater | No. 4 Gift Bow Wrapping Paper
No. 5 Reindeer Purse | No. 6 Santa Phone Case
No. 7 Christmas Tree Headband | No. 8 Gold Bow Ornament
No. 9 Santa Plates | No. 10 Filthy Animal Sunglasses
No. 11 Gold Boots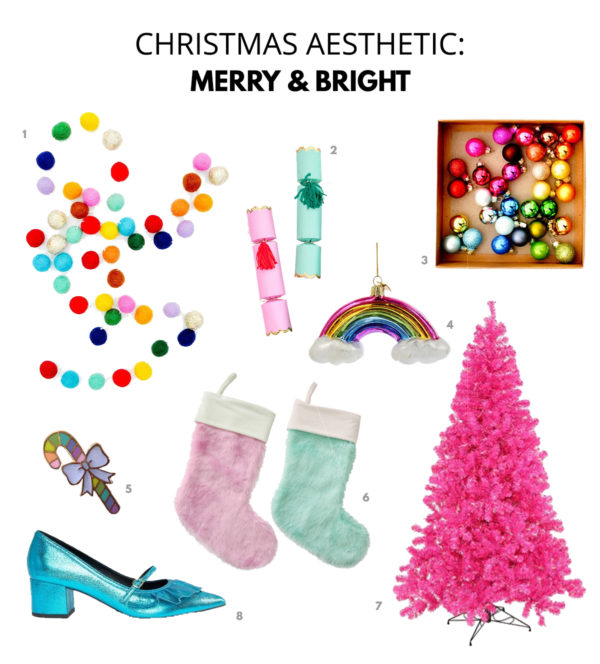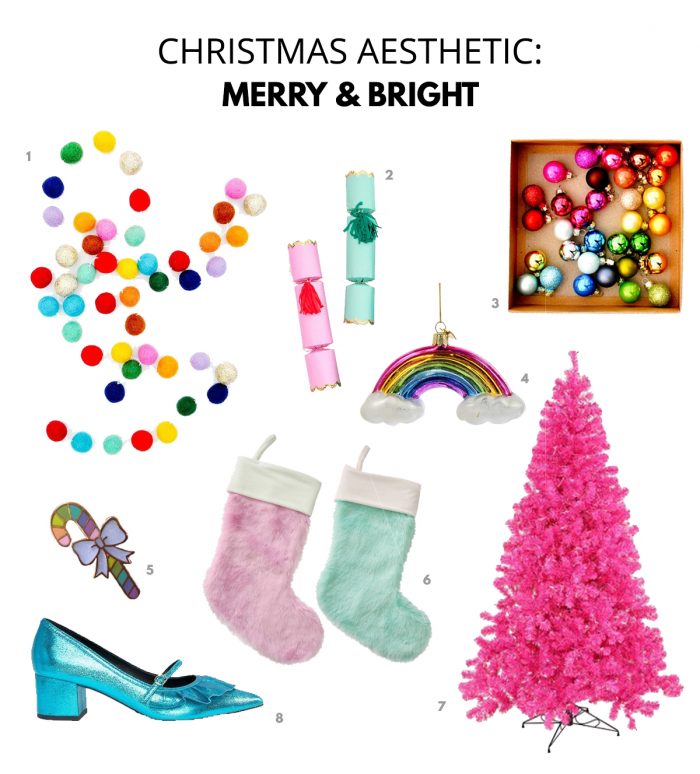 No. 1 Garland | No. 2 Holiday Confetti Crackers
No. 3 Color Spectrum Ornaments | No. 4 Rainbow Ornament
No. 5 Candy Cane Pin | No. 6 Faux Fur Stockings
No. 7 Hot Pink Tree | No. 8 Blue Ruffle Shoes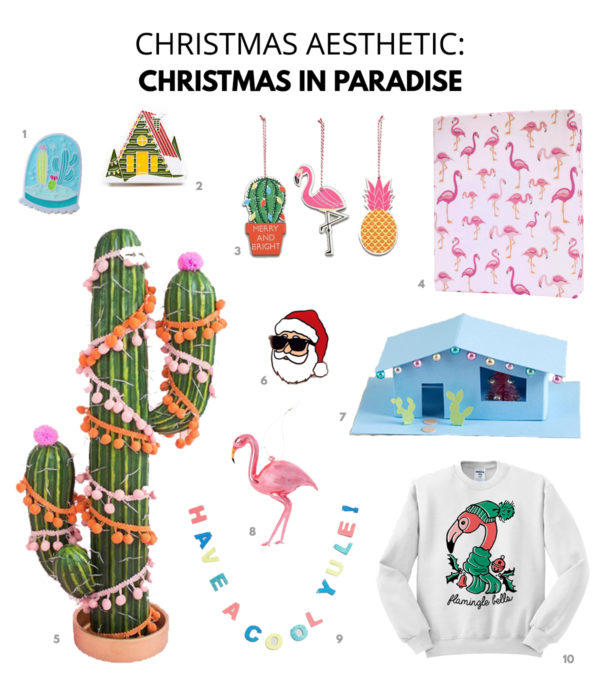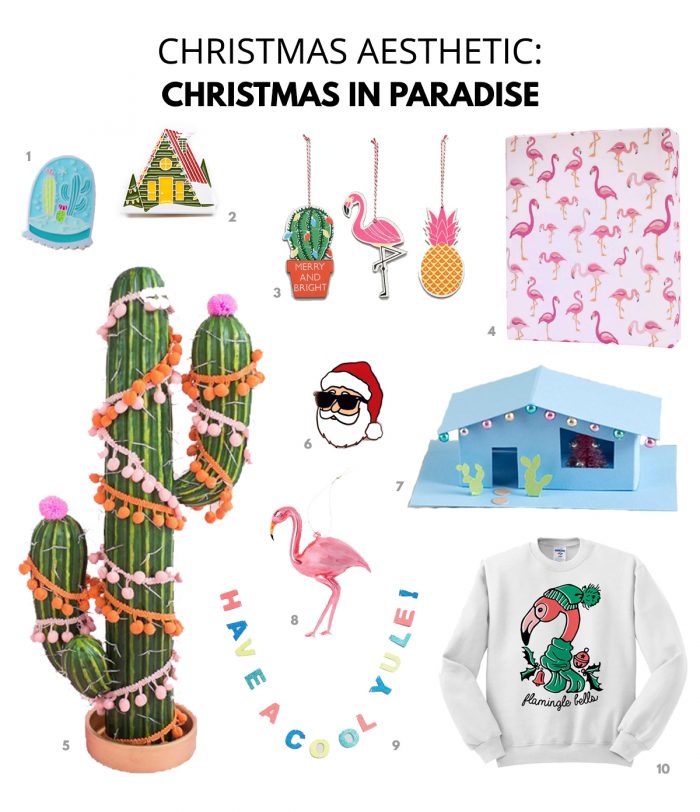 No. 1 Cactus Snow Globe Pin | No. 2 Christmas A-Frame Pin
No. 3 Tropical Ornaments | No. 4 Flamingo Wrapping Paper
No. 5 DIY Christmas Tree Cactus | No. 6 Chill Santa Pin
No. 7 DIY Mini Retro Houses | No. 8 Flamingo Ornament
No. 9 Have A Cool Yule Garland | No. 10 Flamingle Sweatshirt
Top Photo by Mary Costa
So… which one is it gonna be!? I'm feelin' Christmas In Paradise this year since we're having a California christmas! Though I'm secretly a traditional Christmas gal at heart.
p.s. It's Cyber Monday and we're offering 30% off our dresses in honor of it! We're also tossing in a fun free "I Know Guacamole Is Extra" button with every order (clutches included!) placed today!