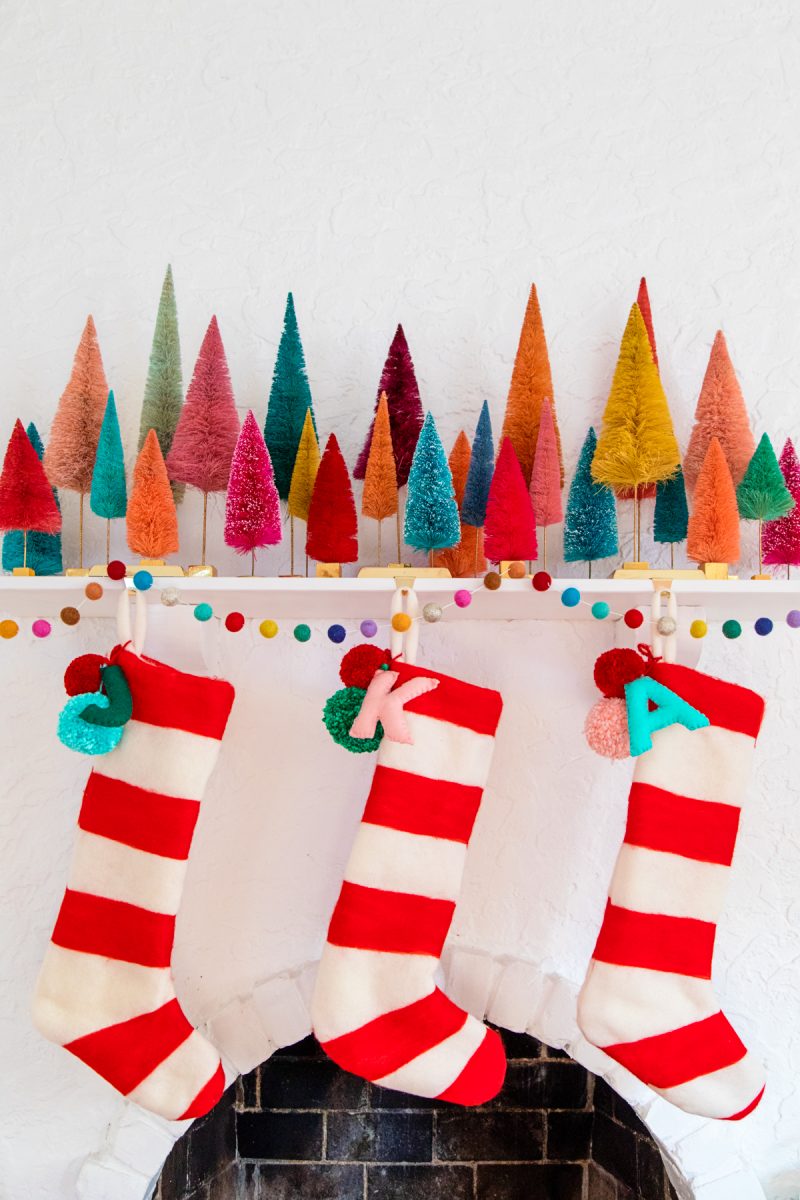 Stockings have GOT to be one of the most fun parts of Christmas, yes!? They were always my mom's favorite part, and now they're mine! Something super fun about everything being so cute and tiny. Well! As a follow up to my toddler gift guide, by popular request, I wanted to share some toddler stocking stuffer ideas!
Here's my philosophy on stockings: Instead of buying several cheap items that will probably be soon tossed or broken, I tend to spend a bit more on a few really GOOD stocking stuffers that I know will last and/or spark creativity. Then I add in some candy or other treats and call it a day! I wanted to share a few ideas here for those key items, and tried to keep almost everything in the $5-15 range (with many ideas that easily have even more affordable versions, too!). Here we go!


Photo by Jeff Mindell | Graphic by Meagan Knight for Studio DIY
Toddler Stocking Stuffer Ideas
1. Custom Stickers: These custom face stickers are SUCH a blast, for toddlers and literally all humans.
2. Calico Critters: Arlo still loves his barn from last Christmas, so I love adding some new animals to it! (Even though elephants don't really go in barns… haha!)
3. Flash cards: Flipping through flash cards of ANY sort may be Arlo's Olympic sport. Love these cute little animal ones, and Target also has some cute ones in their dollar spot quite often!
4. Mini Coloring Roll: Literally anything to color on is a big hit! This one comes with a cute coloring roll + crayons!
5. Dress Me Up Notepad: This notepad would be a great restaurant activity, especially for those of you parents who are as excited about drawing at the table as the kids are. *raises hand*
6. Wooden Toy Cars: This line of toy cars and trucks are TOO CUTE! Got Arlo the hot dog one!
7. Watercolors: Whenever we paint, Arlo uses about 90% water and 10% paint so I figured maybe watercolors would be his jam. We have this affordable set and love how many colors it has!
8. Dollhouse Accessories: We don't have a dollhouse (yet) but if we did, I'd add some cute accessories into his stocking!
9. Mini Puzzles: For the older toddler set, these little puzzles are so sweet, especially if your kiddo likes this book!
10. Nesting Dolls: Things that stack inside each other, a toddler's dream! We have a few sets of nesting dolls and they're a big hit, especially during diaper changes. I love these!! (Reminder: You may need to remove the smallest ones based on your kiddos age! Do it before you gift it to avoid a fight, haha!)
11. Plus Plus Blocks: Great travel set of blocks!! If your kid is a bit older, Joy just released some pretty versions of the smaller size!
12. Cookie Cutters: Love using cookie cutters with play doh! This castle one is so awesome!!
13. Sun Art Paper: A great craft activity that's a little different than the norm, make sun prints!!
14. Road Tape: Turn anything into a racetrack for toy cars with this tape! One of you sent this to me as a suggestion for Arlo and I'm SO EXCITED about it for Arlo!
15. Model Magic: This is my fave clay because it's easier to clean up and doesn't dry out as quickly!
16. Stamps: Stamps are a BIG deal in our house right now, love this little balloon dog guy!
17. Bath Products: We're a Tubby Todd fam and their bubble bath or bath bombs would be a practical but fun stocking addition!
18. Trains: I love this line of "trains" because they aren't actually trains! Animals, vehicles, letters, even Santa themed ones!! Arlo's obsessed with his.
Does Santa have a "signature" item he puts in every stocking of yours or your kiddos? Mine was always topped with a stuffed animal! And the toe was always filled with candy, of course!!
p.s. You can find the tutorial for our red stripe stockings right here!
*This post contains affiliate links if you click some of the links here and make a purchase, I may get a small commission at no additional cost to you! As always, I only support and recommend products I love and/or have tried myself. Thank you for supporting them, too!