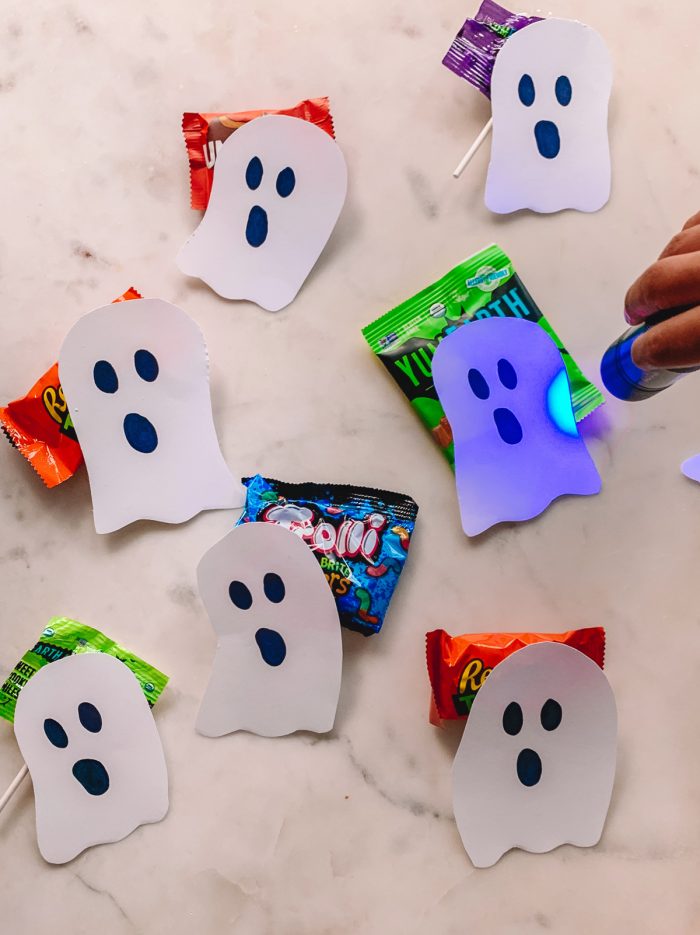 Instead of trick-or-treating here, we're getting creative! I wanted to do some sort of candy hunt, like an Easter egg hunt, but I didn't want to have to buy anything like Halloween eggs or other one-time use items. So we're doing a black light Halloween candy hunt with just a black light, scrap paper and candy!!
Don't have a black light? You can make one with just your phone, tape and markers!! I'll explain that below, along with how we're planning on doing this fun trick-or-treat alternative at our house!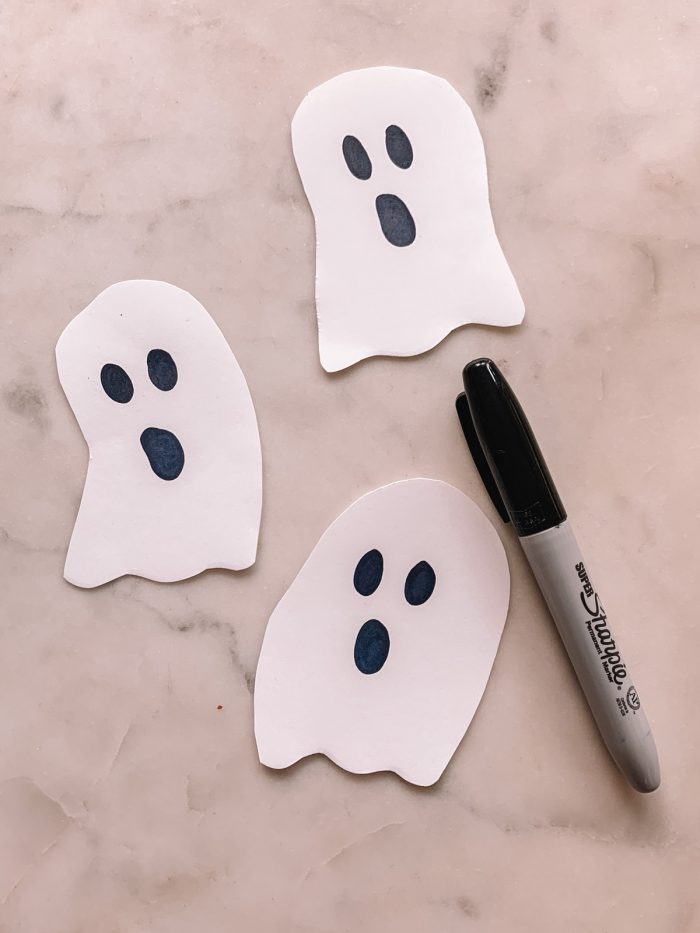 How To Make Paper Ghosts
Any white paper with glow with a black light. If you have envelopes in the recycling bin from junk mail, or scrap white paper from other craft projects, that's perfect! Otherwise just use regular paper or cardstock!
Cut out simple ghost shapes and use a black marker to draw faces on them.
Preparing for the Candy Hunt
Gather whatever candy (or other treats or prizes) you want. Honestly, this would be fun without an extra treats and just the ghosts, too!
You can either poke a hole in each ghost and tie it onto the candy wrapper with a string, or just simply place the ghost on top of each piece of candy when you set it out! I'm doing the latter.
Place the candy and ghosts all over your yard or your home.
Once it's completely dark out (and if you're inside, turn off all the lights), hand over the black light flashlight and go ghost hunting!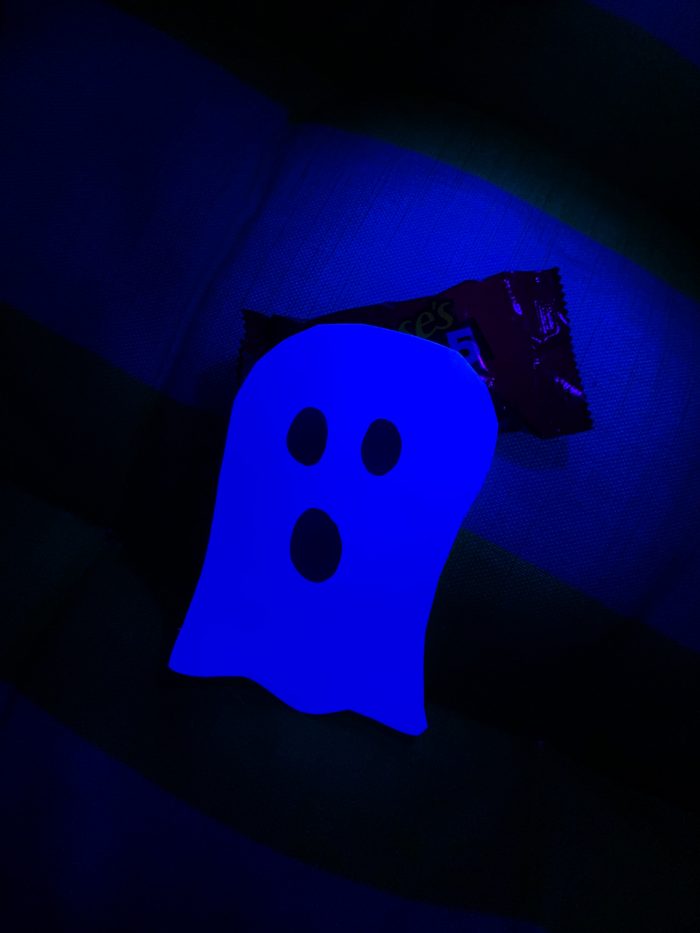 How to Make A Black Light with Your Phone
Here's what you'll need:
Clear tape
Blue marker (I used a sharpie so that's the only one I can speak to working, personally!)
Purple marker
Phone with a flash / flashlight capability
Place a piece of tape over your phone's flash. Color over the flash (on the tape) with the blue marker. Place another piece of tape on top of that, and color again with blue marker.
Place a 3rd piece of tape over the flash and this time, color with the purple marker. Place a 4th piece of tape on top and color with the purple marker.
Place a 5th and final piece of tape over the purple so that it doesn't smudge. Turn on your flashlight. Boom! You have a black light!
If you'd like a visual, there's tons of tutorials on YouTube too, like this one!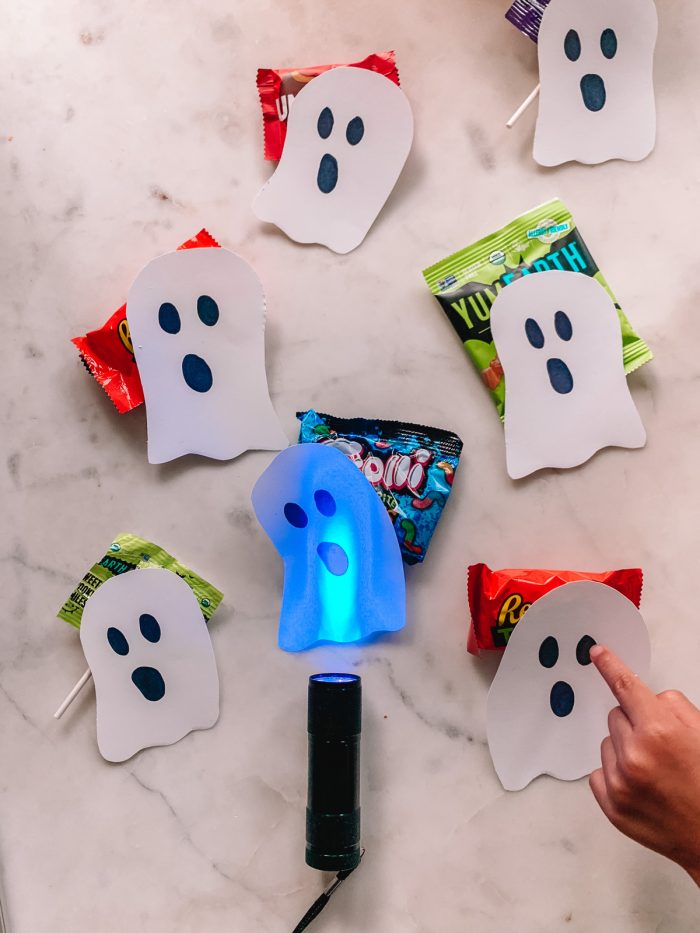 I know this black light Halloween candy hunt is going to be such a hit in our house! Why are black lights SO FUN!? And they feel so perfectly spooky for Halloween, too.
If you have another trick-or-treat alternative you're doing in your house, I'd love to hear it!
Don't forget to print your neighborhood Halloween scavenger hunts, too!