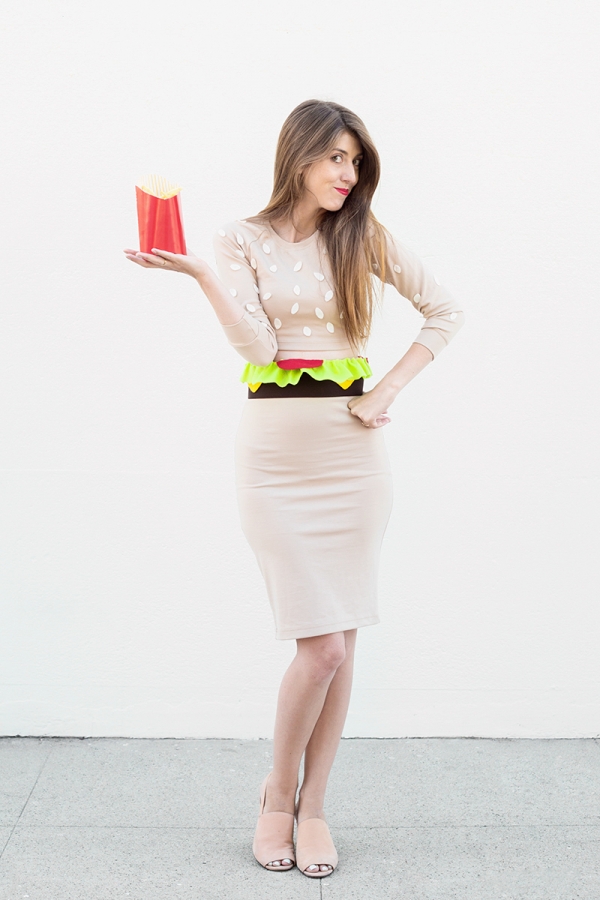 AND LET HALLOWEEN 2015 COMMENCE! My all. time. FAVORITE. holiday of the year has arrived and along with it comes our annual Studio DIY In Costume series. You can check out all of our past costumes here and the hashtag here to see all the reader versions. There's hundreds! We have such a blast coming up with new costumes every year and THIS year, we've taken it up a notch to bring you even MORE than we ever thought possible! There's plenty of food ones, per our usual theme, but also some other pretty freaking awesome ones thrown in. So are you ready!?
We couldn't think of a better way to kick off the season than with a DIY burger costume!!!!! Last year we made a burger pumpkin, and it only seemed necessary to make a matching costume this go around. The best part is, you basically can transform any nude dress into this costume with just an EASY DIY belt and some felt! Holy smokes. Let's make it!!!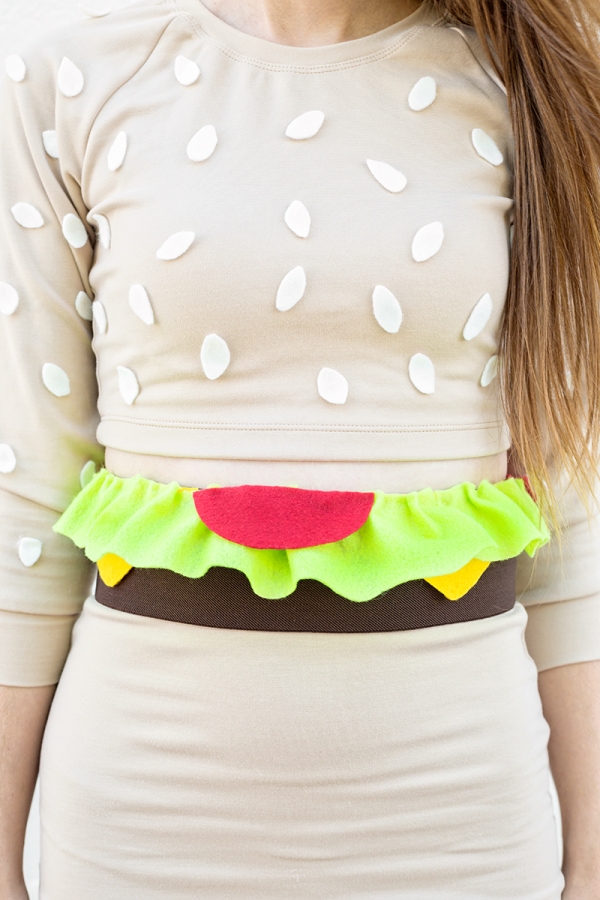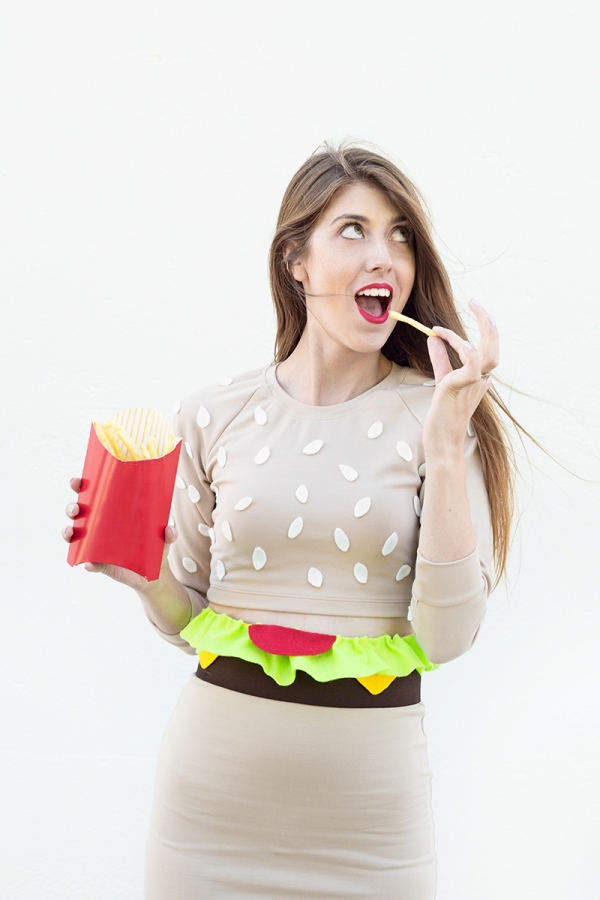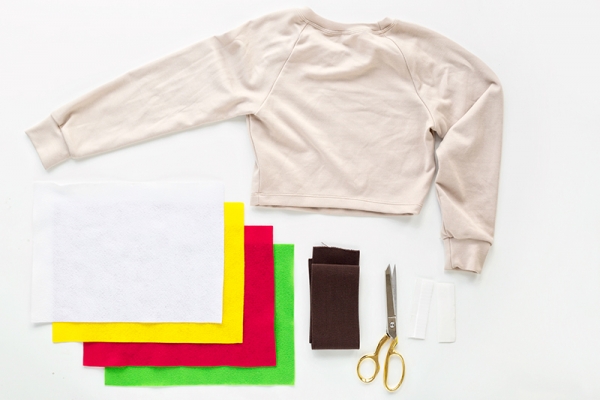 Tan Dress
3″ Wide Brown Elastic (Bought ours at a local craft store, but you could also use this elastic belt and turn the buckle to the back!)
White Seeds
Felt in Yellow, Red and Green
Scissors
Hot Glue Gun
Velcro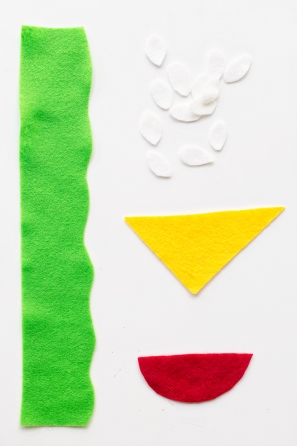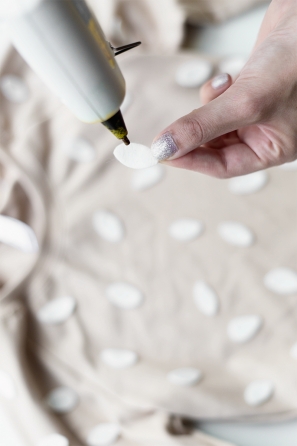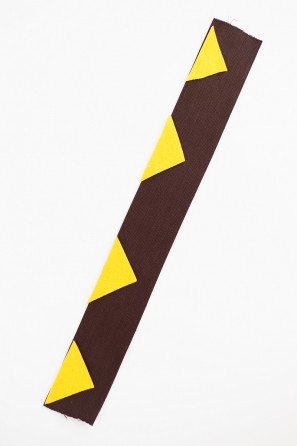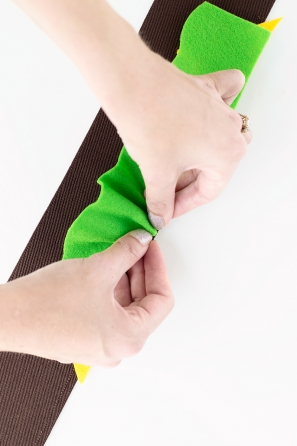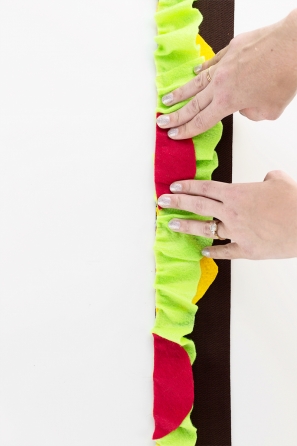 1. From felt, cut out: four or five scalloped strips of green, four triangles of yellow, three half circles of red and several dozen white seeds.
2. Lay out the white seeds all over the shirt (or top half of the dress) and get in them in a pattern you like. Then hot glue each one (you just need a small dot of hot glue on each!) to the top. I covered both the front and the back of mine.
3. If you're using elastic (instead of a premade belt), measure the elastic around your waist and cut it to size, with about 1″ extra for velcro-ing. Hot glue the four yellow "cheese" triangles evenly spaced along the belt.
4. Next add the lettuce! Starting in the center, run a short line of hot glue and then attach the straight edge of your lettuce pieces, gathering them as you glue to give a ruffled look.
5. Glue the tomato slices on top of the lettuce.
6. Lastly cut two pieces of velcro to be the same width as your elastic and hot glue one to the front of one edge and the other to the back of the other edge. Done!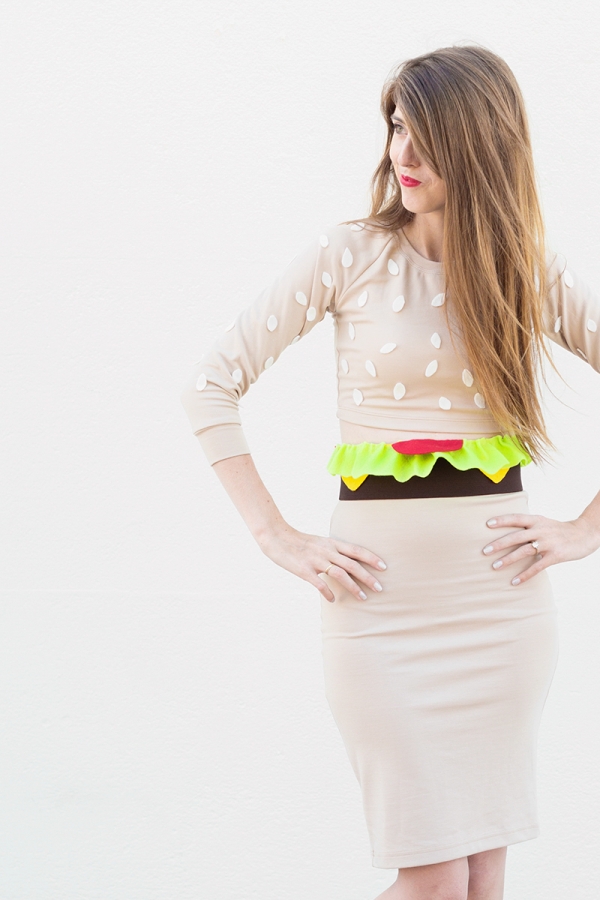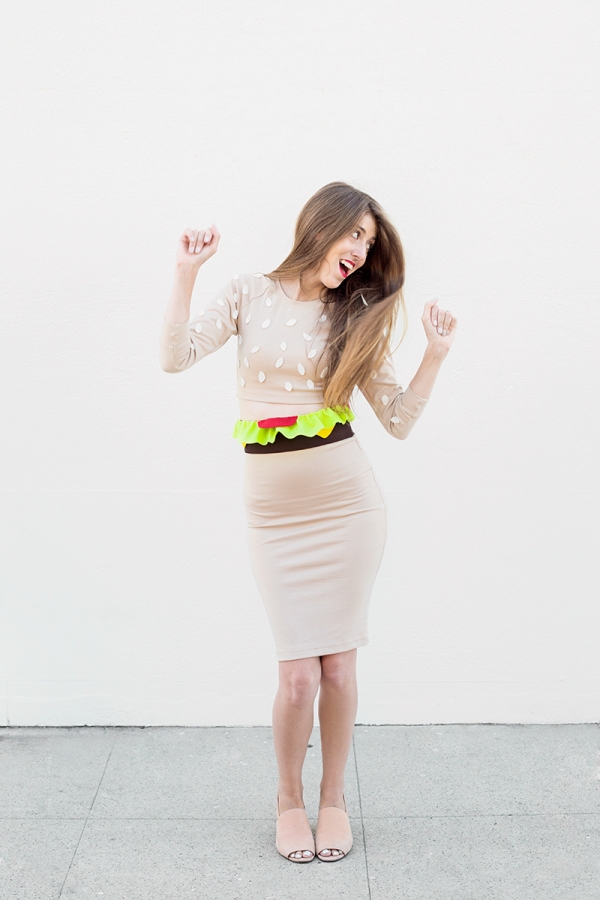 Photos by Jeff Mindell
Tomorrow we've got a pretty bangin' costume that would go QUITE well with this one. HINT HINT! Jeff declared it "the best Studio DIY costume in all four years"! DUN DUN DUNNN!
If you make a Studio DIY costume, share it on Instagram with #studiodiyincostume to be featured here on the blog (and for a chance at some other cool surprises we have in store!)!!