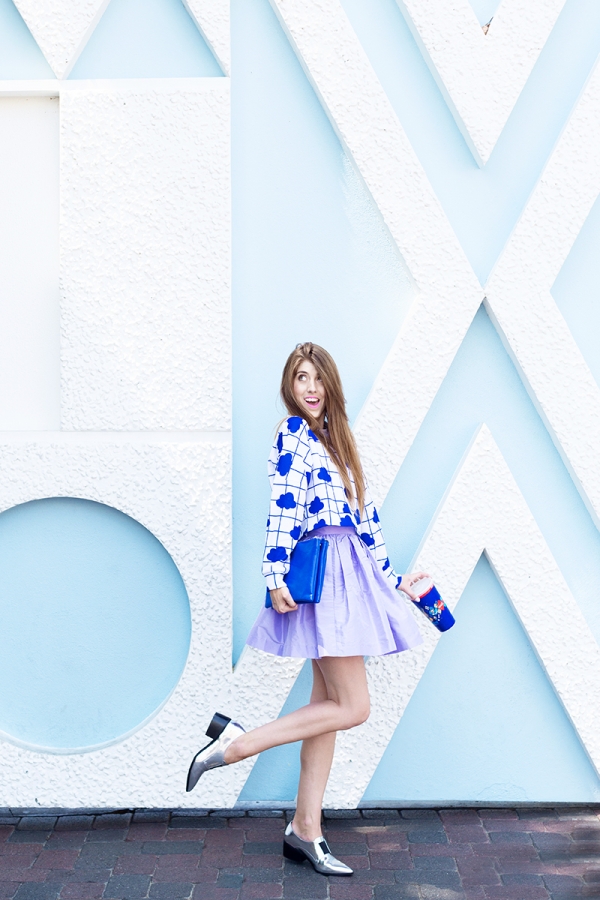 Ok, ok. MAYBE I'm finally coming around to the idea of fall. I'll accept it, anything to lose these 100 degree days so I can don some of my new schnazy fall wardrobe! Coca-Cola Freestyle approached me a few weeks ago and asked me to come up with some fun mix and match outfits inspired by their Coca-Cola Freestyle Machine, where you can mix, match and personalize your drink. Over 100+ choices, you guys!
So we decided to mix some bold patterns and hues with unexpected fall pastels and WA-BAM! Suddenly I'm game for fall to bring. it. ON. I've got three colorful and bold fall looks to share with you today, because color shouldn't be left behind with summer! And to give the machine, and our looks, a test run, Coca-Cola Freestyle sent us to my fave place ever… Disneyland. Let's go!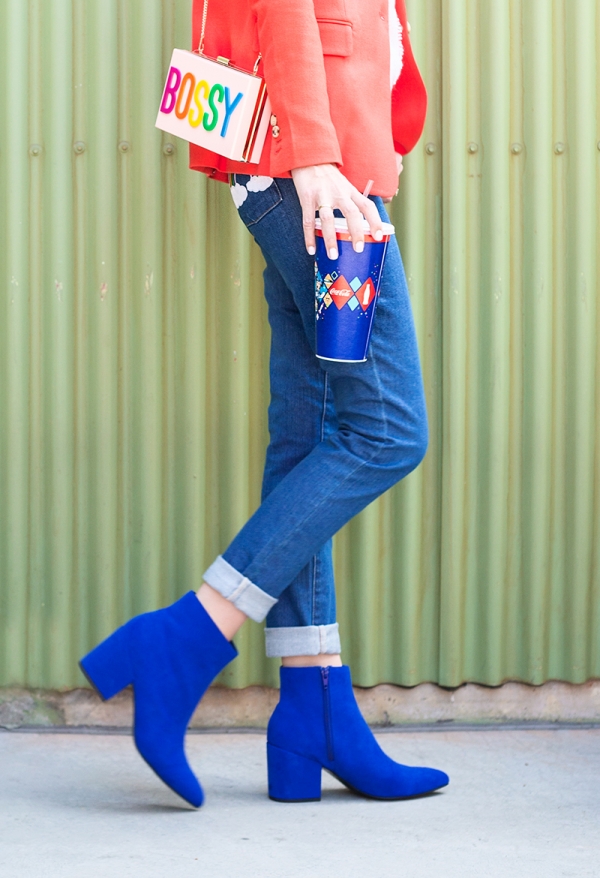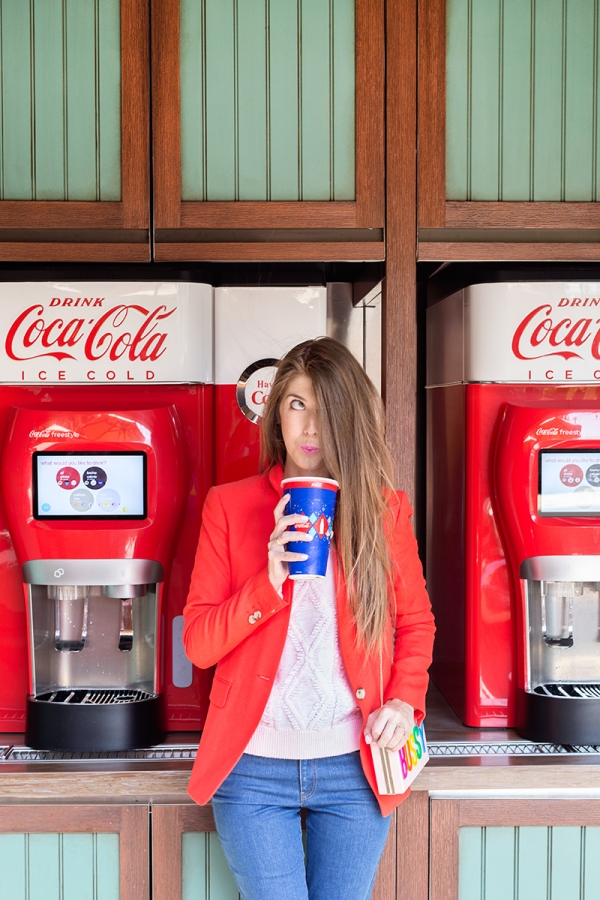 When we got to Disney, we headed to Grizzly Peak in California Adventure, which is where the Coca-Cola Freestyle machine is (along with my 2nd fave ride, Soarin'!). It's kinda the perfect pit stop as you enter the park and get ready to run around like a screaming five year old totally normal adult.
But let's backtrack. As a kid, I grew up going to Disney World and at Epcot there was (is? Is it still there, east coasters?!) a thing called "Club Cool" and it was a freezing cold cave that opened into this giant room where you could try all different flavors of Coke! I was OBSESSED and always made my family truck through it to try all the flavors. When I started playing around with the Coca-Cola Freestyle machine, that's what it reminded me of! But better, because this time there was over 100 choices to play around with. Like every flavor Coke, Diet Coke, Sprite, Fanta, sparkling water, Minute Maid lemonade! You name it.
What was my favorite, you ask? Well we tried approximately 1,000 combinations because *DECISION CHALLENGED ALERT* and I finally settled on favorite… a mix of Mello Yello Orange and Vanilla Coke because… it was like drinking a creamsicle! And you know I love creamsicles, you guys.
So with this mix and match idea in my head, we came up with our three fun outfits and kinda went bananas pairing patterns and super saturated hues with soft and perfect pastels. Go big or go home, I always say! More is more! You get the picture. Here's a peek at our three outfits, inspired by our good friend Coca-Cola Freestyle. 😉
First up, rainbows and THOSE BLUE BOOTS!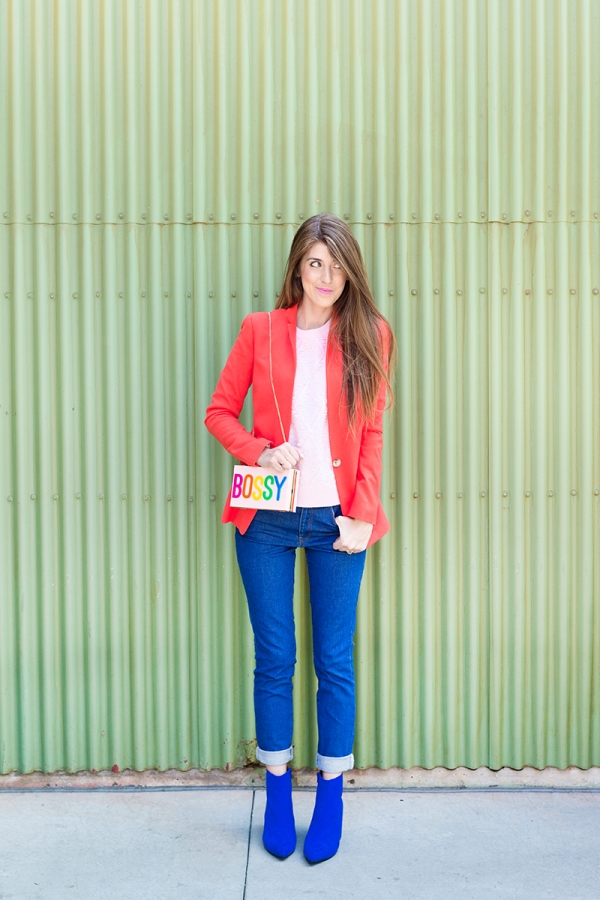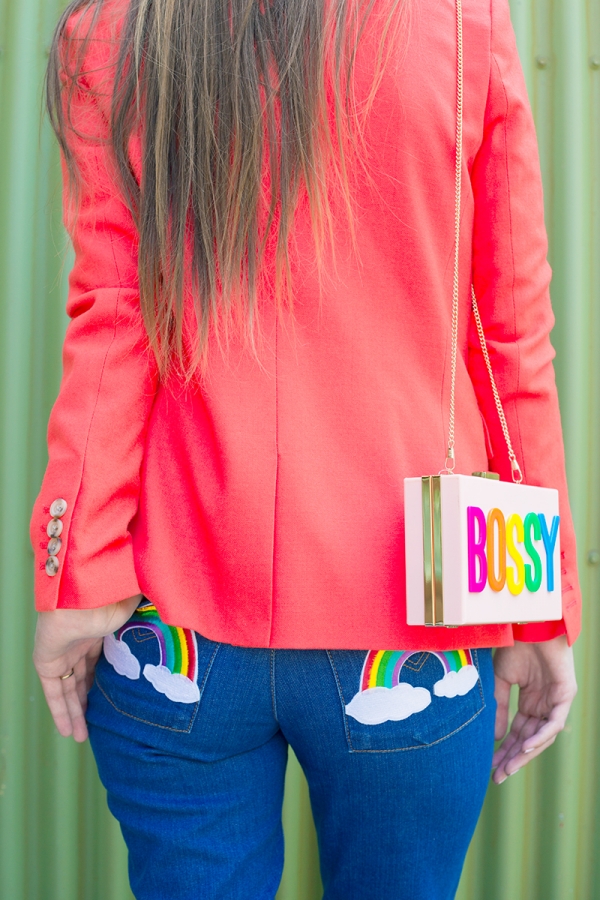 Jacket | Sweater | Rainbow Jeans | Bossy Purse | Boots
Next, grids and clouds and lavender… oh my! I never liked purple before but I could live in it right now. Thoughts?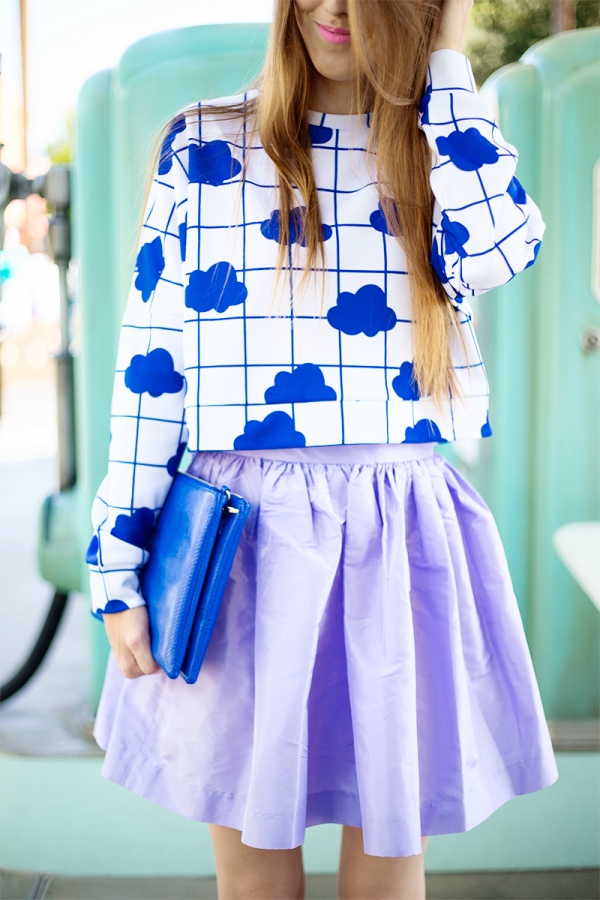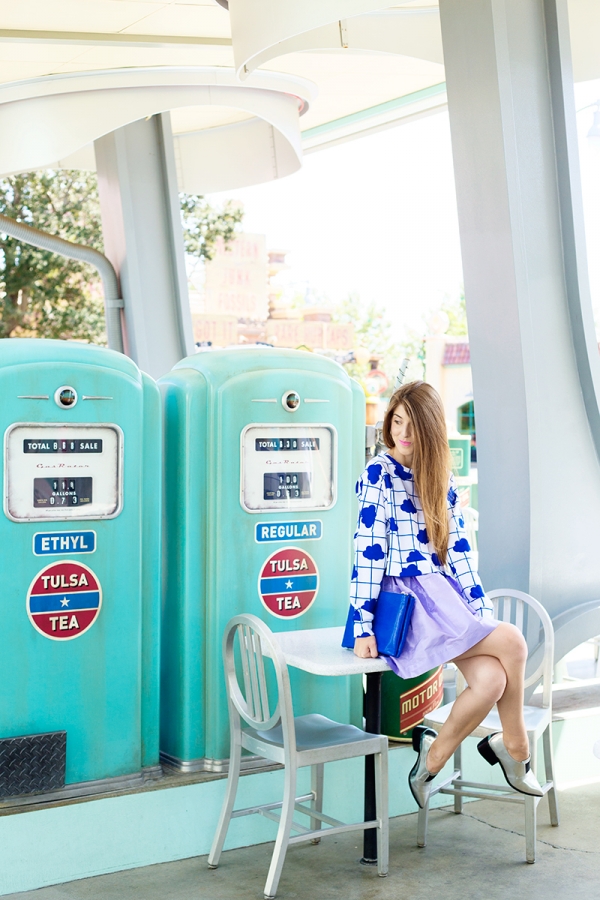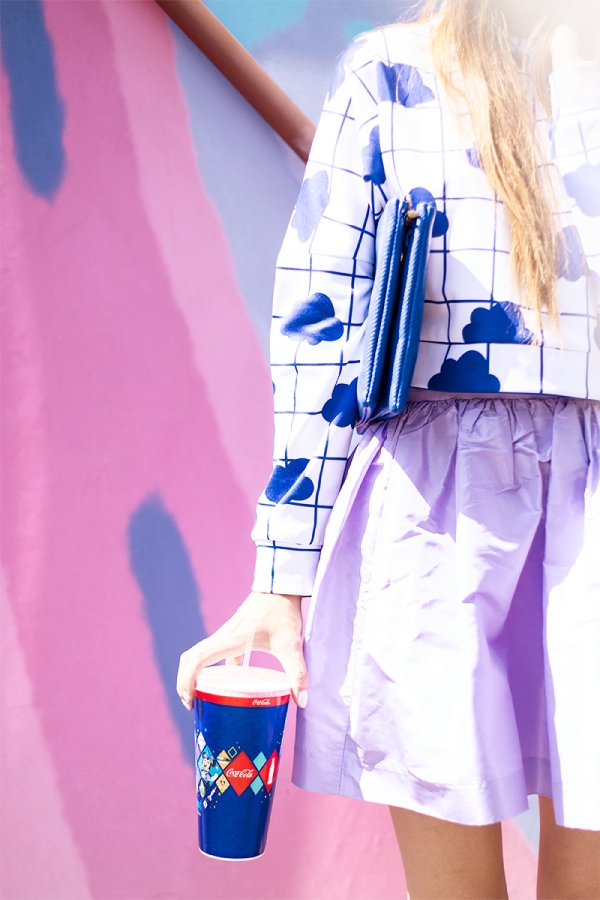 Cropped Sweatshirt | Skirt | Silver Shoes | Clutch
A little orange-y red from our first look, a little purple from the second and a big old smack-you-in-the-face awesome patterned bomber!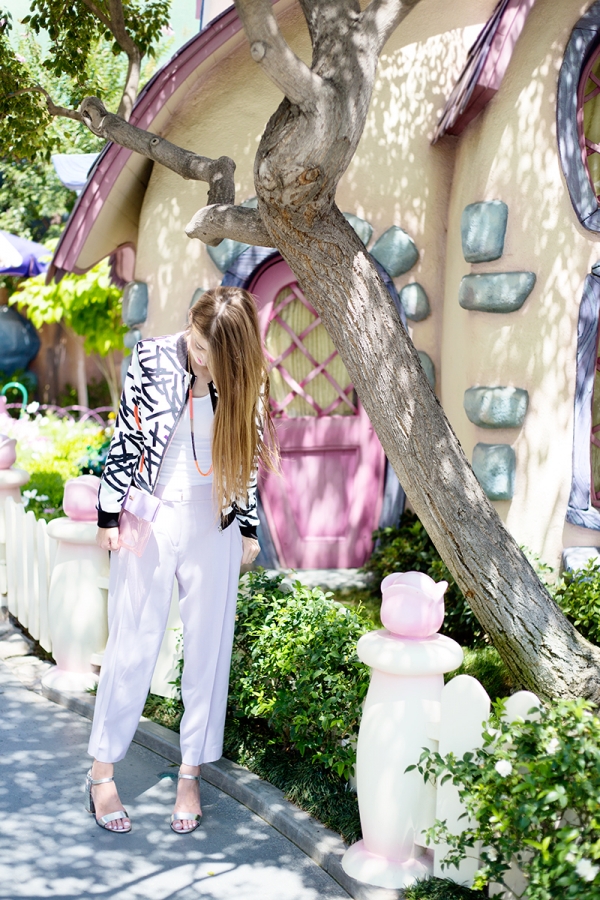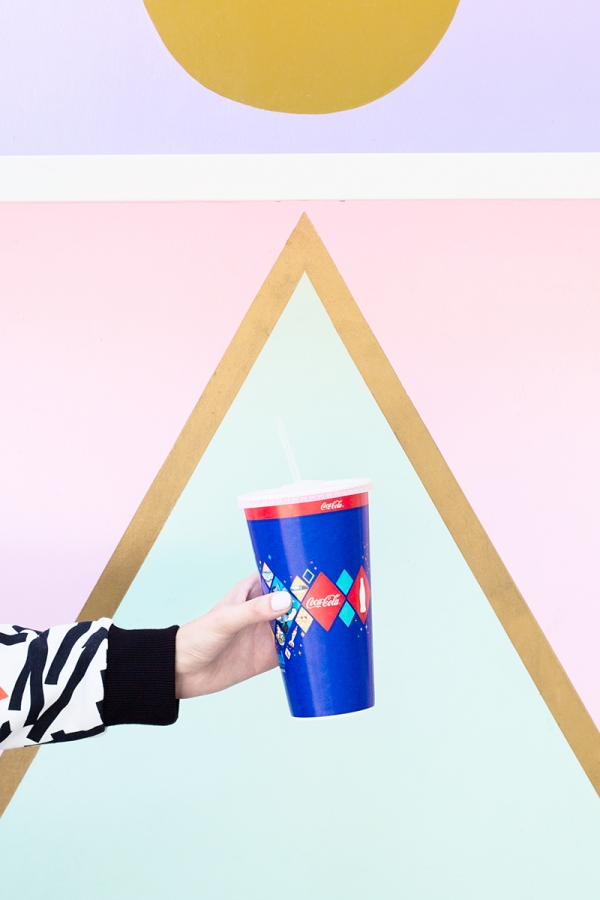 Patterned Bomber Jacket | Tank Top | Lavender Pants | Disco Heels | Clutch | Necklace (similar)
Photos by Jeff Mindell
Which look is your fave? Are you feeling pastels for fall like me? Ooh baby! That lavender really owns my heart. Here's to mixing and matching, in clothes and in Coca-Cola, folks. 😉
This post was created in partnership with Coca-Cola Freestyle. All content and opinions are that of my own! Thank you for supporting the sponsors that keep the Studio DIY party going! Read more about my editorial policies here.