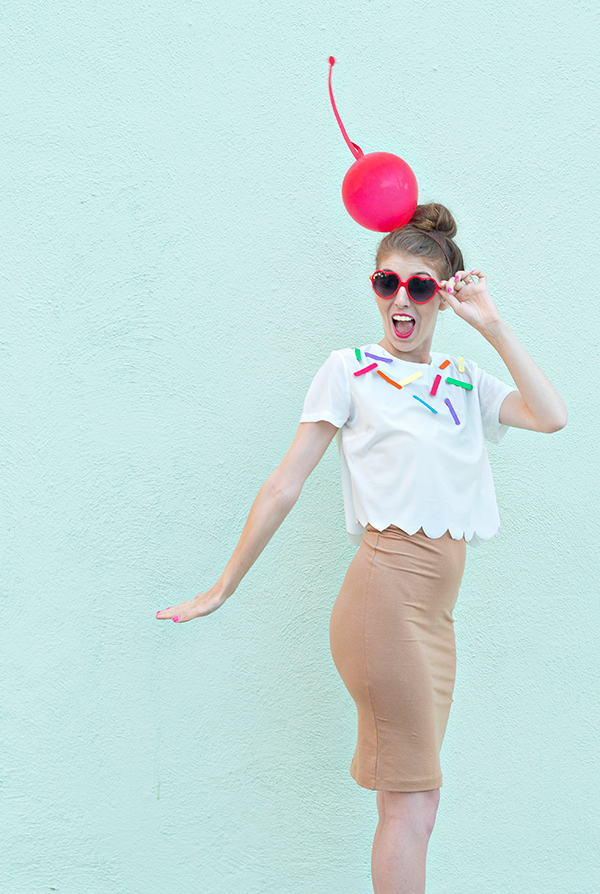 Get everyone screaming on Halloween this year for a different reason with this ice cream costume!! It's easy (you may even have the items in your closet!) and practical enough to wear to just about any costume-worthy occasion on the 31st.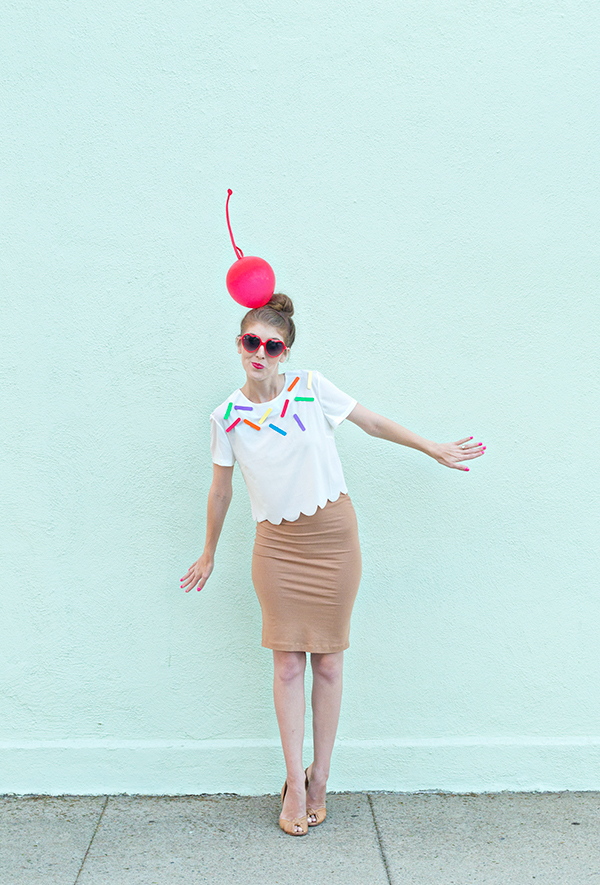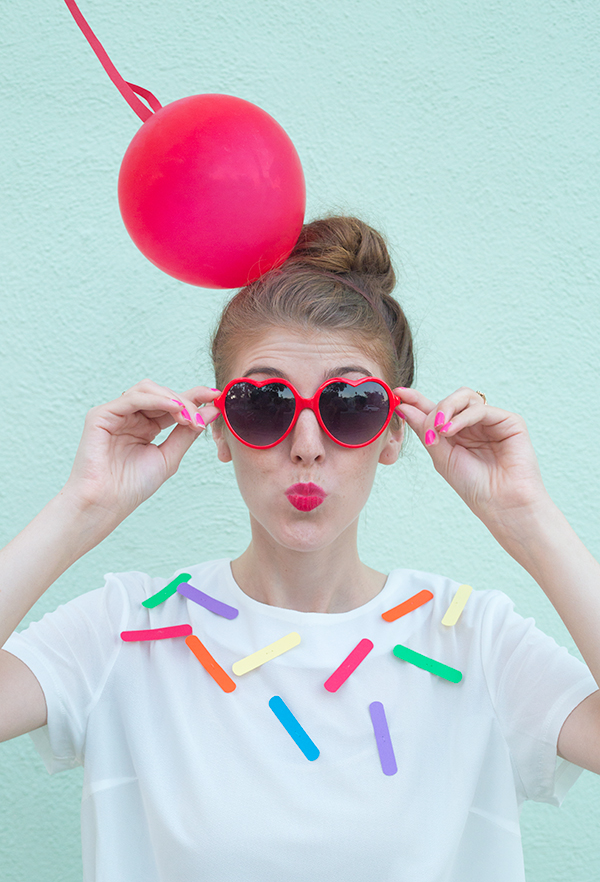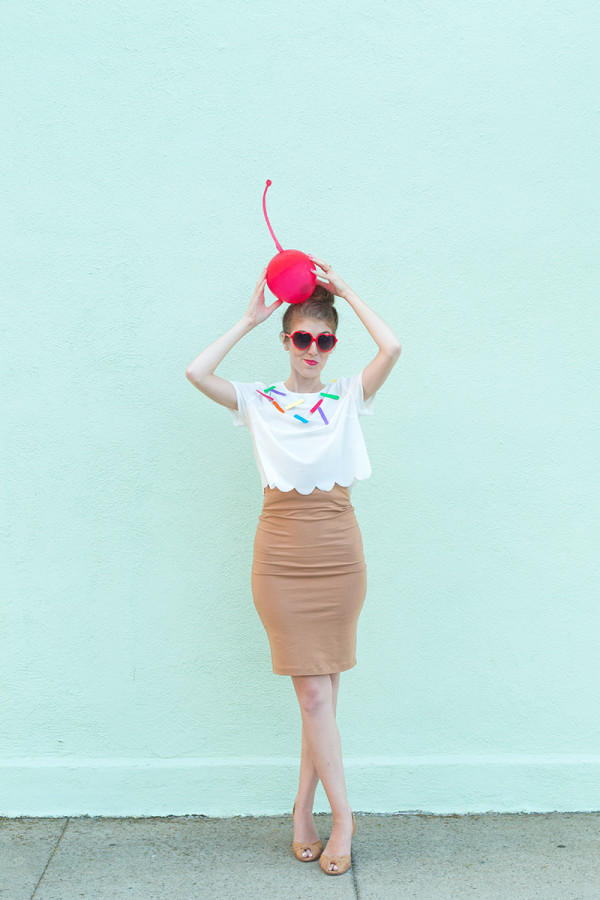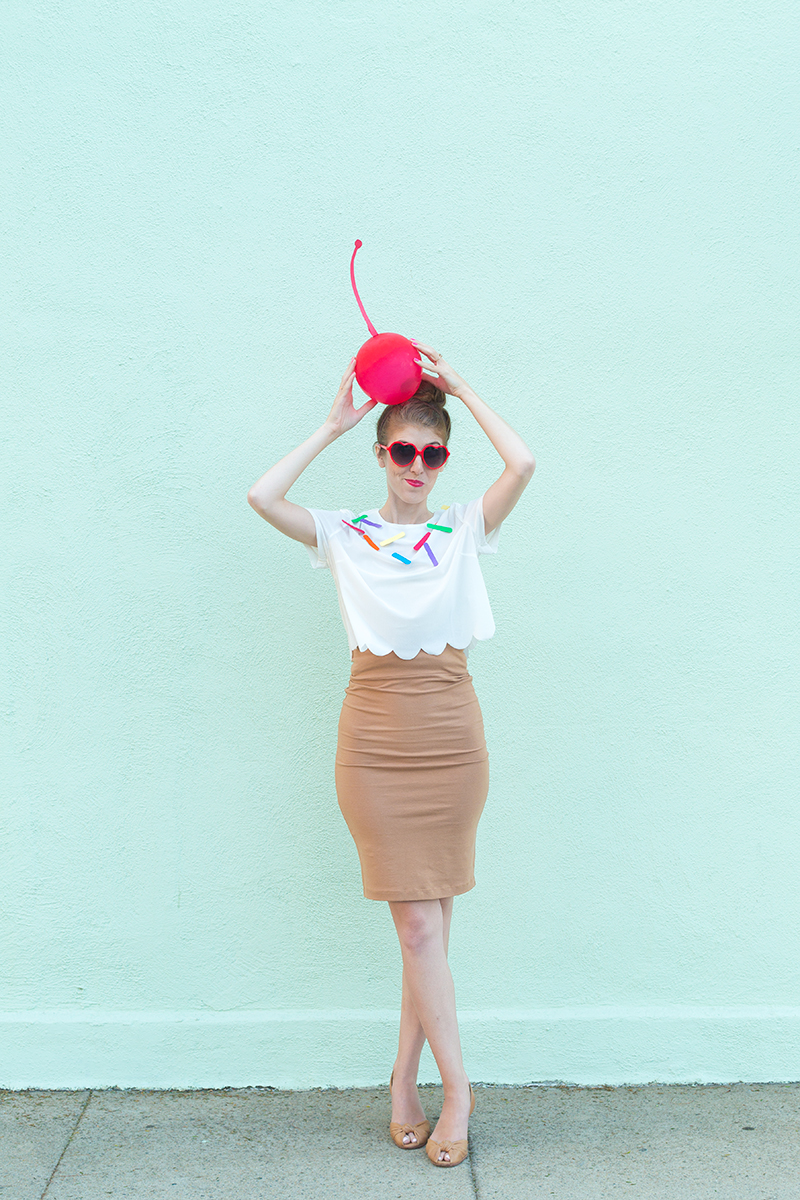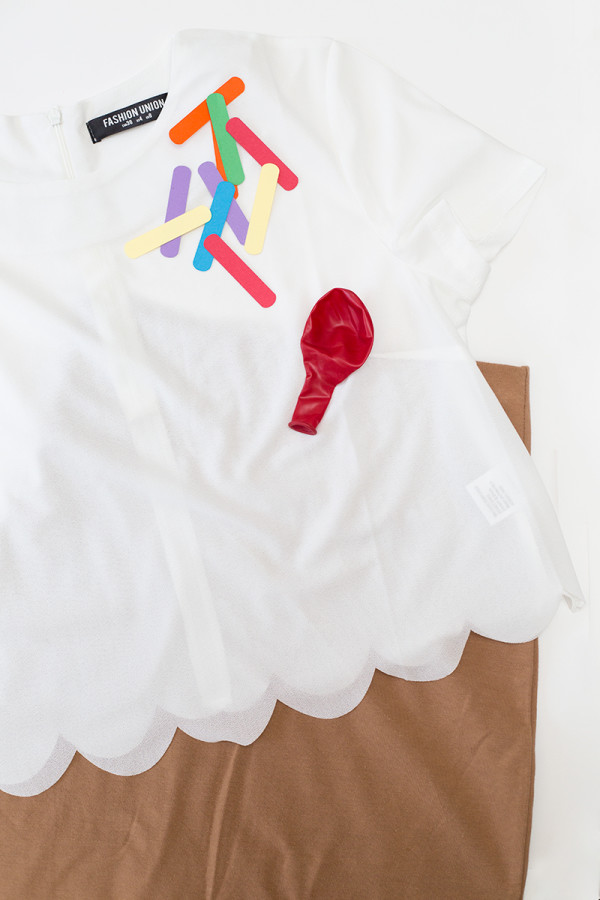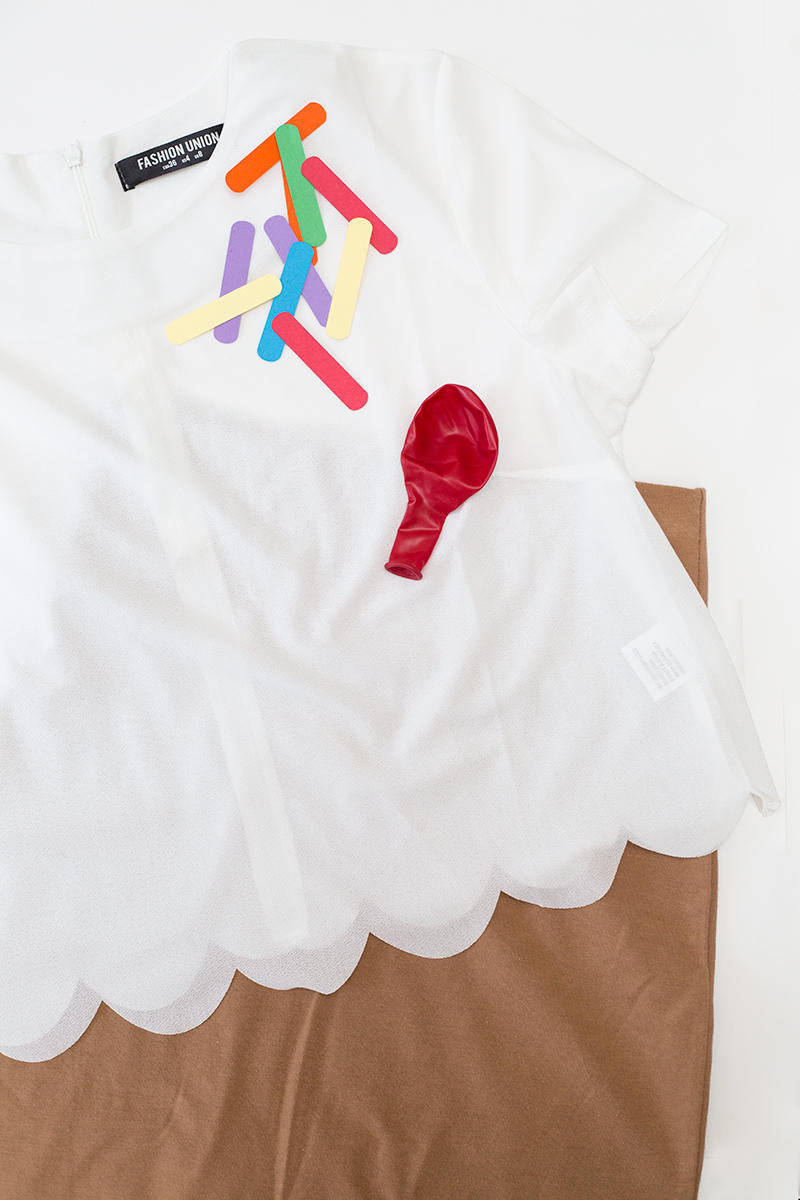 Supplies for a DIY Ice Cream Cone Costume
White Shirt (I used this shirt because the scallops reminded me of an ice cream scoop, but you can get similar tops here, here and here!)
Tan Dress
Cardstock in Rainbow Colors (or pre-made sprinkles!)
Fishing Line + Sewing Needle (or Hot Glue Gun)
Scissors
Red Balloon
Regular Clear Tape
Stretchy Headband or Bobby Pins (for securing balloon to your head!)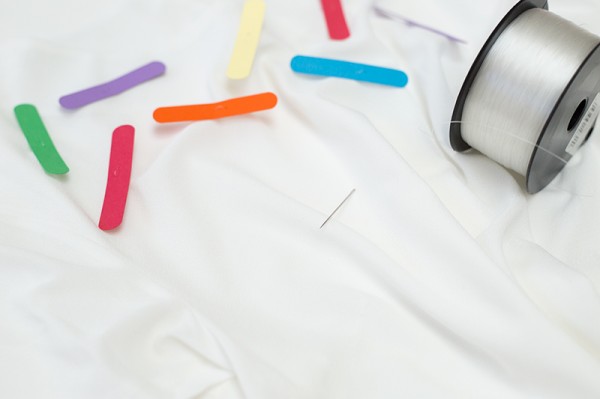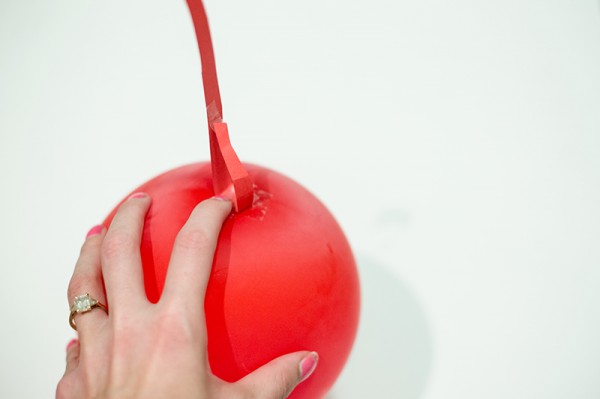 Step-by-Step Tutorial
1. Cut out several sprinkles shapes from your various cardstock colors (enough to go around the neckline of your shirt). Lay the sprinkles in the pattern you want to attach them and take a quick phone pic so you remember how it looks.
2. I wanted to be able to re-use my shirt, so I sewed on my sprinkles. If you don't care about re-using your shirt, you can hot glue them on… but here's the method I used for mine! Thread a sewing needle with fishing line and tie a knot at the end. Thread it through the shirt and the sprinkle and back down through both two times, then tie a knot to secure. Repeat for all your sprinkles. If you want to get really fancy, you could also use fabric paint markers to paint criss-crosses like an ice cream cone on the skirt.
3. To make the cherry, cut out a long stem shape from red cardstock. Partially blow up the red balloon and tie it. Fold a half-inch of the stem under and tape the new tab to the top of the balloon. If your stem needs extra support to stand up, cut a small strip of cardstock and tape one side on the balloon and one side on the stem.
4. To secure the balloon cherry to my head, I wore an elastic headband and simply slipped the balloon's tail under the elastic. It held really well. Alternatively, you could tie it to a plastic headband, or secure with several bobby pins.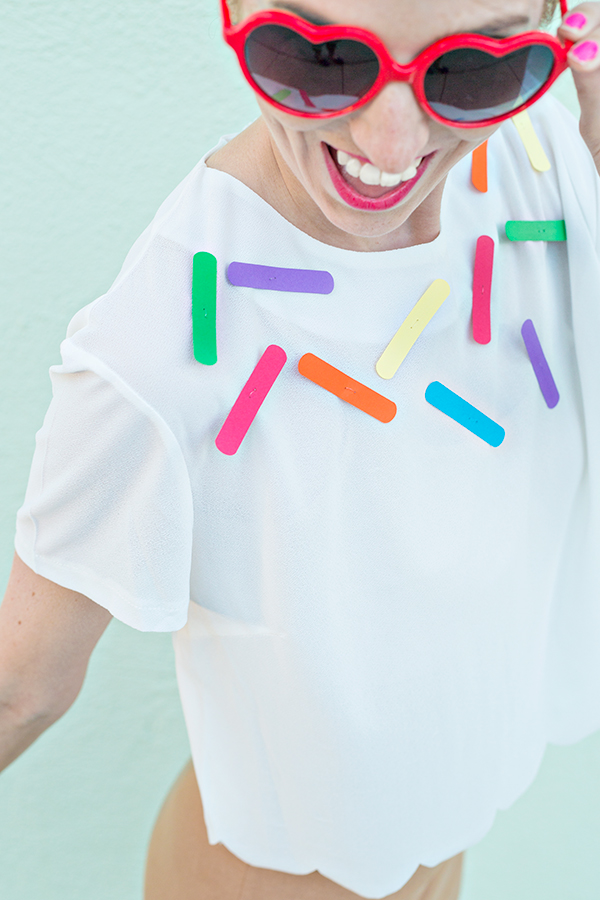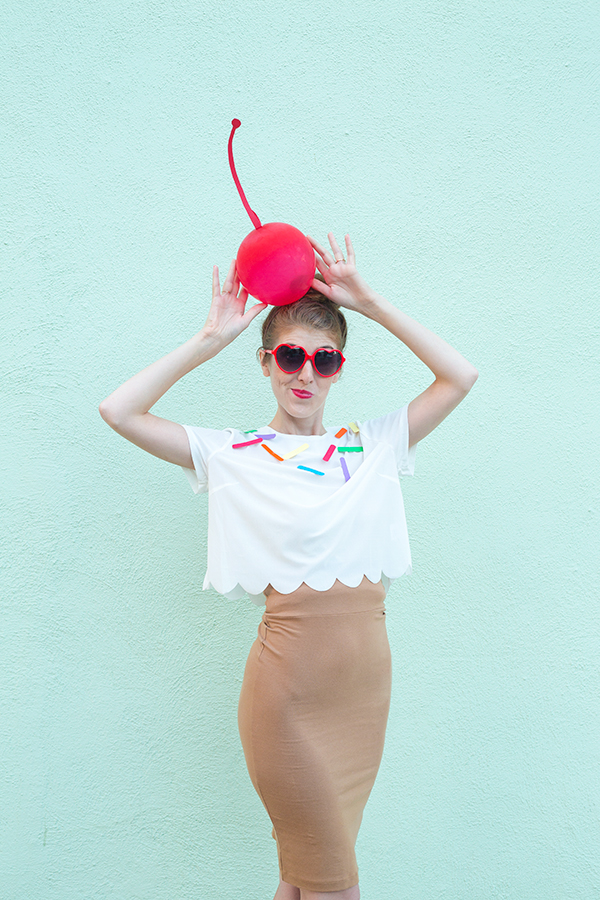 More Dessert Costumes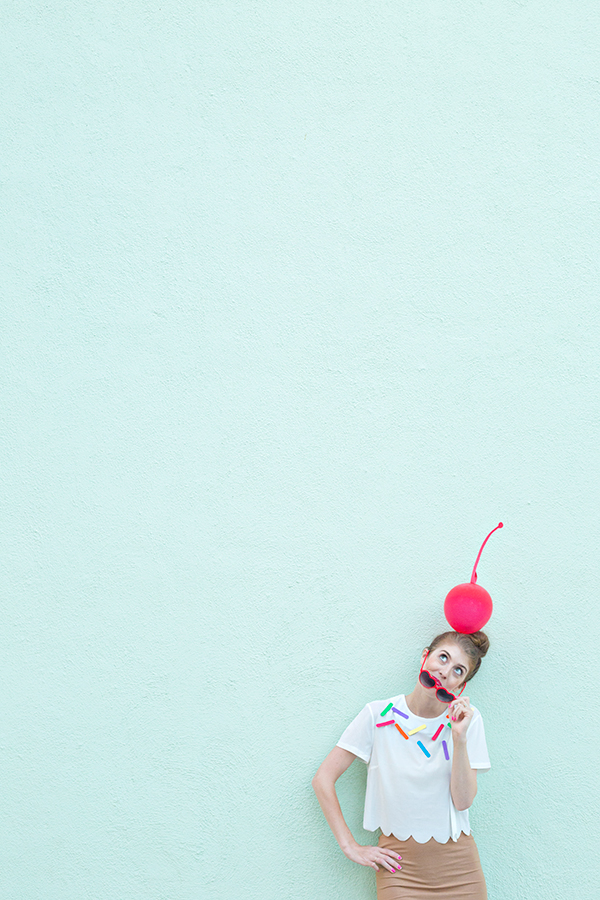 All Photos by Jeff Mindell
Recruit friends to be a cake slice, macaron, croquembouche and donut and you can go as a whole bakery!
Don't forget! If you make a costume this Halloween from Studio DIY, be sure and tag #studiodiyincostume on Instagram to share it with everyone!