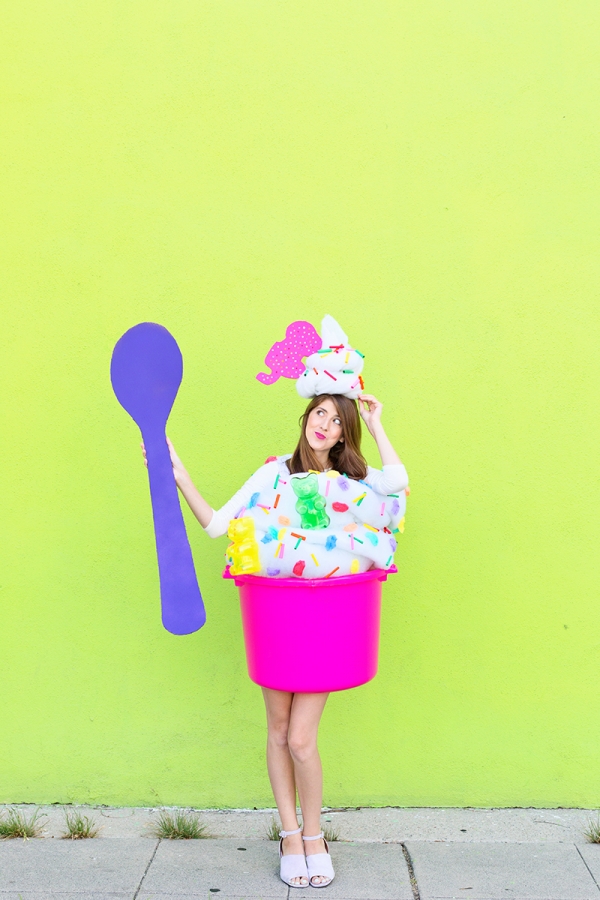 Stop. FRO-YO TIME! You Snapchat followers out there got a LITTLE hint at this one when I asked what your favorite fro-yo toppings were, but I bet you didn't guess I was questioning you for a fro-yo COSTUME! We got QUITE the variety of answers, but I had to stay true to those of you who love your fro-yo just as colorful as I do. However, this costume can be topped any which way you please. Oh, and if you'd like to bring your significant other along for the ride, he can be the angsty teen fro-yo guy that we all know (and secretly love).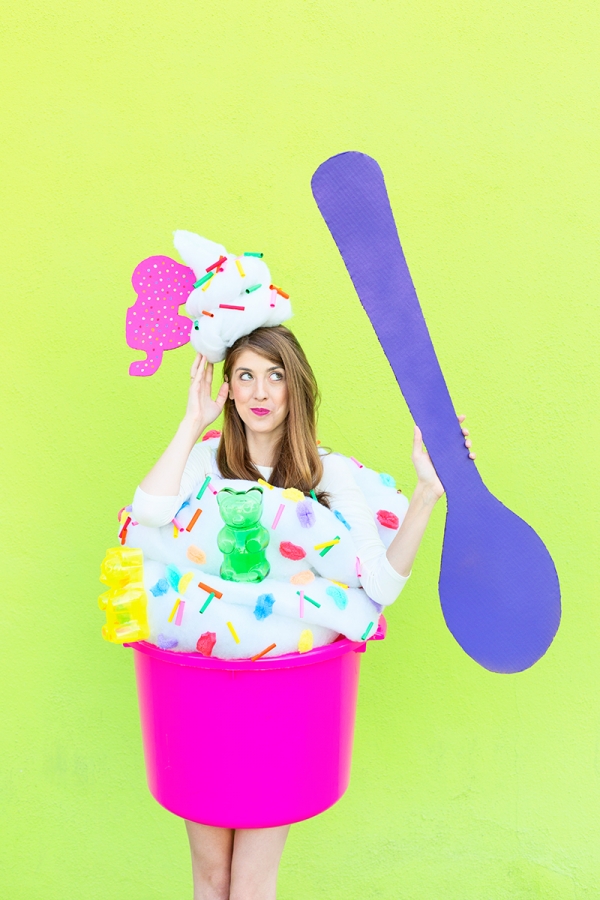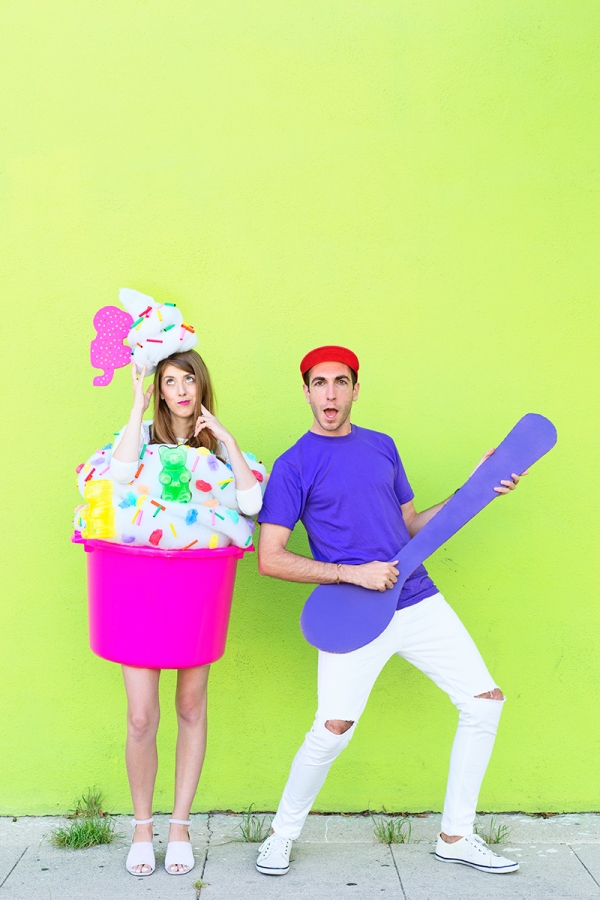 *A few disclaimers before we begin:
1. We went through many versions of this costume before we found the version we were happy with (That's what we're here for, right!?), so the photo tutorial is not as robust as I hoped it would be, but I promise the written directions are pretty straightforward so you can get throughout without the visuals!
2. This costume is on the heavier side. Please make sure you get very wide ribbon for the straps to help support it. If you want to re-create this costume for a child instead, I would recommend using poster board to create the fro-yo "tub" shape instead of the plastic tub so it is lighter and more comfortable for them!
Supplies Needed
Plastic Drink Tub (You can also buy these at party stores usually!)
Jigsaw (For removing the bottom of the tub)
4 Yards of Cotton Batting
Wide White Ribbon
Scissors
Hot Glue Gun
Duct Tape
Headband
Cardboard
Spray Paint
For Toppings:
Pool Noodles for Fruity Pebbles
Colored Paper + Tape for Sprinkles
Cardboard, Paint and Scissors for Circus Animal Cookies
Plastic Gummy Bears from Dylan's Candy Bar (These are pricey and only available empty in-store. You could make these out of cardboard as well!)
Styrofoam Balls + Paint for Cookie Dough (Not Pictured)
Ball Pit Balls or Bouncy Balls for Bursting Boba (Not Pictured)
Upholstery Foam + Paint for Brownie Bites (Not Pictured)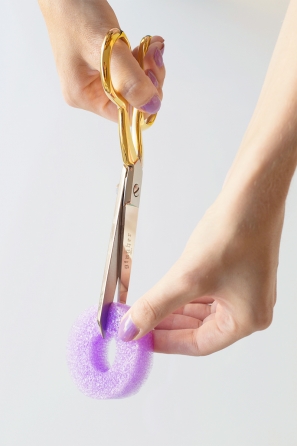 Step-by-step Fro-yo Costume Tutorial
1. Prep all your toppings. We started with fruity pebbles. To make these we cut pool noodles into one inch rings. Then we cut each ring in half and used the point of a pair of scissors to cut along the inside edge, about halfway through. Then we opened up the noodle so it made an odd oval-type shape and trimmed the pointed ends off.
2. For the sprinkles, we cut small squares of paper and rolled them up, securing with a piece of tape.
3. For the circus animal cookies, we cut animal shapes out of cardboard and painted them hot pink. Then we used a small paint brush to add sprinkles all over them.
4. Let's start with the hat, since the body of this costume is just a larger version. Cut a long narrow piece of cotton batting about 4 feet by 10 inches. Roll it up into a cylinder and then begin to swirl it into a fro-yo type shape, about two times around leaving the corners as a "point" at the top. See photo above! Hot glue in place, in between the layers so they are secured together.
5. Hot glue a headband to the bottom of the swirl.
6. Hot glue sprinkles (or other toppings) all over the swirl and then hot glue one circus animal cookie (place the glue right along the back of the "feet") to the side, if desired.
7. NOW! For the fro-yo itself. We've never really used power tools on Studio DIY but this is the time to break out the jigsaw if you know how to use one, or enlist someone who does in our case. Use a jigsaw to remove the bottom circle of the plastic drink tub. You'll want to make sure you have a smooth edge so that you won't get cut when walking in the costume. Ensure that whoever is operating the jigsaw knows how to use it properly and is wearing the appropriate protective gear. Also remove the rope handles at this time.
8. Step into the plastic tub and have someone help you measure two ribbon straps so it will sit on your shoulders. Duct tape the straps in place, inside the tub.
9. Now you are going to create a larger version of the swirl hat around your body, to form the fro-yo. It is definitely best to have a couple people working on this. First, take your three (or so) remaining yards of cotton batting and roll it up so you have a very long tube. This will take two people. Then have a third person get inside the plastic tub. (We had someone stand in the costume while we wrapped the cotton in place.) We started at the back and tucked the end of the cotton tube into the tub a bit, then wrapped twice around her, twisting the cotton as we went to give it the "swirl" look, and tucked the other end into the top swirl in the back (trim the excess before doing so).
10. Now you'll need to hot glue the swirl in place. Do this by hot gluing the first end (where you tucked it) to the inside of the tub. Then glue the bottom swirl to the tub, followed by gluing the two swirls together, working your way around the costume as you go. Finally glue the final end inside the last swirl. Once the glue is set, you (or your stand-in!) can step out of the tub (lift it over her/your head) for decorating.
11. Add all your toppings with hot glue, being sure not to place anything too bulky under your arms.
12. To make the spoon, cut a spoon shape out of cardboard and spray paint it the color of your choice. It's the perfect prop!
The fro-yo guy costume is just a t-shirt (see if you can buy one from your favorite fro-yo shop!), pants and a matching baseball cap. You could throw an apron in there for good measure too, but this costume is really all about the attitude. 😉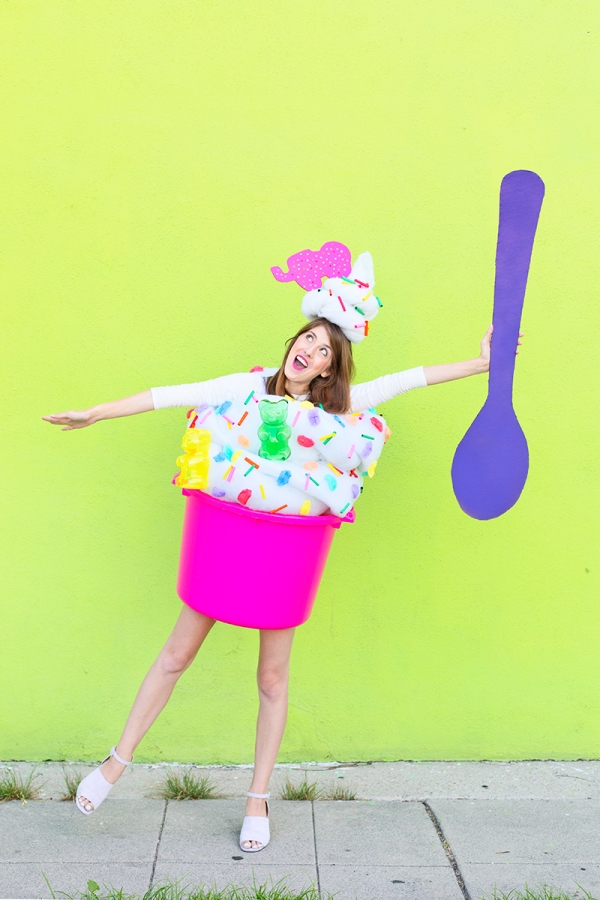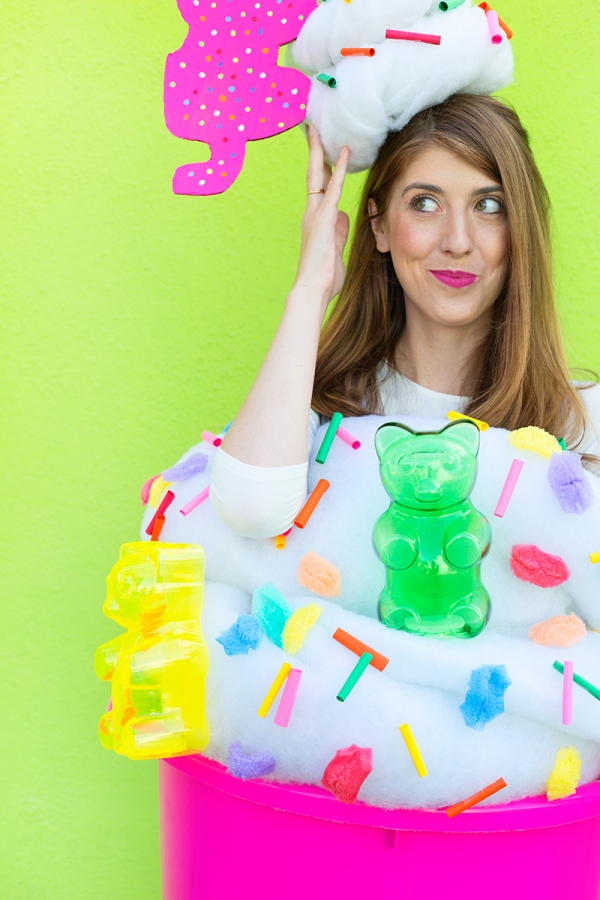 More Dessert Costume Tutorials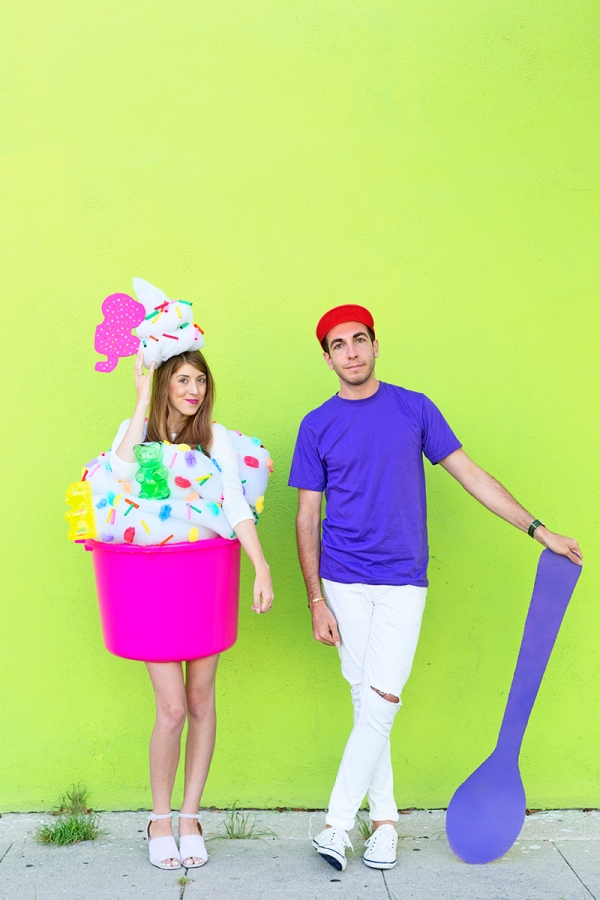 Photos by Jeff Mindell
So, how would YOU top your fro-yo (costume)?
If you make a Studio DIY costume, share it on Instagram with #studiodiyincostume to be featured here on the blog (and for a chance at some other cool surprises we have in store!)!! More costume ideas here.