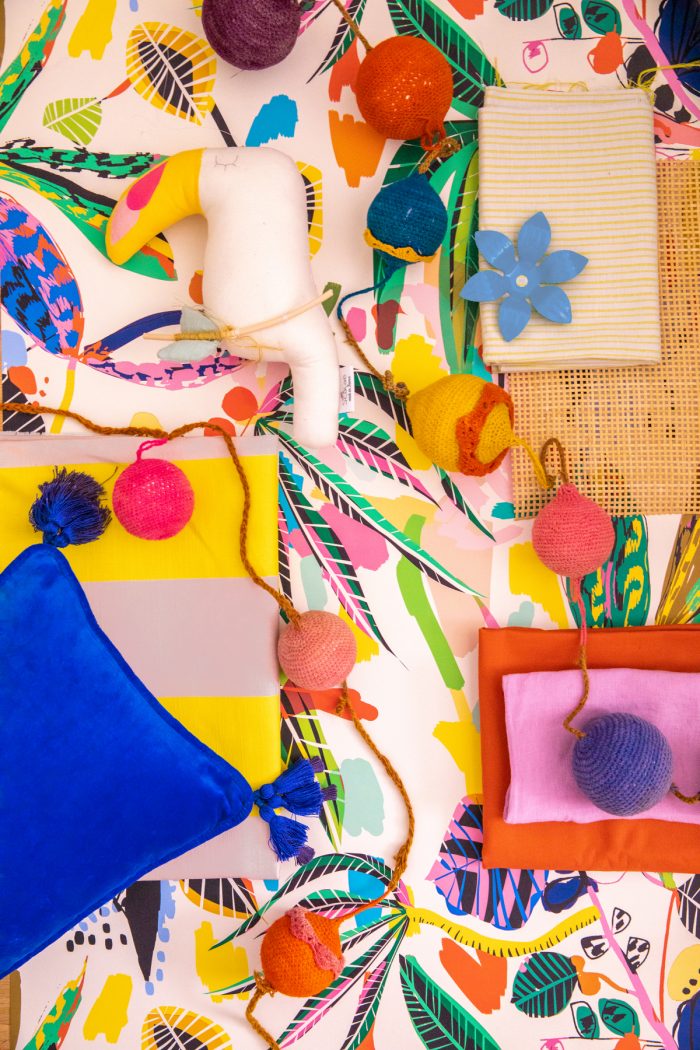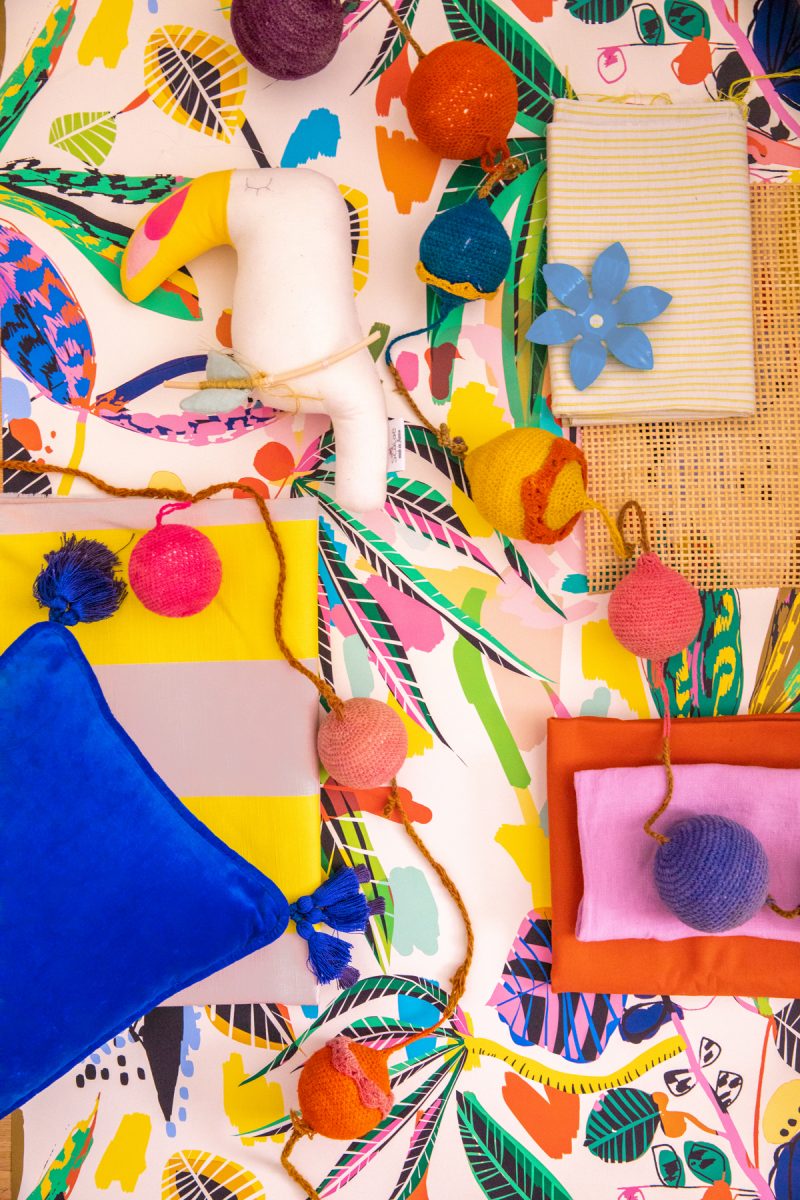 Do you have a deep, but narrow and awkward closet like we do? It's in our son's room and we've never known what to do with it. But finally, I've decided to split it into half practical and half fun! The closet has incredibly high ceilings leaving a ton of storage space on top, and while I briefly considered making that into an actual treehouse, I came to my senses and decided to use the top space for storage, with the bottom transforming into a treehouse-inspired closet reading nook (or fort or… whatever it will end up transforming to each day!).
I'm going to still try to pack it with storage so we don't lose all practicality, but today I thought I'd share some of my ideas and inspiration today for how we're turning our little dude's closet into an epic and colorful closet reading nook!

The "Before"
Here's a peek at what the closet currently looks like! There are several different clothing rods (including one super low) that I am working on removing.
What looks almost like the "ceiling" of the closet here is actually a shelf that runs almost the entire depth of the closet (You can see some diapers stored above), with a shorter one that exists even further above that. That is what I'll be turning into storage space.
Everything below that will be the reading nook! The photos tend to make it look huge, it's not. It's about 50″ deep by 30″ wide.
My Mood Board For the Space
I'll start with my design plan so the layout and other details will have some context!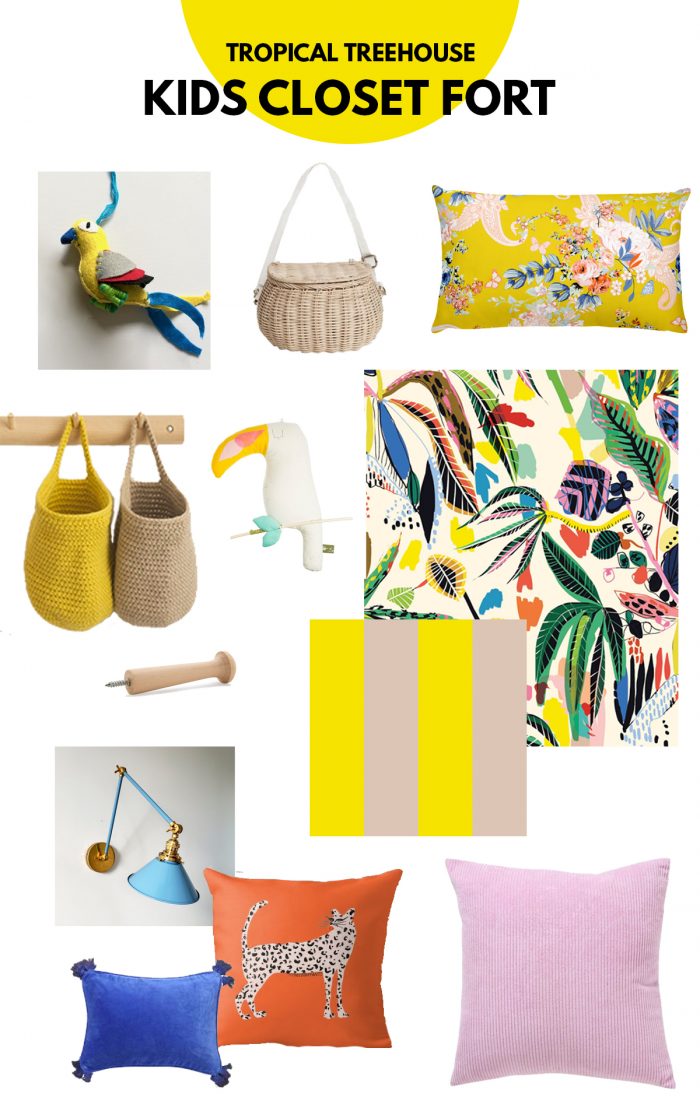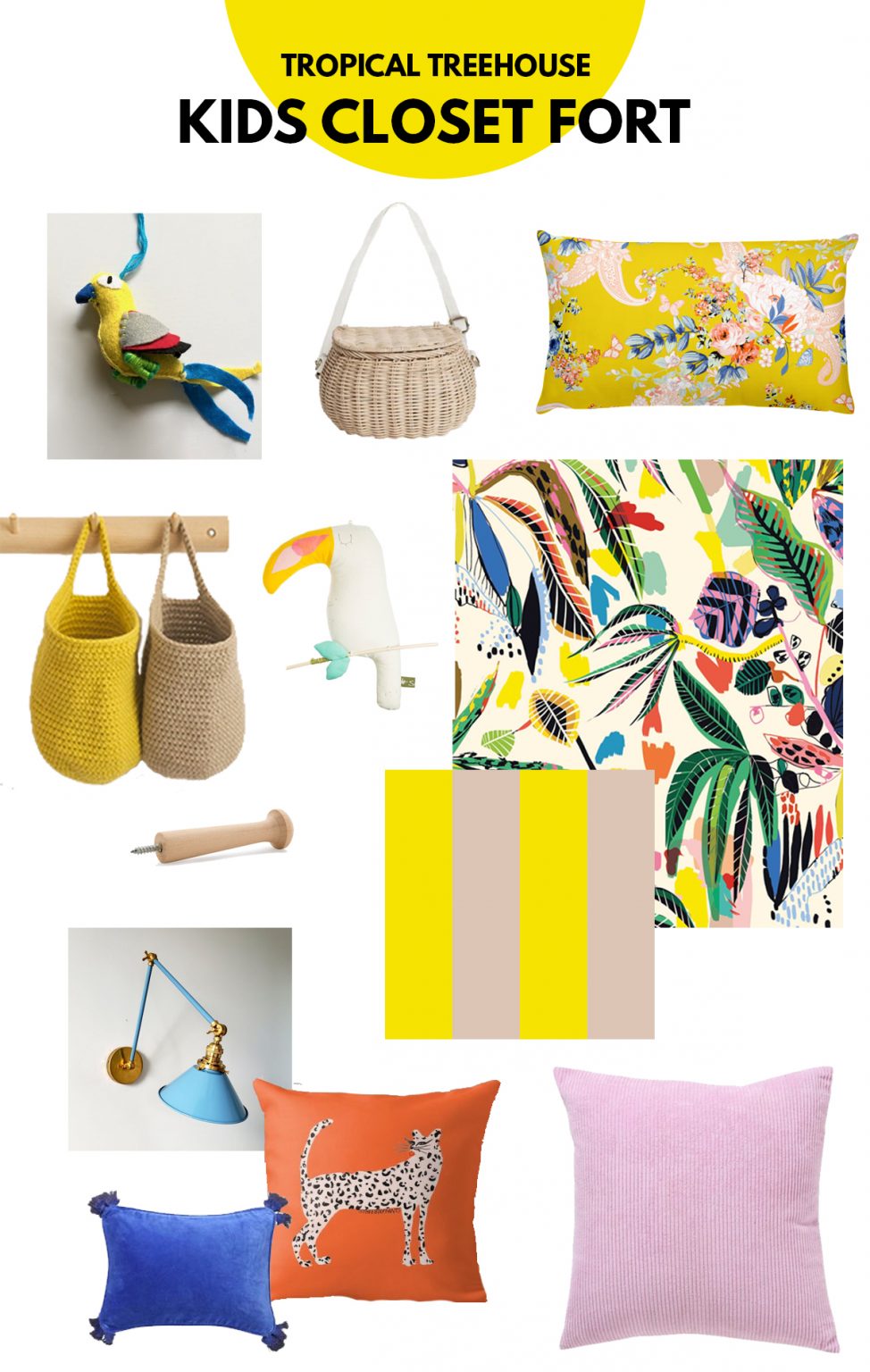 Sources
Felt Parrot | Basket Bag | Floral Pillow
Crochet Baskets | Shaker Pegs | Toucan
Wallpaper: Kitty McCall for Milton & King | Custom Stripe Fabric
Blue Sconce | Leopard Pillow
Purple Pillow | Blue Pillow
I wanted it to tie into the color palette of his nursery, but still have it's own fun feel too! That's how I landed on using wallpaper! I'm hoping to do a removable wallpaper hack so that we can easily swap it out down the road or if/when we sell the home. Will share more on that, later!
Our son has a pretty big obsession with the opening scene from the movie Rio and thus all sorts of colorful birds, so I loved the idea of making this whole reading nook feel like it was nestled in the trees! This colorful tropical wallpaper was perfect.
I'm planning on adding in some colorful plush bird decor pieces I've collected, plus perhaps making some of my own.
Printing Custom Fabric
I really wanted to contrast the tropical pattern with a bold stripe and I had seen a ton of stripe patterns on fabrics and furniture in this amazing sand/chartreuse combo. I couldn't find any that were the right width for what I wanted so I ended up printing my own!
I'm planning on turning it into a tufted floor cushion for the space, and perhaps some additional cushions for the sides, too.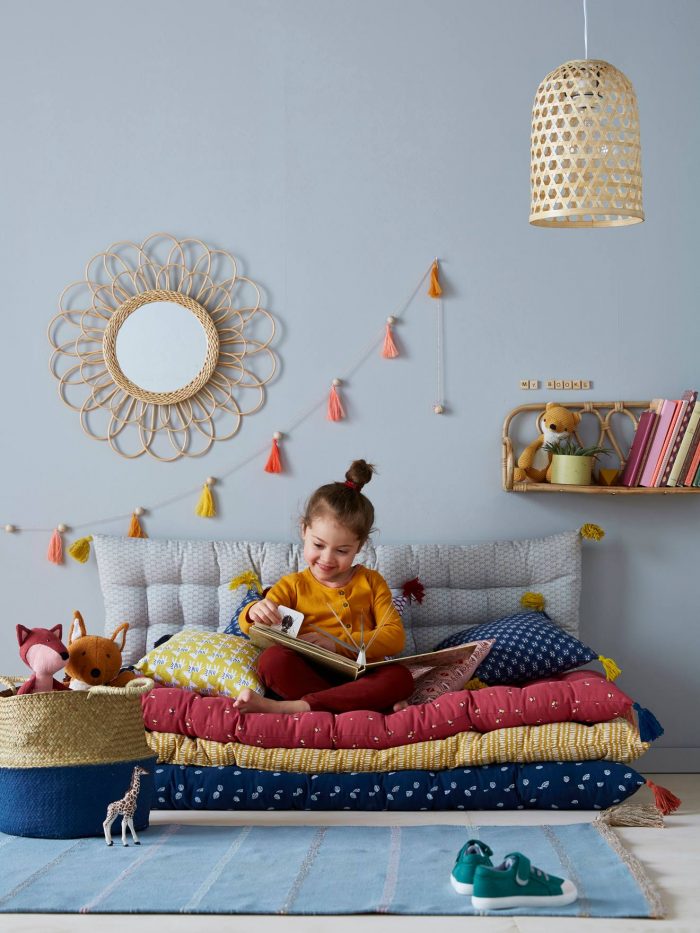 Photo via Vertbaudet
I used this site and uploaded my design (made it in Illustrator) and printed it on linen. It printed and shipped so fast. I think I had the fabric in hand less than a week after I ordered it. I was nervous about the colors being dull, but they are super vibrant!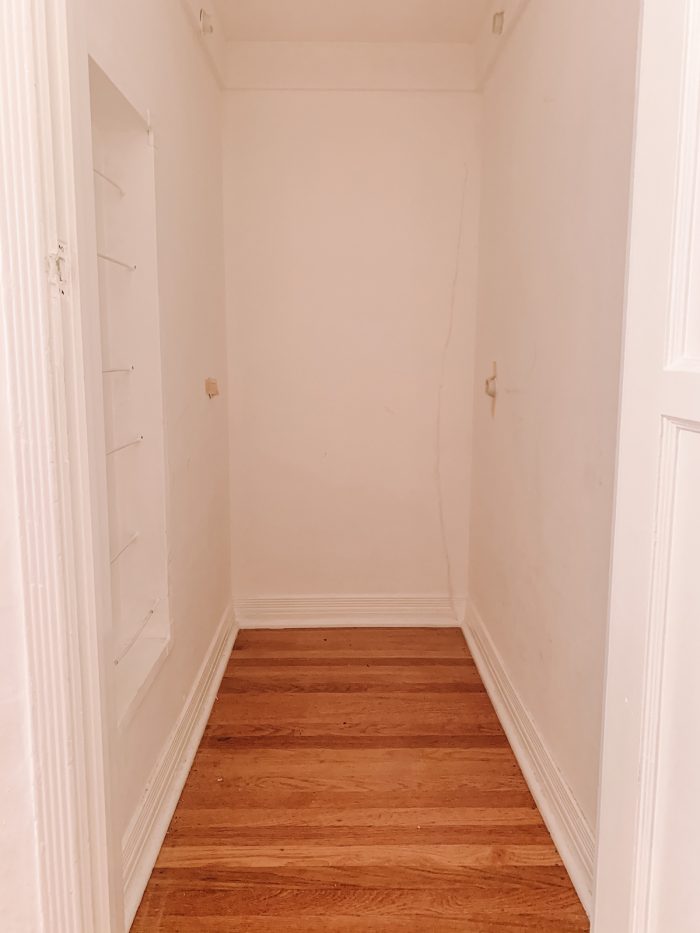 The Layout
I want this space to be super cozy and full of pillows on the floor since we'll mostly use it to read, hang out or play. As a result, I'm keeping it super simple. I'm creating a big tufted floor pillow for the floor and then adding lots of fun throw pillows on top of it.
I'm going to turn the bracket that is holding up the large shelf into a DIY peg rail. I bought these shaker pegs that already have a screw in them to make it super easy. I haven't decided if I'm going to both sides, or just the back and one side, but my plan is to hang some decor items plus some baskets or containers that we can use for any excess storage needs.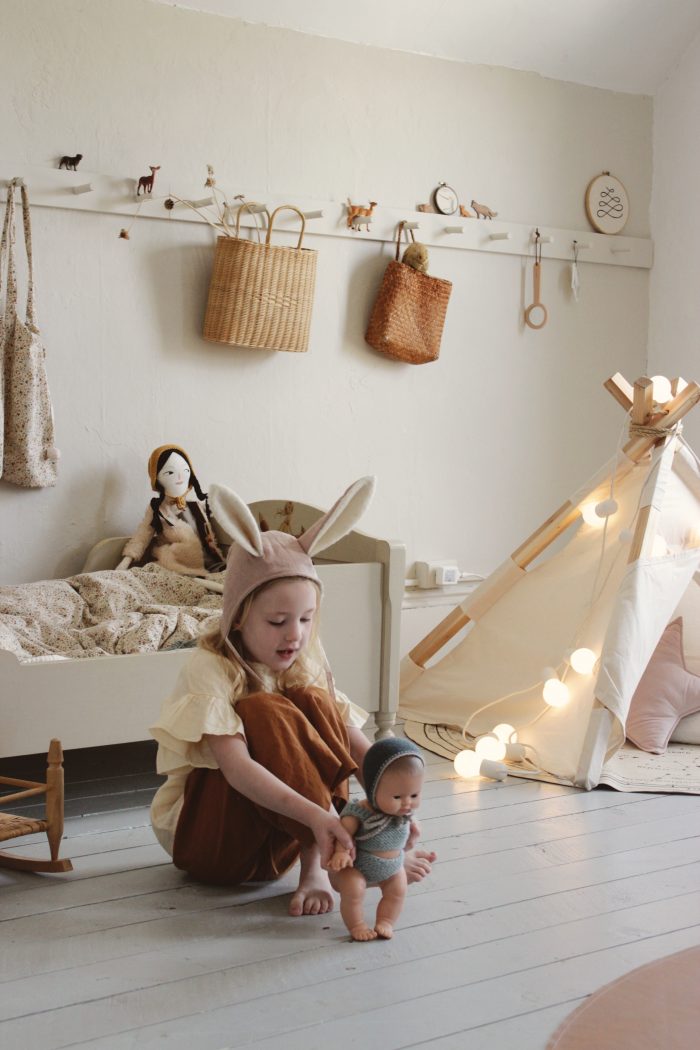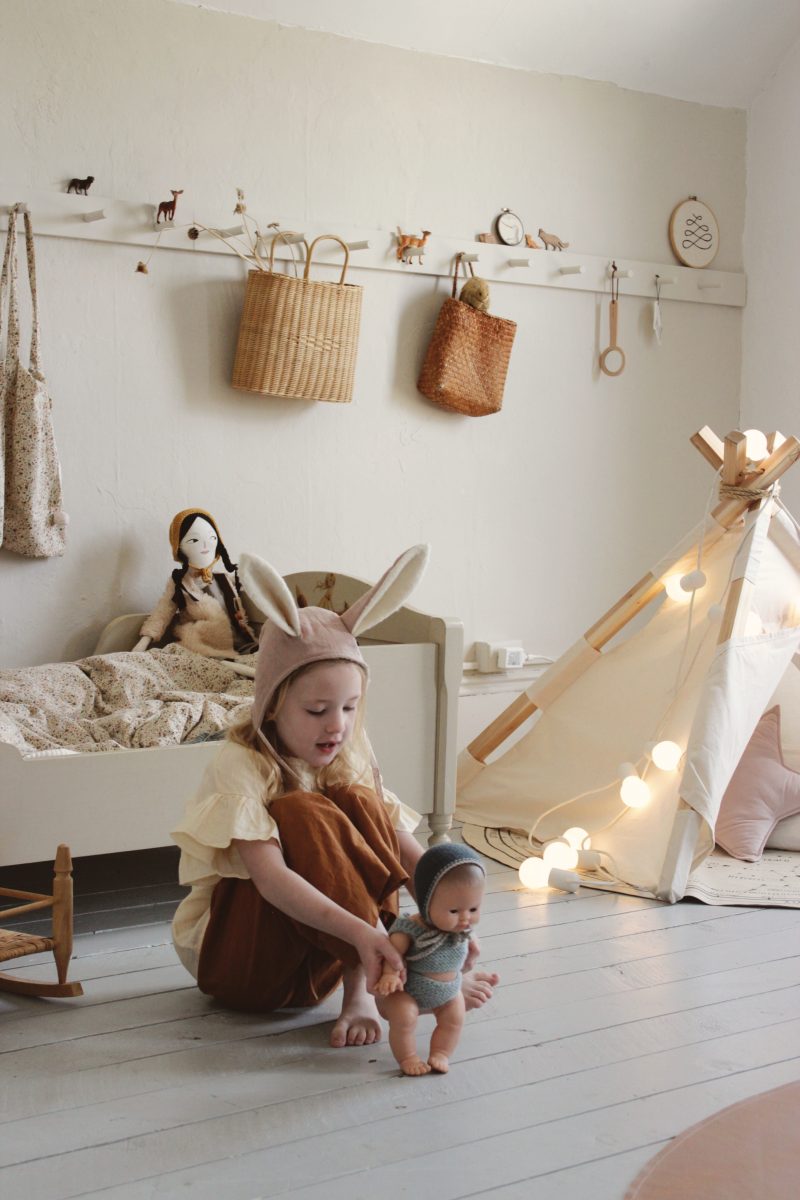 Photo by Mer Mag
I may add a small shelf or two but the space really is narrow, so I'm hoping to avoid that. We have tons of book storage in the room (though our book collection just keeps growing) so I'm not planning to actually store books in this space.
The only other major decor element I'm going to add is one adjustable light, placement TBD. It'll be a smaller version of the one you see in the mood board by our favorite lighting designer, Sazerac Stitches.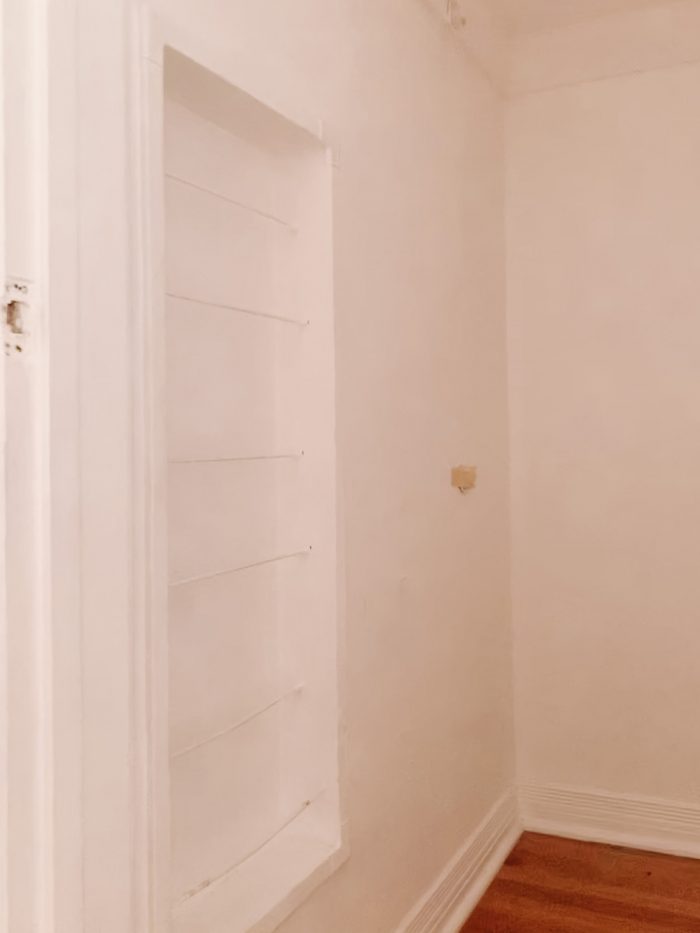 Turning a Shoe Rack into a "Treehouse"
Our house was built in the 1930s and this closet has what most people have told me is an old shoe rack built in. (There's also a strong team for it being a tie rack, I still have no idea!)
I'm going to turn it into a treehouse for all our little character figurines!!! Almost like a miniature dollhouse. I'm planning to make narrow "shelves "to add on top of the wire bars and then make some fun things like an elevator or trap door. This will probably need a whole post of it's own, but my biggest question right now is…
How should I "cover" it? Should I add a door? (What color???) Some sort of roll-up curtain? Something else?
I really want to add a mini-fake door next to it like the below (So cute!), but I can't figure out how to make that work with an actual door for the space.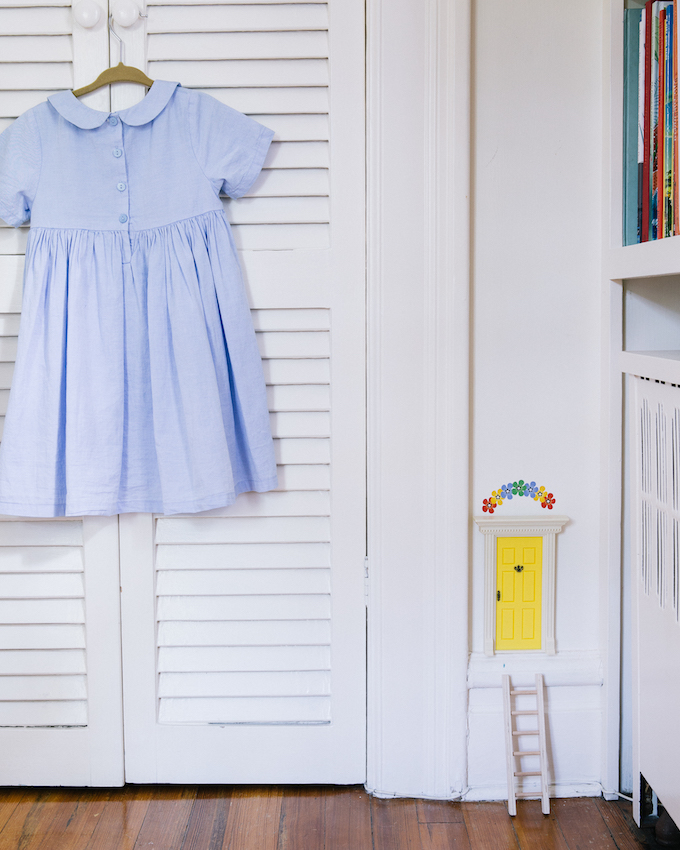 Photo by Alpha Smoot via Cup of Jo
I'll follow up with a post on all the details of this once I figure them out.
For now, that's my plan! I'm so excited to makeover this closet into a reading nook and play space. Kids spaces are my absolute favorite to design. Stay tuned for the reveal!