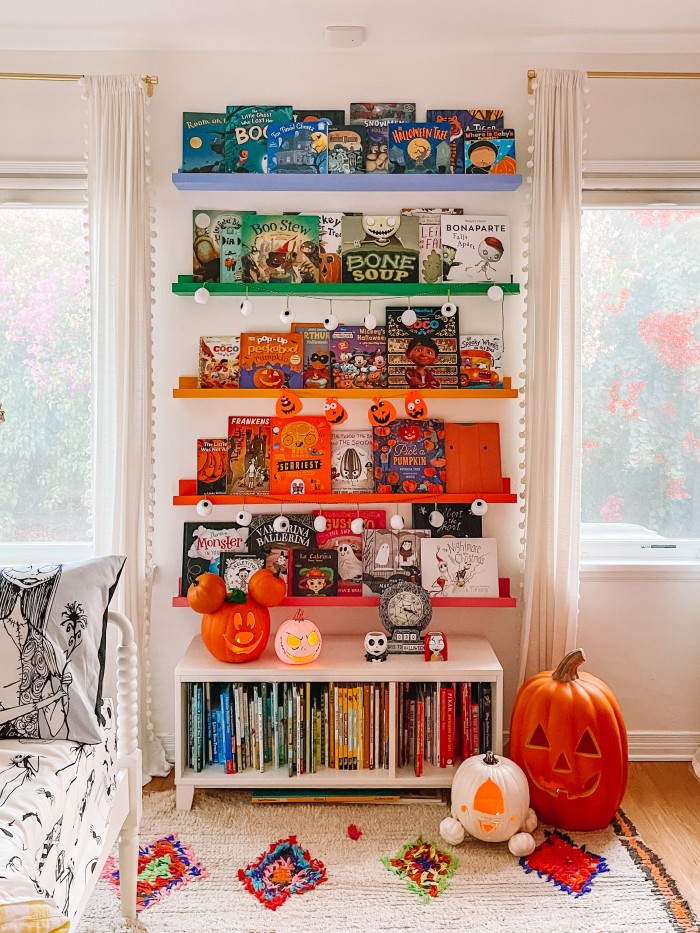 We've amassed a fun collection of what I consider the very best Halloween books for kids and we love pulling them out every Halloween season to read. From books about pumpkin picking traditions, to spooky tales, to books that teach important lessons by way of Halloween characters, it's a favorite Halloween tradition to read these titles as a family.
I wrote a bit about why we love each one below, in case you want to build up your Halloween kids book library too!
Best Halloween Books for Kids
Below you'll find all the best Halloween books for kids that we've read (so far)!
Stumpkin by Lucy Ruth Cummins – All about a pumpkin who doesn't have a stem! I really love the illustration style of this book, and that it takes place in a city setting as so many Halloween books seem to be set in rural/suburban areas. I also really love the pattern of how this story unfolds!
Pick A Pumpkin by Patricia Toht and Jarvis – This. Book. Patricia Toht's "Pick A Pine Tree" book is hands down my favorite Christmas book and I'm so happy to have the Halloween version! In my opinion, it's also hands down the best Halloween book we own. She just really hits the nail on the head when it comes to traditions. This one takes you through picking a pumpkin a patch, carving it, decorating your home, the whole nine yards… step by step with so much detail. If you're going to buy any book from this list, make it this one!
Gilbert the Ghost by Guido Genechten- A cute book about a (pink!) ghost who embraced being different!
Bonaparte Falls Apart by Will Terry and Margery Cuyler – If you have a little one fascinated by skeletons, pick this book up! All about a skeleton who is worried about how he is going to keep himself together for the first day of school, and his friends that help him along the way.
Bone Soup by Cambria Evans – Fun spin on the classic Stone Soup with a story that emphasizes the importance of sharing, and how one person (or monster?) can bring everyone together!
A Tiger Called Tomás by Charlotte Zolotow and Marta Álvarez Miguéns – This is a bilingual new take on a classic story, about a kid who is too shy to make friends when he moves to a new neighborhood, until Halloween rolls around and his costume gives him the courage he needs to leave his stoop!
Snowmen at Halloween by Carlyn Buehner and Mark Buehner – This is all about a snowstorm that happens just before Halloween and what all the snowmen are up to when nobody is watching. It's really fun and heavily in our Halloween bedtime story rotation!
Frankenstein: A Monstrous Parody by Rick Walton, Illustrated by Nathan Hale – This book is a Halloween parody on one of my favorite books as a kid, Madeline!
The Haunted Mansion by Lauren Clauss, Illustrated by Glen Brogan – If you love the iconic Disneyland ride, this book is for you as it takes you through each room and experience in the spooky Haunted Mansion.
Arthur's Halloween by Marc Brown – Arthur will always have a soft spot in my heart! This book has a great message, that you shouldn't judge a "spooky" book by its cover.
Leo: A Ghost Story by Mac Barnett and Christian Robinson – This one isn't Halloween-themed, just a sweet story about a ghost named Leo and the little girl named Jane who he be-friends after being misunderstood by other humans.
Los Gatos Black by Marisa Montes, Illustrated by Yuyi Morales – We love Yuyi Morales gorgeous illustrations in our every day library so I was excited to add a Halloween title of hers to our line up!
There's A Monster In Your Book by Tom Fletcher and Greg Abbott – I love an interactive book and that's what this is!! If you've read and loved "Press Here" you'll love this one too! It's so so adorable and fun to read!
Turkey Trick or Treat by Wendi Silvano and Lee Harper – Got this one as a gift and it's pretty cute! It's all about a turkey and his fellow farm animals who are just trying to go trick-or-treating even though everyone tells them they can't!
Room on the Broom by Julia Donaldson and Axel Scheffler – Without a doubt the most recommended book whenever you ask about favorite Halloween stories! It's a story that rhymes (yay!) and is all about a witch who finds room on her broom for many a new friend!
There's A Ghost In This House by Oliver Jeffers – We love Oliver Jeffers work and are anxiously awaiting his newest spooky release, just in time for Halloween!
The Nightmare Before Christmas by Tim Burton – I love the way Tim Burton illustrated his classic Halloween movie in the pages of this book. This is a great version to have for any major Jack Skellington or Tim Burton fans out there!
The Scariest Book Ever by Bob Shea – This is my son's favorite Halloween book. It is so silly and clever. It's about a very skeptical ghost who's scared of everything, until he learns what it really is. It has a bit of a memory and mystery component which is super fun for kids.
The Good, The Bad, and The Spooky by Jory John and Pete Oswald – This Halloween book is about a seed who starts out in a very bad mood when he can't decide on a Halloween costume, but ends by learning a great message!
Boo Stew by Donna L. Washington and Jeffrey Ebbeler – A fun and spooky take on the classic Goldilocks story, perfect for Halloween!
Vampirina Ballerina by Anne Marie Pace and Leuyen Pham – This one isn't necessarily Halloween themed, just a cute story about Vampirina the vampire. If you have any ballerinas in your life, this is a must.
Below are a few fun Halloween books for the younger toddler and babies in your life!
Boo! / Bu! by Leslie Patricelli – A bi-lingual Halloween board book that packs SO much more punch than I excepted!! There's a really cute page with all different jack-o-lanterns and the emotions they're expressing and Arlo is obsessed. One of my top faves for the little little ones!
The Spooky Wheels on the Bus by J Elizabeth Mills and Ben Mantle – Any book that involves singing is a win for Arlo! This is a really cute Halloween version of Wheels on the Bus!
Mickey's Halloween Lift-the-Flap Book – Lift-the-flap books are always a hit in our house. This one has all sorts of hidden Halloween items and games to figure out and find!
Our Favorite Dia de Los Muertos Books
Because Dia de Los Muertos falls right after Halloween, I wanted to include some of our favorite books about this holiday as well. I've been trying to learn more about the holiday through books, in addition to talking with friends who celebrate it, and these have been a great resource.
Dia de Los Muertos by Rosanne Greenfield Thong and Carles Ballesteros – So many of you recommended this one and I'm so glad you did! I thought this one did a really great, thorough job of telling the story of Dia de Los Muertos. And it rhymes! Which are my favorite books to read. It's written in English but mixes in some important Spanish words/terms related to the holiday.
Coco, A Little Golden Book – We love this Little Golden Book. Tells the story of Coco, which of course takes place on Dia de Los Muertos! It's a frequent request from Arlo all year round!
Gustavo the Shy Ghost by Flavia Z. Drago – This is a new addition for us and I am absolutely in love with it. The sweetest story about a very shy ghost and how he uses his love of music to find the courage to make friends.
La Catrina by Patty Rodriguez and Ariana Stein – Our favorite series of bi-lingual board books! This one is all about emotions, but the illustrations are inspired by Dia de Los Muertos so I include it in our Halloween reads! This is strictly a vocab book, so it's great for super little ones!
Skeletitos by Susie Jaramillo – A really cute counting book with fold out pages (a major toddler WIN! Haha!) and in a Dia de Los Muertos setting!
You can view almost all the best Halloween books for kids here in my Bookshop profile if that's easier! You can also view other children's books we love here.
Do you have any favorites you would add for the fall or either holiday?? Hope you love these as much as we do!