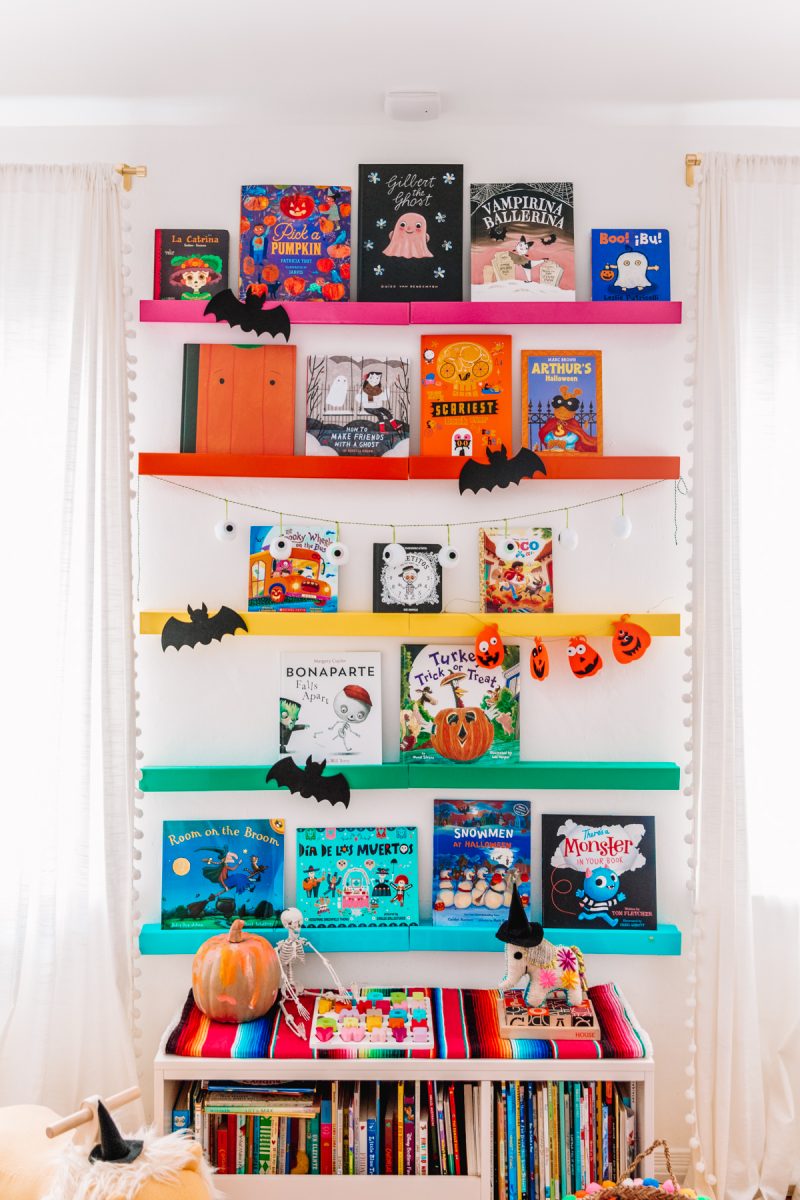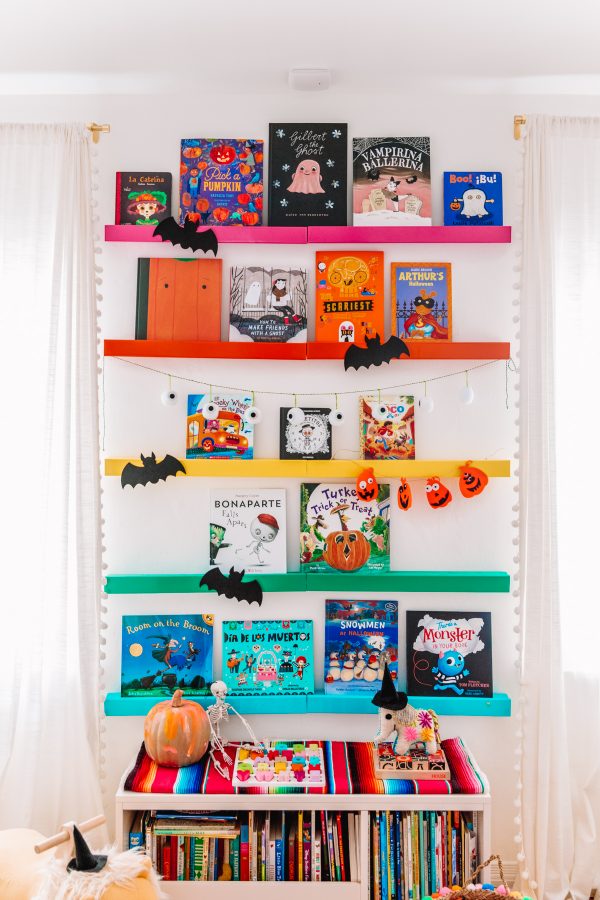 We've amassed a fun collection of Halloween books for Arlo and have been having a BLAST reading them. It's so fun seeing him get PUMPED about a holiday for the first time! He's currently very into skeletons and vampires and tells everyone that when he goes trick or treating he will get "chocolate" haha! Not just candy but specifically chocolate. Because I'm raising him right, DUH!
In addition to Halloween books, we've collected several really wonderful Dia de Los Muertos books, too. I've been trying to learn more about the holiday through books, in addition to talking with friends who celebrate it, and they've been a great resource. We're traveling this year, but hope to celebrate it in our home next year for the first time!
We read three books every night before bed and these titles have been dominating! I decided to combine our favorites for both holidays into one post and share our absolute favorites, in case you want to build up your holiday children's book library too!
Our Favorite Halloween Kids Books
Pick A Pumpkin – This. Book. Patricia Toht's "Pick A Pine Tree" book is hands down my favorite Christmas book and this year she released a Halloween version. And go figure, it's hands down my favorite Halloween book too. And Arlo's actually! IT IS SO GOOD. She just really hits the nail on the head when it comes to traditions. This one takes you through picking a pumpkin a patch, carving it, decorating your home, the whole nine yards… step by step with so much detail. If you're going to buy any book from this list, make it this one!
Gilbert the Ghost – A cute book about a (pink!) ghost who embraced being different!
Stumpkin – All about a pumpkin who doesn't have a stem! I really love the illustration style of this book, and that it takes place in a city setting as so many Halloween books seem to be set in rural/suburban areas. I also really love the pattern of how this story unfolds and so does Arlo!
Boo! / Bu! – A bi-lingual Halloween board book that packs SO much more punch than I excepted!! There's a really cute page with all different jack-0-lanterns and the emotions they're expressing and Arlo is obsessed. One of my top faves for the little little ones!
Arthur's Halloween – Arthur will always have a soft spot in my heart! This book has a great message, that you shouldn't judge a "spooky" book by its cover.
The Spooky Wheels on the Bus – Any book that involves singing is a win for Arlo! This is a really cute Halloween version of Wheels on the Bus!
Vampirina Ballerina – This one isn't necessarily Halloween themed, just about Vampirina the vampire… but I saw Elsie recommend it and Arlo loves it! If you have any ballerinas in your life, this is such a great one!
Bonaparte Falls Apart – You've already met "baby Karl" and he's a key component to this book for Arlo. He discovered Karl's head pops off, just like Bonaparte's so he likes to illustrate the entire book IRL. Haha!! Definitely a top three fave of us.
There's A Monster In Your Book – I love an interactive book and that's what this is!! If you've read and loved "Press Here" you'll love this one too! It's so so adorable and fun to read!
Snowmen at Halloween – With Arlo's Olaf obsession, I figured he'd get a kick out of this so ordered it on a whim. He LOVES it. It's all about a snowstorm that happens just before Halloween and what all the snowmen are up to when nobody is watching. It's really fun and heavily in our rotation!
The Scariest Book Ever – I thought this book was so clever! It's about a very skeptical ghost who's scared of everything, until he learns what it really is. It has a bit of a memory and mystery component which is fun. Arlo loves spotting the ghost on each page! Plus, the cover is just really pretty! Ha!
Turkey Trick or Treat – Got this one in our Amazon book box and it's pretty cute! Love anything that weaves in animals, of course. It's all about a turkey and his fellow farm animals who are just trying to go trick-or-treating even though everyone tells them they can't!
Room on the Broom – Without a doubt the most recommended book when I asked you guys! It's a story that rhymes (yay!) and is all about a witch who finds room on her broom for many a new friend!
Our Favorite Dia de Los Muertos Books
Dia de Los Muertos – So many of you recommended this one and I'm so glad you did! I thought this one did a really great, thorough job of telling the story of Dia de Los Muertos. And it rhymes! Which are my favorite books to read. It's written in English but mixes in some important Spanish words/terms related to the holiday.
La Catrina – Our favorite series of bi-lingual board books! This one is all about emotions, but the illustrations are inspired by Dia de Los Muertos so I include it in our Halloween reads! This is strictly a vocab book, so it's great for super little ones!
Coco – We love this Little Golden Book. Tells the story of Coco, which of course takes place on Dia de Los Muertos! It's a frequent request from Arlo all year round!
Skeletitos – A really cute counting book with fold out pages (a major toddler WIN! Haha!) and in a Dia de Los Muertos setting!
Any favorites you would add for either holiday?? Hope you love these as much as we do!