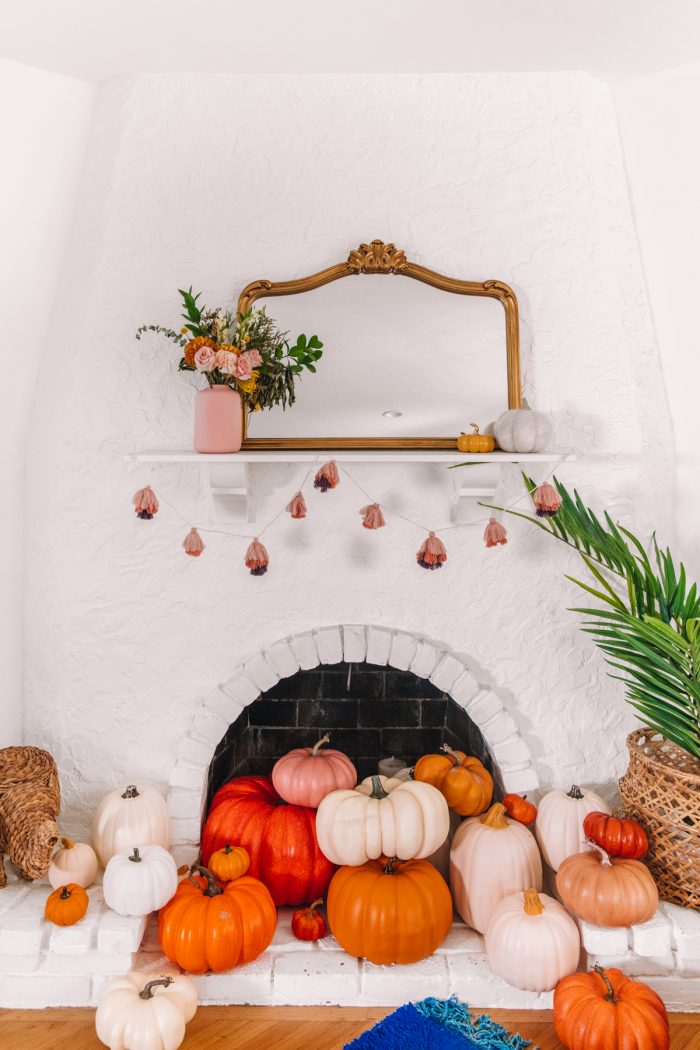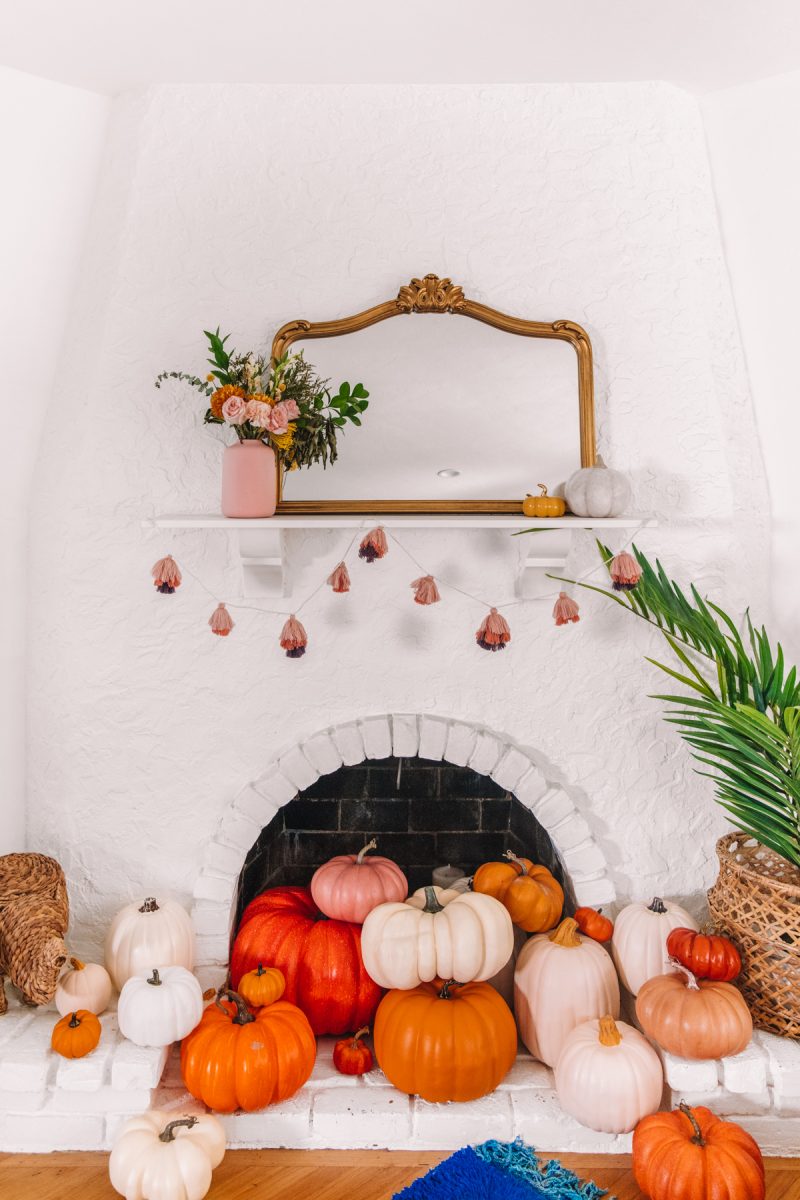 Halloween is looking a little different this year for most of us, but that doesn't mean we can't still have fun with some at home Halloween celebrations! Today I rounded up some of my favorite ideas for bringing the festive Halloween spirit into your house all month long, and not just on October 31st!
Check out my favorite Halloween snacks, crafts, costumes, home decor, movies and more for the whole family below!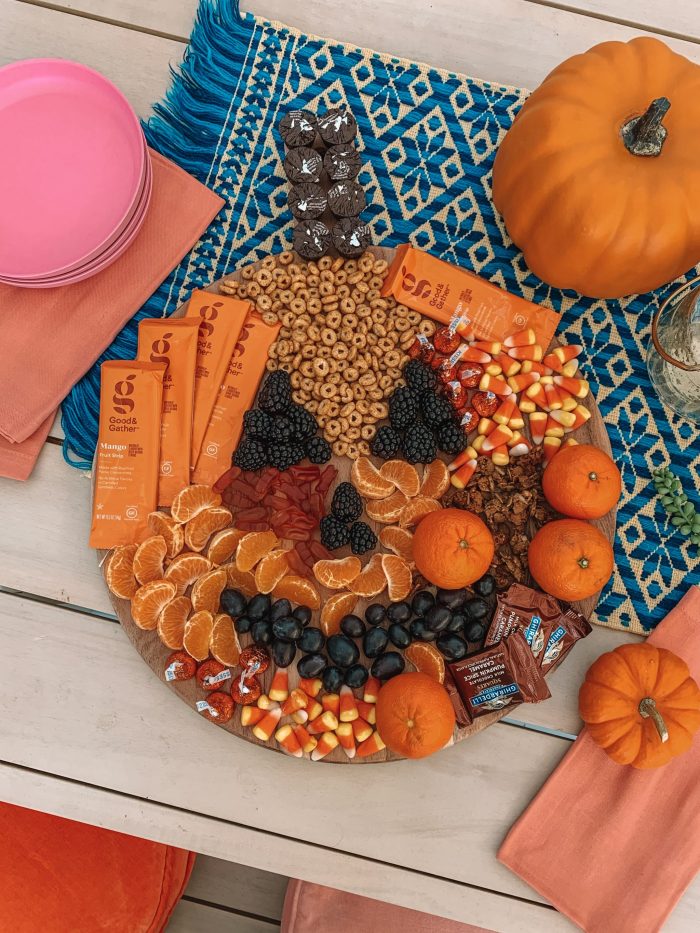 Halloween Snack Board
Make a Halloween snack board! I made this toddler version inspired by Freutcake's epic Jack-O-Lantern snack board and filled it with orange and "black" snacks like:
Clementines
Pumpkin Cereal
Candy Corn
Chocolate Candies
Fruit Leathers
Blackberries
Blueberries
Chocolate Covered Almonds
Peanut Butter Cups
This would make a great snack or lunch on October 31st!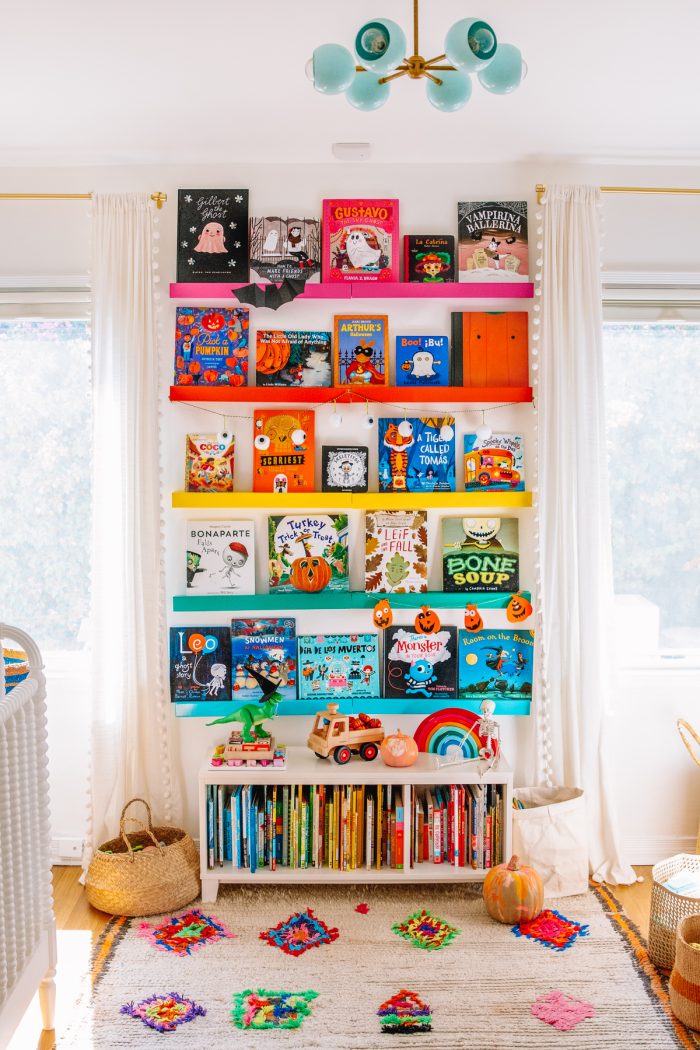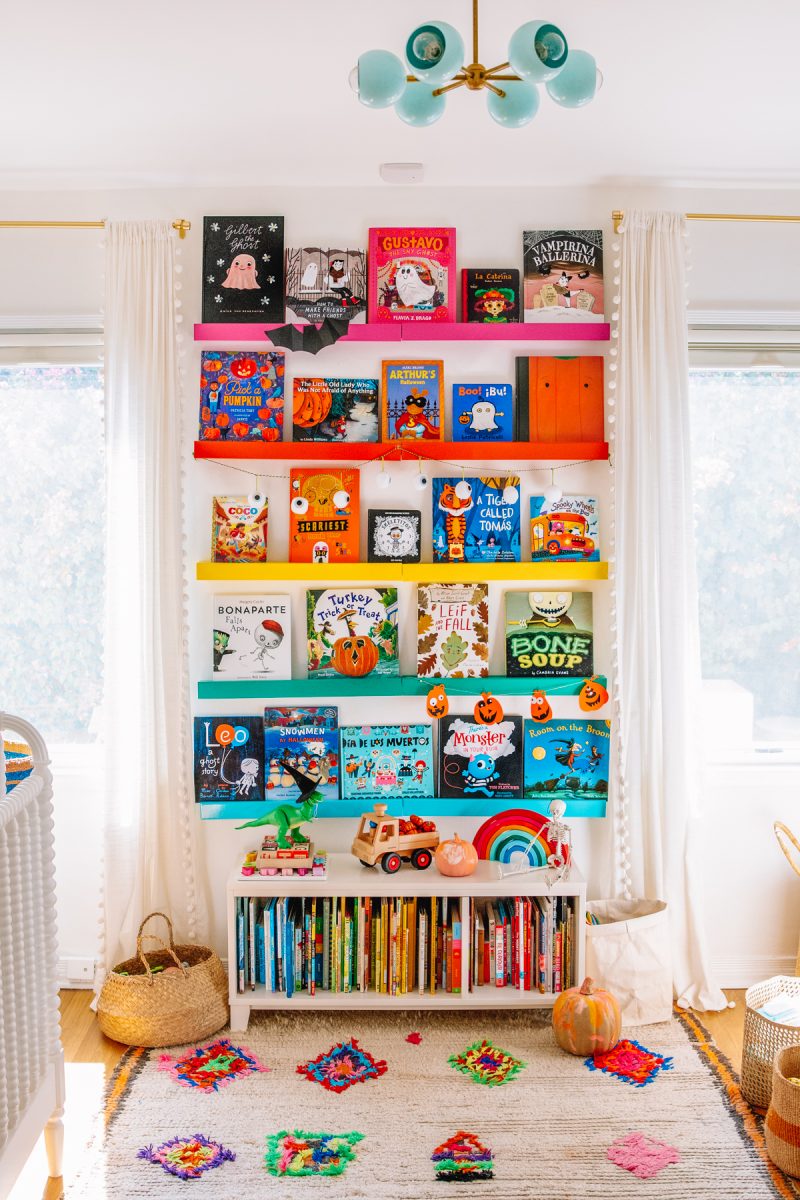 Halloween Bookshelf
Turn a bookshelf, or any shelf or nook, into a Halloween bookshelf. Swap out your year-round books for some Halloween favorites (You can find ours here!) and add a few simple decorations like a few bats or a garland. Guaranteed to make reading even more exciting when there's a themed area of books to choose from!
Find my favorite Halloween books here!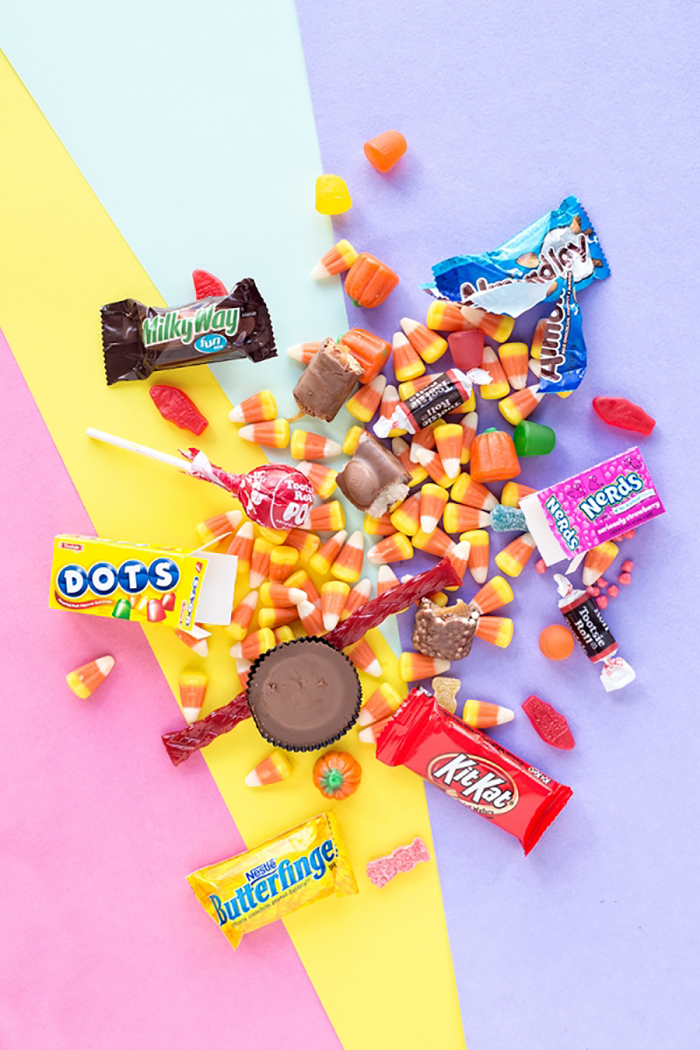 Halloween Candy Hunt
Instead of trick-or-treating do a candy hunt, egg-hunt style! Avoid buying more plastic by just hiding the candy as-is. Hide it inside your home, or out, and you could even leave a "treasure map" or clues to turn it into a game! Bonus points if you have a spot in your yard where you can hide a "bigger" prize buried in the ground next to a faux gravestone. So fun!!
Here's some fun facts about Halloween candy, if you're curious!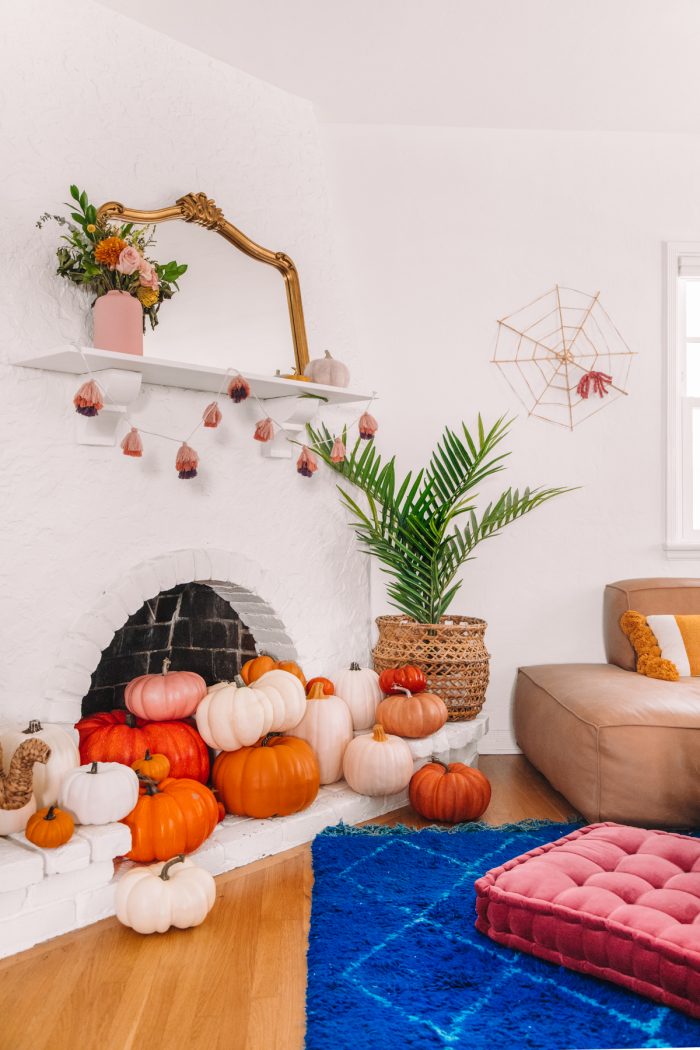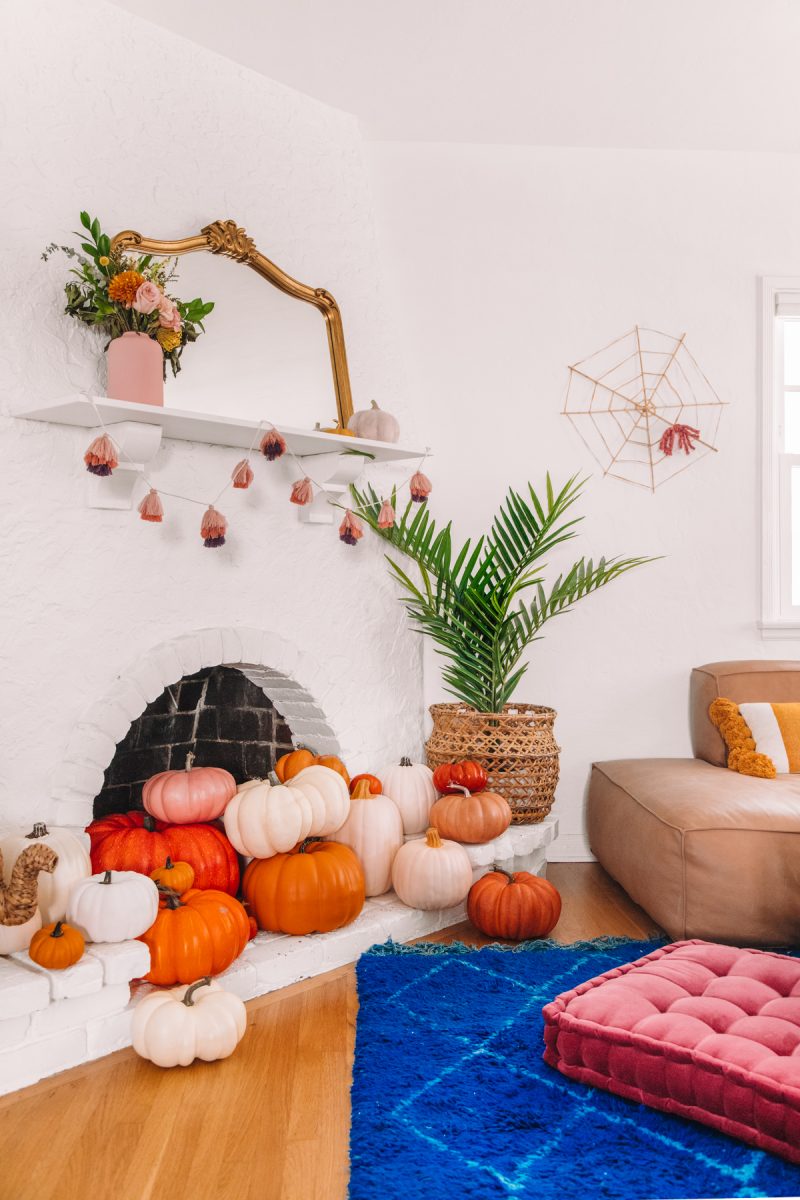 Fill Your Fireplace with Pumpkins
I've built a collection of faux pumpkins over the years, and I use them to fill our fireplace at Halloween.
Check out our Halloween home tour here for more ideas!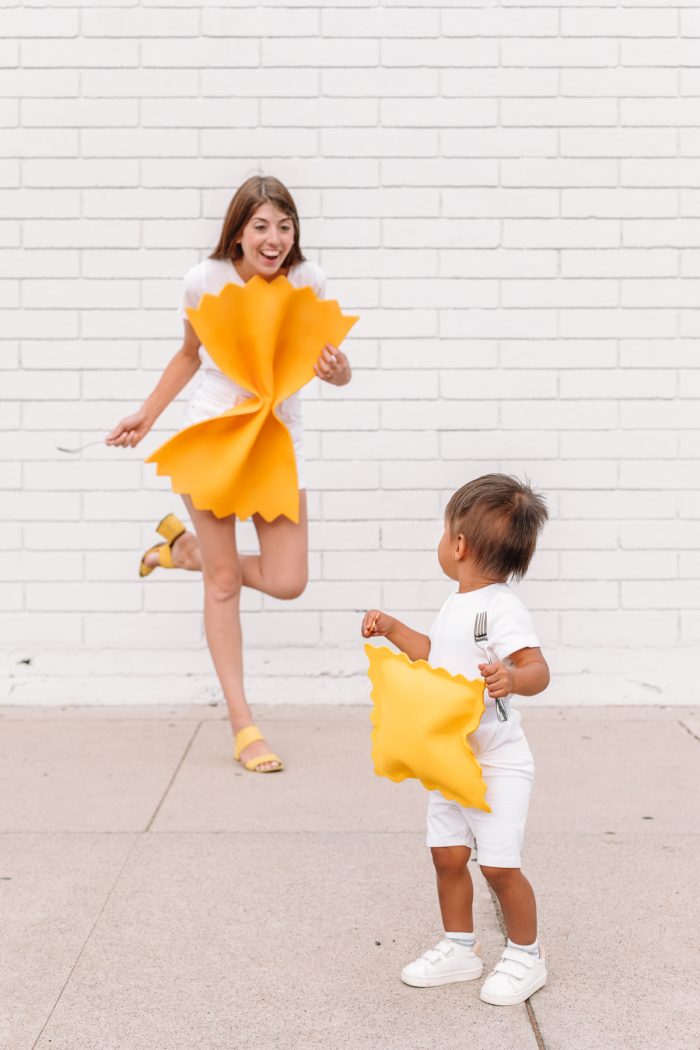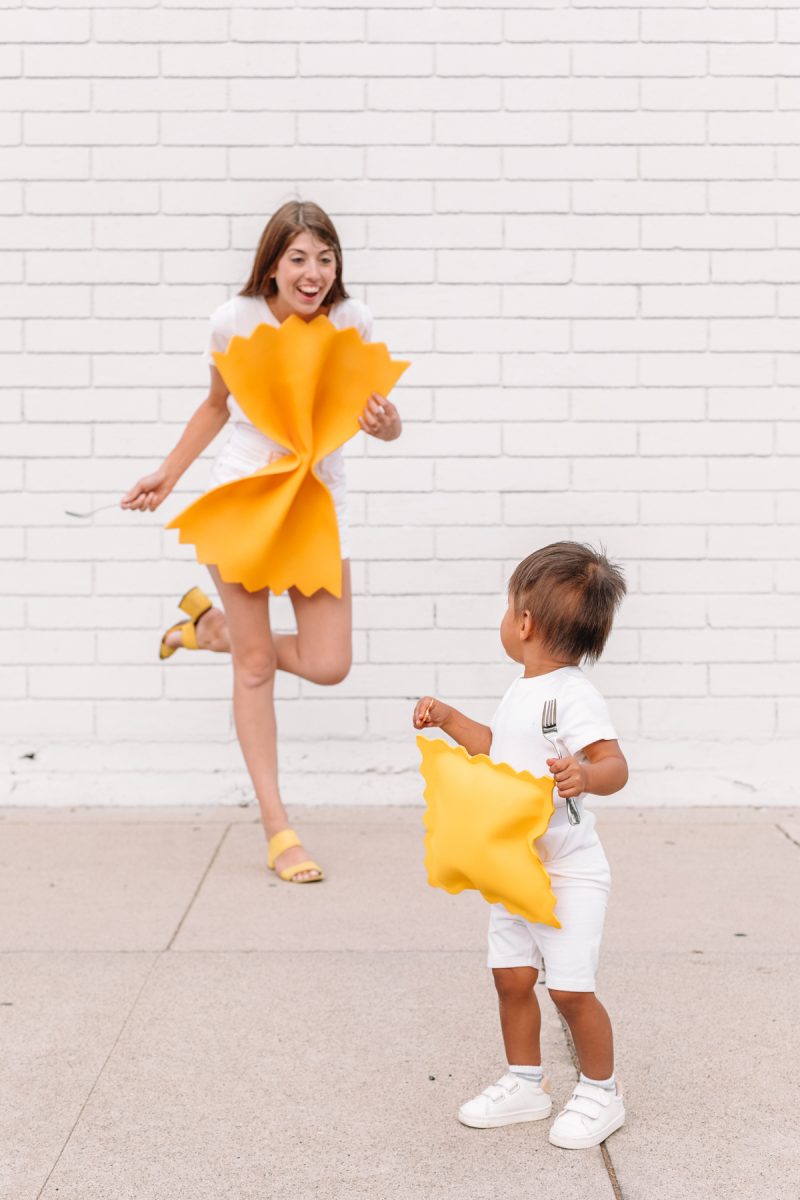 Make Your Own Costumes
Even if you aren't going traditional trick-or-treating, making family costumes can be a great activity to do together. Wear them for a distanced drive-by Halloween gathering, a zoom party on the 31st or just for a fun picture to commemorate the holiday.
I have hundreds of DIY costume ideas which you can find right here!

Make Halloween Ice Cream Cones
An unexpected Halloween treat… ice cream! Turn them into Jack-o-Lantern ice cream cones with this tutorial!

Add Witches Hats to Toys or Photos
Make mini felt hats, or cut out hats from paper, and place them on various photos, toys, trinkets and even book covers with removable tape to give everything in your home a spooky feel!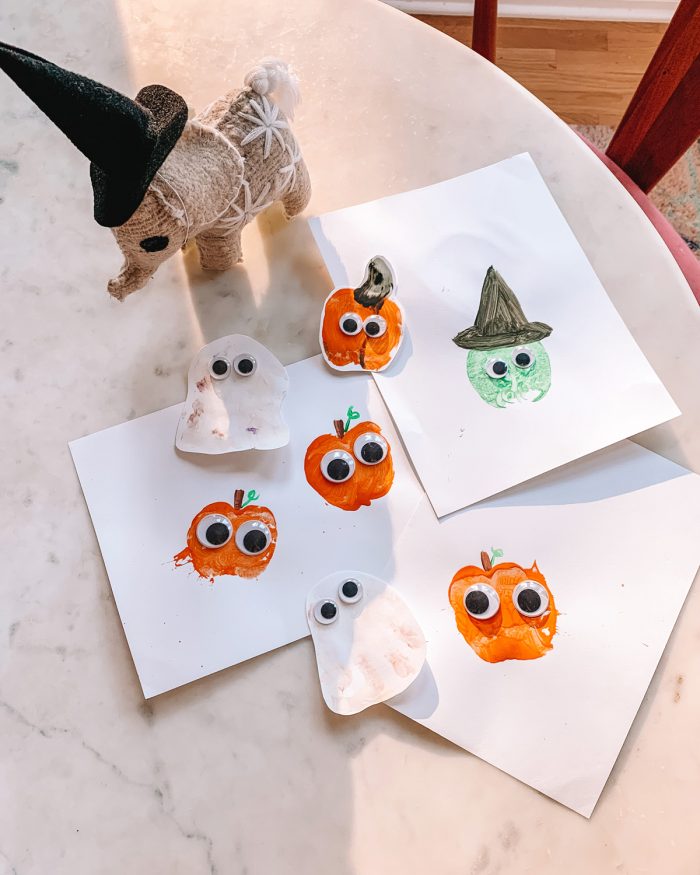 Toddler Halloween Crafts with an Apple
Cut an apple in half and use it as a stamp to make pumpkins (add a stem and leaf) or witches (just add a hat) with paint. Whatever you make, be sure to add googly eyes for extra fun!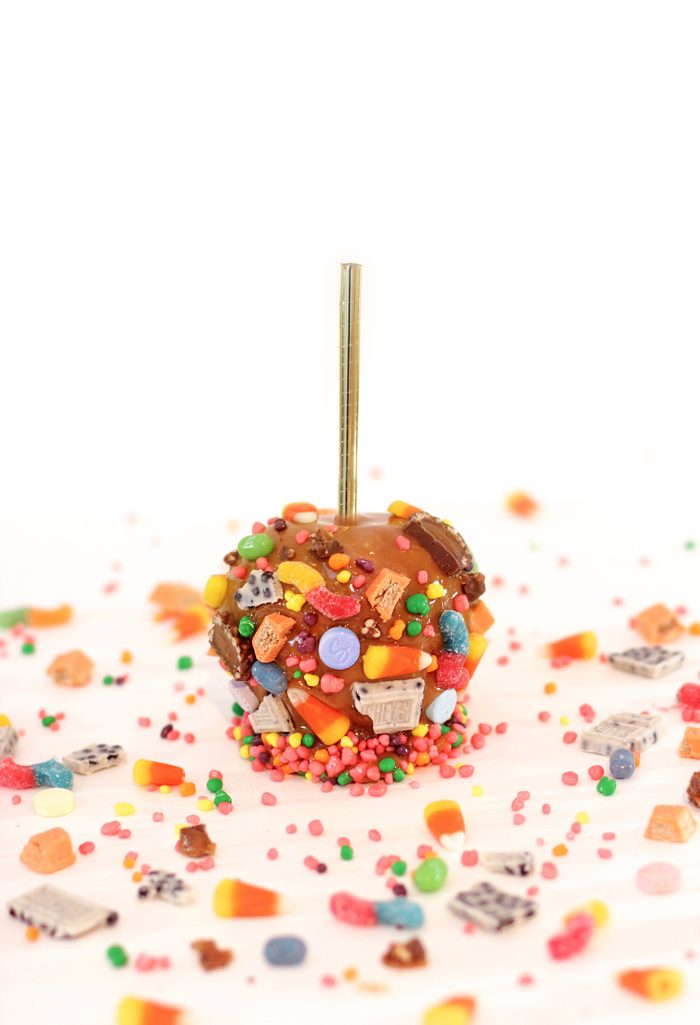 Make Caramel Apples
Turn your kitchen (or dining table) into a caramel apple making station! Go simple and classic, or check out these three crazy caramel apple ideas to try!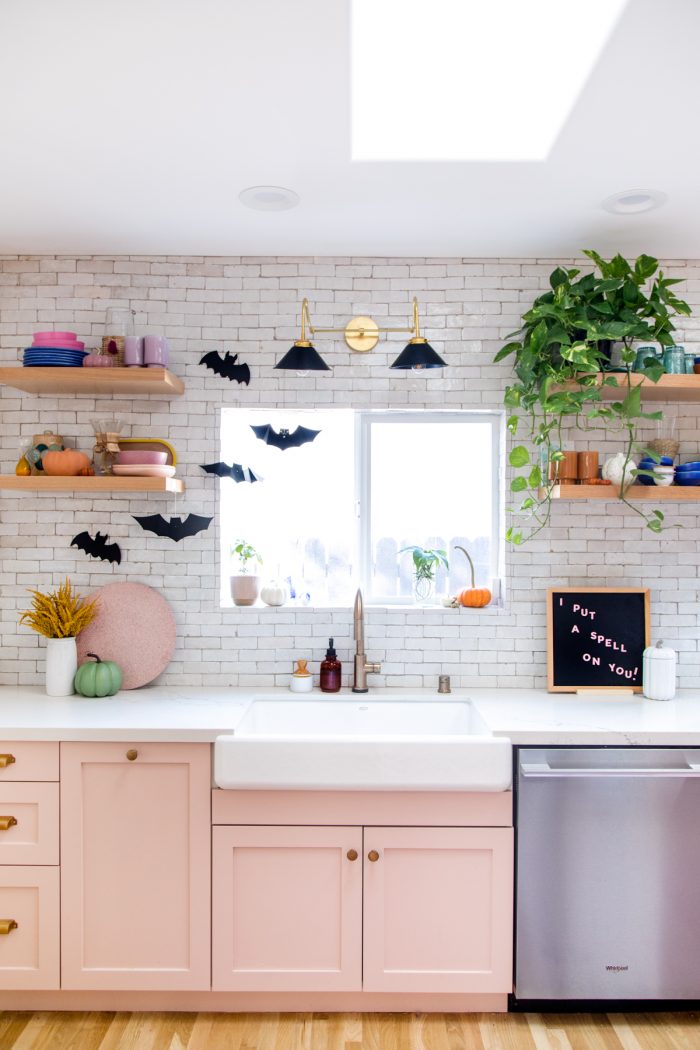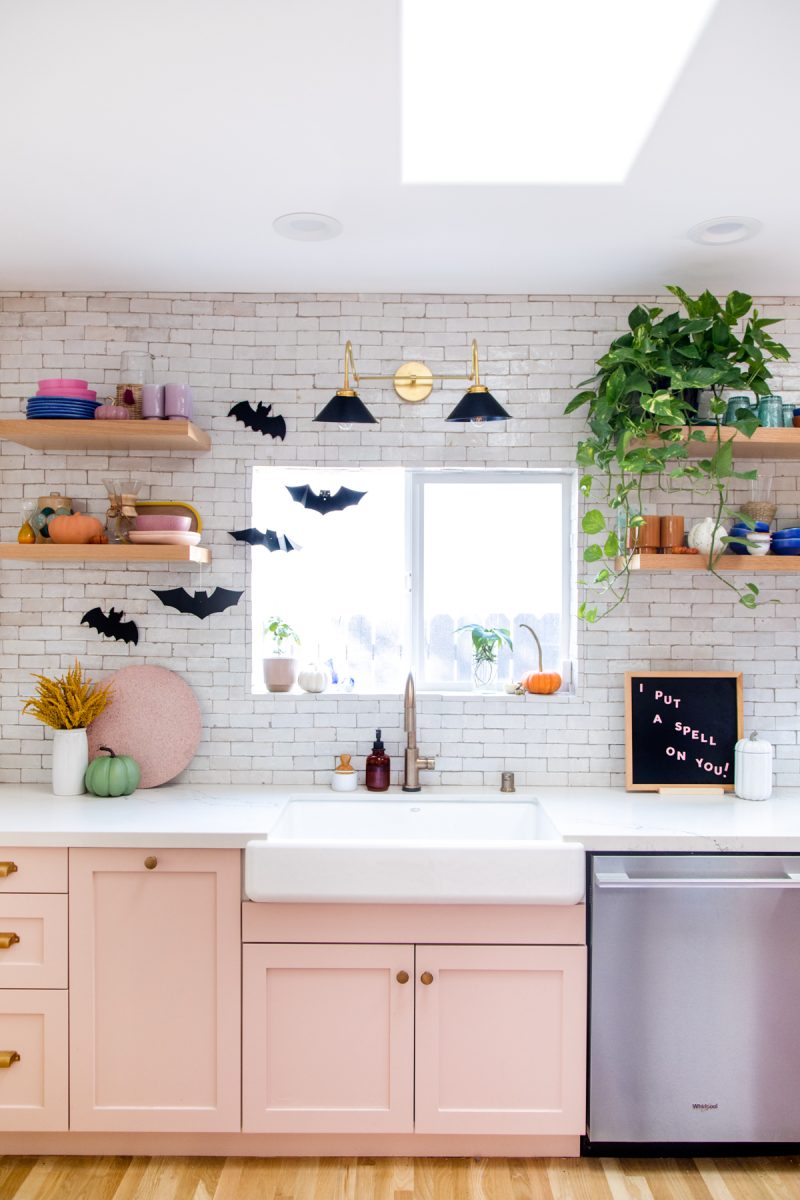 Decorate with Paper Bats
A cluster of bats is an affordable way to add some major Halloween spirit to a wall, door, mantle or any other spot in your home! You can purchase pre-made paper bats, but you can easily make your own too! Just attach to the wall with a removable adhesive, like painter's tape!
Check out our Halloween home tour here for more ideas!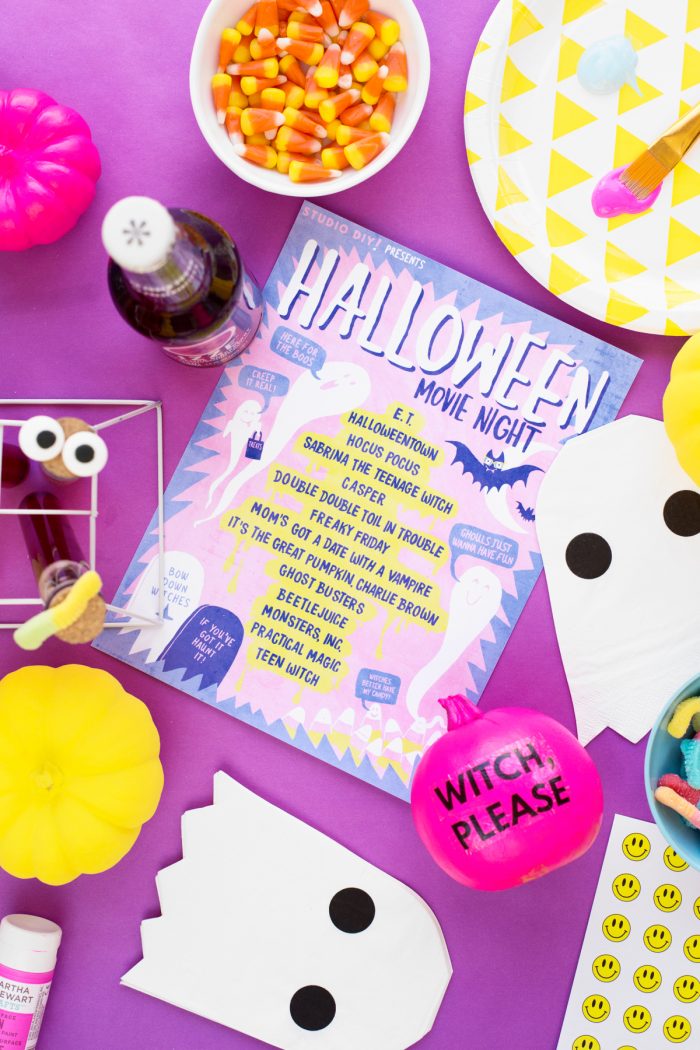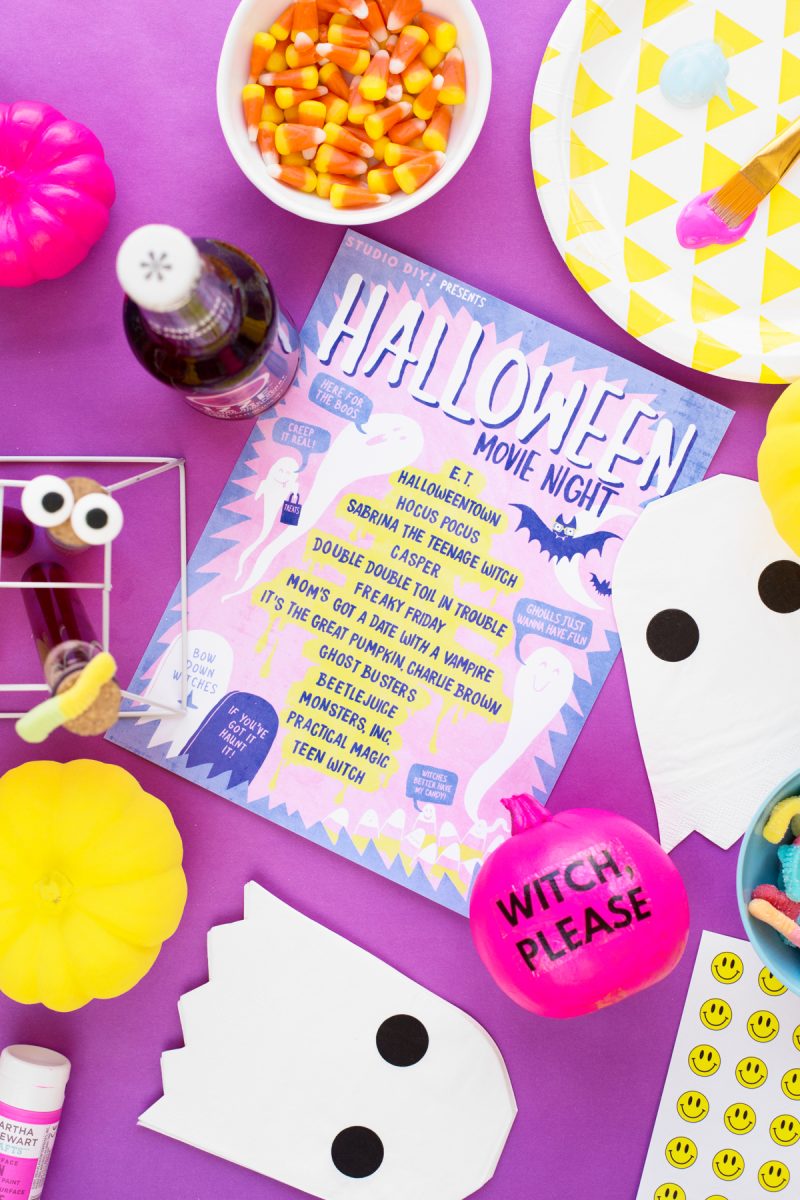 At Home Halloween Movie Night
Make every Friday (or, hey, every night even!) a Halloween movie night! There's so many good ones that are family friendly. We included some here in this Halloween movie night poster we created!
Neighborhood Halloween Decoration Scavenger Hunt
If you head out on daily walks, turn it into a scavenger hunt! Use this free printable or make a list of common Halloween decor items (like skeletons, bats, spiders and pumpkins!) and bring it along to "hunt" for each throughout your neighborhood.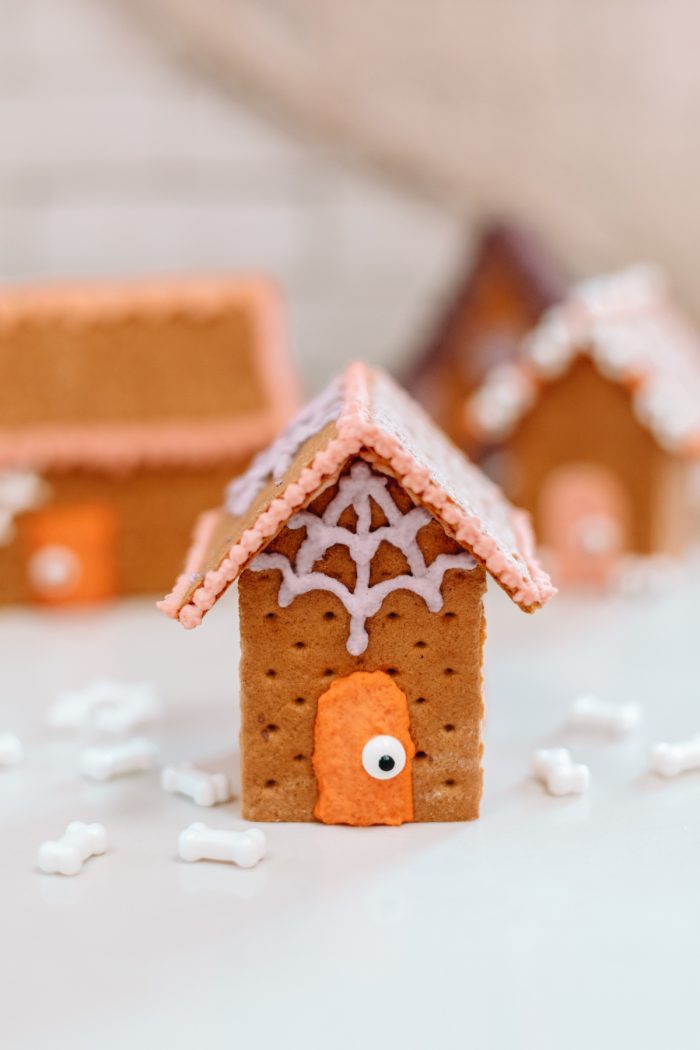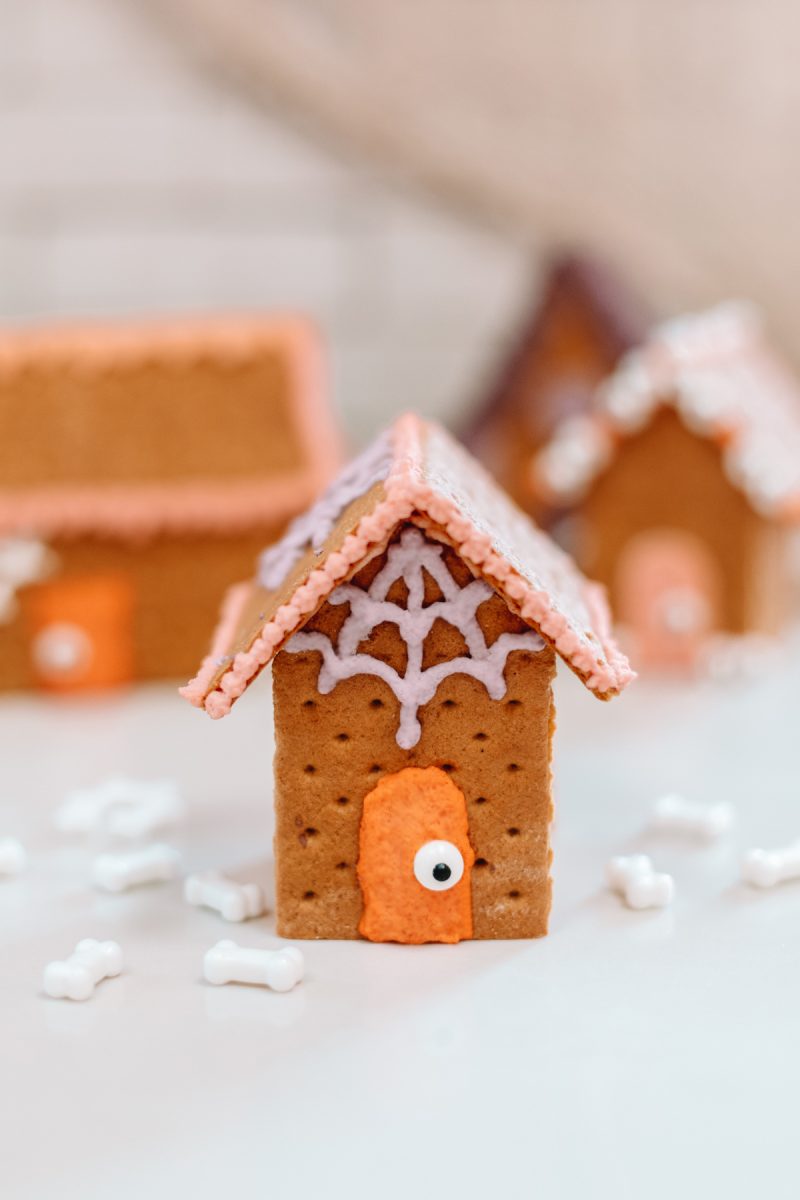 Decorate An Edible Haunted House
Host a little edible haunted house decorating party for your family! Buy a pre-made kit, or make your own easy houses using graham crackers and deck them out with candy, edible eye balls and other Halloween treats!
Pajama Halloween Walk
Every year we pick a night to go to a neighborhood that really goes all out for Halloween, with our little one already in his PJs. We walk (or drive!) around at all the spooky decor and lights and it's such a hit. Bring a festive snack along for the car ride to take it up a notch!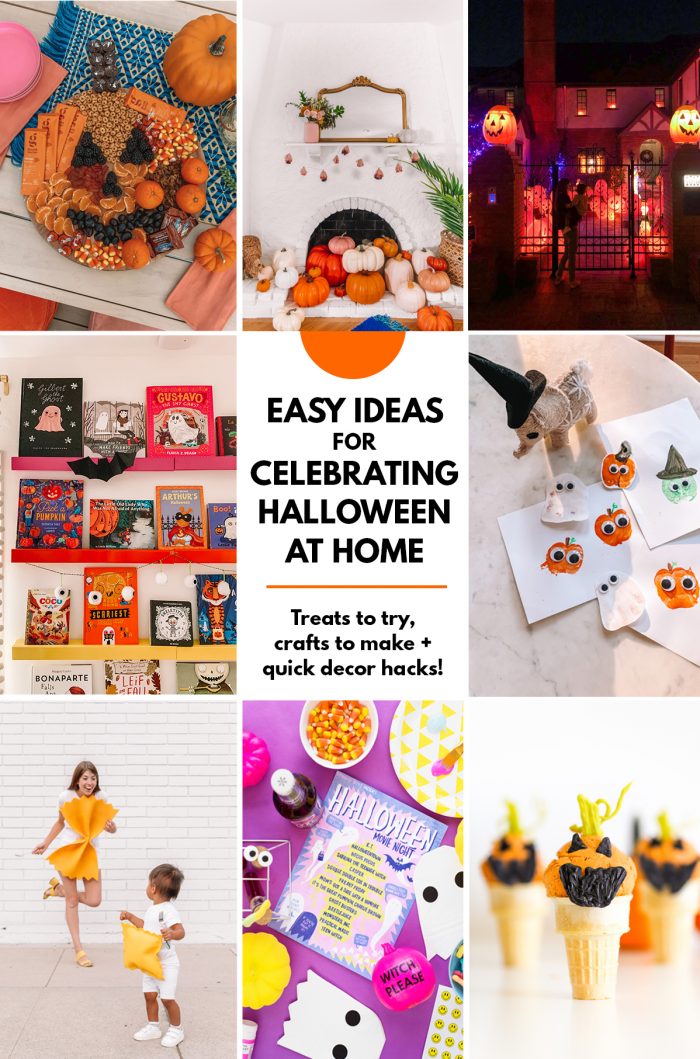 How are you celebrating Halloween at home this year? Would love to hear your ideas below!