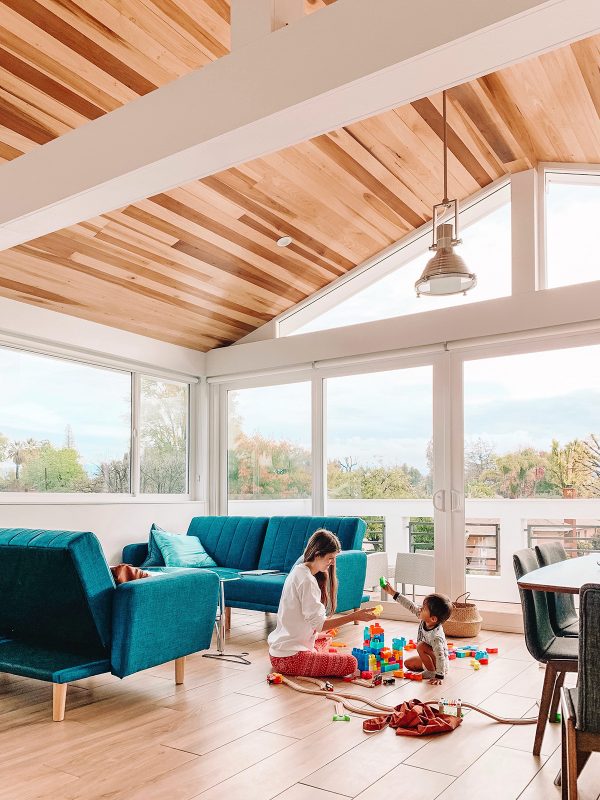 I'm super excited to be joining the Real Talk with Real Moms series this year!! If you aren't familiar, every month several amazing mamas choose a topic to write about and share their perspective on. It's always been one of my favorite series to read, even before I was a mom, so it feels kinda surreal that I get to be a part of it now! =)
This month, we're talking playtime and screen time! I've talked a bit about Arlo's favorite toys and books but thought I'd share a bit about his current (at 22 months, today! Wowza!) favorite activities and how we handle TV and screens, too! And be sure to check out the other ladies posts today too:
The Effortless Chic | Natalie Borton | The Life Styled | A Daily Something | Apartment 34
Now, I'll be the first to tell you that screen time was not the parenting hill I wanted to die on, so we've never made it a "big deal" in our house. Jeff and I frankly both love watching shows and movies and it wouldn't have been realistic for us to pretend otherwise. So, instead, we've allowed Arlo to watch TV and movies in limited capacities when we feel it's appropriate and ensure that it's balanced with other activities that keep Arlo stimulated and on the move! No hard and fast rules in our house, but here's how things shake out in a nutshell:
On Weekdays: Most mornings, we wake up and pop on a show or movie for him to watch until breakfast is ready/so we can relax for a few more minutes ourselves. =)
On Weekends: We'll usually watch a movie or show together on at least one weekend evening, in addition to a show in the morning.
When We're Sick: Rest is really important when you're sick and Arlo does not stop moving unless the TV is on, so we watch a LOT more when he's sick… and when we're sick too for our sanity!
On Airplanes: All "rules" go out the window and he's glued to an iPad most of the time. Not gonna sugar coat it! My motto on planes is "survive", so it does not bother me that he zones out to a screen for a few hours! Outside of the few minutes his other plane activities keep him occupied for, it's the only thing that keeps him in one spot!
At Restaurants: We only pull out our phones for him at restaurants as a last resort. If we've already gone through our snacks, coloring pages, stickers and other activities and he's starting to really get antsy or is making the meal unenjoyable for us, then we'll put something on. He happily watches things on mute still so we don't have any sound happening, which is nice at least! I was 100% the person that judged other parents for this SO HARD. And then I was blessed with a "spirited" child and ate my words.
That's kinda where we're at! Sometimes he watches more, sometimes less. We try to avoid letting him watch anything right before bed because we find he doesn't fall asleep nearly as easily afterwards. We also can tell when he's watched "too much" because his behavior does shift slightly, usually because he just wants to only watch TV at that point and we won't let him! I feel pretty good about the balance we have going at the moment!
If you're curious, a few of Arlo's favorite shows/movies:
Monster's Inc (We recorded this on Disney Channel and put it multiple times a week!)
Coco (Netflix)
Toy Story (Freeform or Disney Channel, on demand)
Mickey Mouse Clubhouse (Disney Junior)
Fancy Nancy (Disney Junior)
Puppy Dog Pals (Disney Junior)
Paw Patrol (Nick)
Llama Llama (Netflix)
Curious George (PBS or Netflix)
Dave & Ava (YouTube) both in English and Spanish (We also downloaded the *ridiculously* expensive Dave & Ava app because this show holds his attention more than anything in the world. It's what he watches on planes!)
I'd love to know what shows or movies your toddlers love that you find somewhat educational? I'd especially love to hear some Spanish language shows for toddlers. We could improve so much in this area, but for Arlo's sake of learning the language, and for ours!!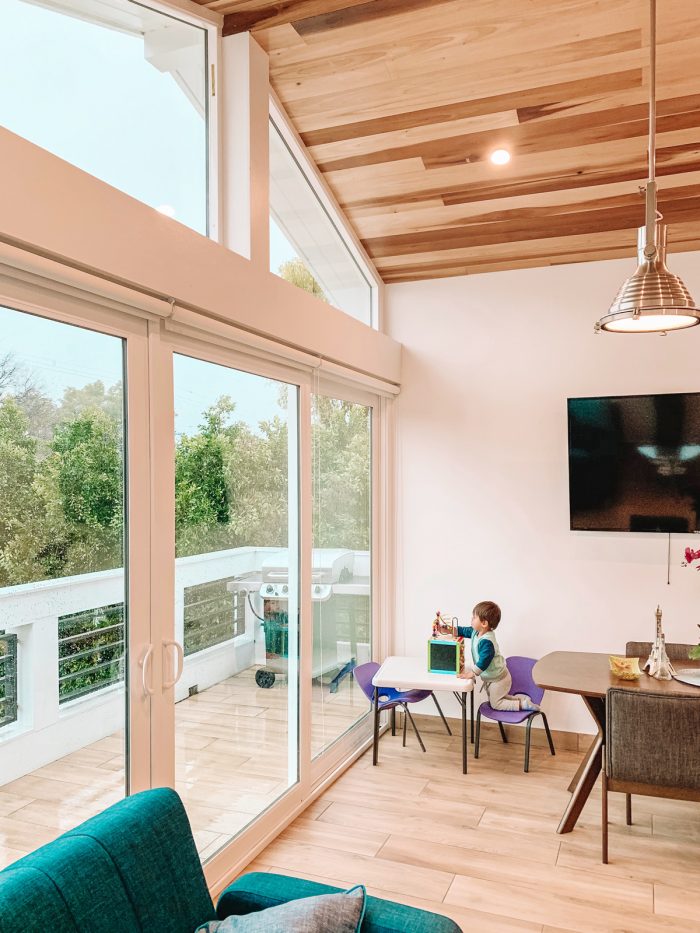 Outside of screen time, we're on a continuous search to find things that keep Arlo occupied for more than 3 minutes. =) We tend to take him out of the house (on walks, to the park, on errands) frequently because he gets stir crazy super quickly. But here's a few of our favorite at-home activities lately:
Painting or Coloring (Painting keeps his attention longer but is obviously messier, more about our favorite supplies here!)
Filling up the sink with water and soap and letting him wash his dishes (Thank you to whoever suggested this!!)
Baking or cooking together! This is by far when he is happiest and it's SO MUCH FUN! This learning stool is the best investment we've made!
Building towers with these blocks
Dancing and Singing (he requires a kitchen utensil as a mic now haha! Would you guys want to see a "Arlo's Faves" playlist?)
Sorting beans or felt balls
Playing with his train set
I'd love to hear what activities your almost-two year olds are (were) into. We're thinking about making our own playdoh soon and hope to get him a play kitchen for his birthday with lots of pots and pans to "hide" stuff in! 😉
More Parenting Tips & Thoughts
Overall, I've found that I am way more drawn to doing "projects" with Arlo (like baking, painting, etc.) and really struggle with passing the time with just "regular" playtime. Anyone else relate??
Well there you go! Some of Arlo's favorite activities, screen time included. Leave your favorite toddler shows and activities below so we can all learn how to keep these busy kiddos occupied together! =)