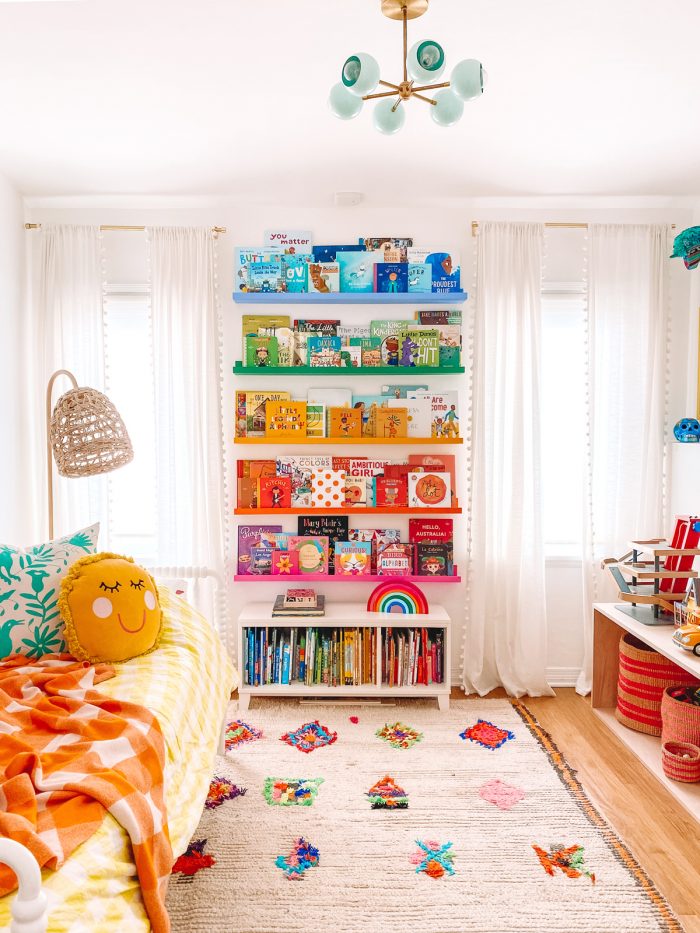 We are in the process of transitioning from nursery to big kid room for our son, who will soon turn four. I suppose this process happens in all different ways, and at all different ages, depending on your child and your home but today I thought I'd share some of the changes we are making and things we are prioritizing.
We know we won't be in this house forever, so we are trying to do this without having to completely re-do the layout of the room. It just doesn't make sense to complete redecorate from a budget and practicality standpoint. Here's what we're planning.
What We're Prioritizing
Toy Storage: As you can see below, we don't have a separate playroom or other area to store toys, so we store the majority of them in this room and they get tossed in any and every direction throughout the day.
Our goal now is to maximize our toy storage so that at the end of the day, everything has a place to go back to!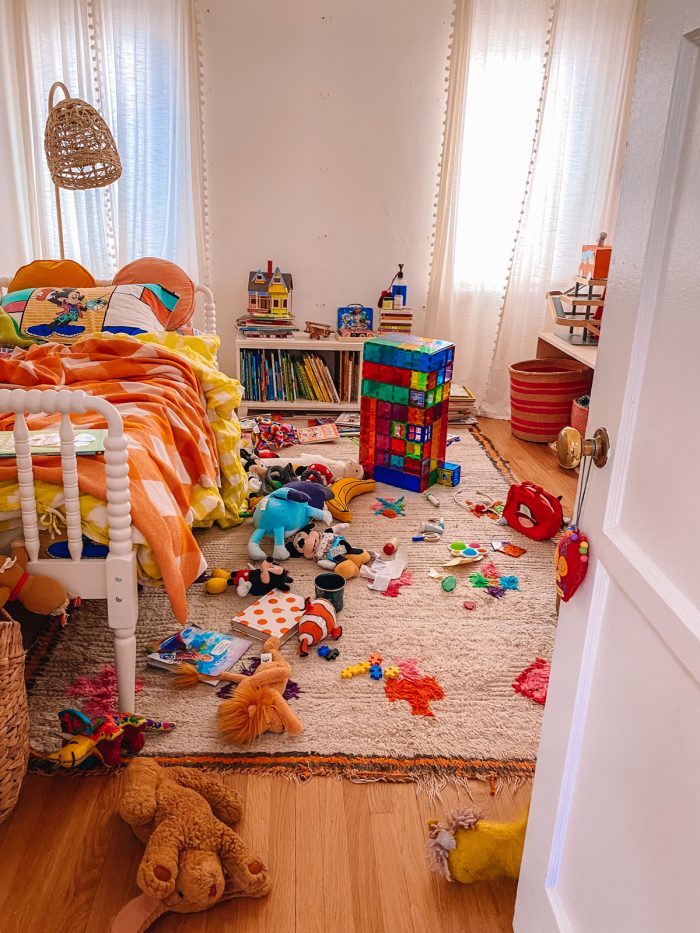 Versatile Furniture: Since we don't know what our next, future home might look like, we wanted any new furniture pieces we brought in to be something we could repurpose elsewhere in the future.
We decided to choose a daybed, which could be turned into a "couch" in a playroom, and we chose to make two smaller shelves, instead of one large one, so we could split them up or stack them in the future if needed.
Second Hand Pieces: For both budget and sustainability reasons, I have been trying to shop second hand first and only buying new if I can't find what I need on a site like Facebook Marketplace.
For this room, I was able to find a great floor lamp and our day bed, both lightly used but in great condition and at a fraction of the price of new options I was eyeing!
What We're Keeping from the Nursery
The Layout: I really wanted to minimize layout changes. This is a great way to save time, money and a whole bunch of headaches, too.
We created a huge gallery wall when we first decorated the room, and since we're in California and have to consider earthquakes, if we moved the bed anywhere else in the room we would have had to pull down art, patch holes, and find new homes for everything. Keeping the bed in the same place the crib was, though it doesn't fit quite as well as it could elsewhere, saved a lot of time and money!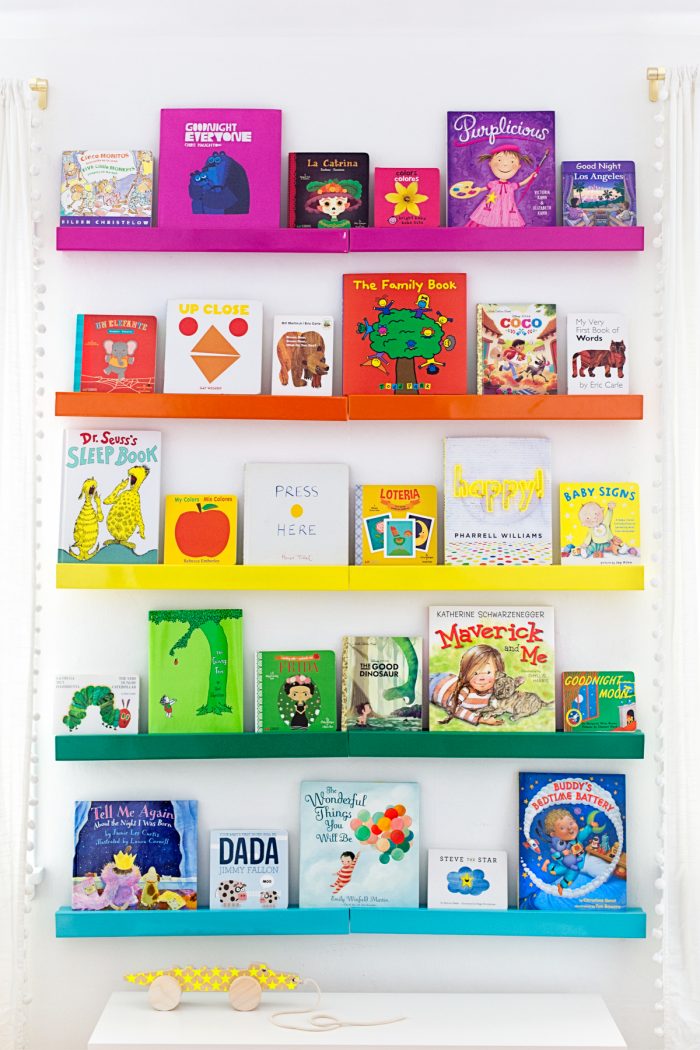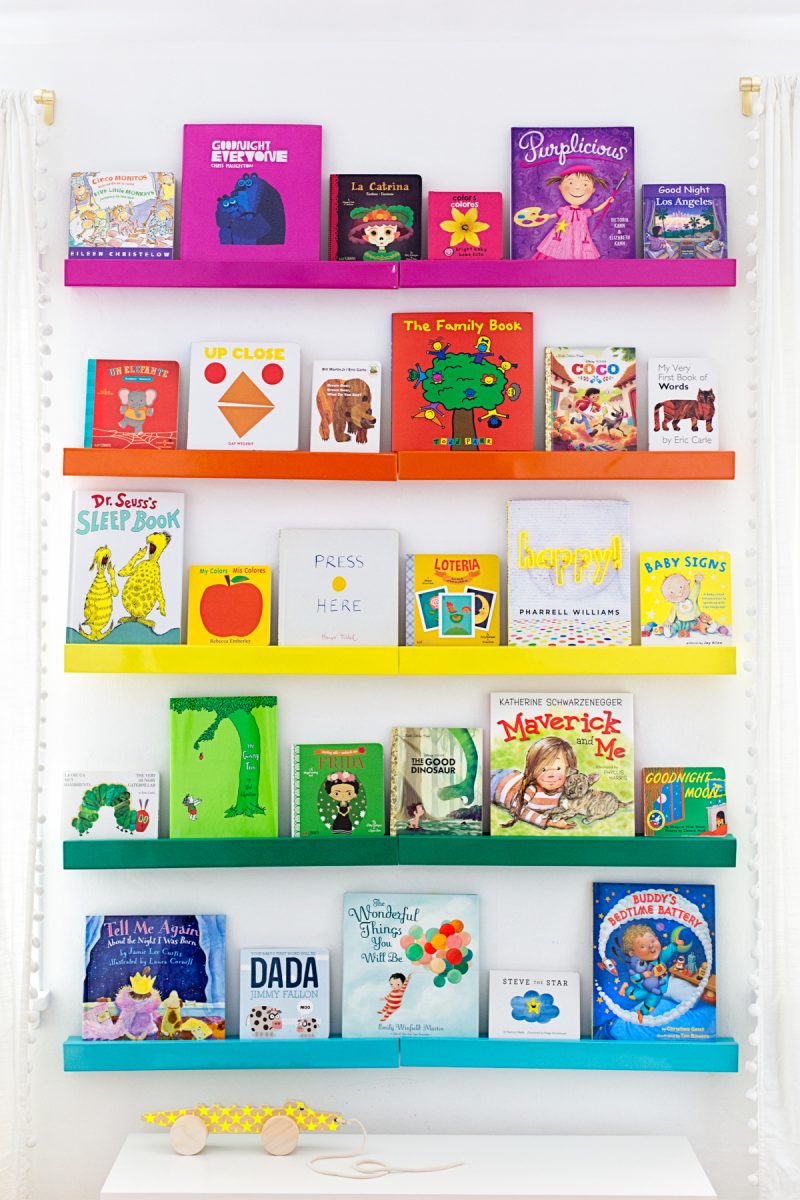 Rainbow Bookshelves: I will forever love our rainbow bookshelves (above). They were one of the first decisions I made in this house! We're giving them a slight upgrade, which you can read about a bit further down in the post! But in general, using this wall space for books has helped in both creating visual interest, and freeing up floor space for other things!
If there's any way you can use vertical space as storage in a kids room, always go for it!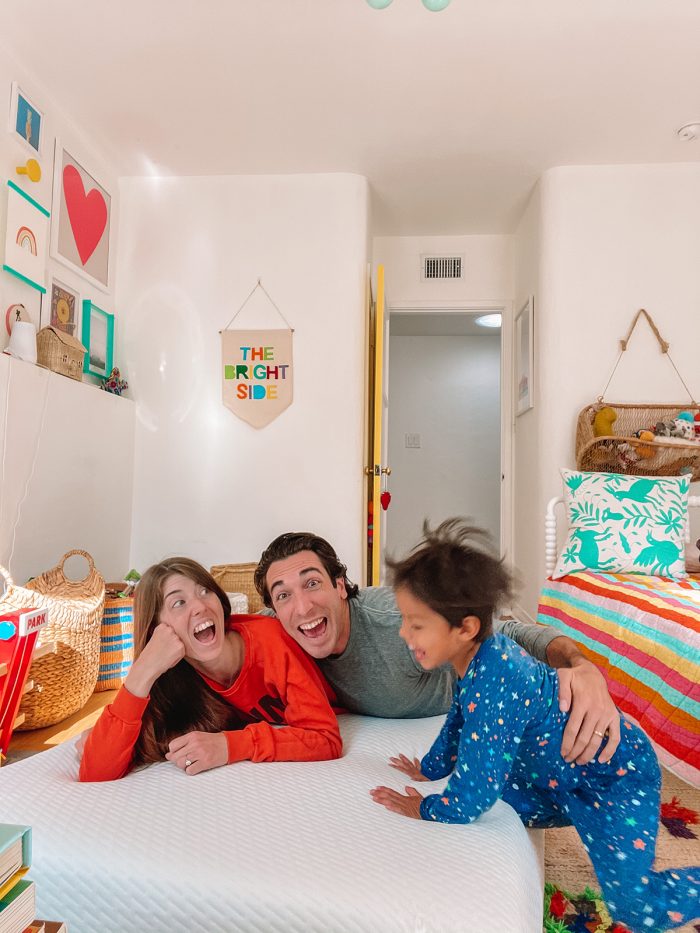 What We're Changing
Swapping the crib and rocking chair for a day bed: I was not prepared for how large a twin bed is. Phew!
We found we were rarely using the rocking chair in the room for reading, and we wanted a bed that could be repurposed elsewhere later (as mentioned above), so we went with a versatile day bed. We love that we can read in it and that it can "float" on the wall in a room (we wouldn't have space for a bed otherwise!). We got this mattress and have loved it so far! Seemed like the most affordable option for a kid space, plus it is GREENGUARD Gold certified.
I did a huge round up of day beds, trundle beds and sofa beds here if you're looking for one!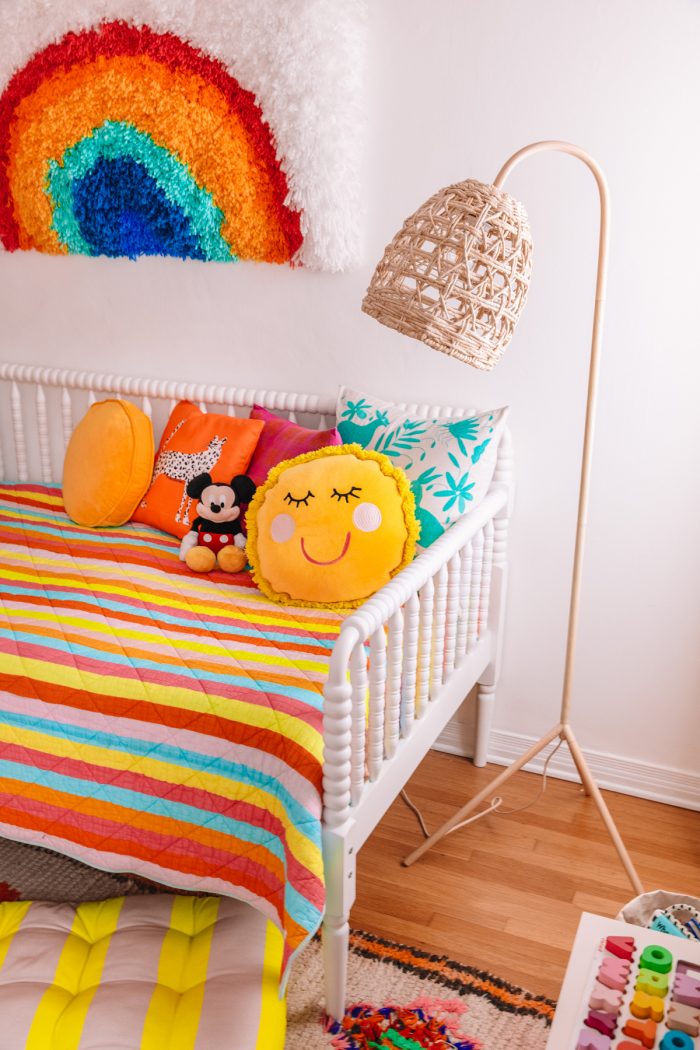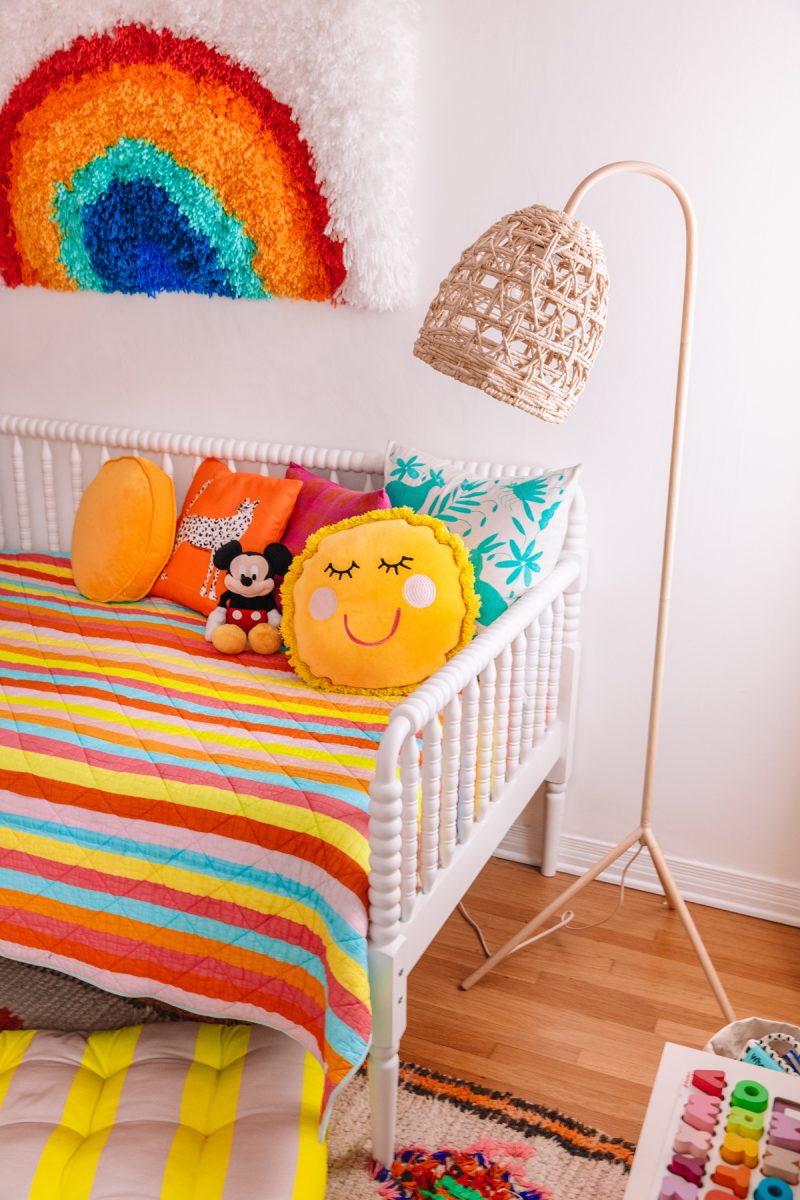 Adding A Reading Light: We never had another light source besides his chandelier in the room, so we decided to finally add a floor lamp for reading bedtime stories! It's made the room sooooo cozy. (I rounded up a bunch of other floor lamps here!)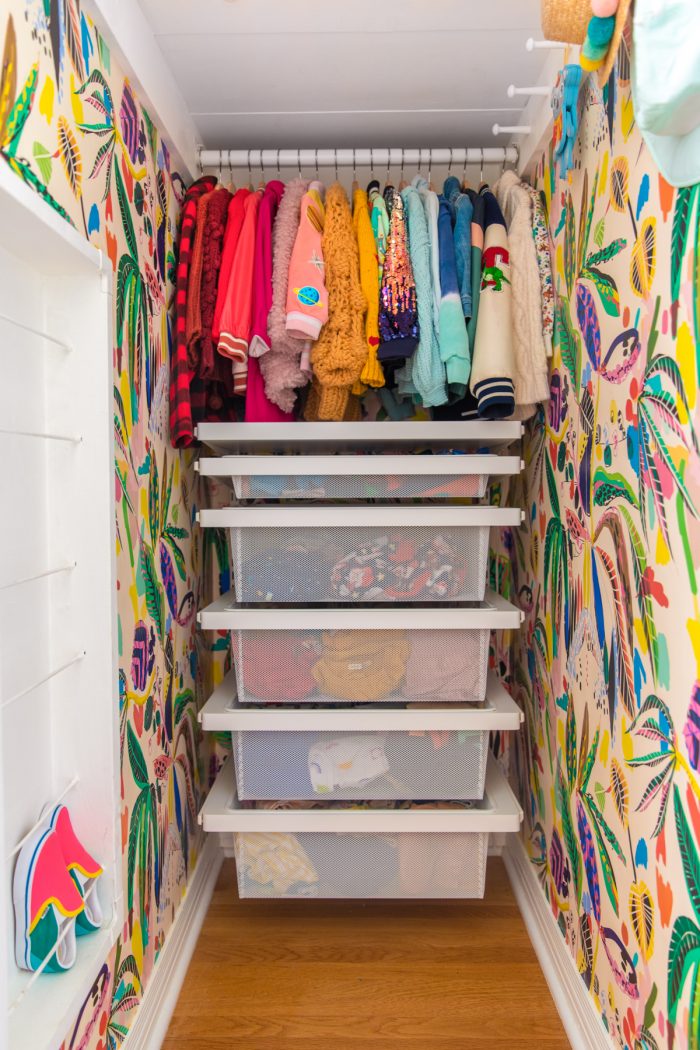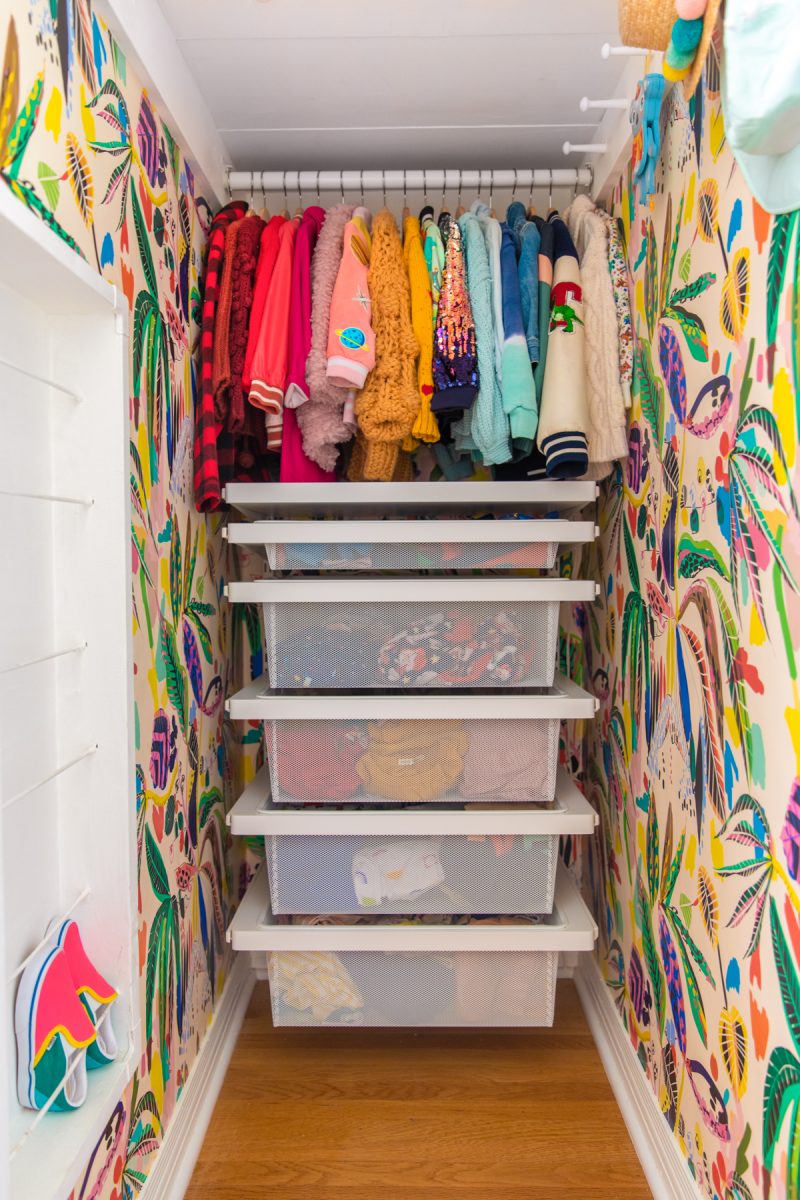 Re-locating dressers & clothing storage: Previously, we used the dresser in the room as a combination dresser and changing table. After we potty trained, we knew that the top of the dresser would just collect "stuff" and become a waste of space and source of clutter.
So, even though we loved previously having a closet "fort" (since we rarely used the closet for clothing storage), it made more sense to re-locate clothing to the closet and open up space in the room for toys which need to be much more accessible.
We kept the design elements (like the wallpaper!) of the fort but installed an ELFA system (I custom built ours!) and it has worked out SO well for us.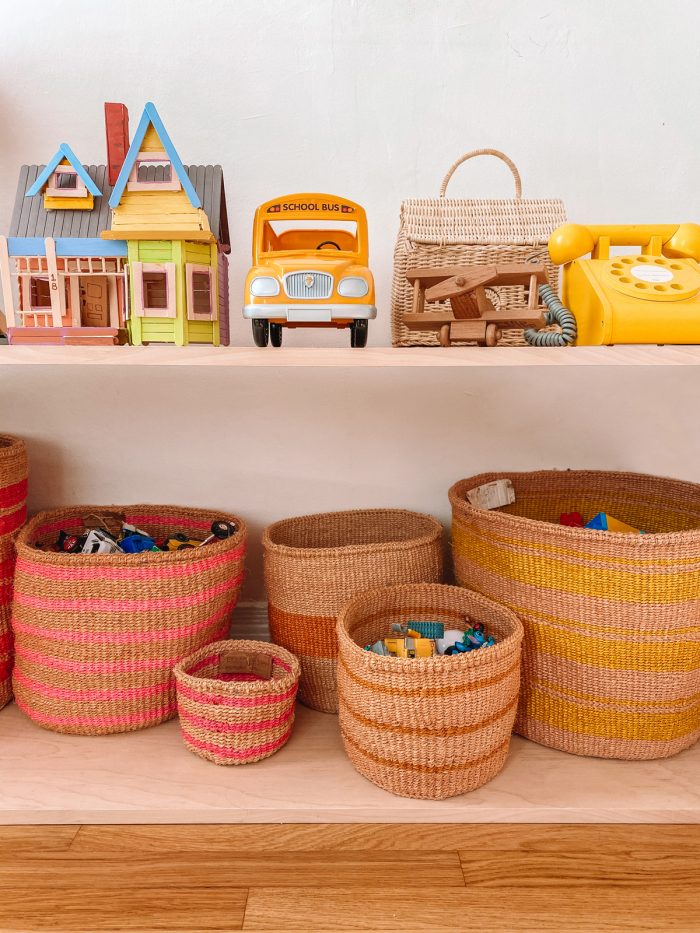 Adding low, accessible toy shelves: We built what many would call "Montessori shelves" to custom fit a wall in this room. While we won't be using these in an exclusively Montessori way, we love the methodology of kids being able to see and access their toys independently so that was the goal here.
We found that having his toys stored away in drawers meant he simply didn't play with them, and we want him to be able to see and play with any and all his toys on his own!
Excited to have one "area" of the room to dedicate to this storage, and hope it helps with our constant clutter issues! The baskets are from The Little Market and I'll share a tutorial for the shelves soon.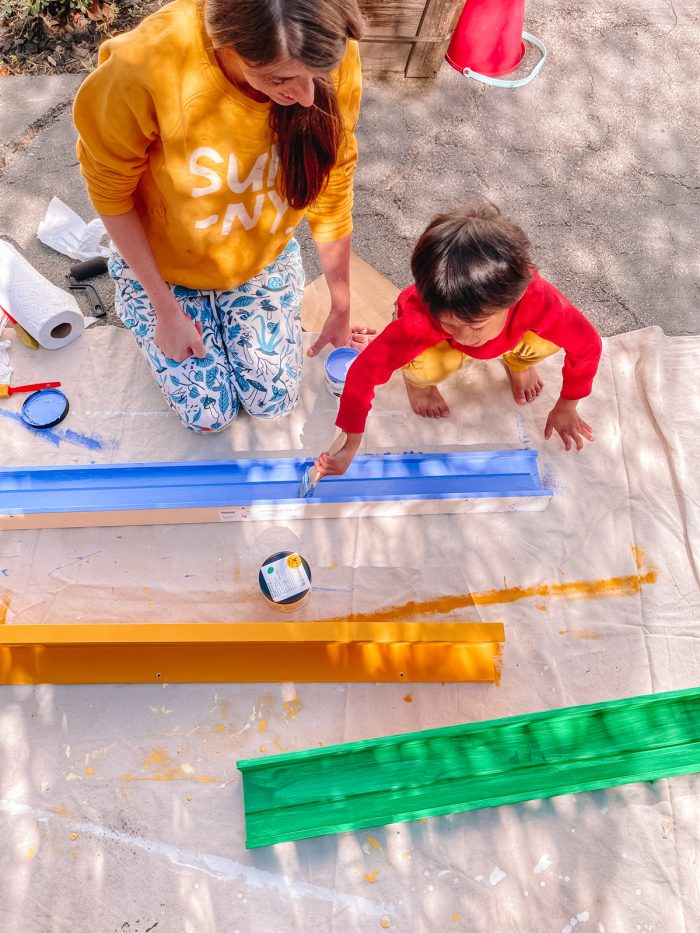 Making our bookshelves more efficient: When I first installed our rainbow bookshelves, we had a very small collection of books. As you can imagine, over the years we've collected quite a few more and our bookshelves are now overflowing.
Since I love the look of the rainbow shelves, and the functionality, I decided to simply replace them with deeper shelves so we could "layer" books and fit far more. I'm planning to paint simple IKEA Mosslanda shelves. These shelves are so easy to install, very affordable, and I was able to custom paint them to the exact colors I'd like! You can see the updated version in the first photo of this post!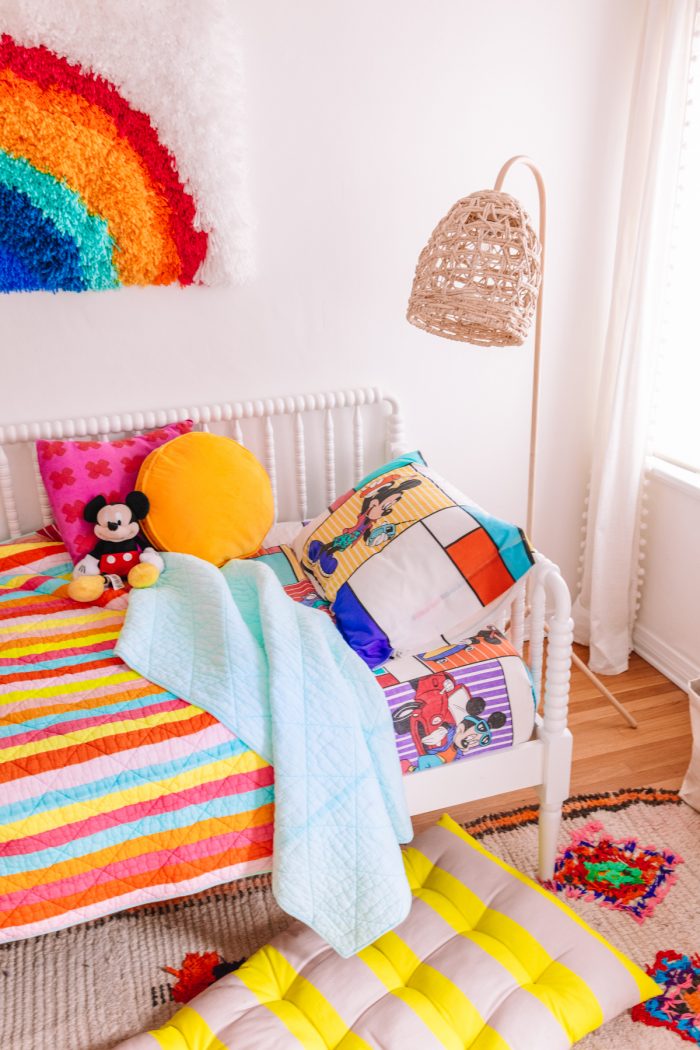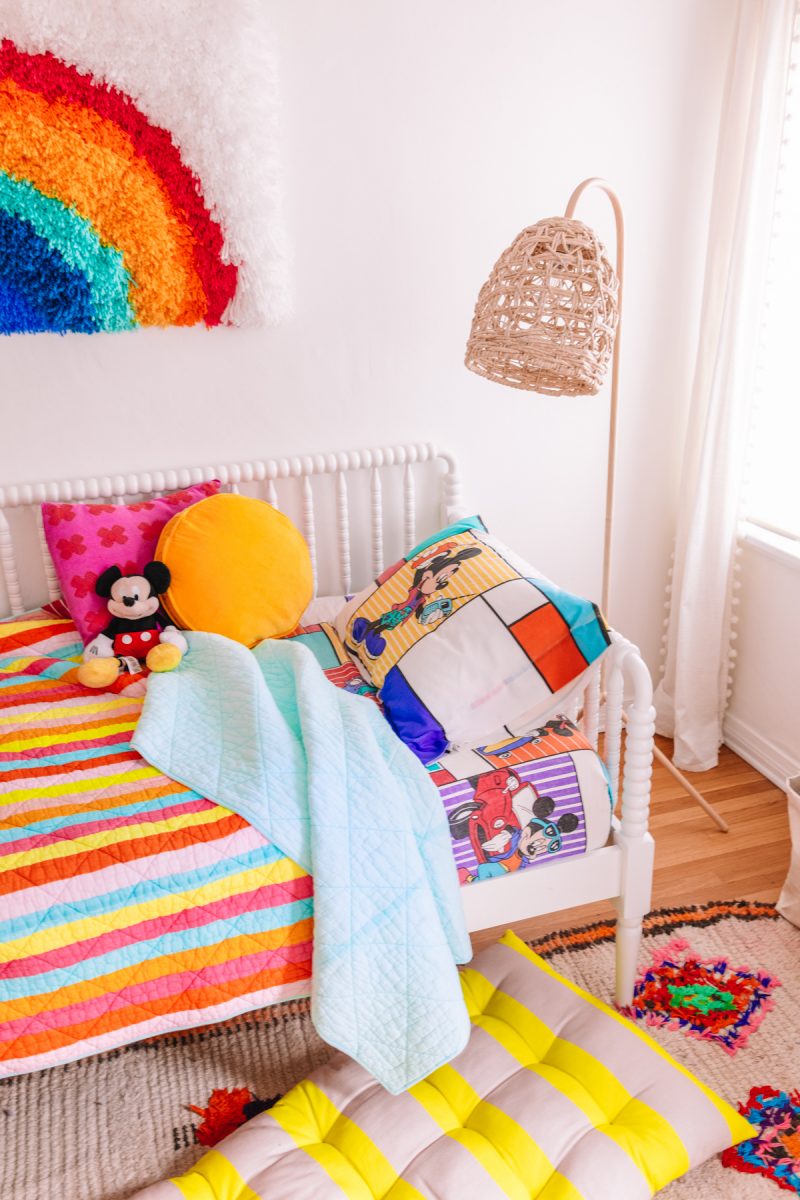 New bedding: A new size bed, means new bedding! I wanted to get something that could grow with him, and not something super themed that he may grow out of.
I'm excited to play around with pattern and scale for his bedding and ended up getting this gingham comforter (he picked it out!) and this gingham blanket. We'll be repurposing pillows from other spaces in the house to make the bed cozy for reading and snuggling!
Above you can see it's current state with a quilt from my Kip & Co collection and some 90s Mickey sheets from a friend that he loves!!
Excited to give this room a refresh. It was the first room we decorated in this house, and still by far my favorite. Will sure the full reveal soon!