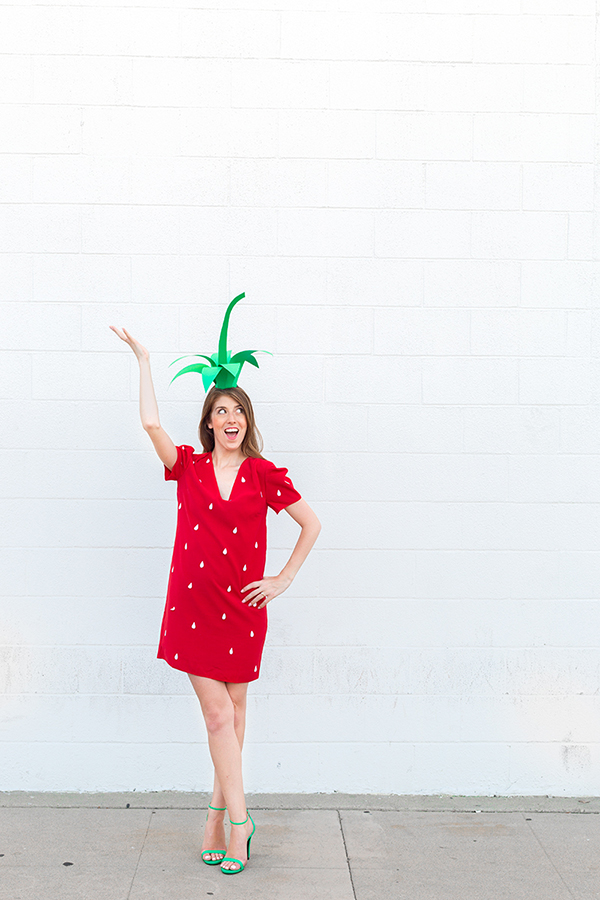 Better late than never I say! After last year's pineapple costume was a hit, I've had a few requests for more fruit costumes. And, well, I listened!! So here's a quick and easy little strawberry costume you can whip up with some paper and a red dress. Just make sure you find a partner in crime (partner in fruit?) to be the pineapple, too!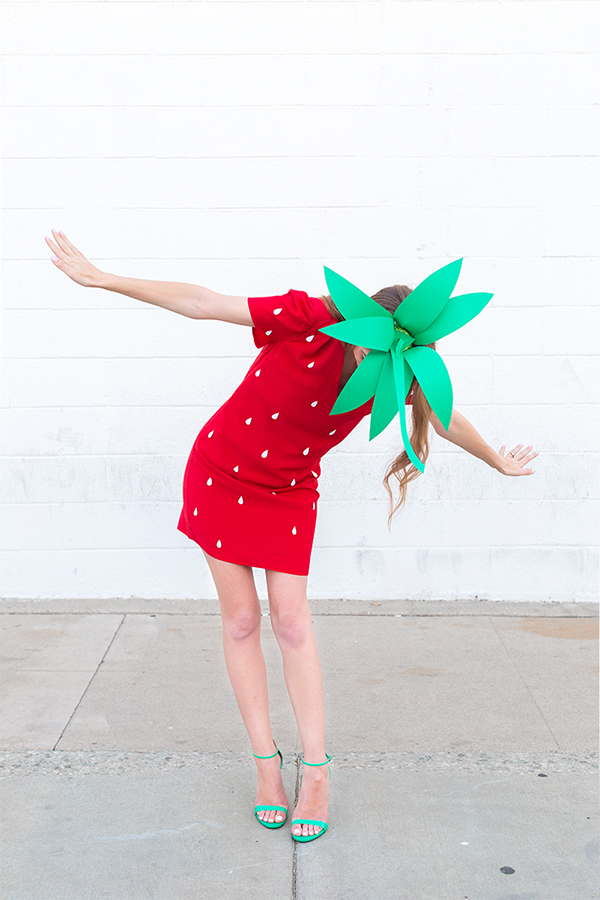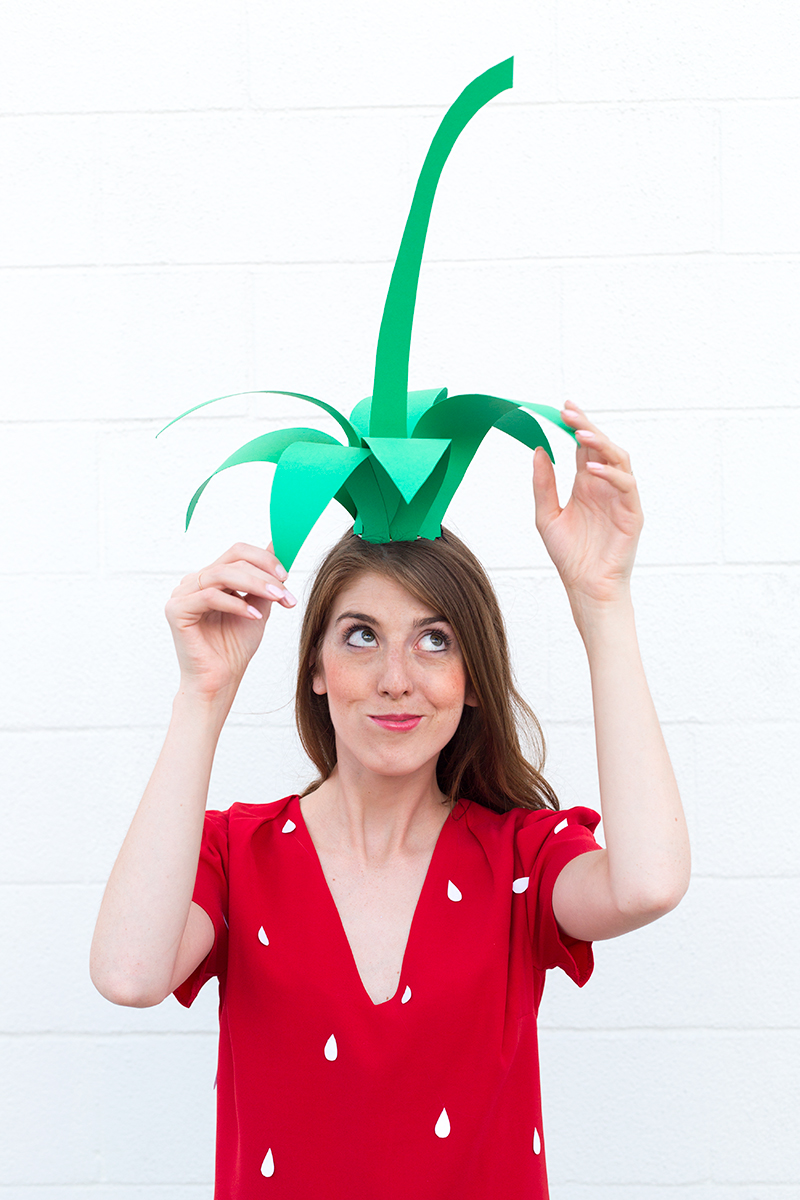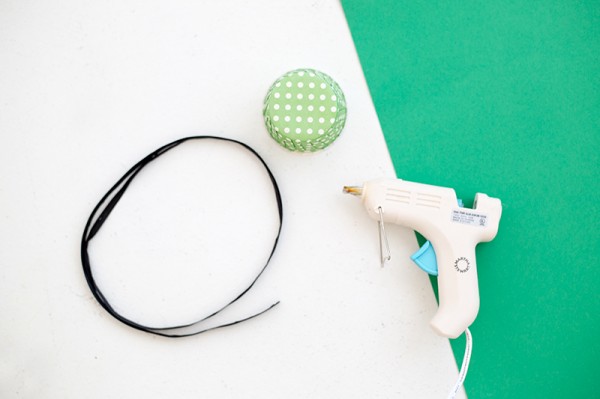 Red Dress
White Seeds
Strawberry Hat Template (Printed on 11×17″ Paper)
Green Poster Board or Cardstock
Small Cup, Candy Cup or Small Round Box (I used one of these!)
Ribbon
Computer Paper
Hot Glue Gun
Scissors
1. Cut out several leaf shapes from your poster board/cardstock using the template provided. Cut a 3″ slit in the bottom of each.
2. Overlap the pieces on each side of the slit to give shape to the leaf. Secure with a bead of hot glue.
3. Run your fingers over the leaves several times to curve them more.
4. Poke a hole on each side of your cup or box. Cut two pieces of ribbon, long enough to tie around your head and string one through each hole, tying a knot to secure.
5. Starting at the front of your cup, hot glue one leaf to the center front.
6. Glue a second leaf right next to it, and continue gluing leaves on (one by one), working your way around the cup until it's covered.
7. Cut a tall stem shape out of your poster board/cardstock.
8. Fold over about 1.5″ to form a tab at the bottom and glue to the top of your cup. If your stem needs support, cut a small strip of poster board and glue it to the stem and to the cup, letting it curve in the middle to stabilize the stem.
9. For the dress, cut out a bunch of tear drop shapes from computer paper. Place a tiny bit of hot glue on the point of each and glue to the dress. If you're looking to be able to remove the "seeds" afterwards, you can handstitch them on instead or just forgo the seeds altogether!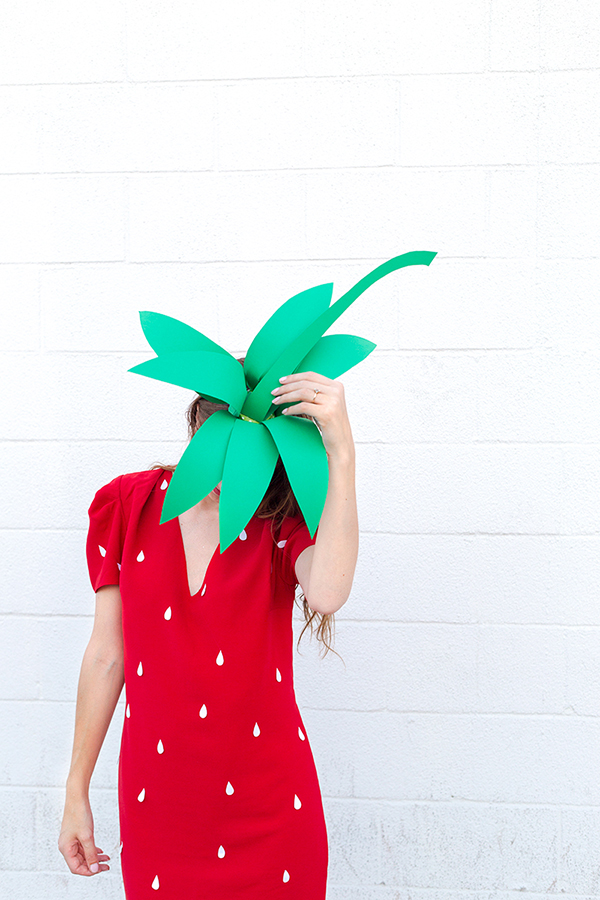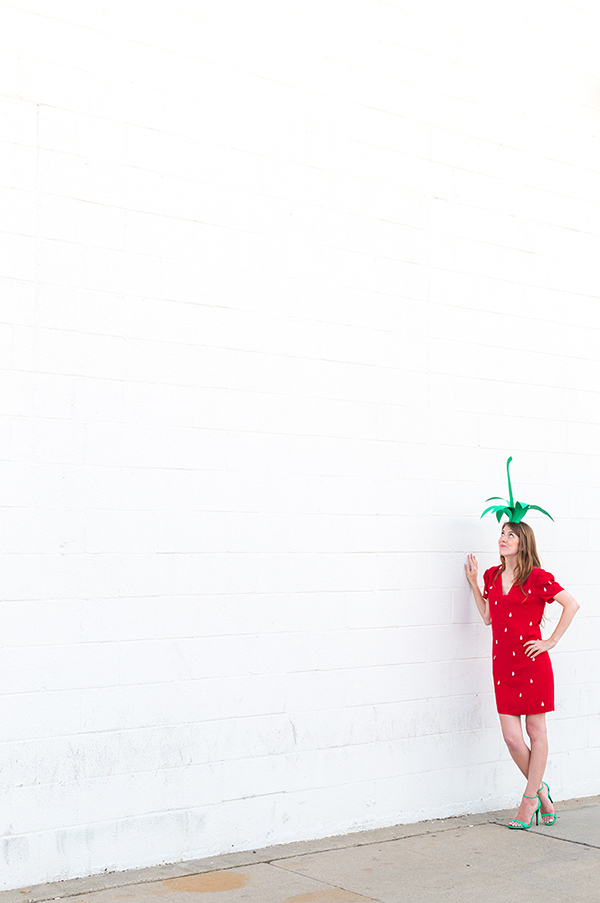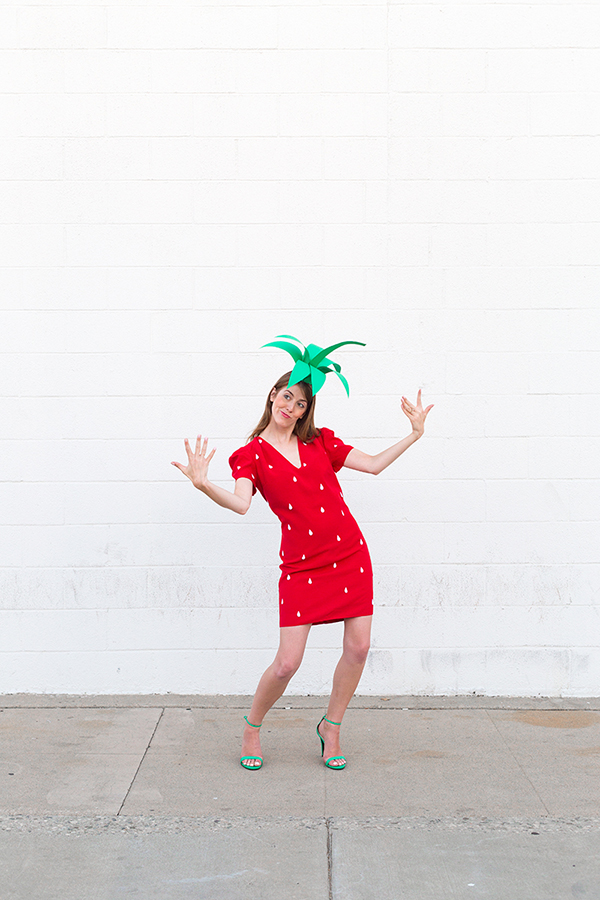 All Photos by Jeff Mindell
And that's a wrap! Take your new fancy costume out for a spin! Like, literally, a spin. Jeff called me "The Dancing Fruit" when we photographed this.
Don't forget! If you make a costume this Halloween from Studio DIY, be sure and tag #studiodiyincostume on Instagram to share it with everyone!