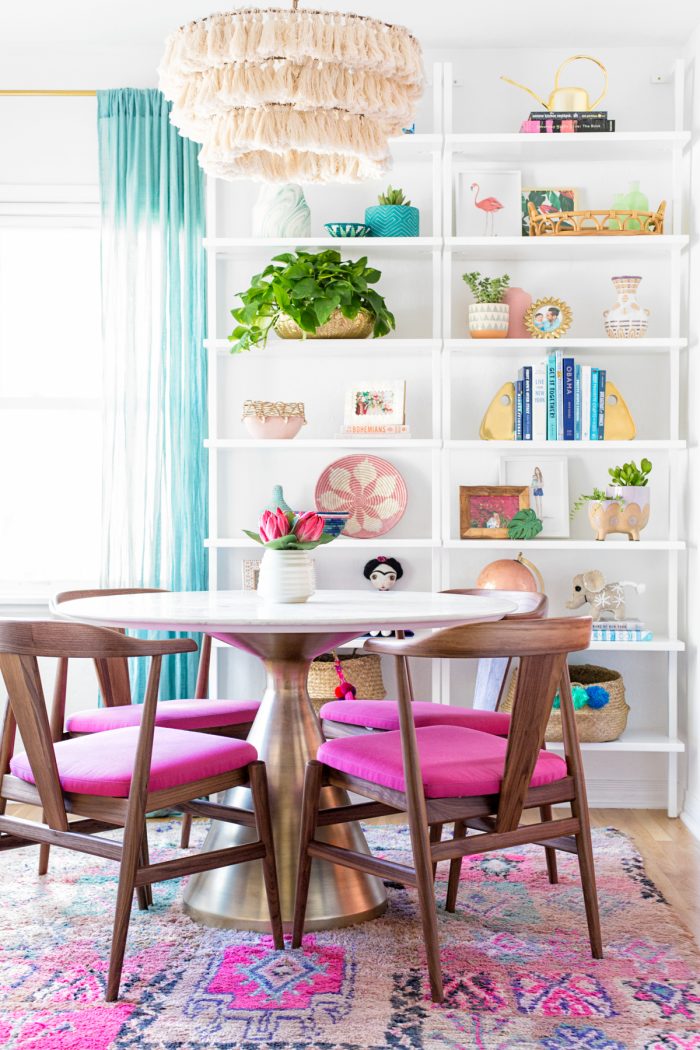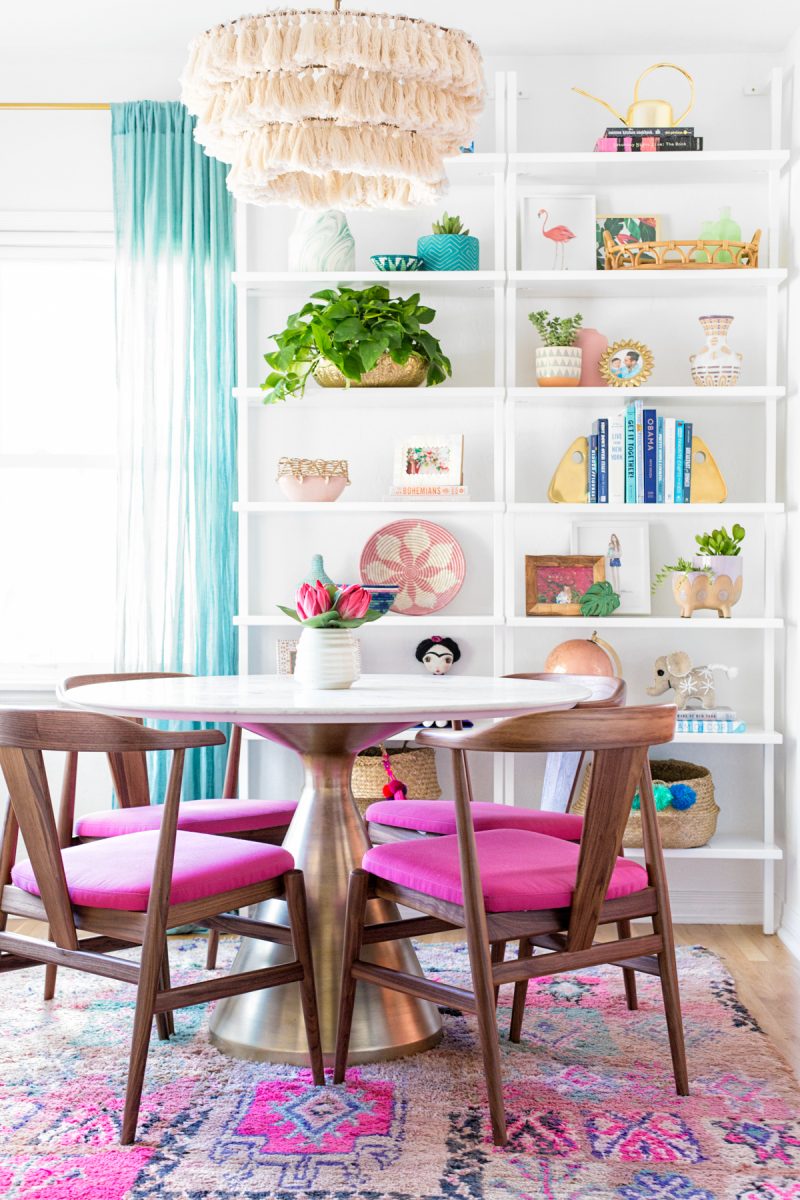 Say hello to our dining room!!!!! It feels really good to have the first actual "adult" (?) room in the house done! Arlo's nursery was such a blast, and obviously I'm in love with our closet, but it feels really good to get going on the living space in our home. You can see my initial inspiration and plans for the dining room here. At the very last minute, I changed things up a bit and decided to add floor-to-ceiling bookshelves. I could NOT be happier that I made that choice!
I've learned a lot about myself in the few rooms I've been able to design thus far and it's that I really love to layer color, texture and pattern and with my original plan to just have a simple large-scale art piece, things were feeling flat. The bookshelves solved everything and honestly, I think it makes the room look bigger somehow!! (It's a tiny room you guys, so I'll take what I can get.) So so thrilled with how this space turned out! Here's all the details!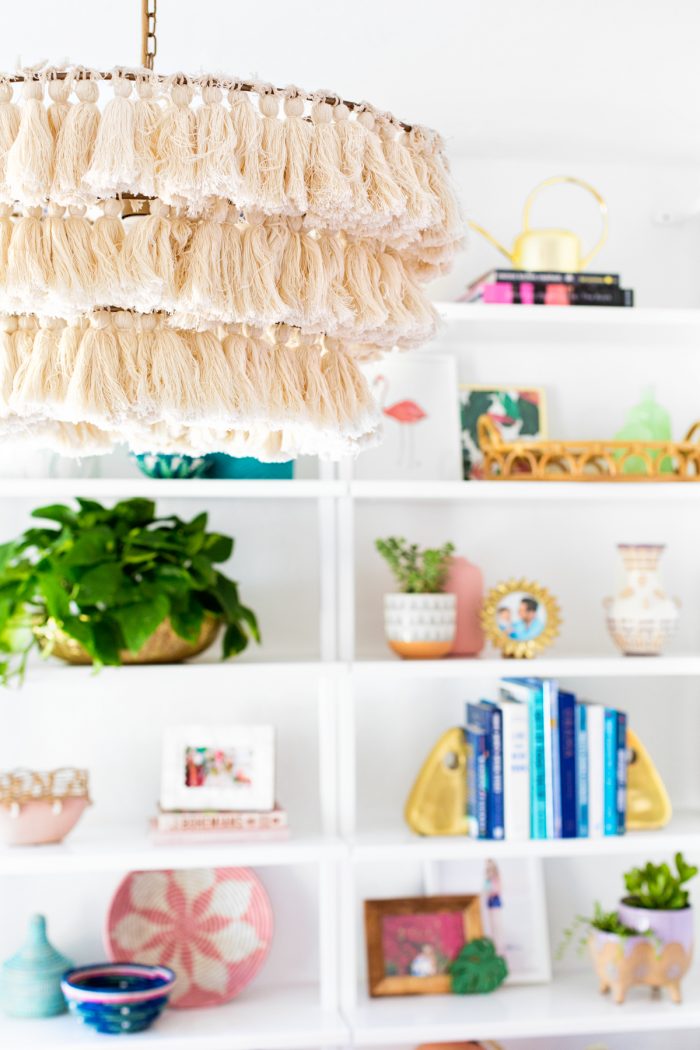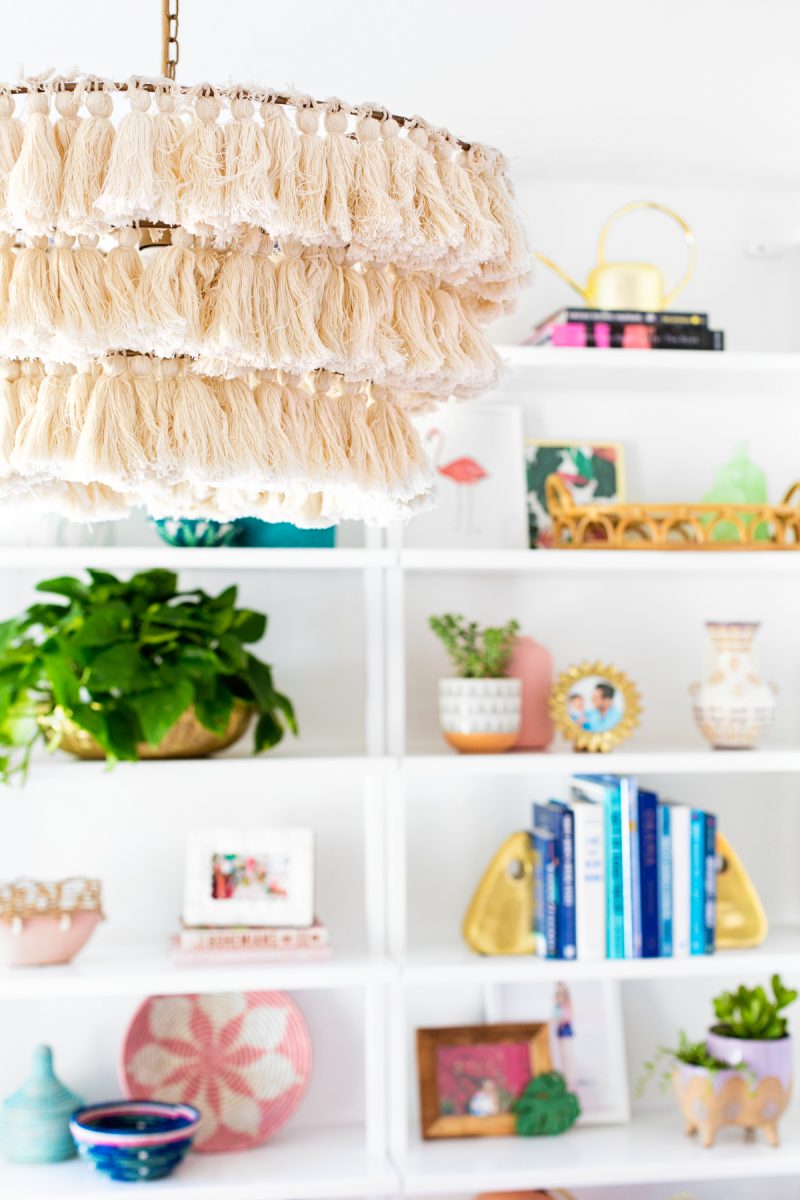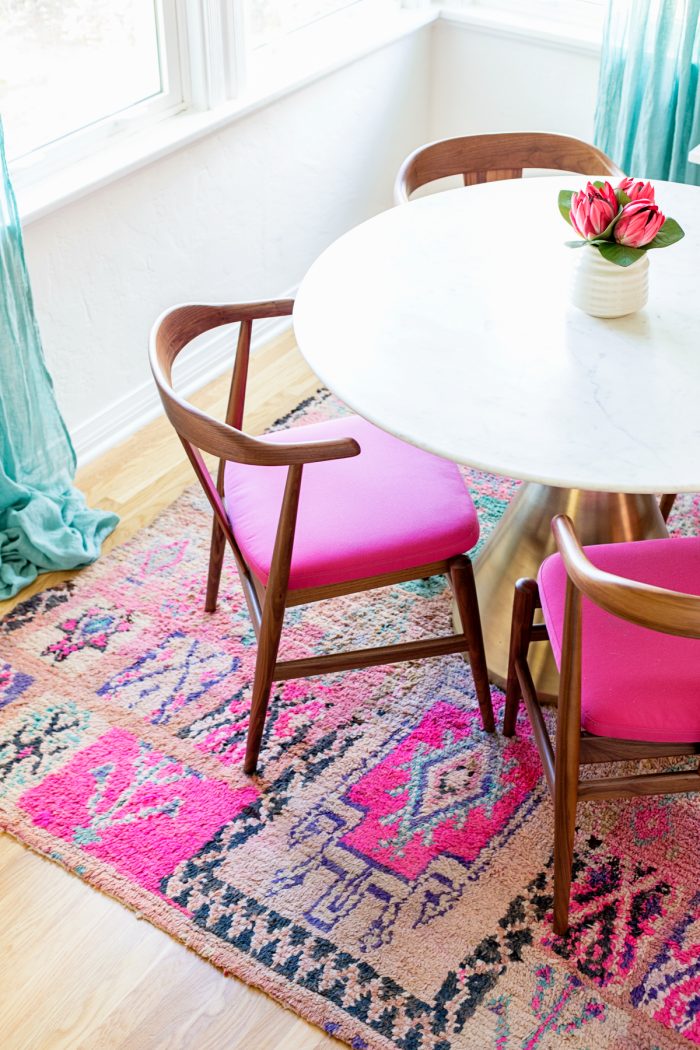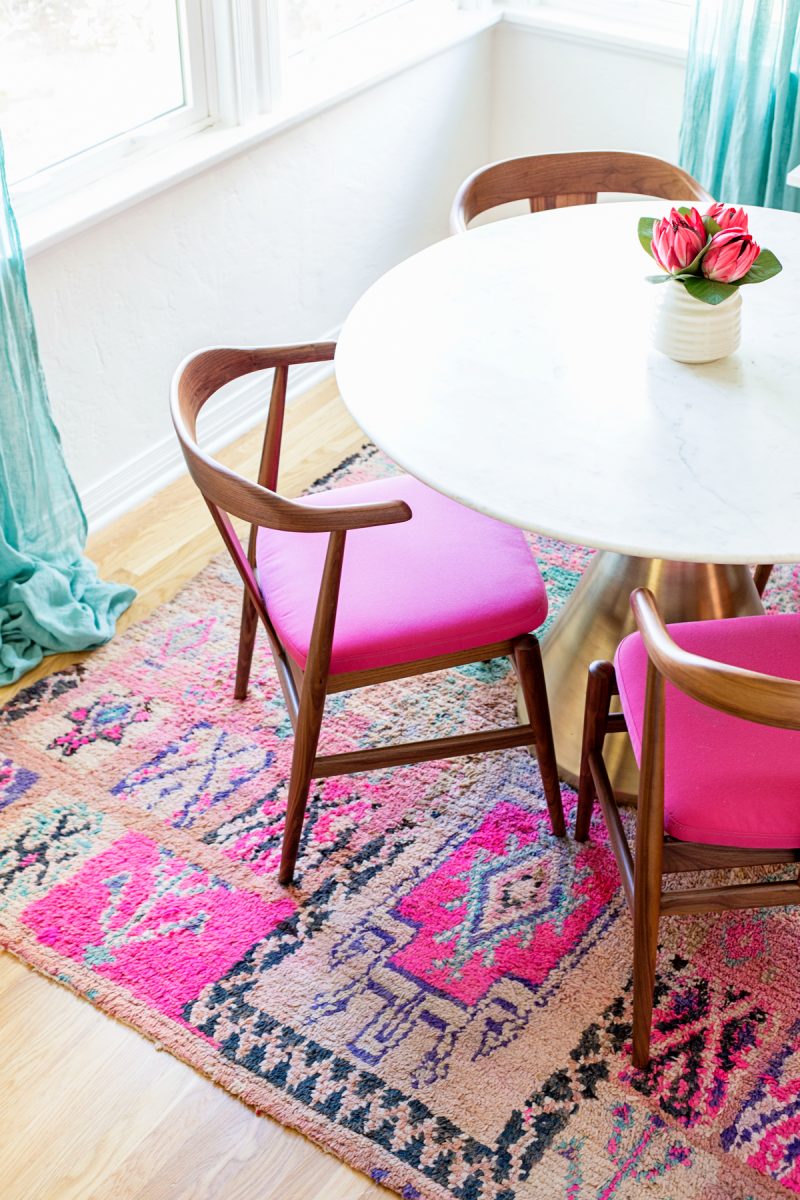 Alright, remember the before!?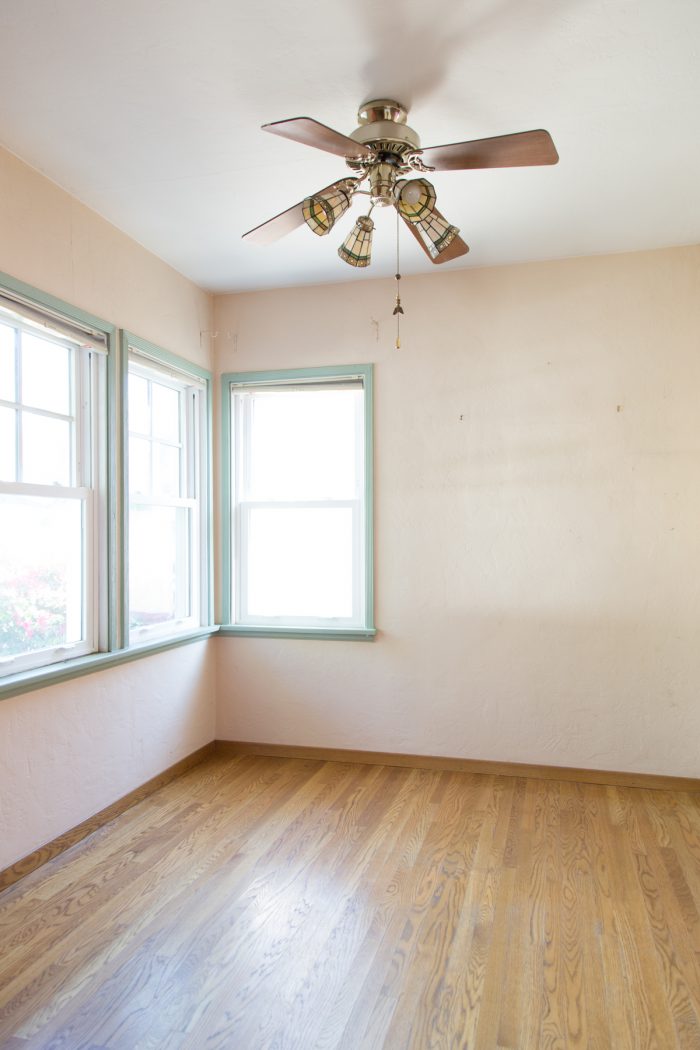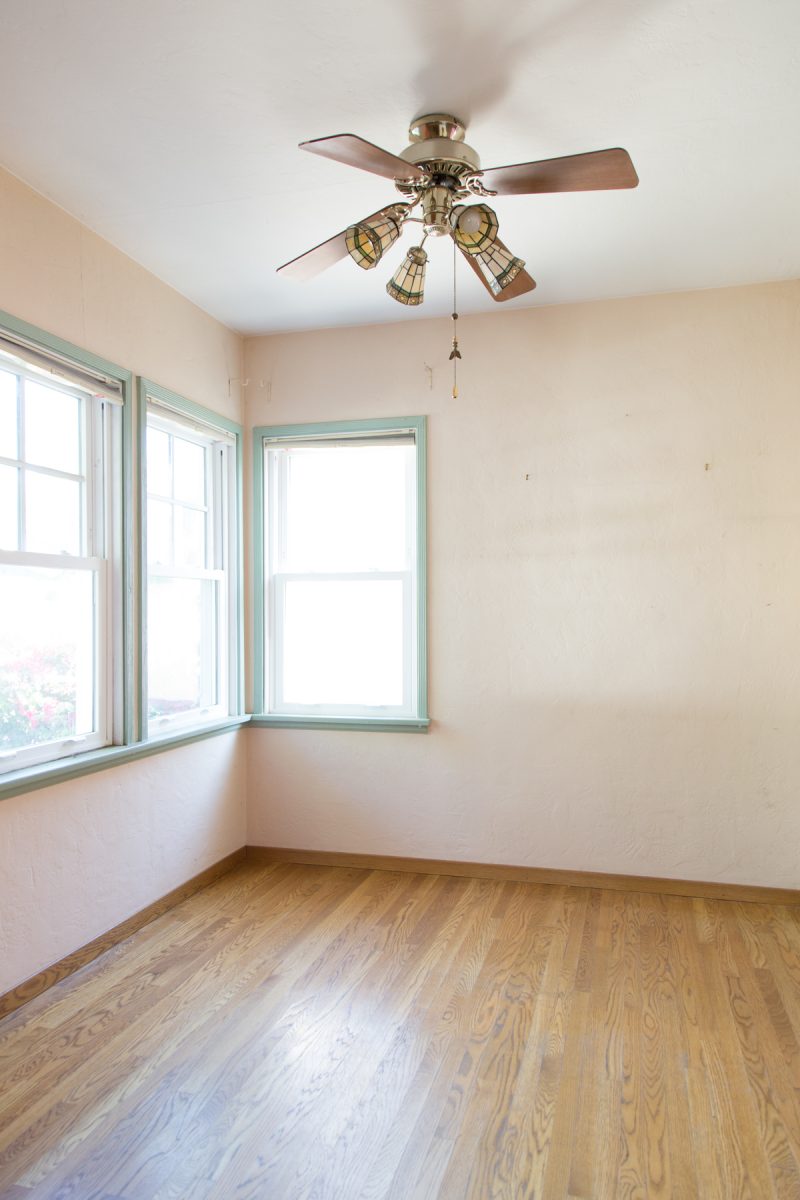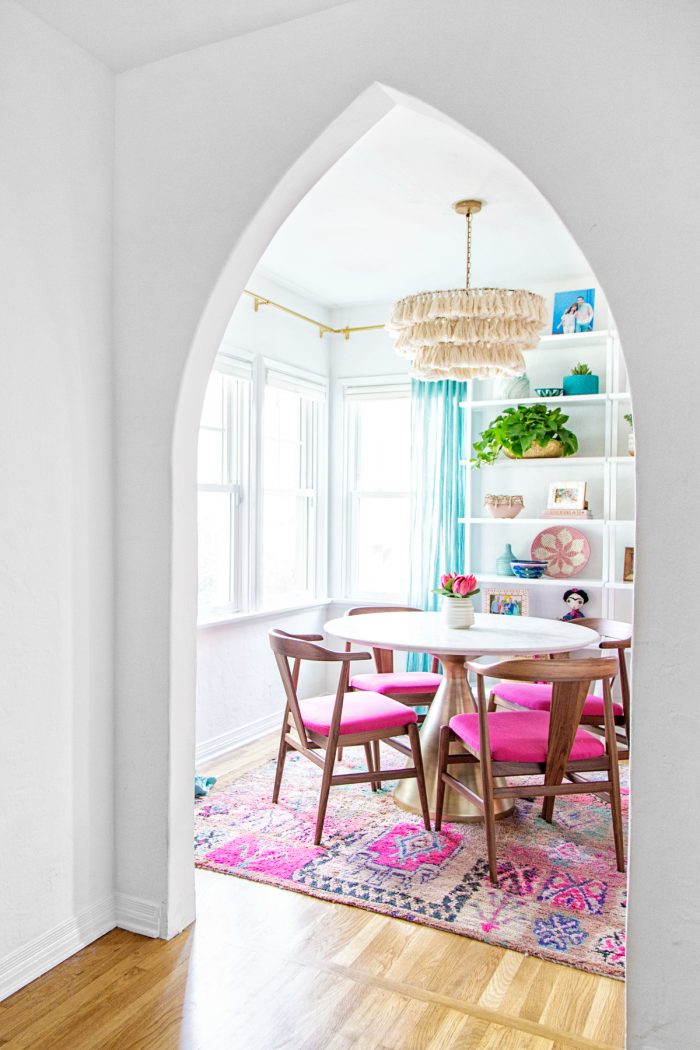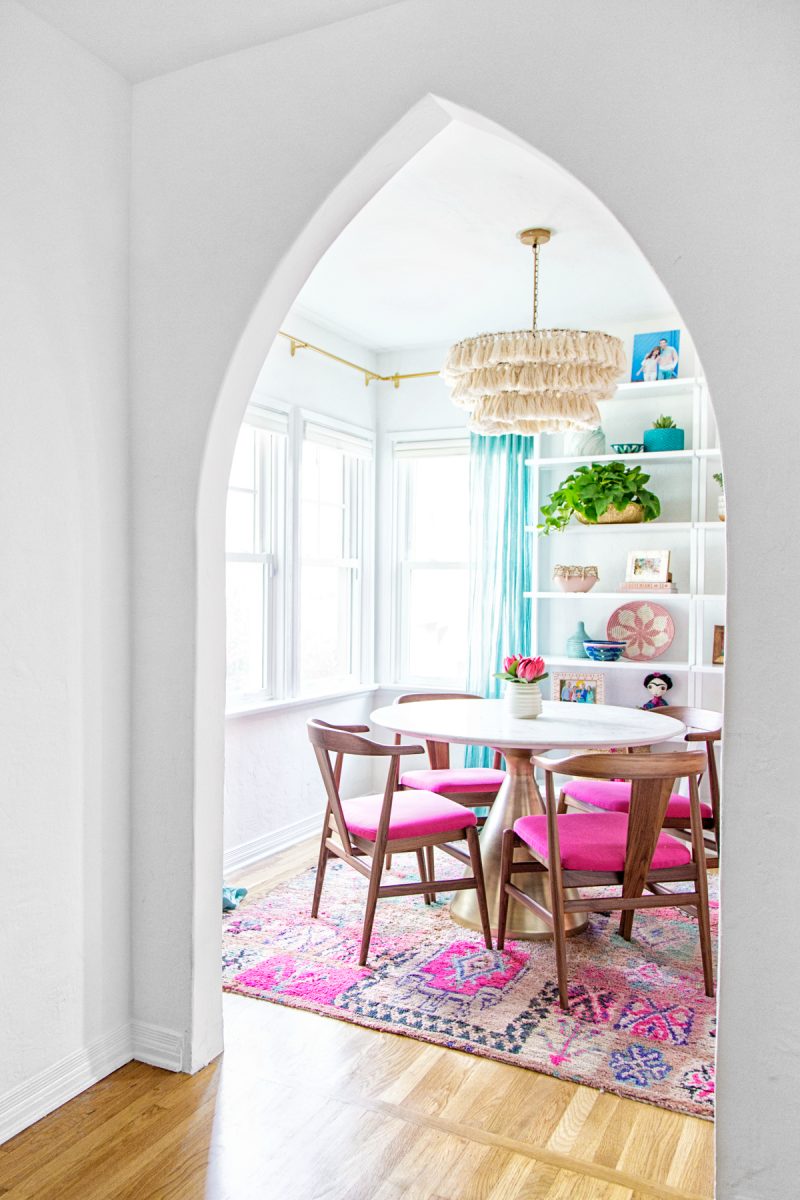 BAM! Ha, not gonna lie. Those before and afters are SO satisfying.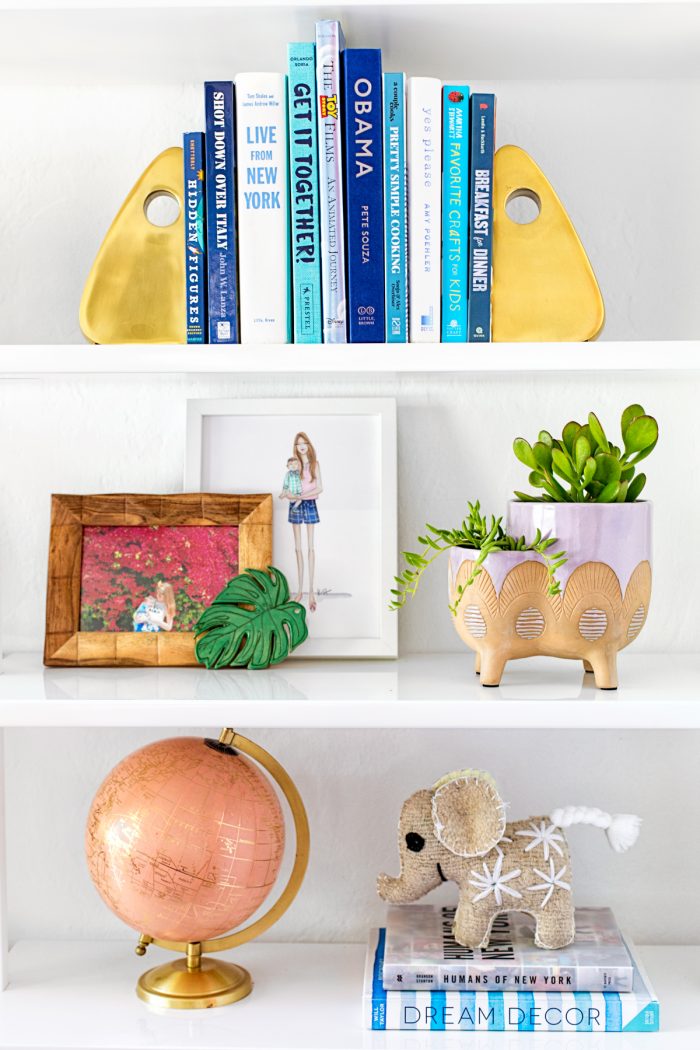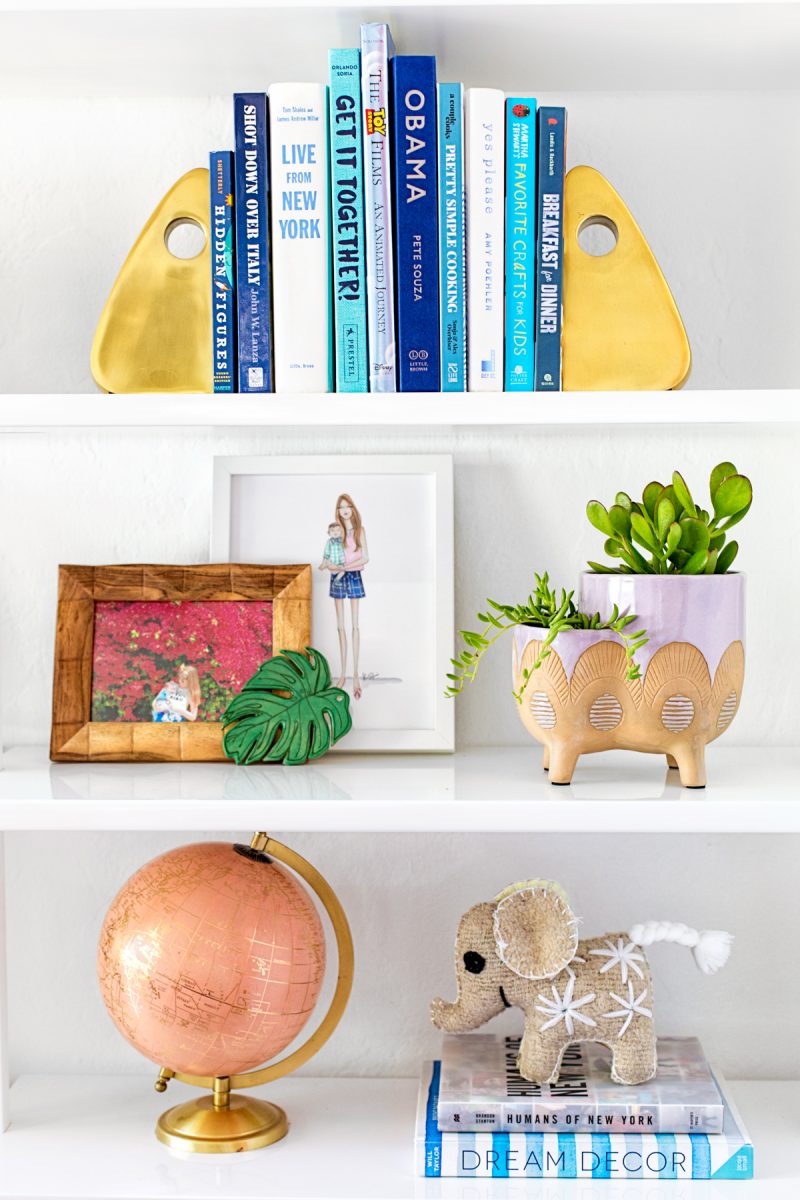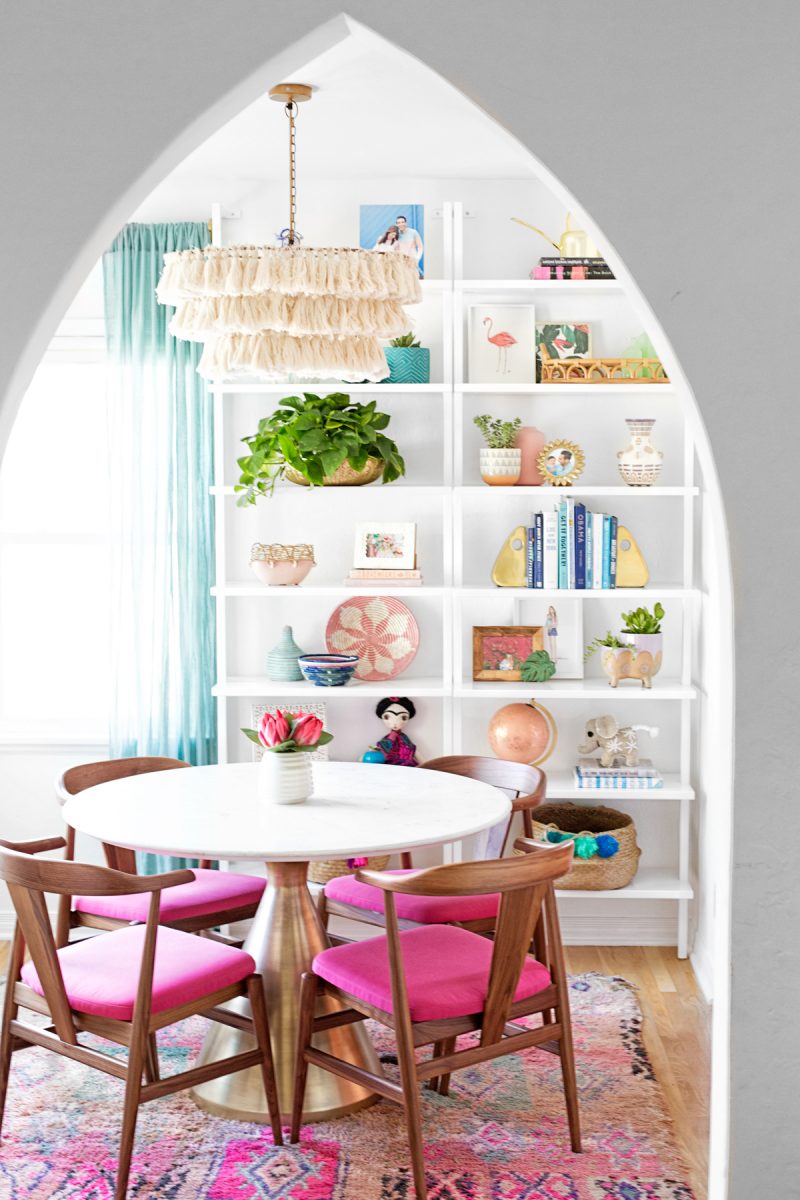 One of the very first thoughts I had for this room was that I wanted to have wood + pink dining chairs. I know, specific, but I'm 100% serious. We partnered with Room & Board on a few items in our home and when we went to meet with them, they showed us one of their walnut Evan Chairs. Then as I was browsing the store, I saw a pink sunbrella fabric and was like uh…. can I put this… on these? And they said "Yep!" And HERE WE ARE! It was like fate. I love them so much. And I love that the fabric wipes clean easily.
After we got the chairs, I swear fate happened again when THAT. RUG. popped up on an Instagram sale. It matches so perfectly it's nuts and I used that to set the palette for the rest of the room, mints, blues, pinks and a few pops of lavender.
Since everything else was going to have a ton of color, I wanted a simple pedestal-style table to anchor the room. You guys if I could tell you the amount of hours I agonized over this table, haha! I ultimately wanted something that wouldn't compete with the color but also wasn't just plain white and West Elm came through with the perfect marble and brass one.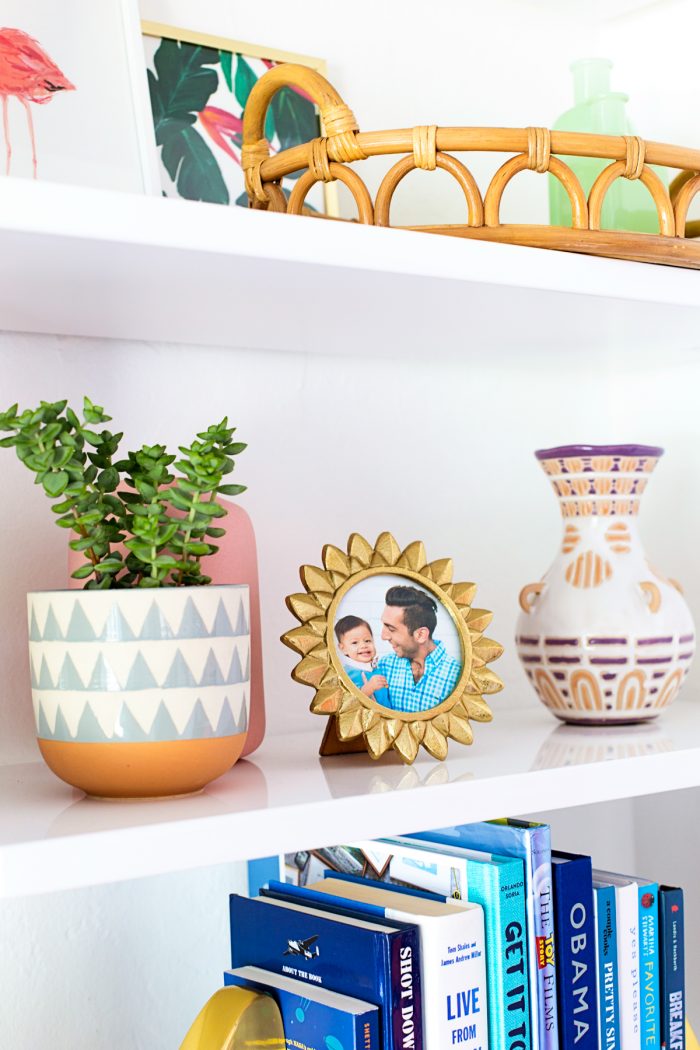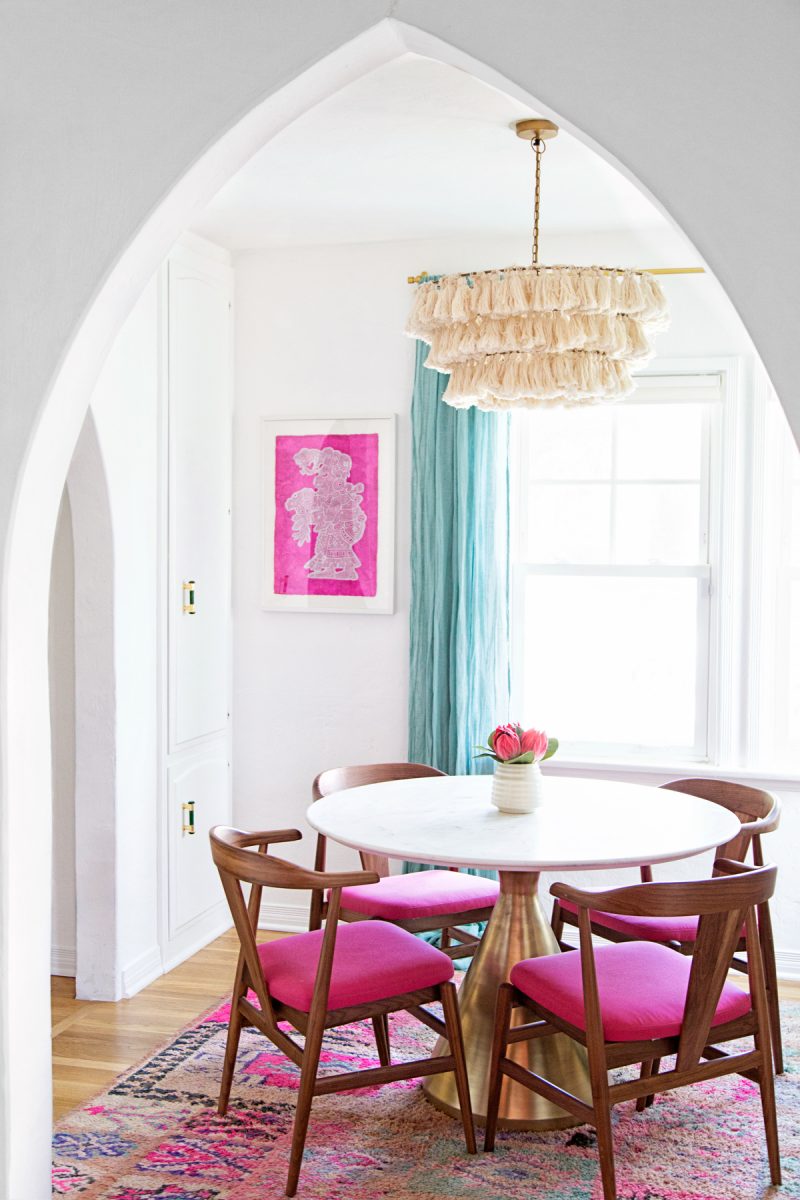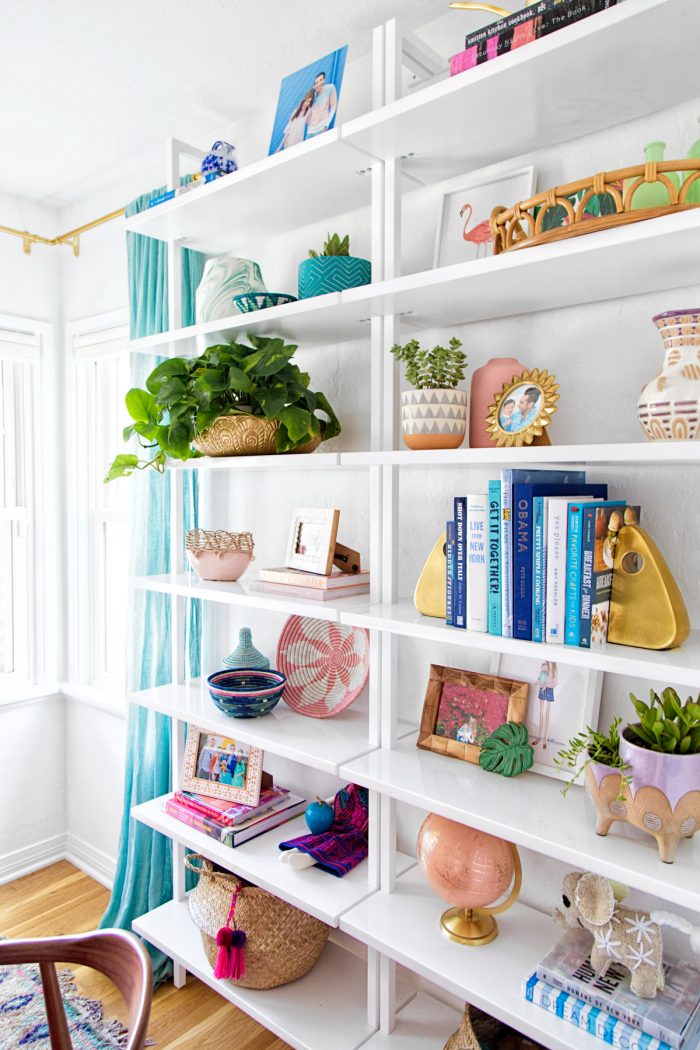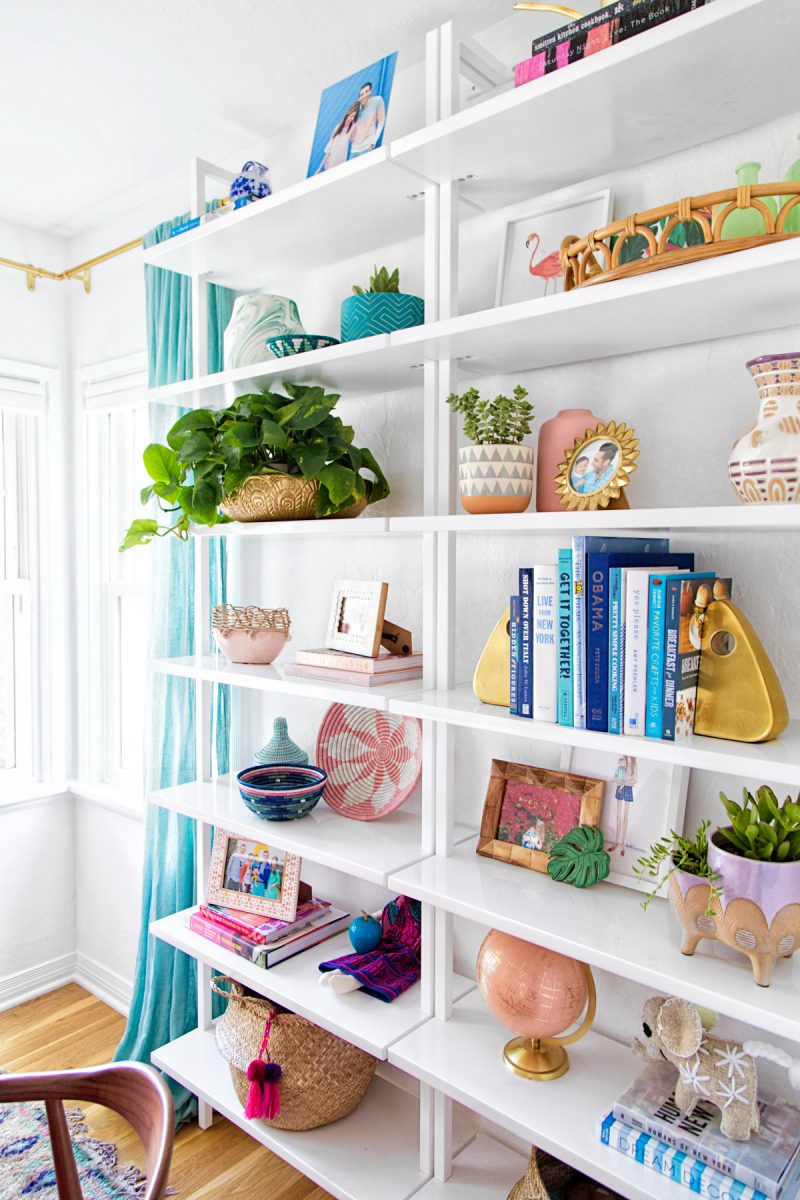 The shelves!! I spent a full day on FaceTime with my BFF styling these shelves. It was actually so fun! I loved incorporating family photos, a whole bunch of books from our collection (So many of them are by friends of ours. I can't wait to show Arlo someday!), a few items from late family members of ours and some new items, too. We really had never put much effort into our past places so I hadn't collected many decorative items prior to this house. Not gonna lie, it was fun to get to shop for this! I got to live out all my woven basket and planter dreams!
Because we have a tiny human living with us, we tried to keep the bottom two shelves as kid-friendly as possible with baskets we can fill with toys and some stuffed dolls/animals from The Folk Project that are sooo pretty.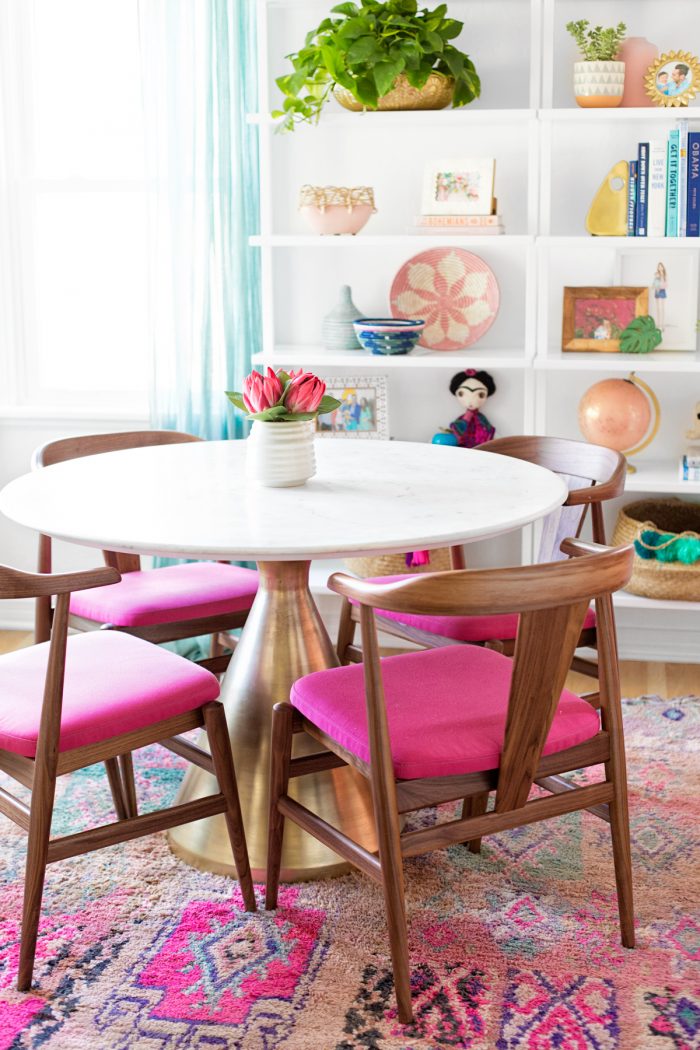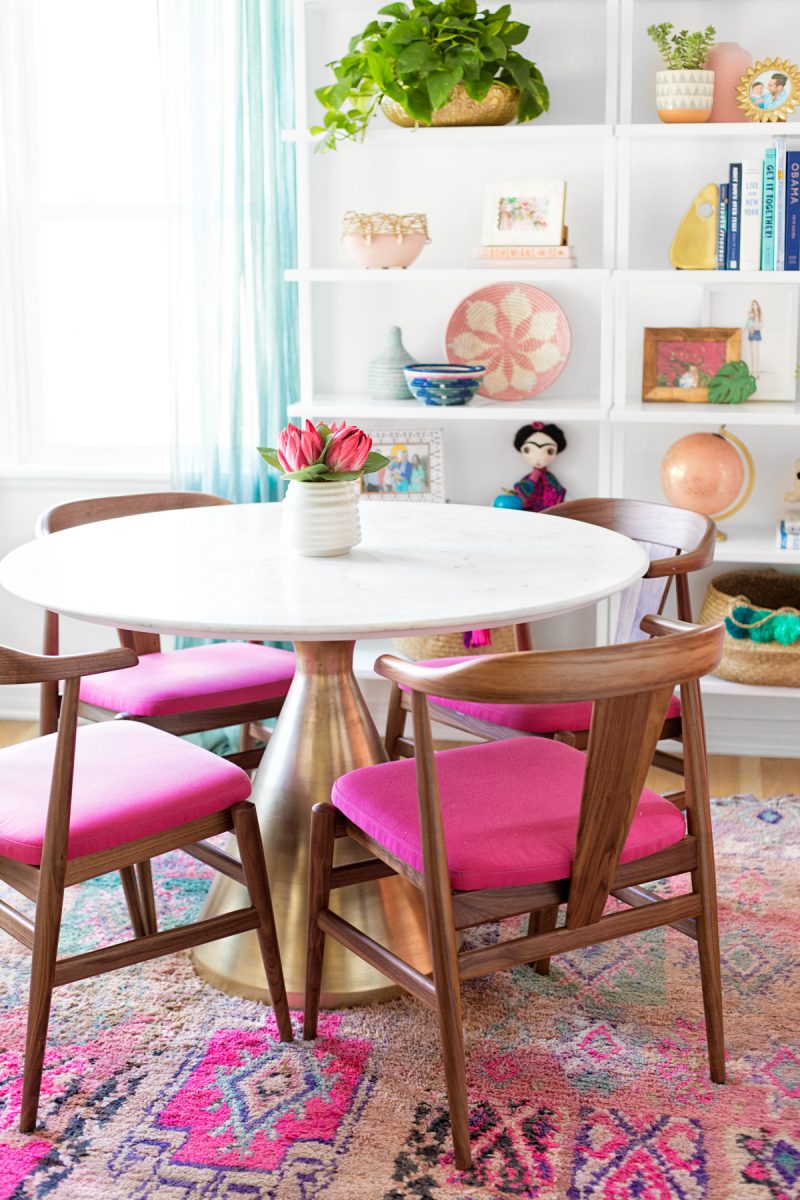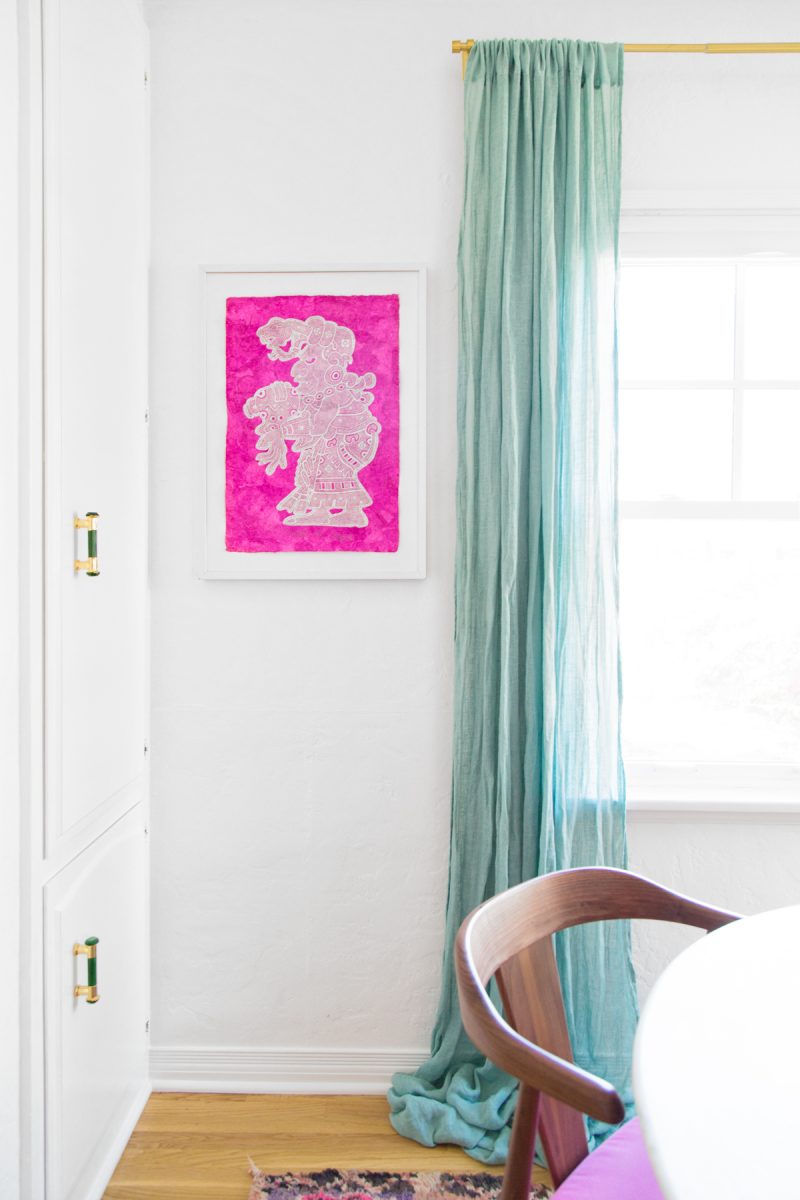 That print up there is so special to us! We decided when we got married that we wanted to buy one piece of art for every year of our marriage. We saw the above art piece of the Mayan goddess Ixchel on our recent trip to Mexico. It was by a local artist and the shop owner told us the Ixchel was the goddess of love, fertility and healing. She was even nicknamed "Lady Rainbow!" We loved the story behind it and knew it would look so good in this room!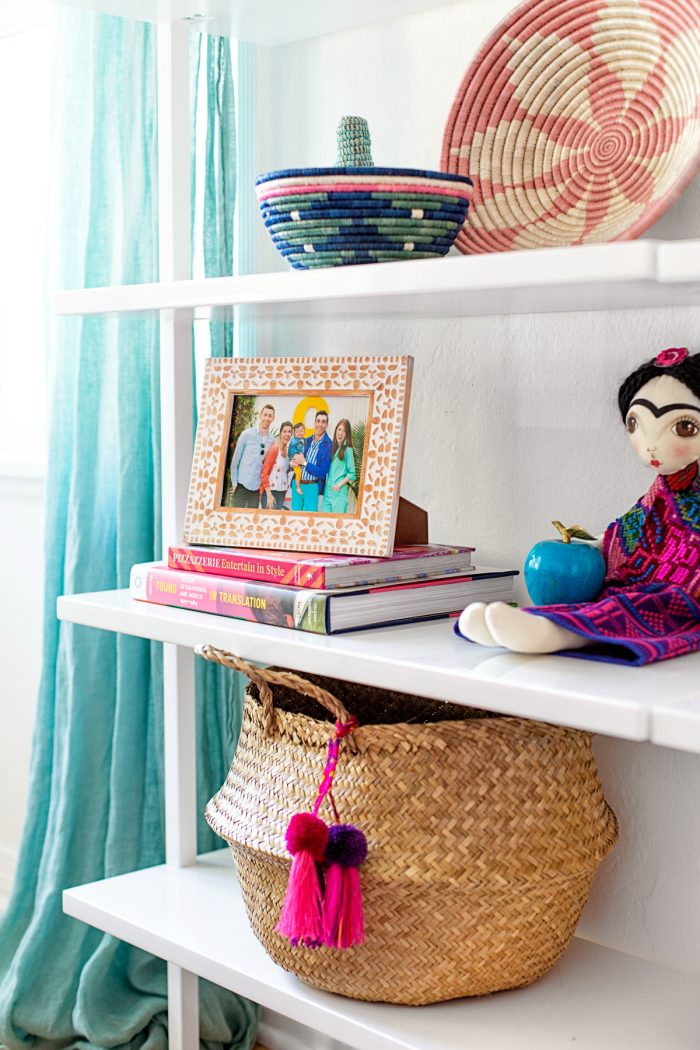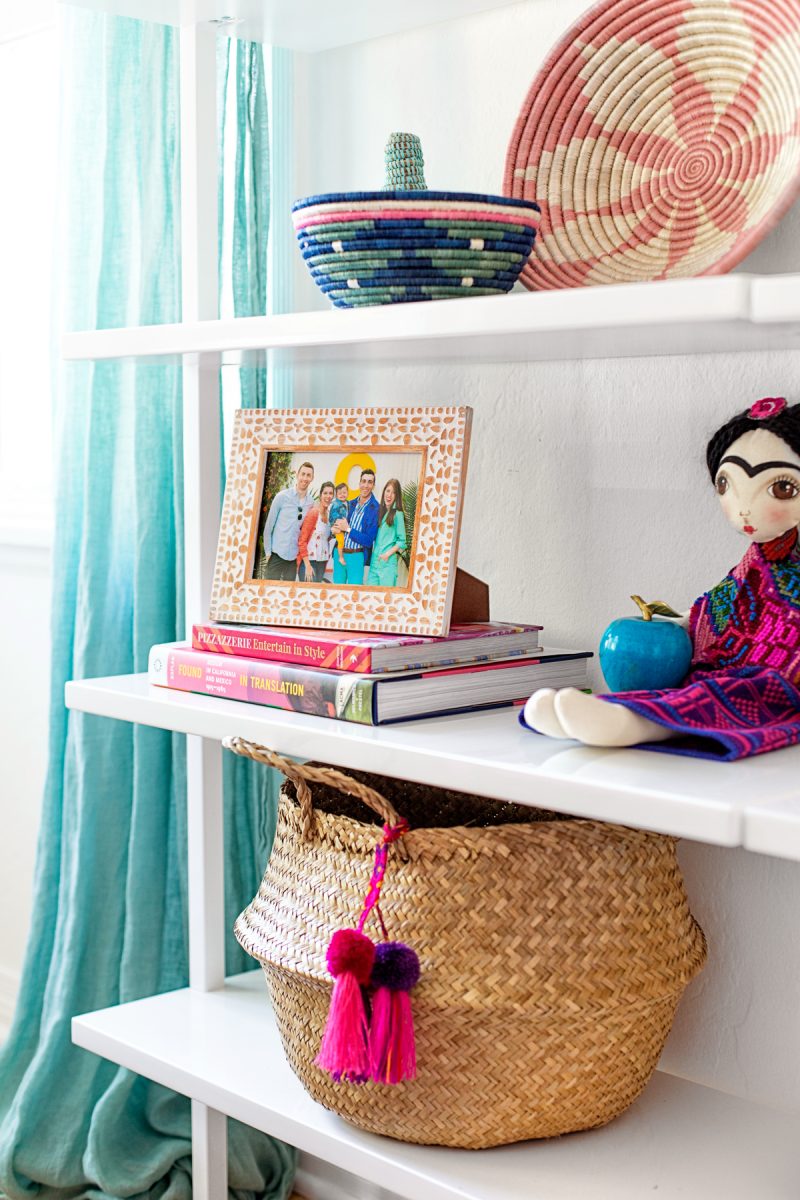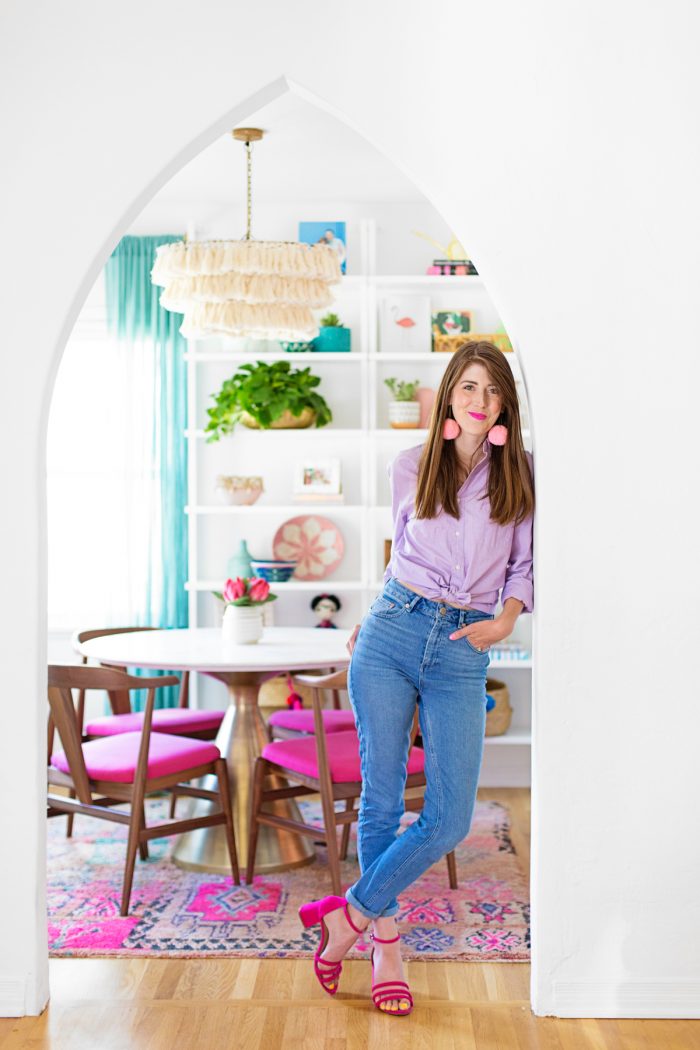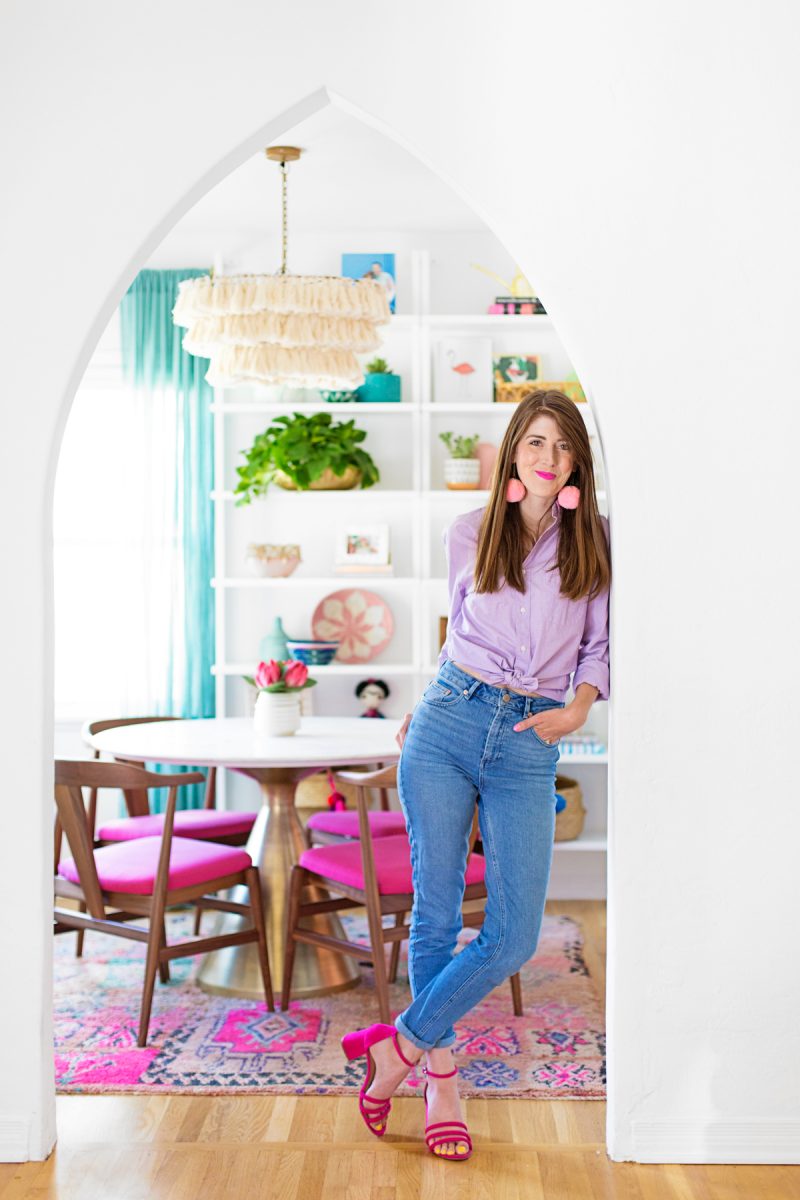 Photos by Jeff Mindell
And that's a wrap on the dining room, friends!! What do ya think!? Now, if someone can just help me keep those plants alive… haha! We've only had one plant before and it was an air plant. Spoiler alert: It DIED!
Furniture + Decor Sources
Marble + Brass Table* | Custom Walnut Chairs* | Rug (Vintage)
White Bookshelves | Mint Curtains | Gold Curtain Rods + Corner Adapter
Blinds* | Fringe Chandelier | Green + Gold Handles
Ixchel Art Piece from our trip to Mexico! (Sadly don't have the artist's name!)
Tall Pink Vase | Green Milk Glass Vases | Protea Arrangement
Bookshelf Sources
Gold Watering Can from Shout & About | Marbled Planter | Green Woven Bowl | Teal Planter
Flamingo Print (I think one of you guys sent us this print, is it you!? I can't find the artist's info!) | Tropical Print
Rattan Tray | Green Milk Glass Vases | Gold Bowl
Triangle Planter from Shout & About | Pink Planter | Round Gold Frame
Purple Patterned Vase | Pink + Rattan Planter | Scalloped Bone Frame
Gold Bookends | Mint Lidded Basket | Blue Woven Bowl
Pink Woven Bowl | Wood Frame | Illustration of Arlo & I | Monstera Leaf
Purple Planter | Carved Wood Frame | Frida Doll
Pink Globe | Wool Elephant | Basket (Left, pom pom was a gift!) | Basket (Right)
On Me
Purple Button Down | Jeans
Pom Pom Earrings | Pink Heels
SaveSave
SaveSave
SaveSaveSaveSaveSaveSaveSaveSave
SaveSave
SaveSave
SaveSave