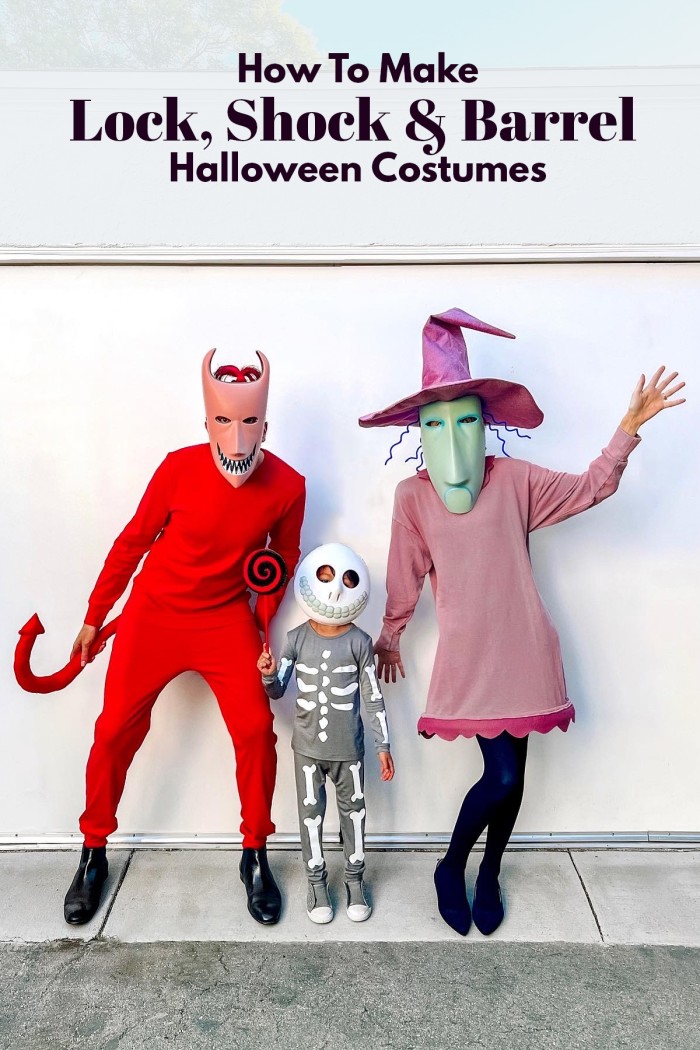 Everyone's favorite mischievous trick or treaters from Nightmare Before Christmas makes the perfect trio costume, so today I'm going to share how to make Lock, Shock and Barrel costumes!
This is part DIY and part store bought so it's easy to pull together and is a unique alternative to the classic Jack & Sally costumes we always see. Or, would make a fun addition to a Jack & Sally costume if you're looking for a big group costume!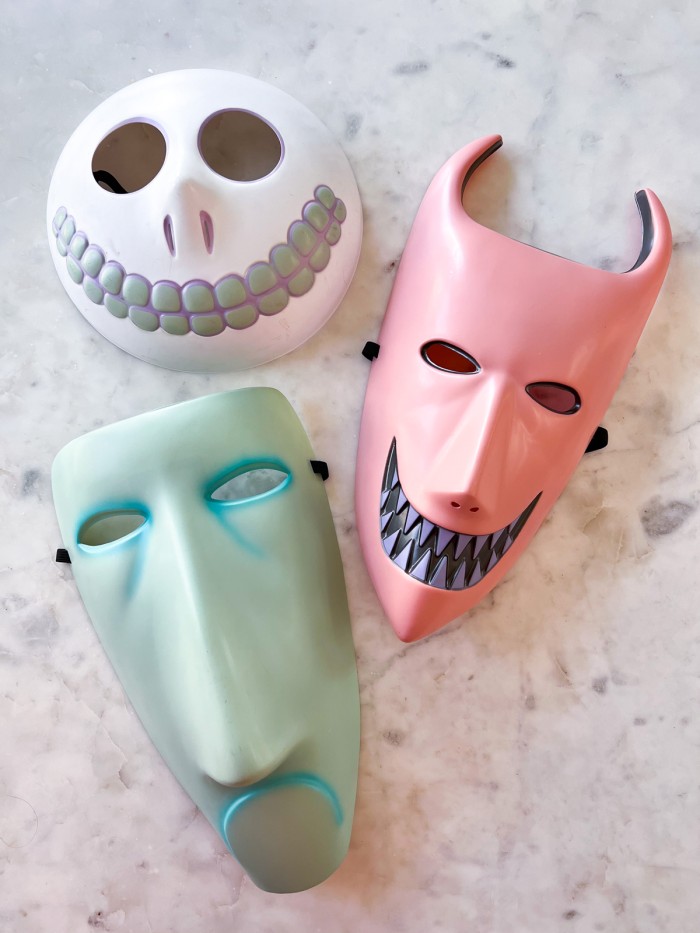 The Best Lock Shock and Barrel Masks
Lock, Shock and Barrel costumes can so quick to create with these awesome, affordable and accurate-to-the-movie masks. You can find them below: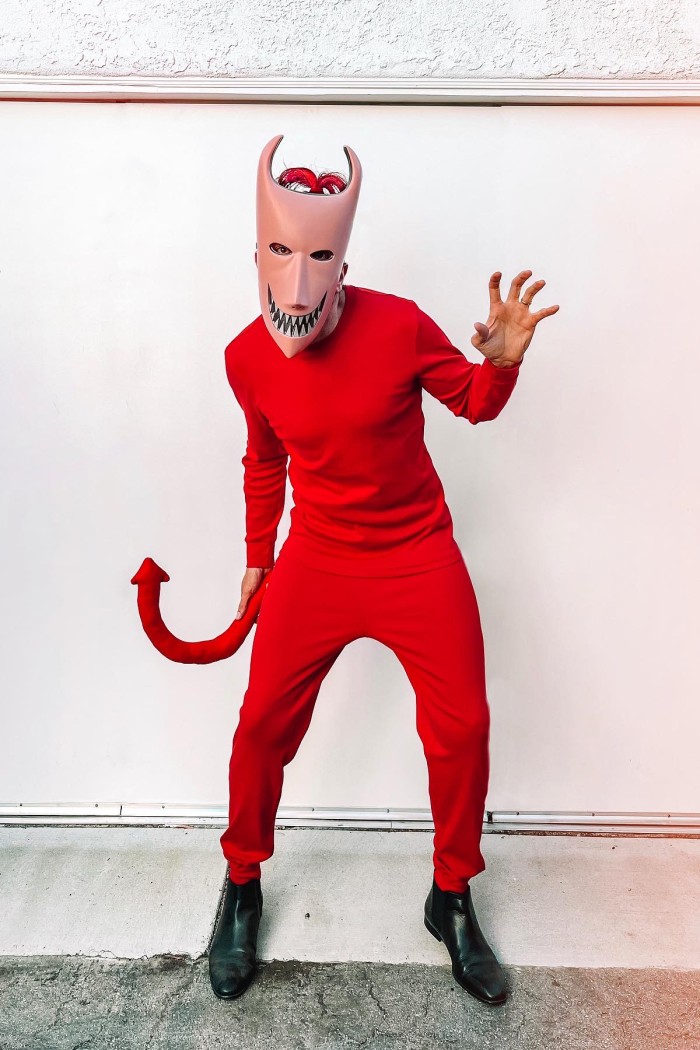 How To Make a Lock Costume
A Lock costume is the simplest of all. Here's the perfect hack for his outfit: red pajamas!
Bonus, you can re-use the red pajamas as Christmas pajamas!
For his devil tail you have a few options: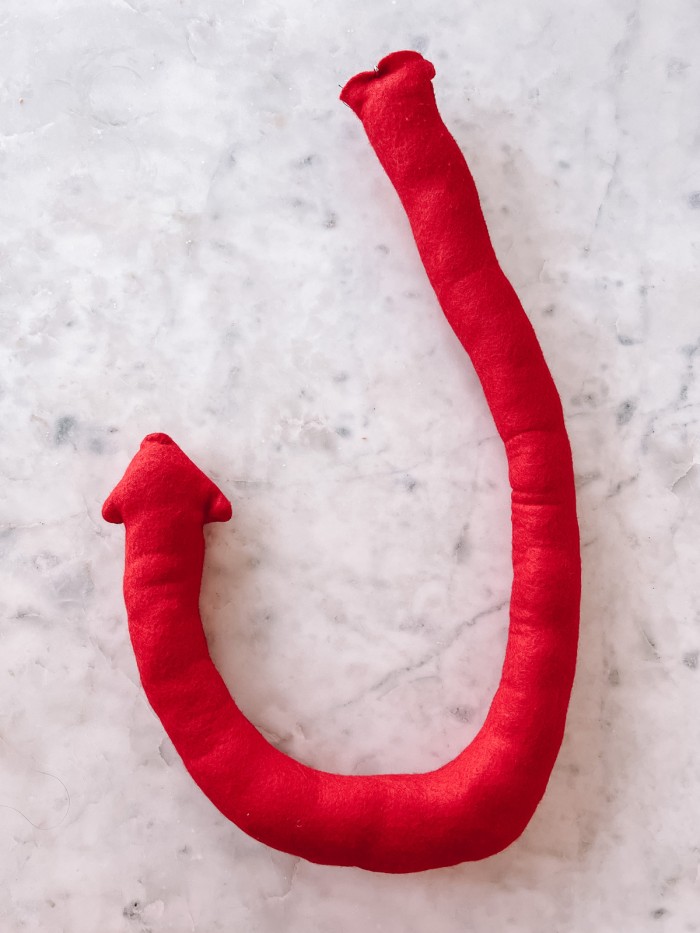 If you'd like, spray your hair with red hair spray and create his devil "horns" by spiking your hair or making small buns.
Pair with your Lock mask and you're good to go!
Shock Costume Tutorial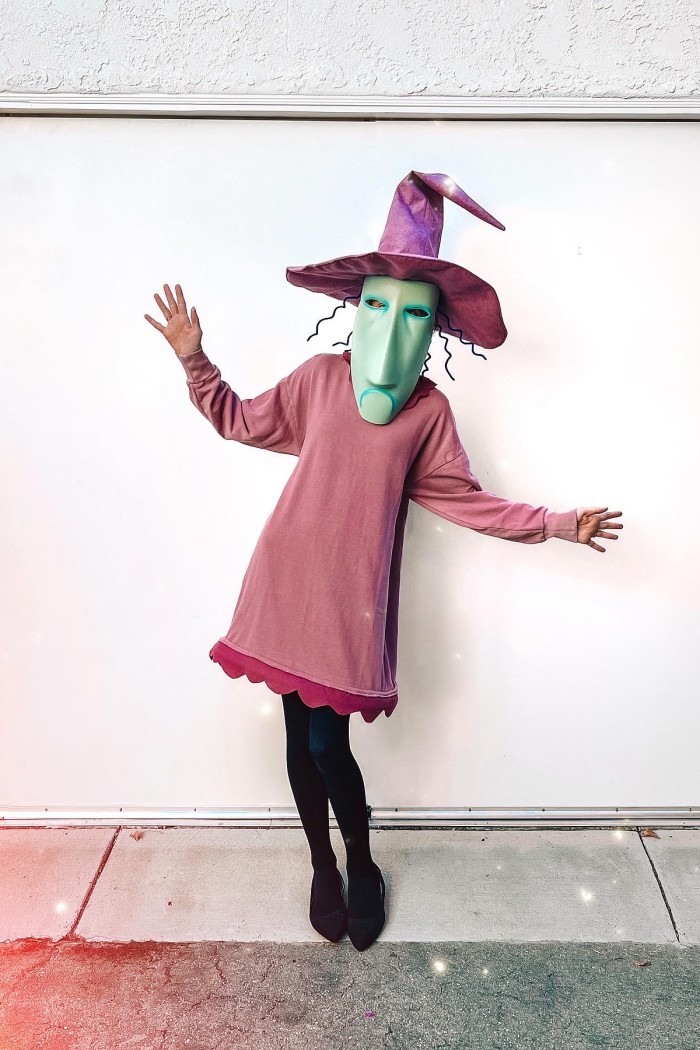 Shock is a fun DIY costume to make because of her unique, exaggerated purple witch hat. Here's what you'll need to be Shock:
Purple Witch Hat Tutorial
Here's how to make Shock's purple witch hat using 3 yards of purple felt, a sewing machine and hot glue: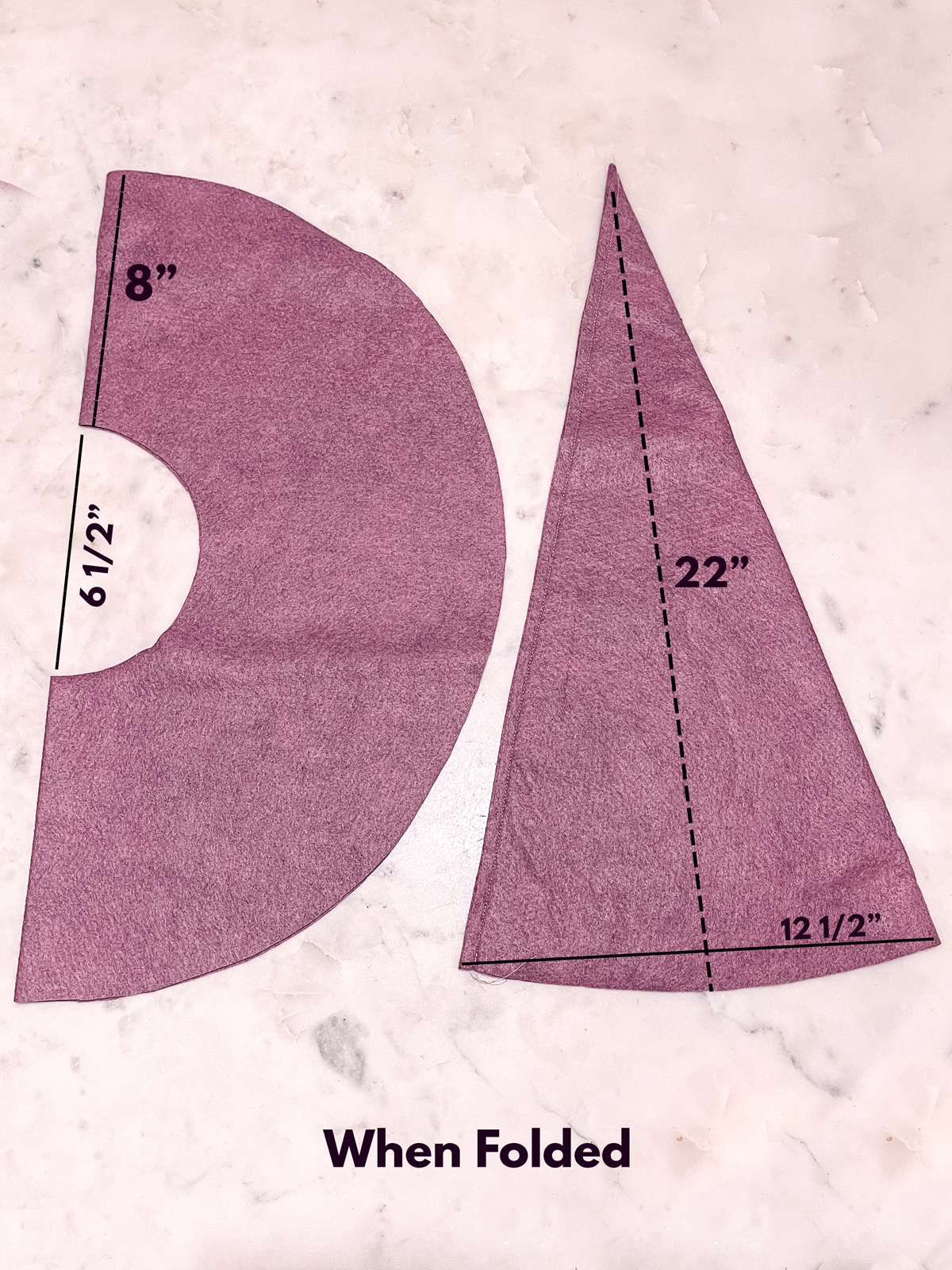 Fold purple felt in half and cut a cone shape using the measurements in the image above.
Then fold remaining purple felt in half and cut two large half donut shapes along the fold using the measurements above.
Stitch the long raw edges of the cone together. Stitch the two brims together along the outer edge. Clip edges and turn right side out and stitch the cone to the center circle.
Hot glue a band of contrasting purple felt along the base of the cone.
Curl blue pipe cleaners and hot glue to the inside base of the hat.
For Shock's dress, cut the scraps of your purple into a scallop shape and sew or hot glue to the neck and hem of a purple dress.
Now you have the second member of this Lock Shock and Barrel costumes trio ready to go!
DIY Barrel Costume (with free printable!)
Barrel's costume could easily just be a pre-made set of skeleton pajamas, but if you'd like to make your own that look exactly like his in the movie, I've got a free printable for that!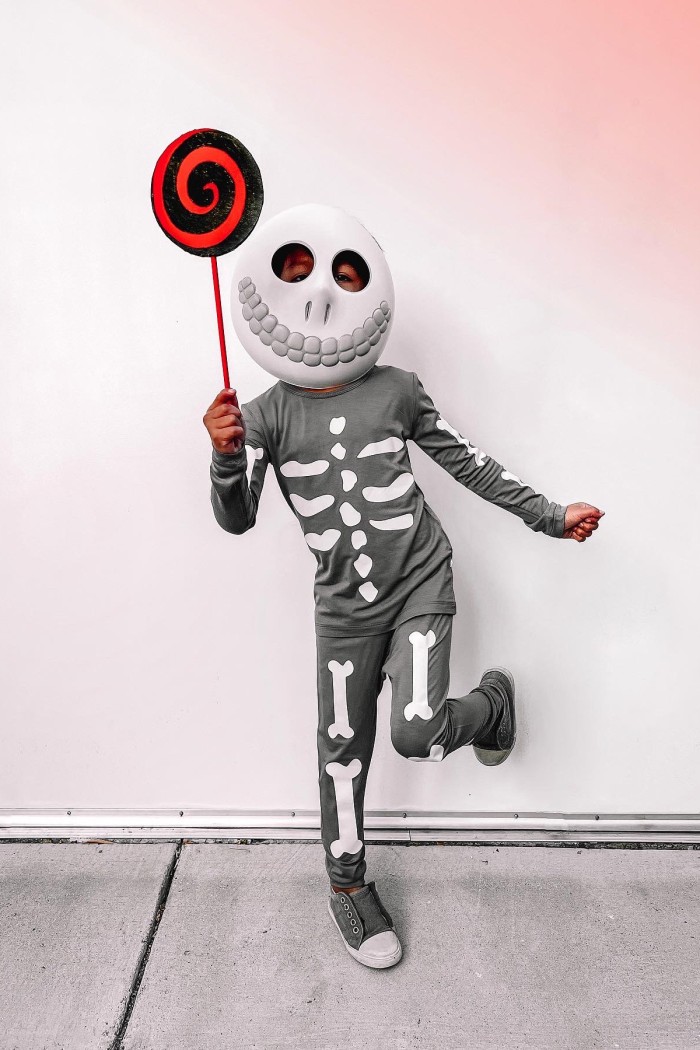 Here' what you'll need to make a Barrel costume:
Barrel's Skeleton Costume Tutorial
Here's how to make Barrel's gray skeleton outfit: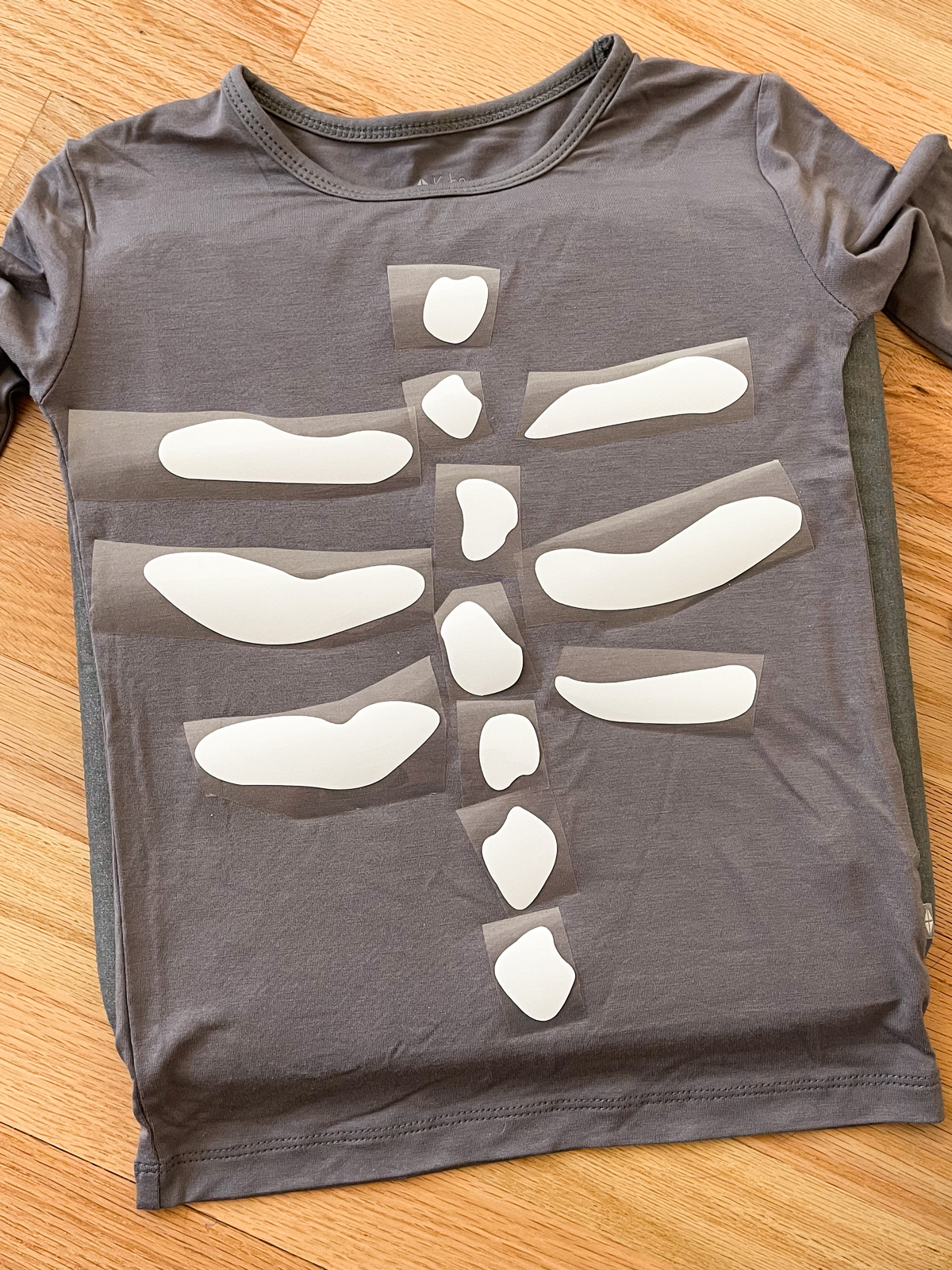 If using a Cricut, cut out the bones (make sure mirror is on!) from iron on vinyl. If using scissors, trace the pattern on to the iron on vinyl and then cut out.
Iron on the bones according to package instructions
Barrel's Lollipop Tutorial
Barrel's lollipop is an easy prop to make out of scraps around the house!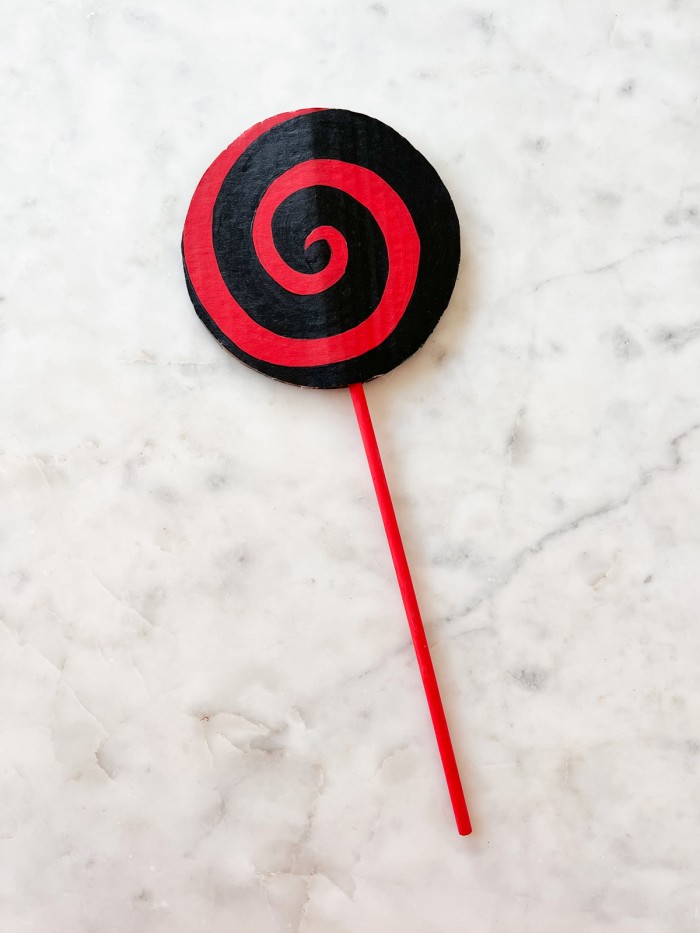 Cut two circles out of a piece of scrap cardboard. Paint a red and black swirl on one side of each circle. Paint a dowel or popsicle stick red. Hot glue the cardboard pieces around the dowel/popsicle stick.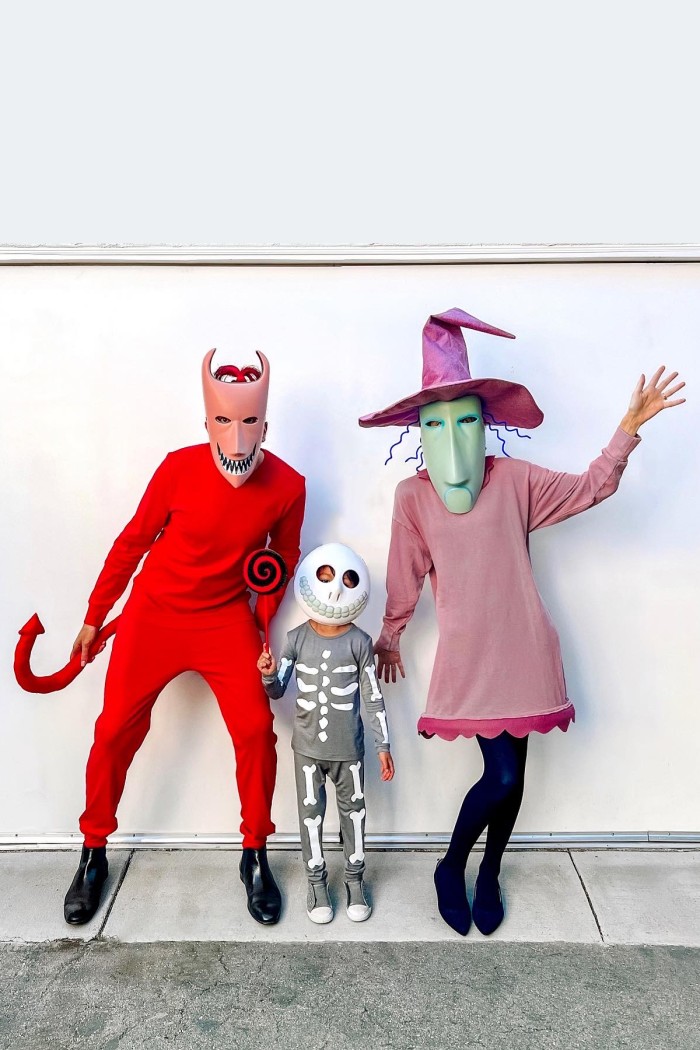 More Disney inspired Costume Ideas:
These Lock, Shock and Barrel costumes couldn't be more fun and any Nightmare Before Christmas fans will be so excited to see this trio out trick-or-treating! Have fun!