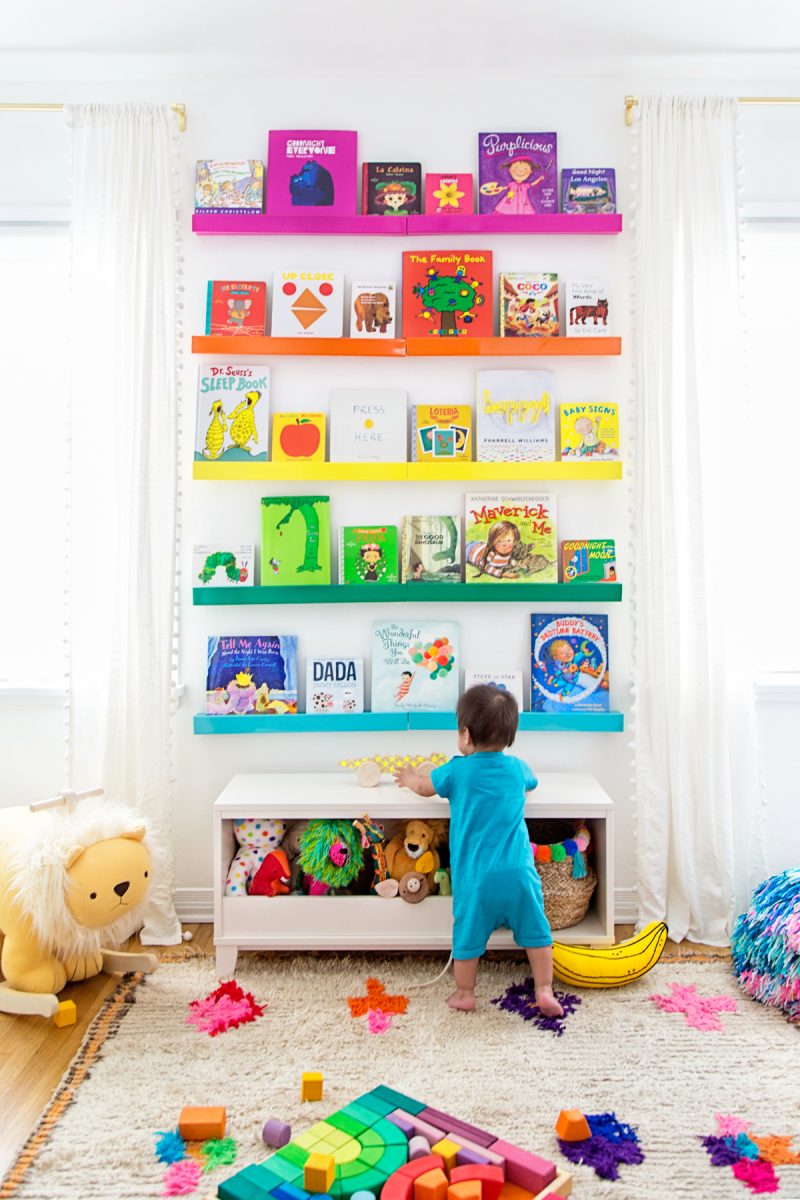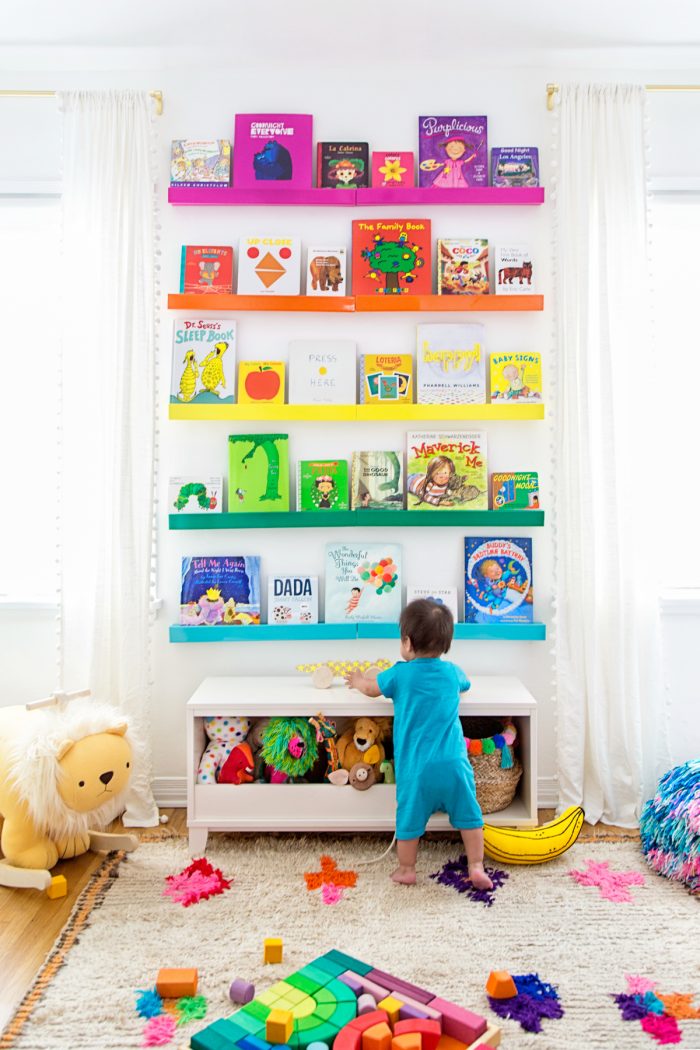 Here it is… Arlo's rainbow nursery REVEAL!!!
This whole process has been a dream. I've been working with The Land of Nod for years on projects for the blog and it was so fun to finally (FINALLY!) be able to partner with them for my very own baby's room, in my very own home!! Still pinching myself. They have the best quality and most well-designed kids items, so much so that I often end up getting items from there for the rest of my home, too. They also work with a lot of small businesses and independent designers on their products, which was really important to me.
From the second we brought Arlo home, I'd been dreaming and scheming about his room. I knew exactly what I wanted it to look like and I could picture every detail. I wanted it to be magical for him. I wanted it to be full of color, culture and items created by people we love. I'm so proud of it, and so beyond excited to share ALL the details with you today! Are you even READY!?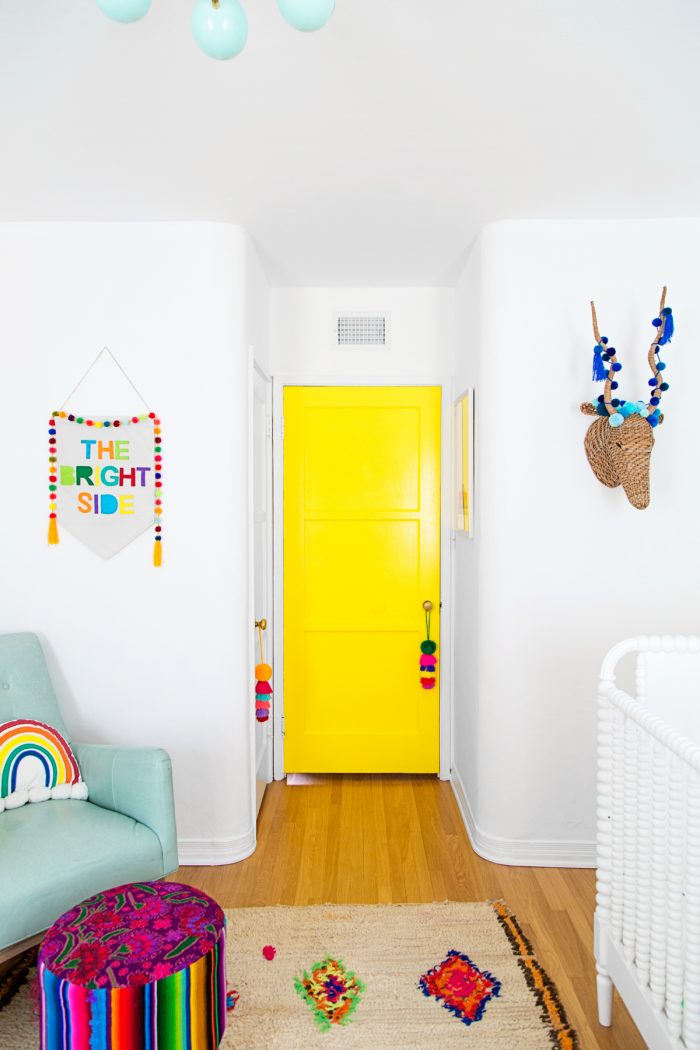 Ok but first, can we take a look at this before and after….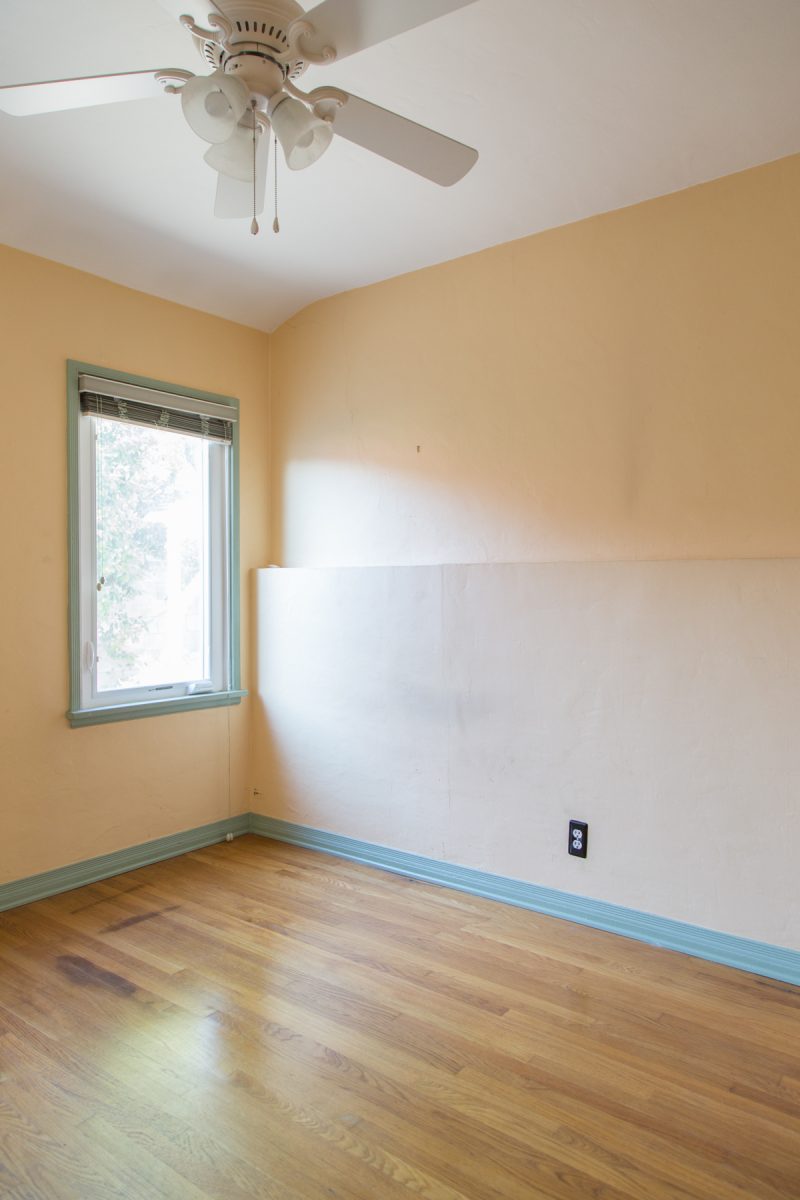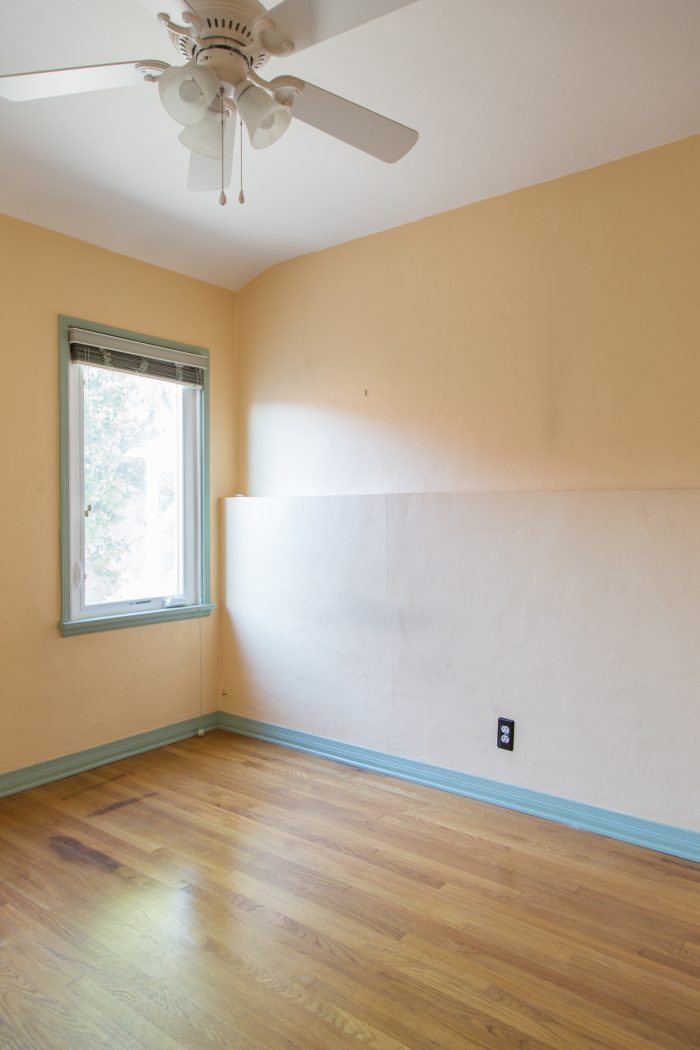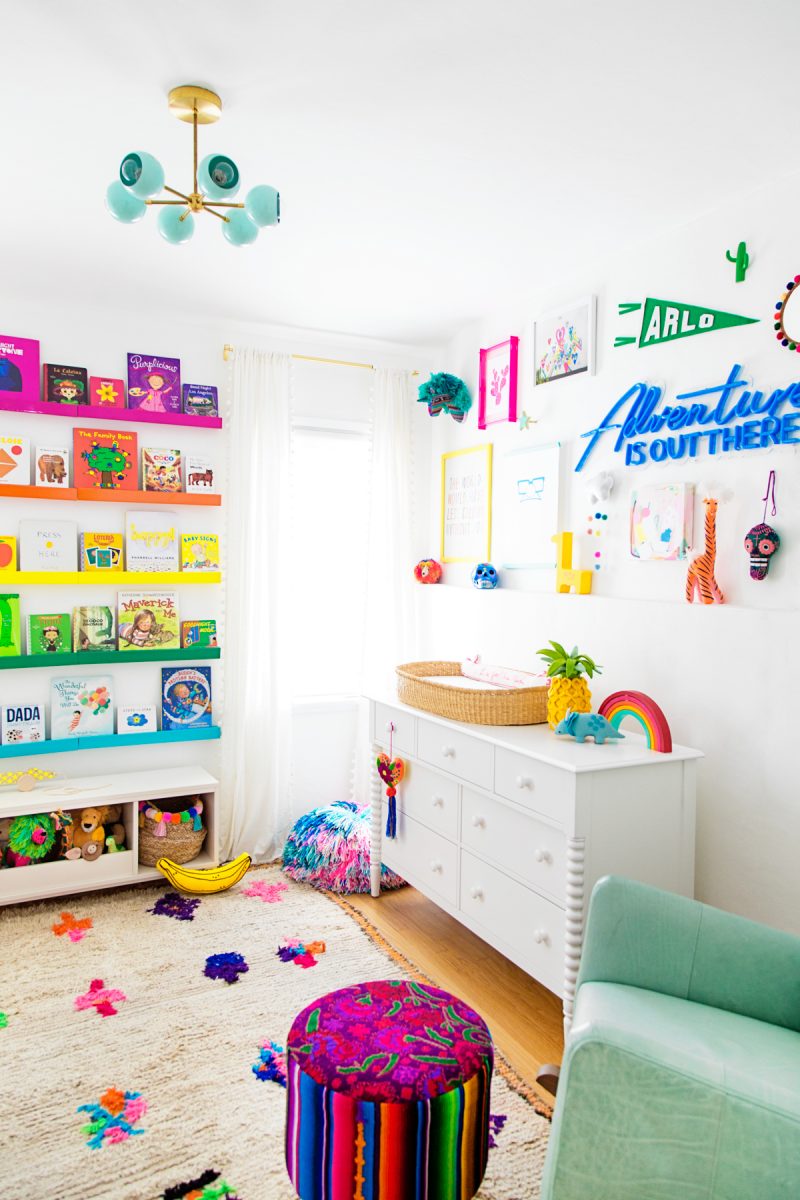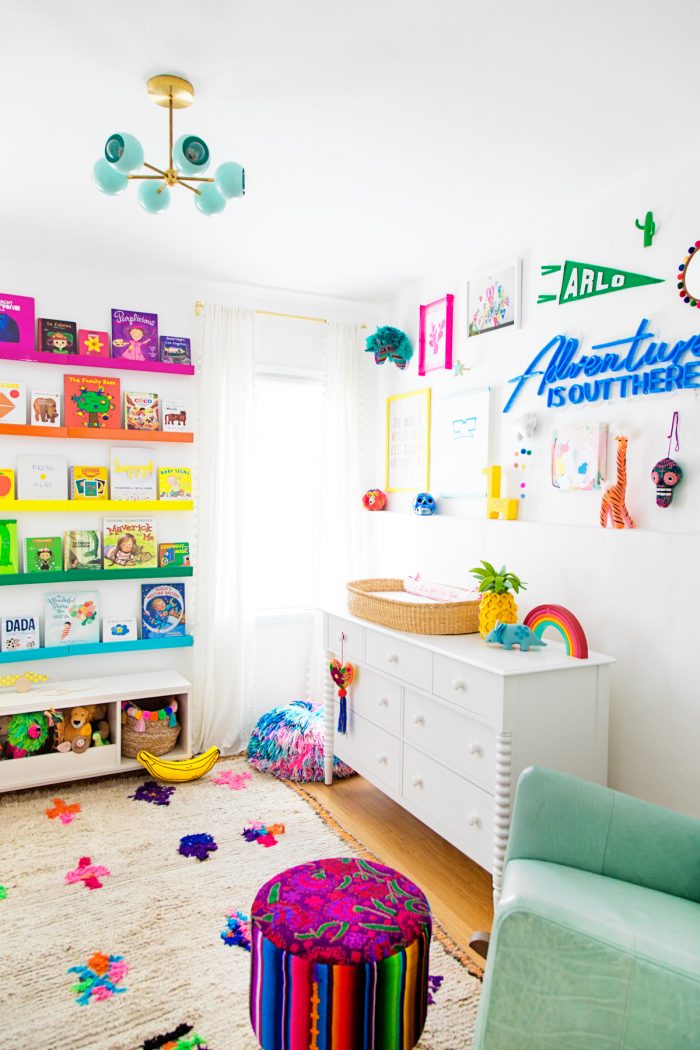 BAM BAM BAM!!!!!!! What an upgrade! Haha!! I thought I'd take you through each element of his room and explain a bit about why we chose it and what it means to us. Let's start with his gallery wall!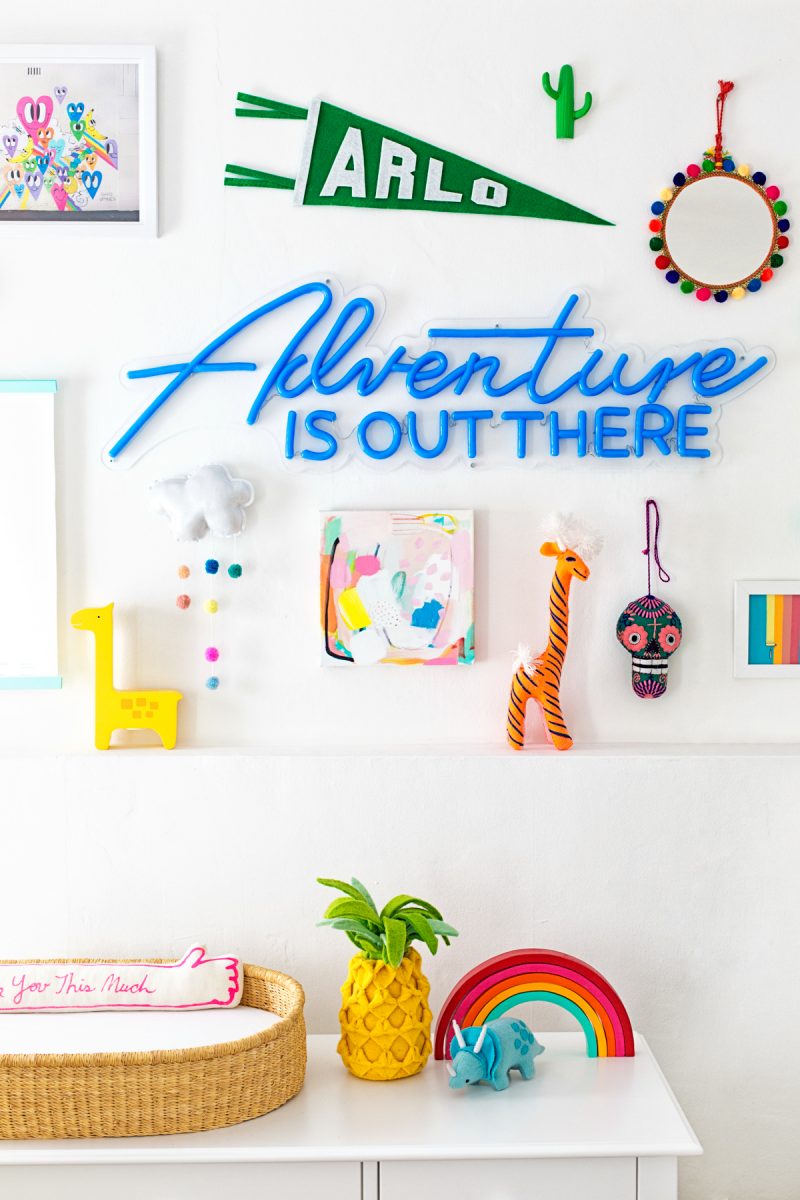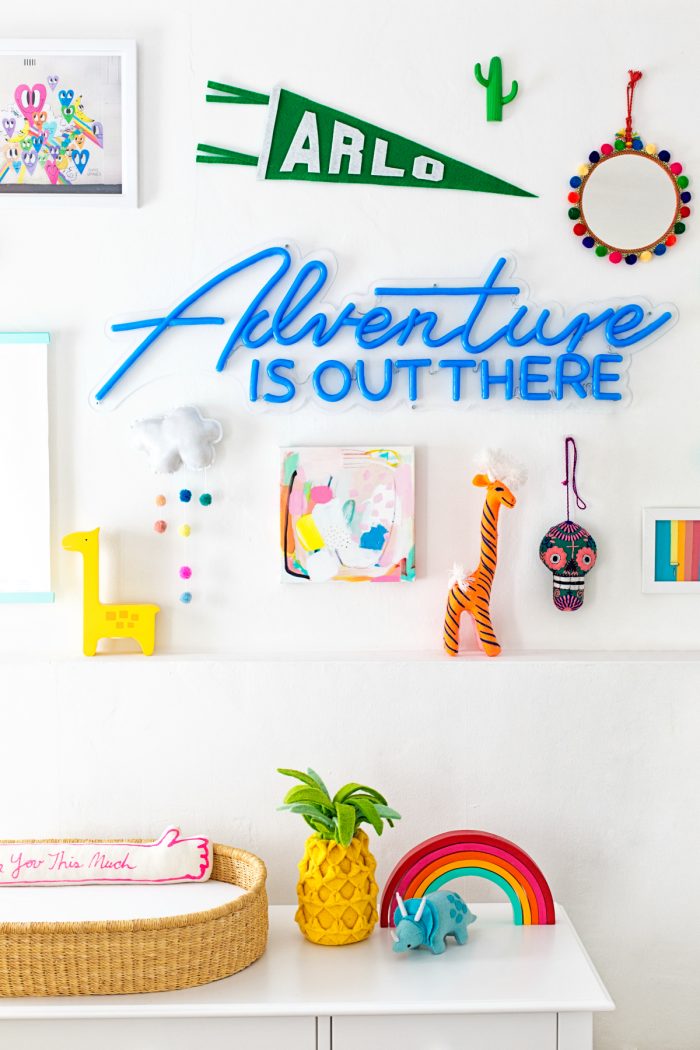 A Meaningful Gallery Wall
His room has this amazing ledge that we knew we wanted to incorporate into some sort of gallery. After much debate, we decided to hang the artwork above it, and use the ledge to display some of our favorite items we've collected, like his collection of handmade stuffed animals from Mexico.
Each piece on the wall either carries meaning for my family, or was created by an artist or photographer who we know or admire. I wanted to be able, in a few years, to point to each piece on the wall and tell Arlo all about how that person is chasing their dreams.
We have several photographs by friends of ours, a poster gifted to me years ago by my best friend that I've been saving for this room, a huichol yarn painting from Mexico and a neon sign with a quote from our favorite movie… among so many others!!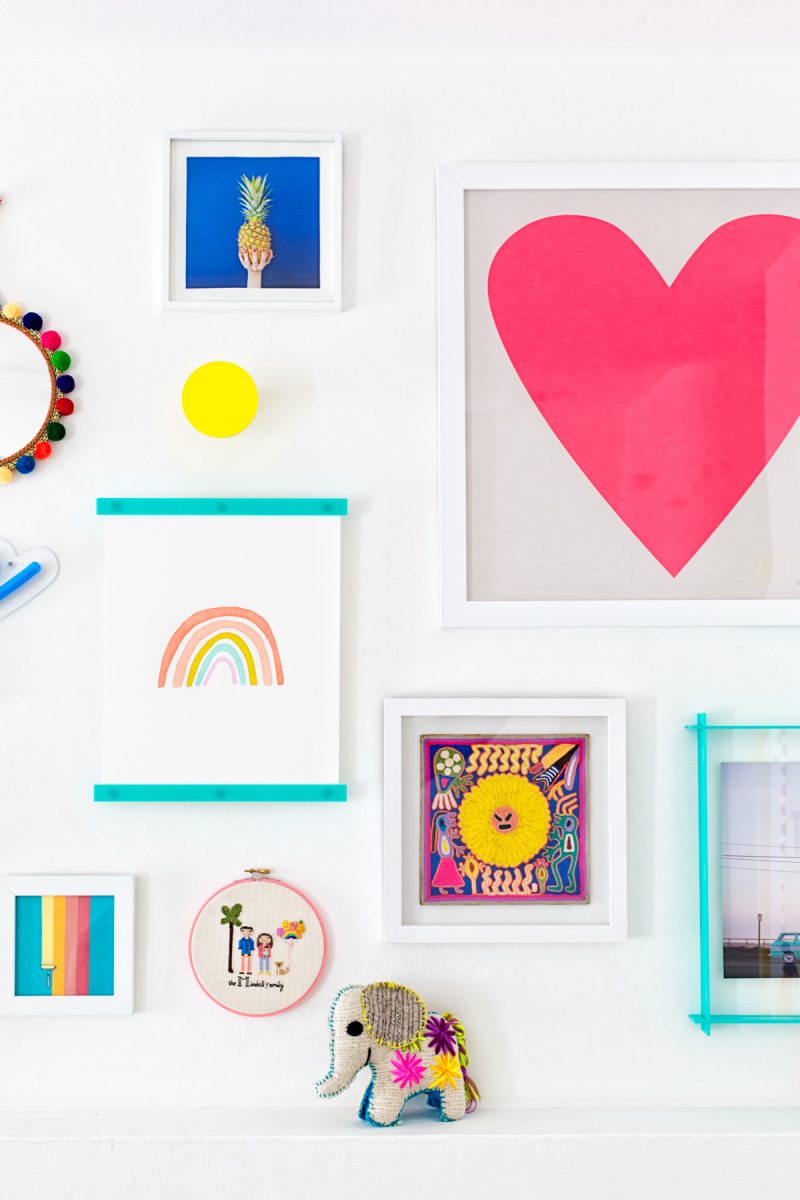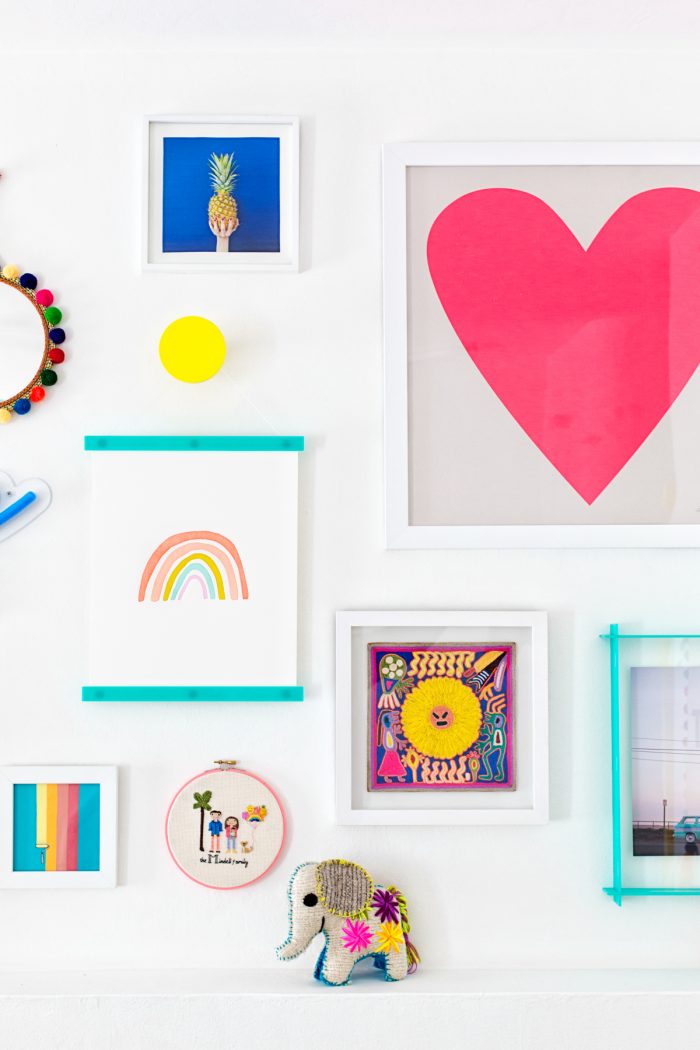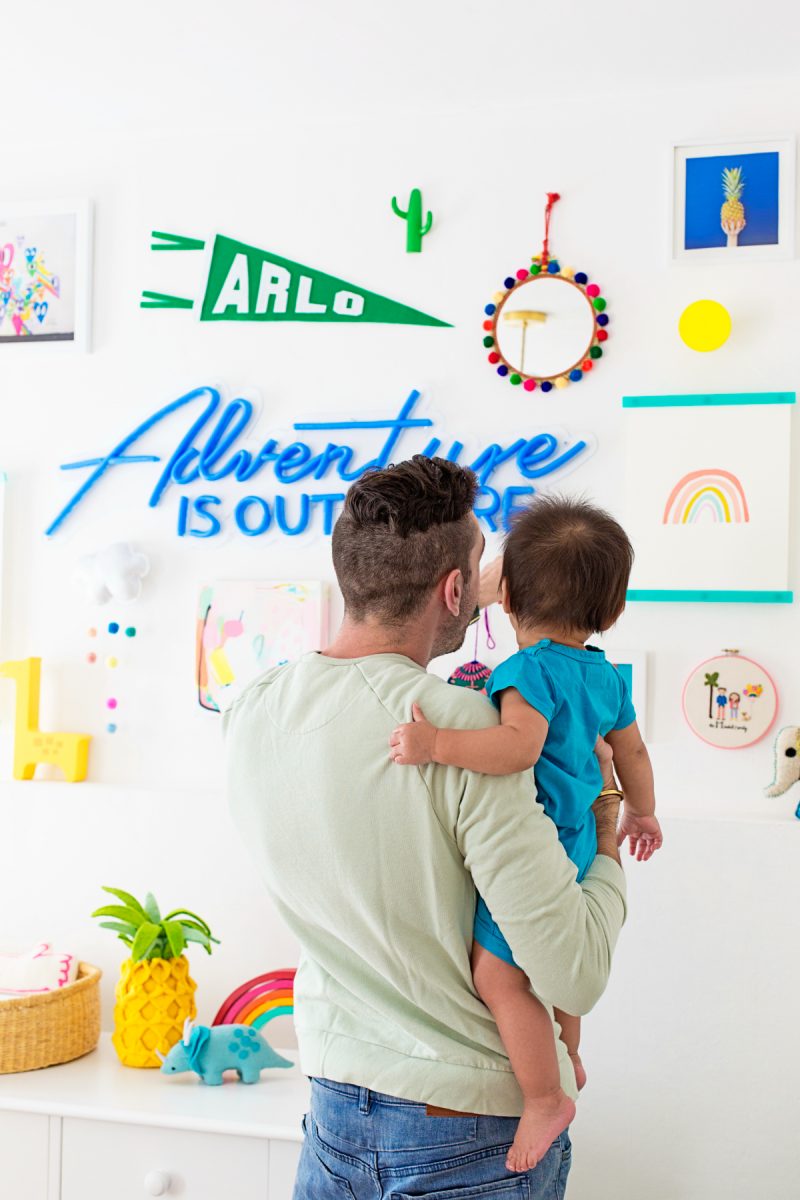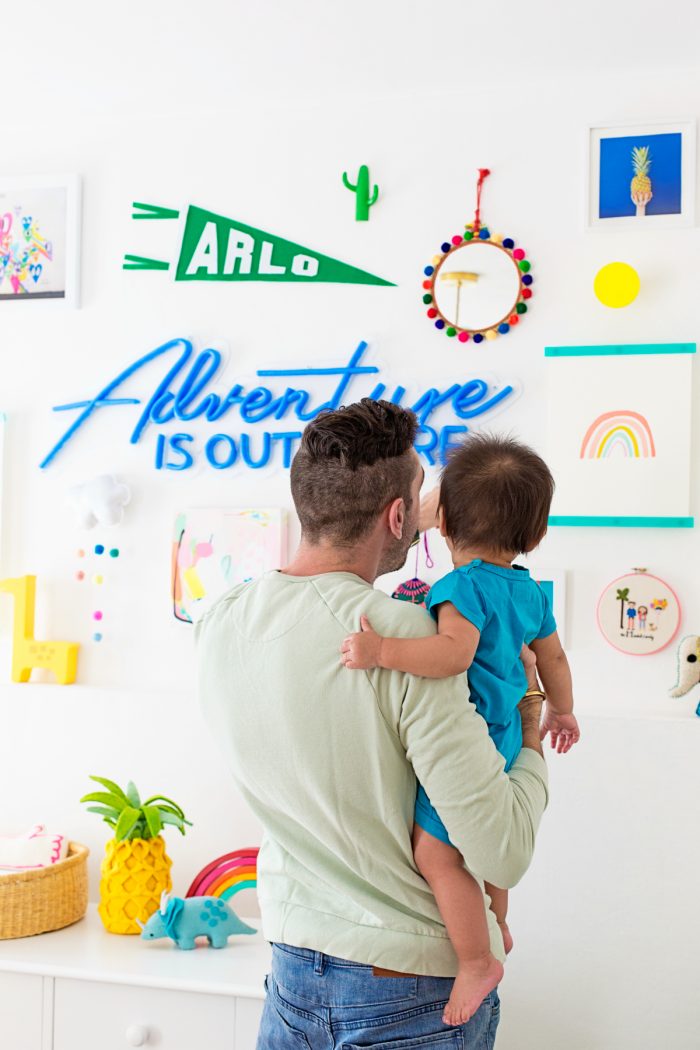 We decided to put his changing table right below it because he loves to look up at all the art and play with the stuffed animals. It's actually a dresser that we use as a changing table and it's from Land of Nod's Jenny Lind collection which I've had bookmarked forEVER. I love how whimsical it is!!!! (And it fits a lot, so BONUS. Ha!)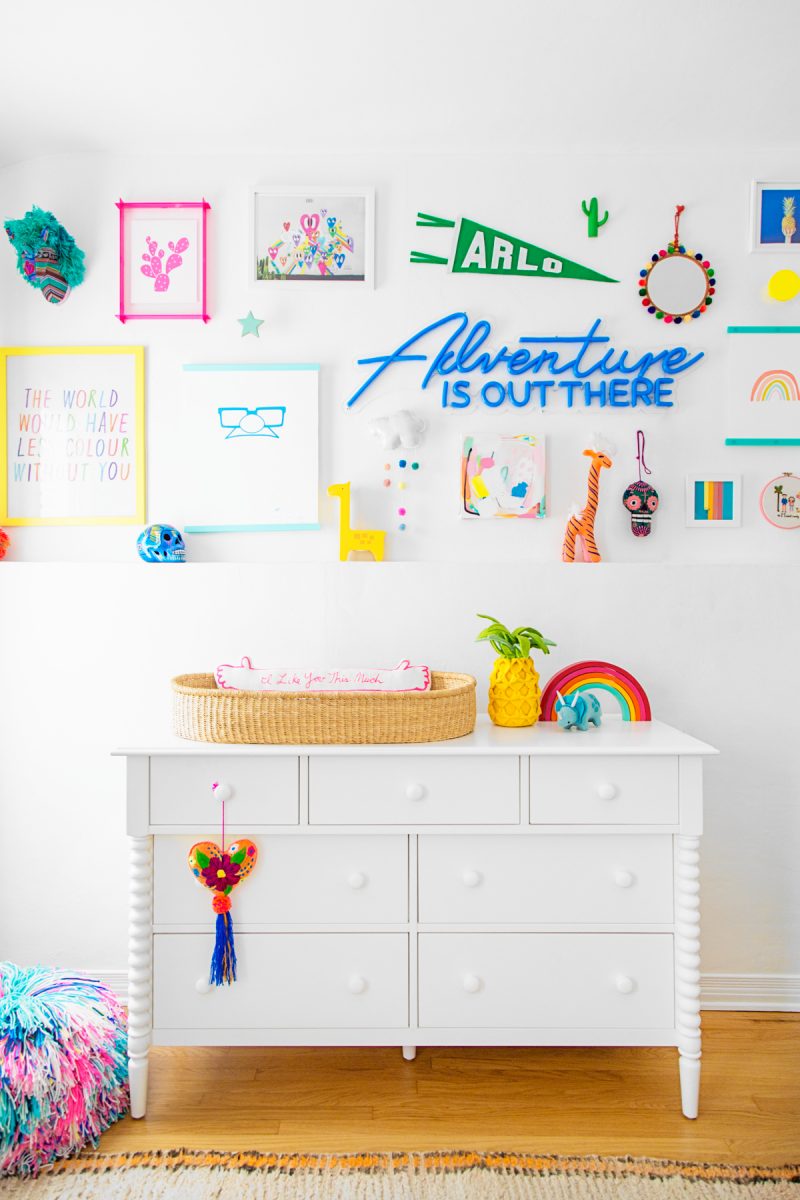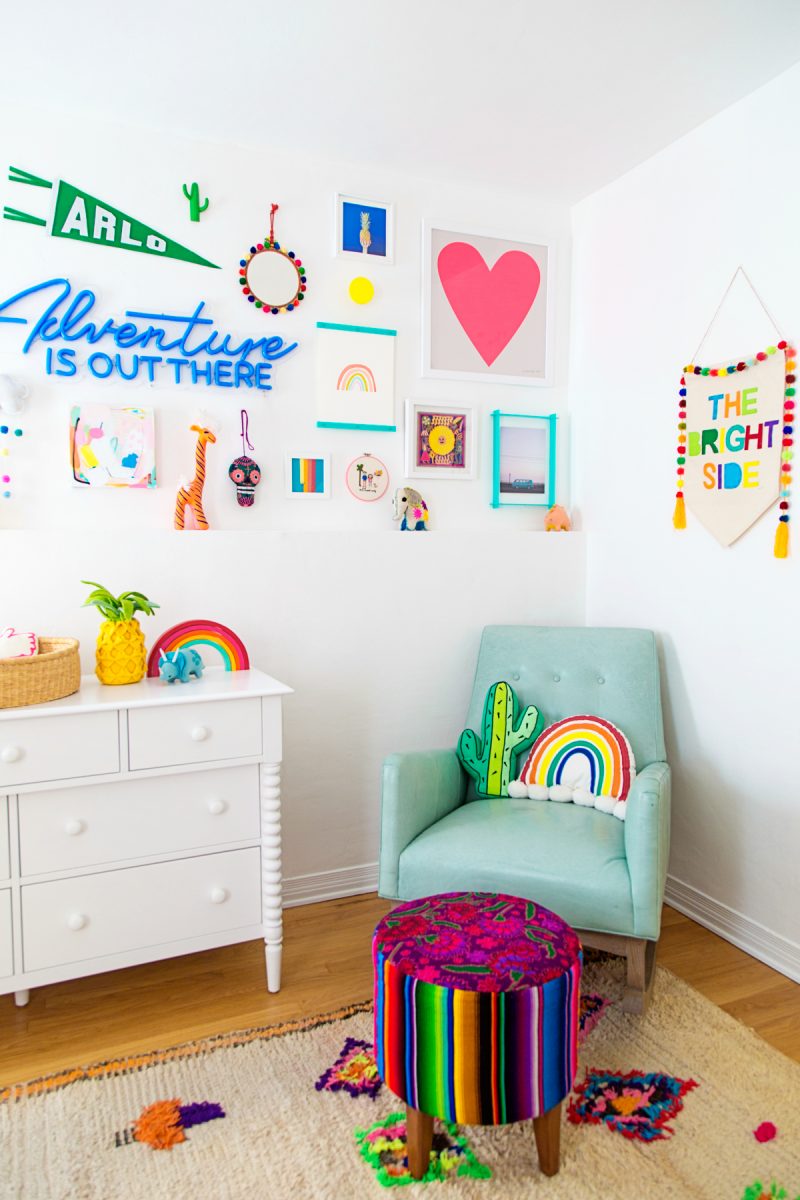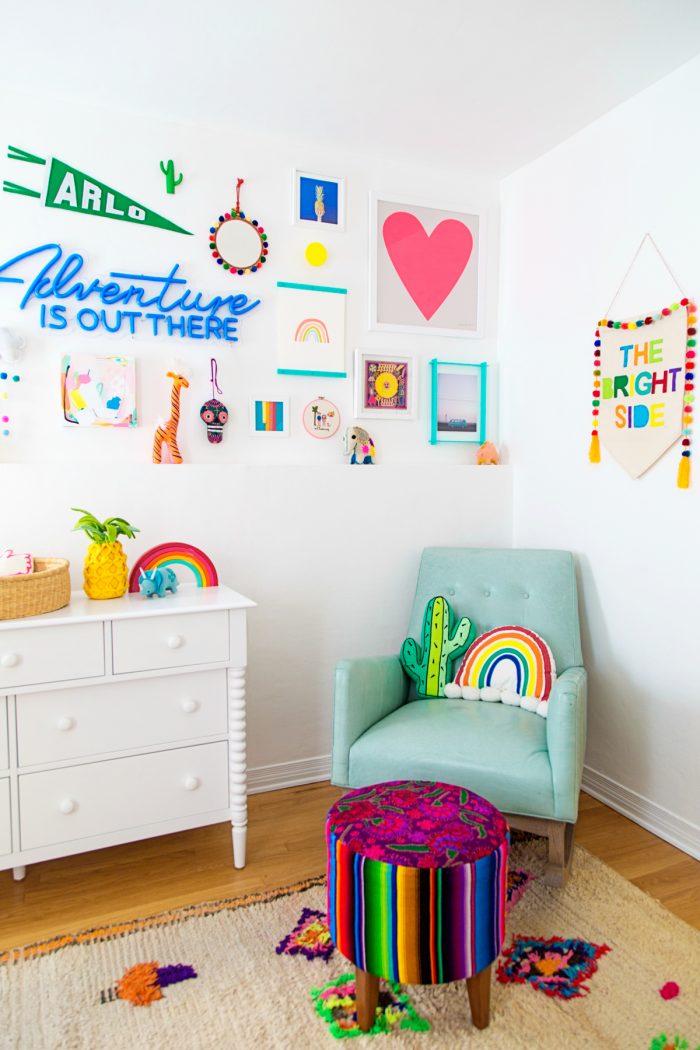 A Nursery Reading Nook
In the corner, we have our little reading nook! We sit here every night to read bedtime stories. I honestly got this mint leather rocking chair solely because I loved the color (LOL) but I've been SO happy that it's leather. Arlo LOVES to scratch at furniture and if it was fabric, I'm afraid it would be torn to shreds like our couch currently is. This just looks better with age, so that's been awesome. I paired it with a colorful foot stool which was made from Guatemalan and Mexican textiles.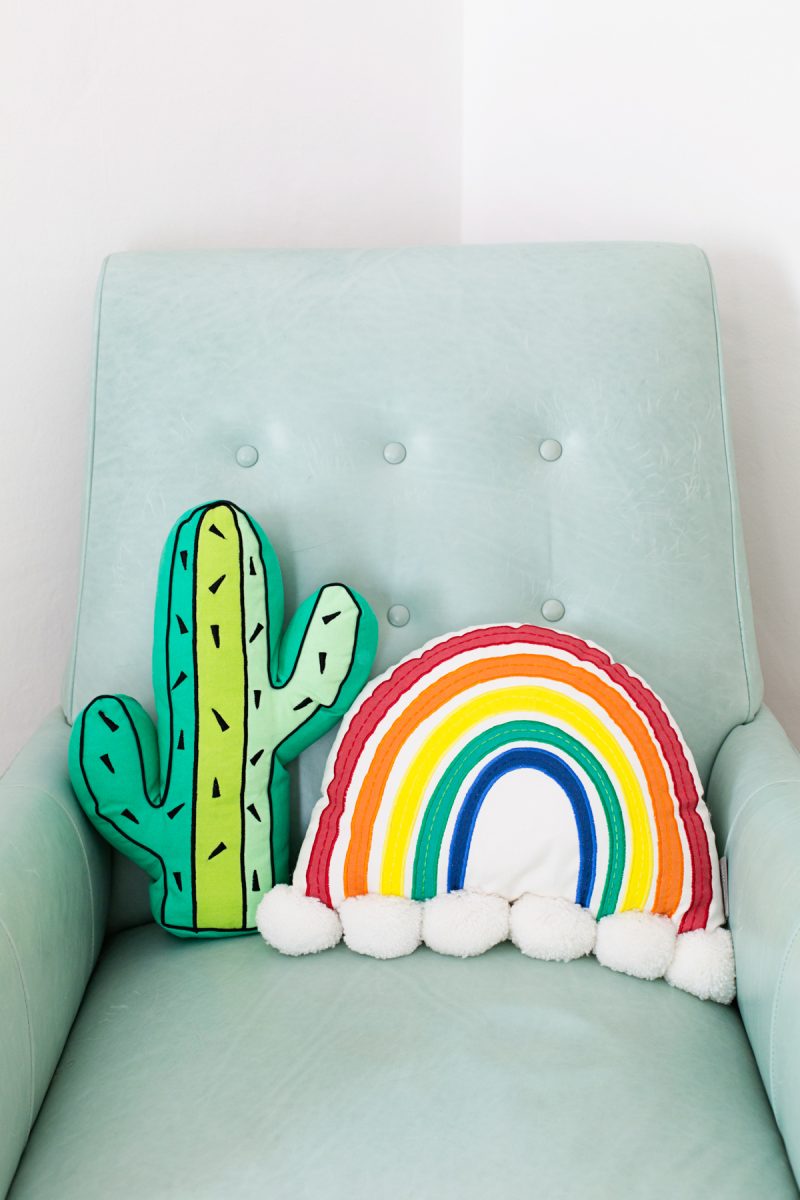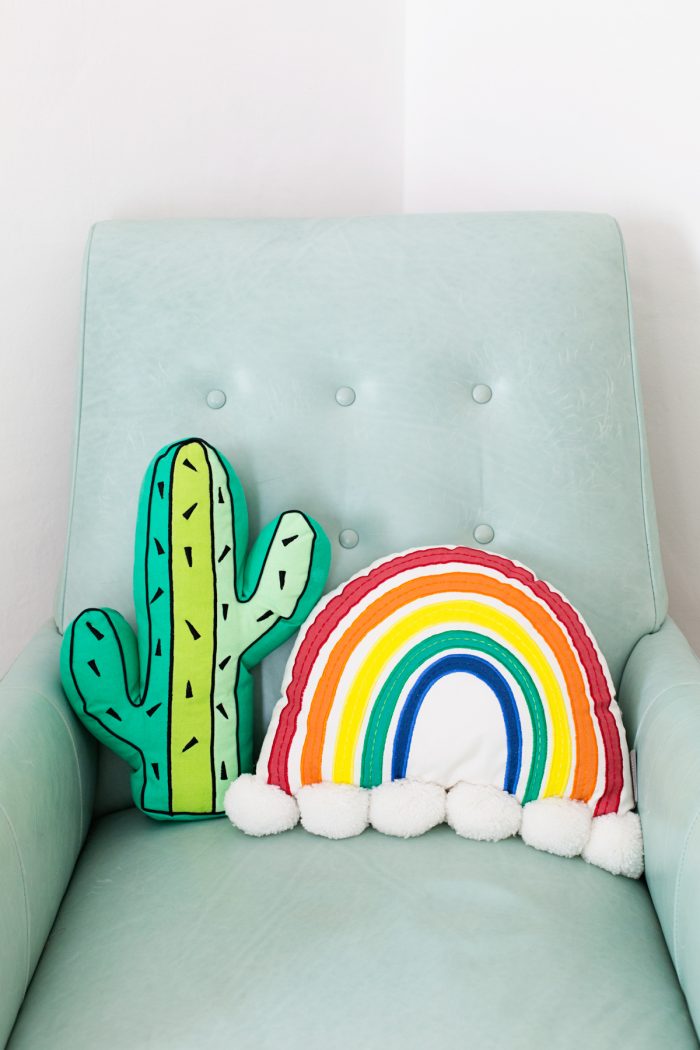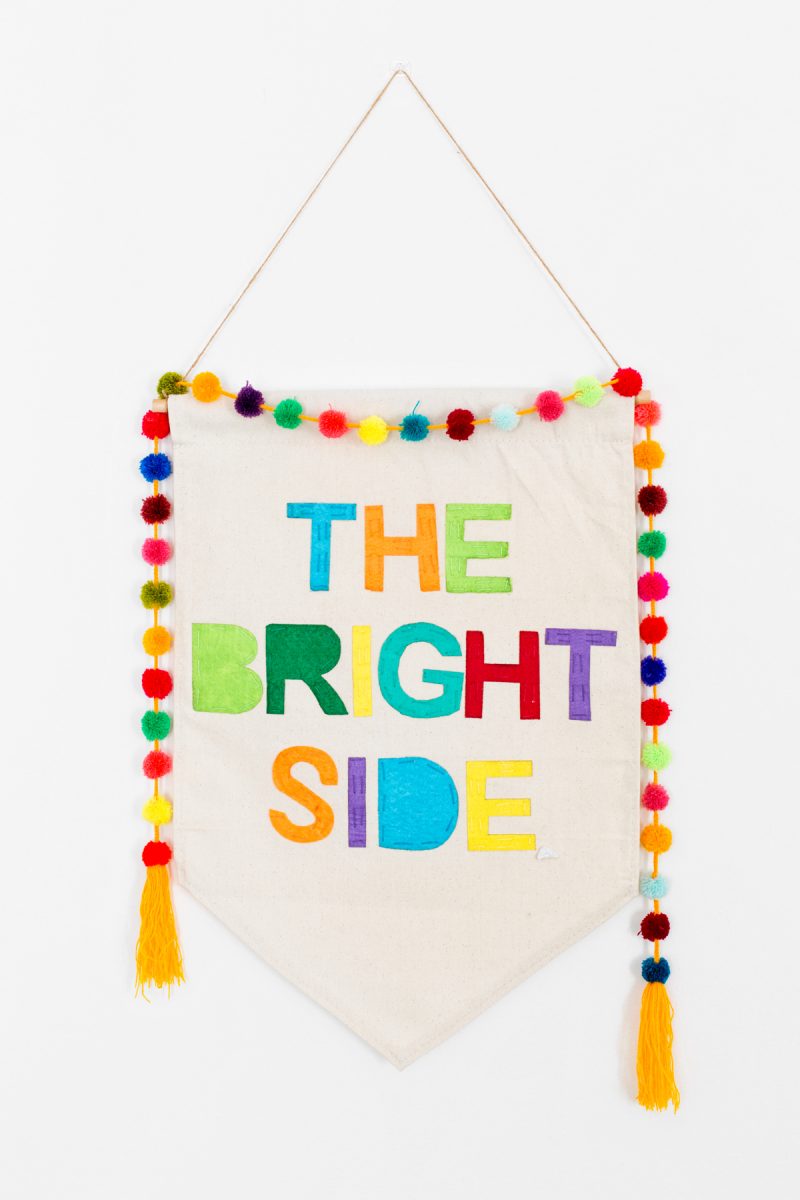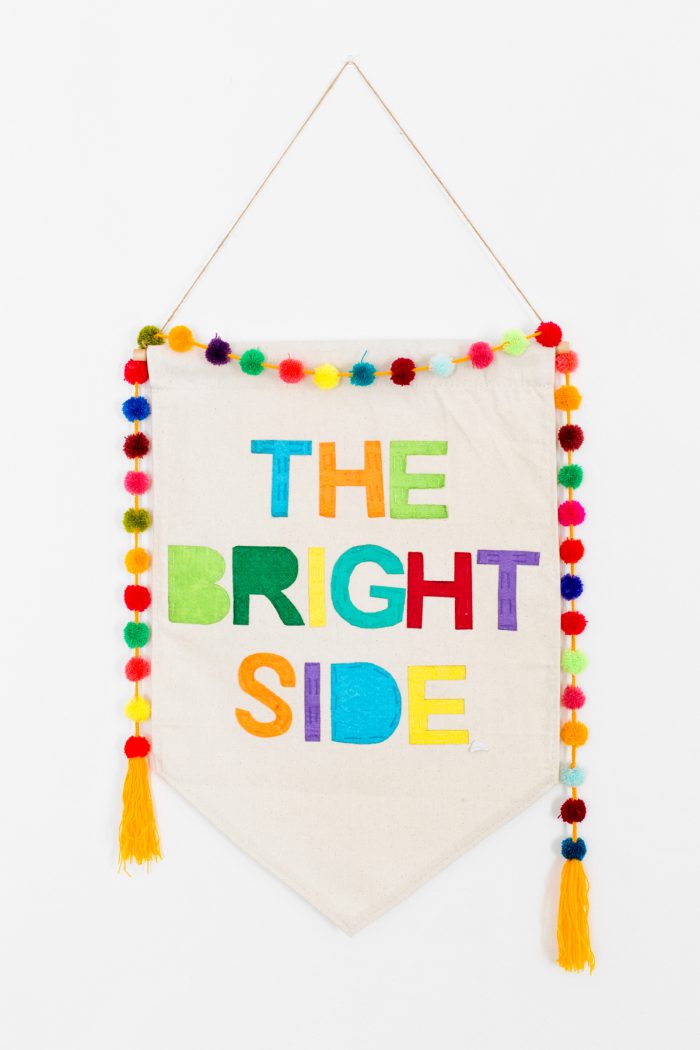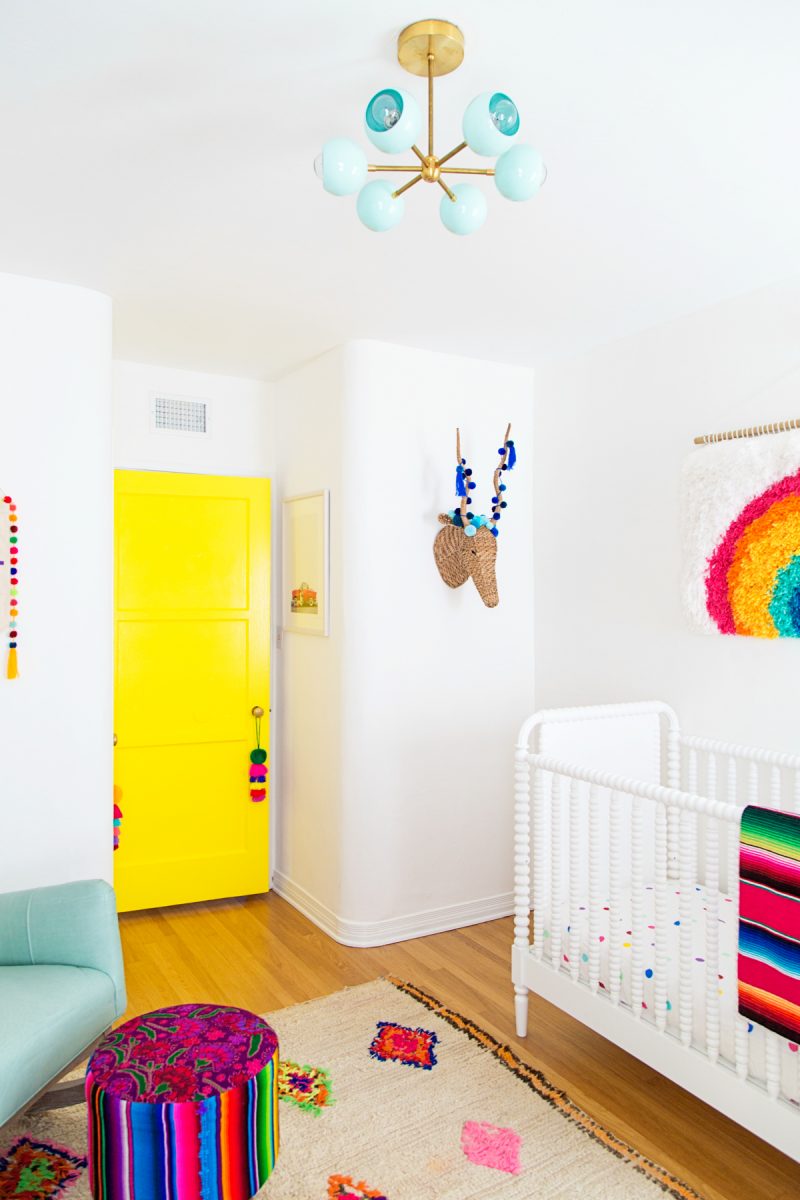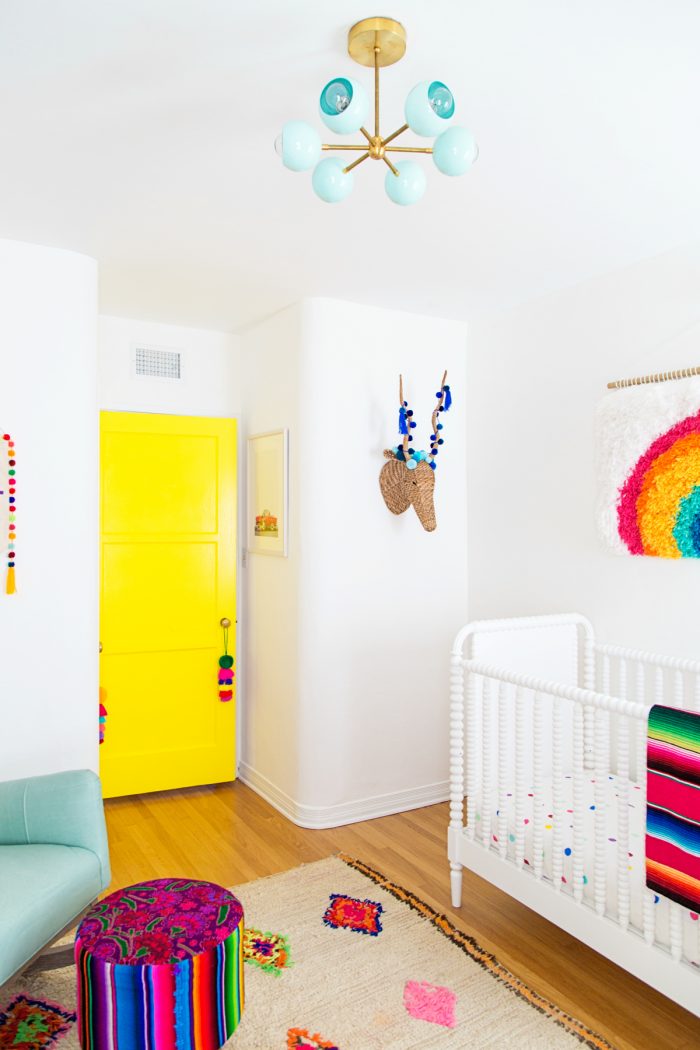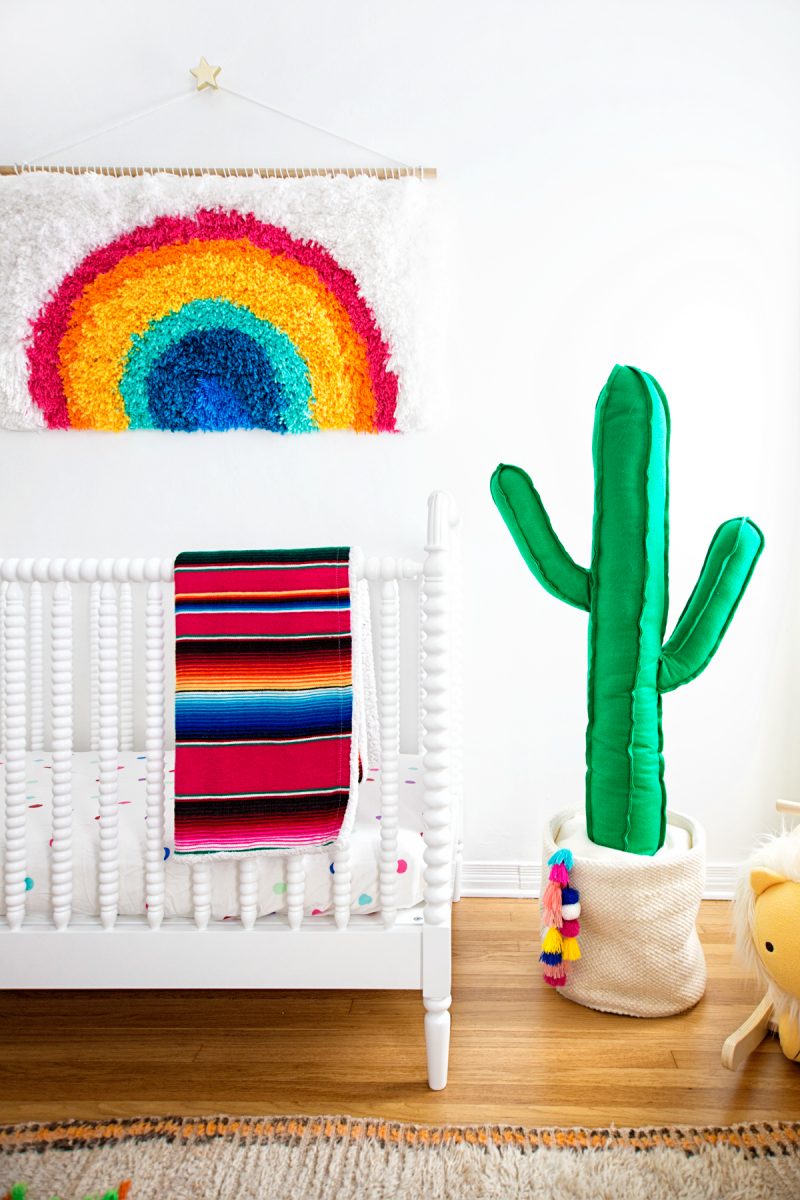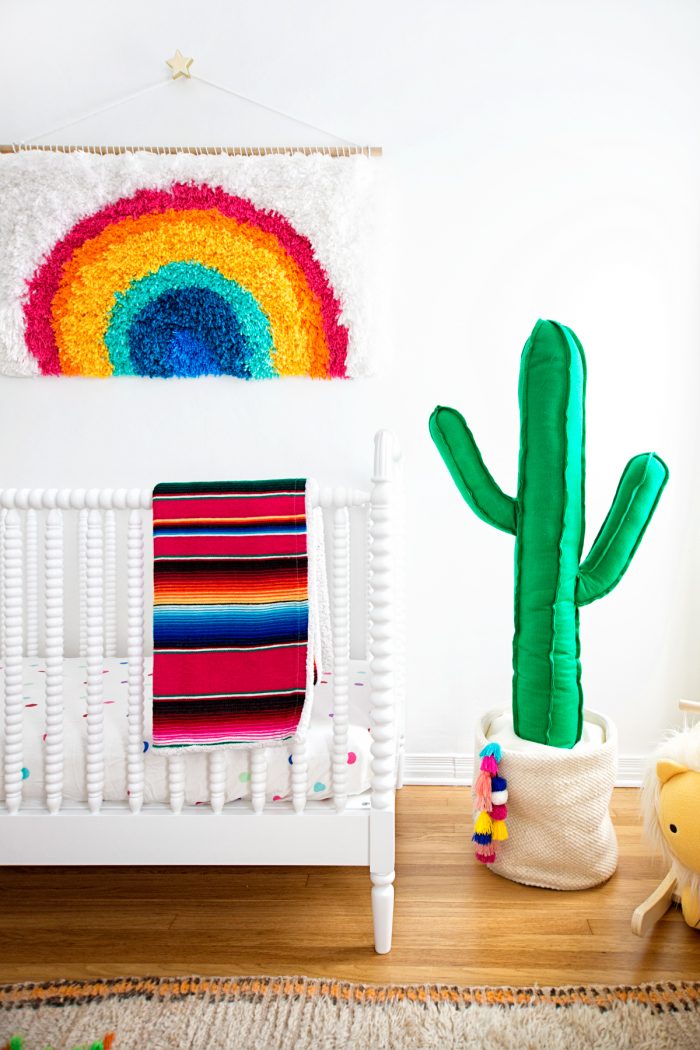 Craft Projects for Nurseries
Ahhhh and then comes my DIY projects!! This rainbow latch hook took me about six or seven months to complete. And honestly, it was totally worth it. It was definitely a labor of love but I really enjoyed having a project to work on gradually and I knew it would look SO GOOD above his crib. (Side note: we also got this organic mattress for him which we really love.)
You can learn how to make the rainbow latch hook here.
And right next to it, the giant five foot plush cactus I made!!!! This was another one that I just had a vision for and knew I had to make happen. I really love how it turned out!!
You can learn how to make the giant plush cactus here.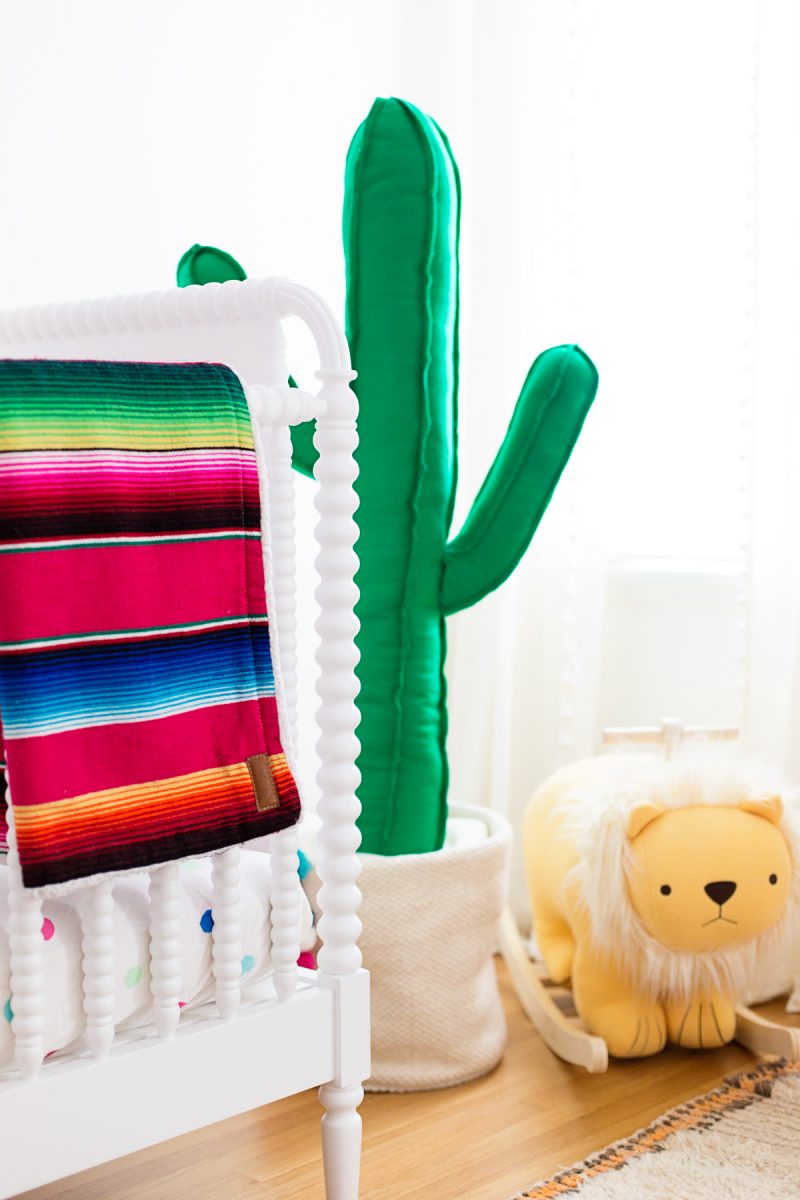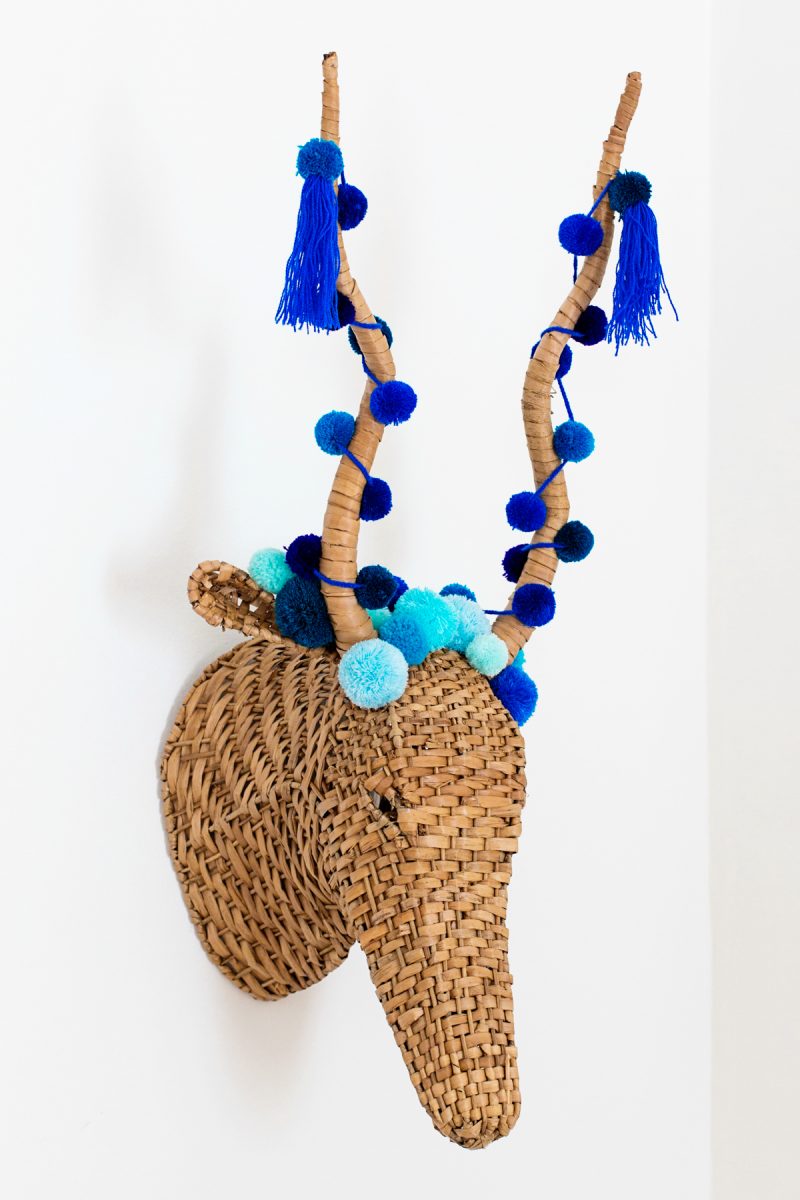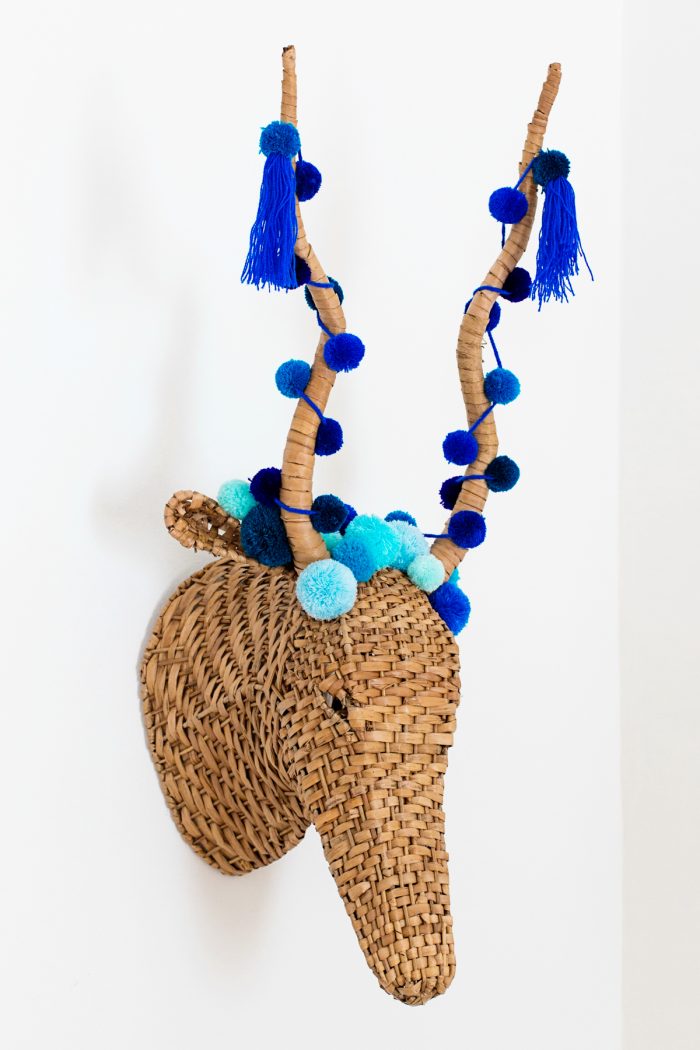 I chose this rattan animal head to tie in to some of the natural elements, like the changing basket, in the room. I added a little pom pom crown and garland to him for a pop of color!
Also, can we give a round of applause to this light fixture. ZOMG! It was the very first thing I bought for his room, actually. And what an improvement from that ceiling fan!!!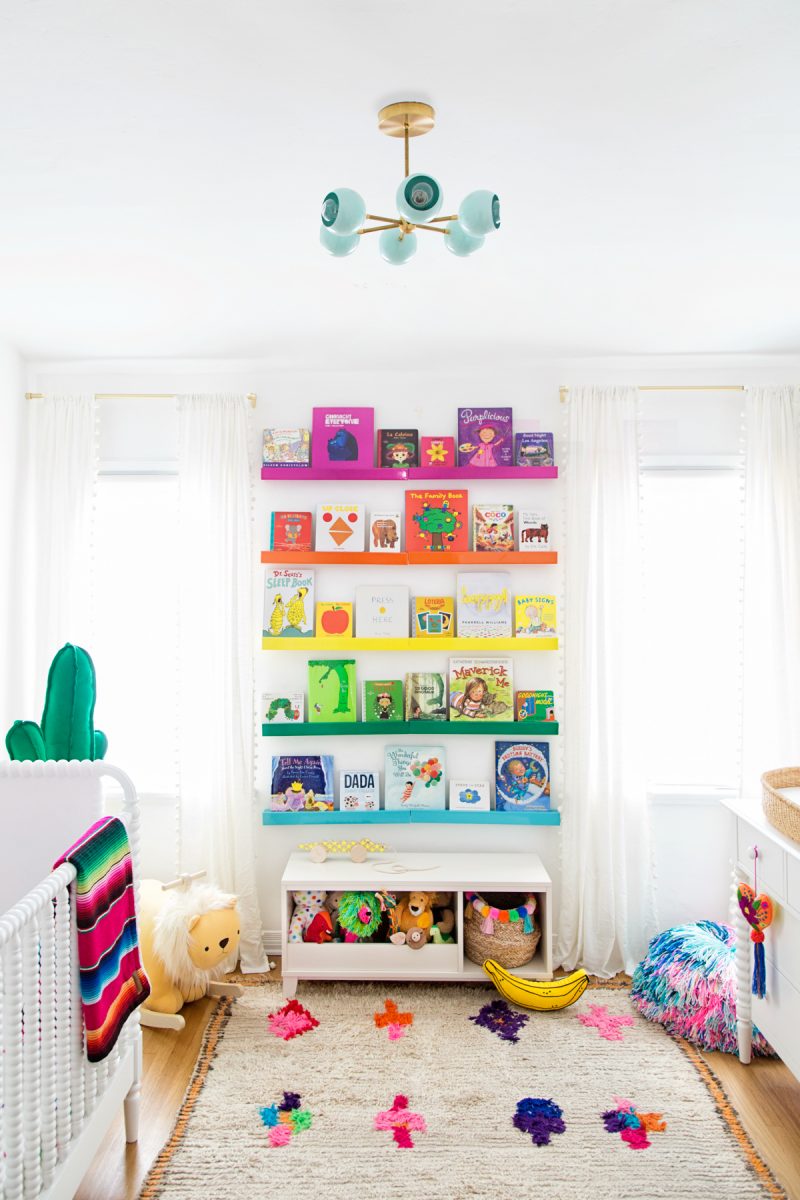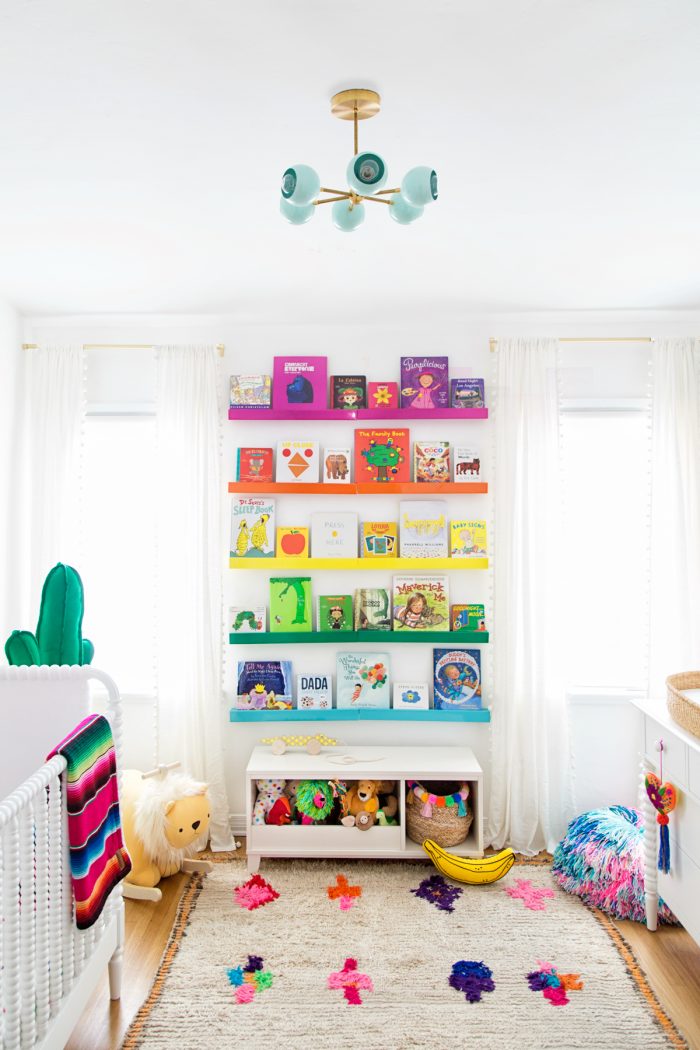 Rainbow Bookshelves
And last, my prized rainbow book shelves!!!!! We put these up back in… August!? And I've been dying to show you ever since!!! I get an insane amount of satisfaction lining up all his books by color every day. Ha! You can grab the whole rainbow of them here.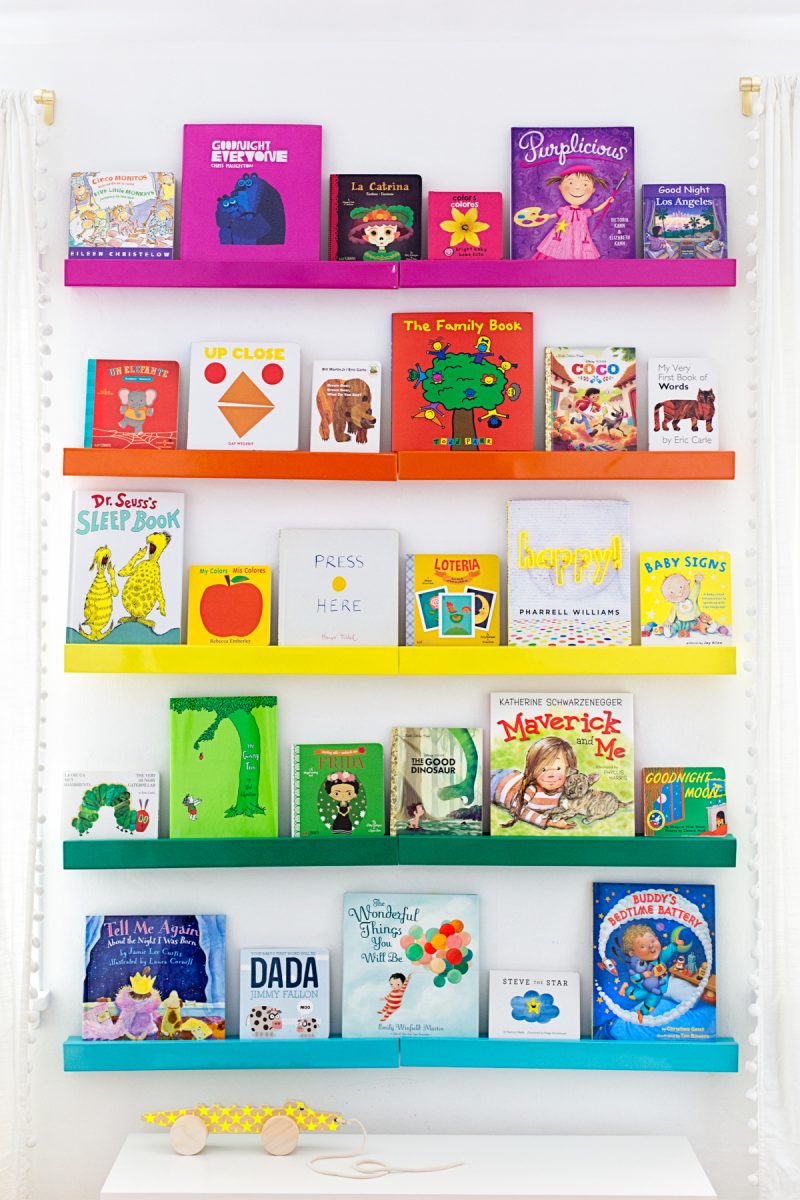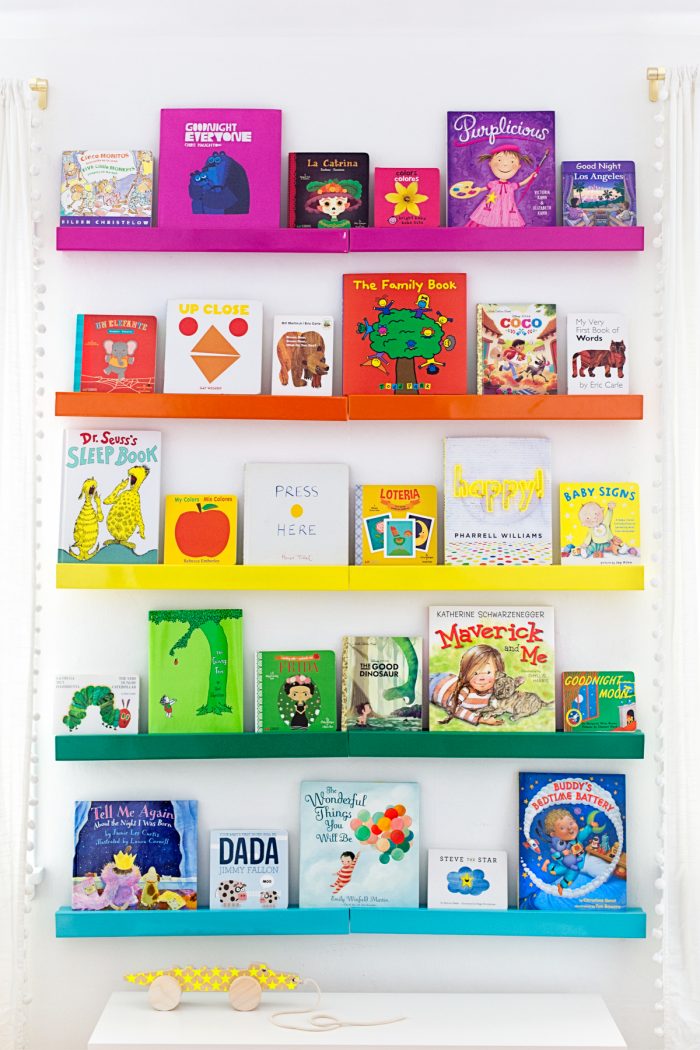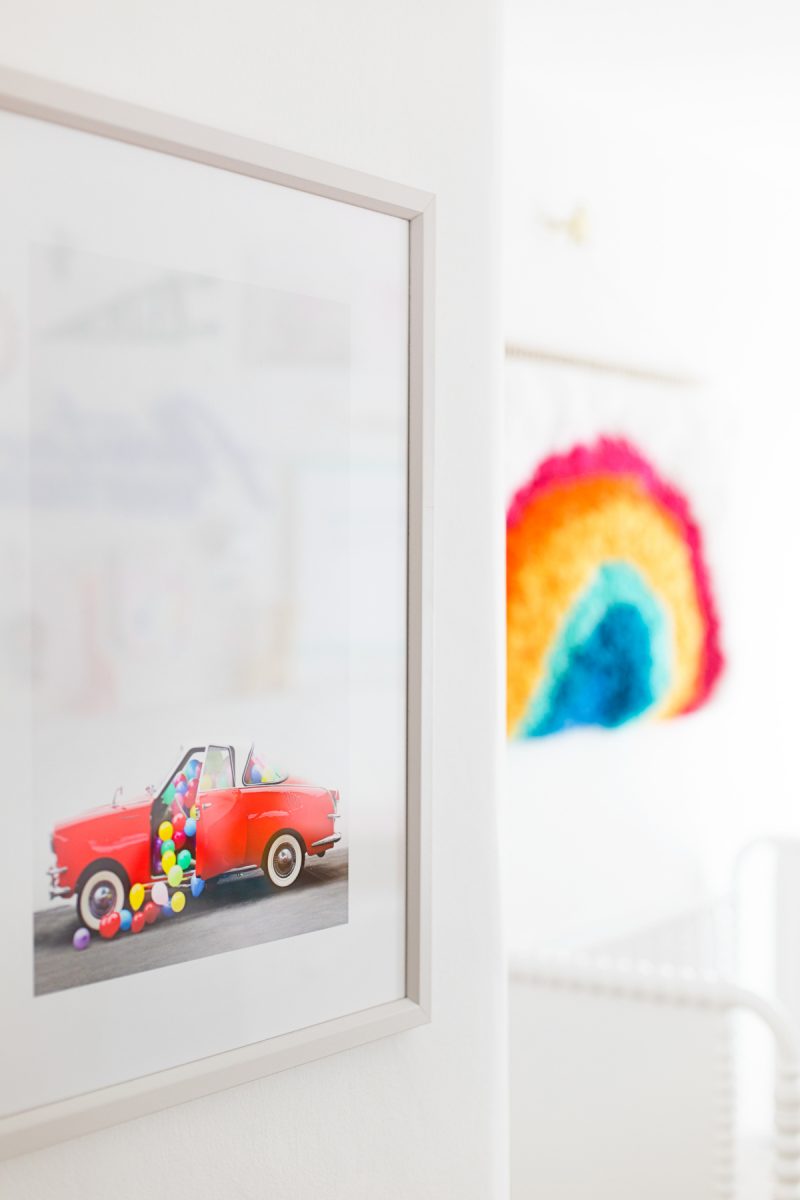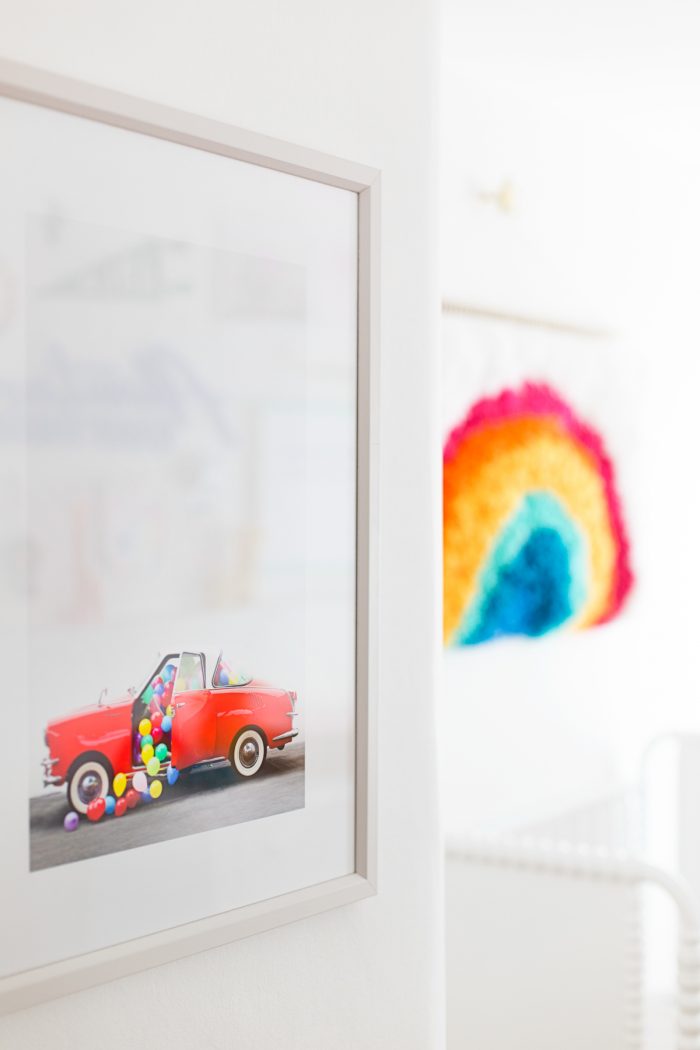 Of course, his room wouldn't be complete without one of his dad's photos in there! This balloon car one greets you right as you walk in his (yellow) door.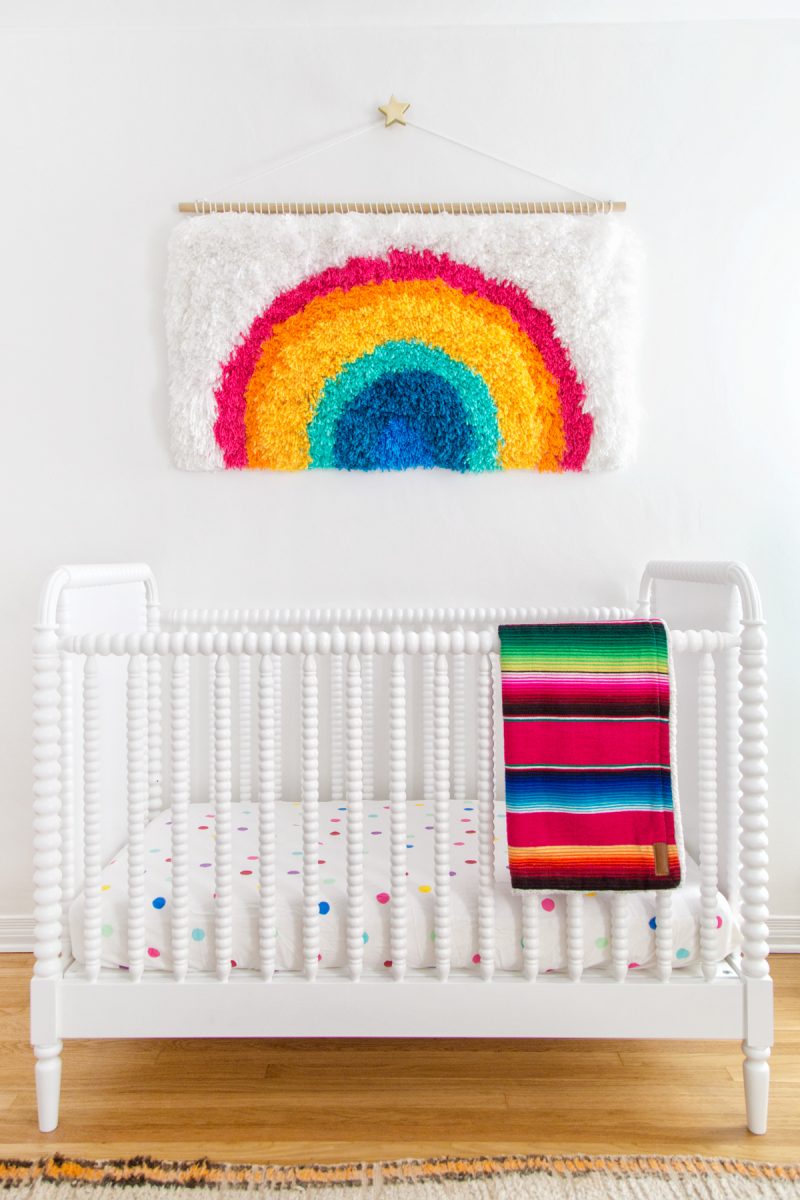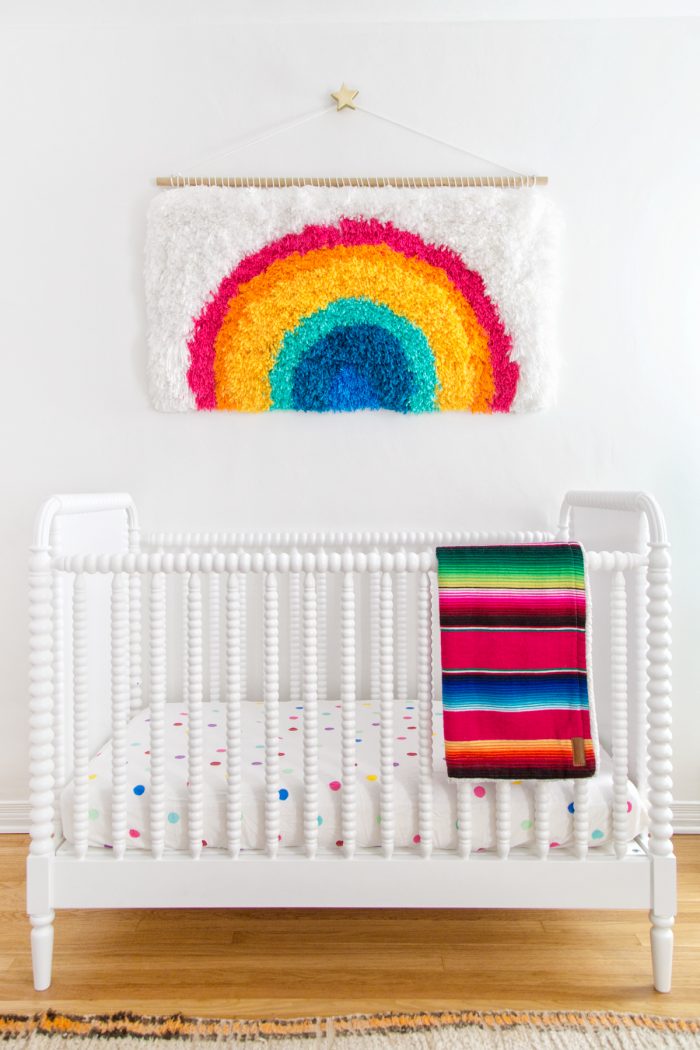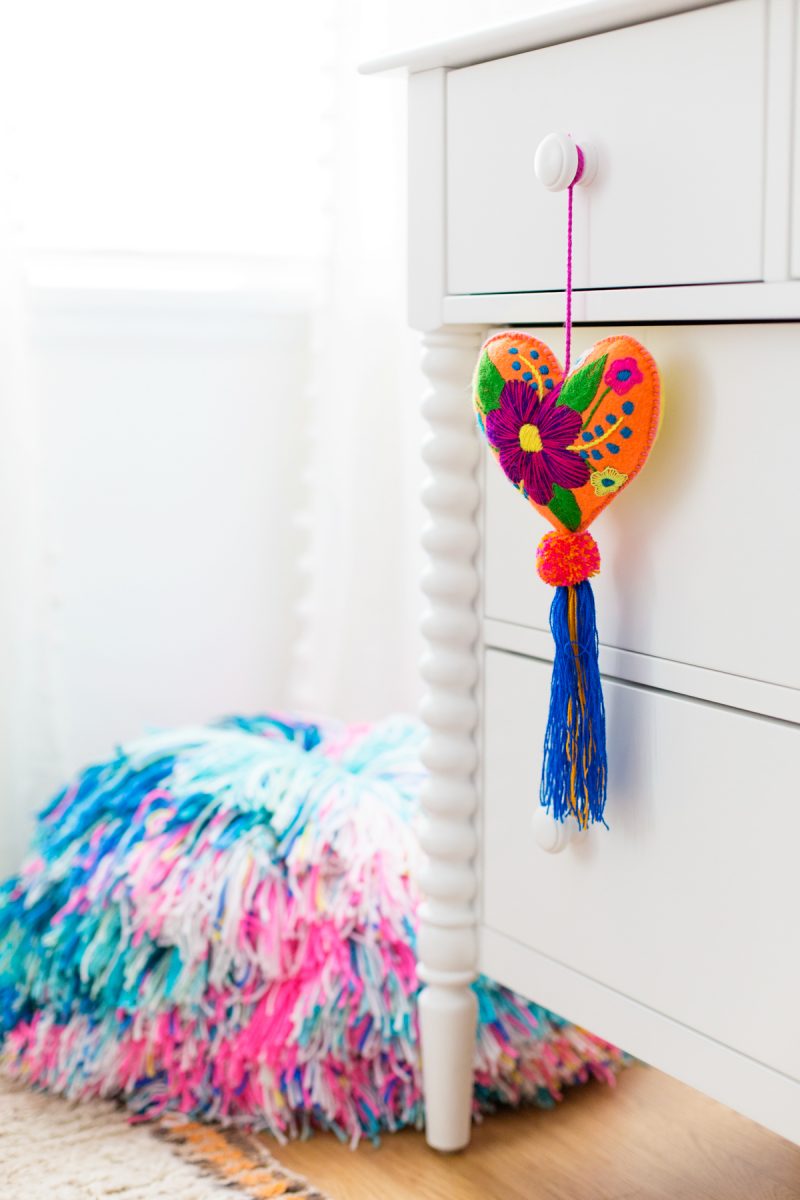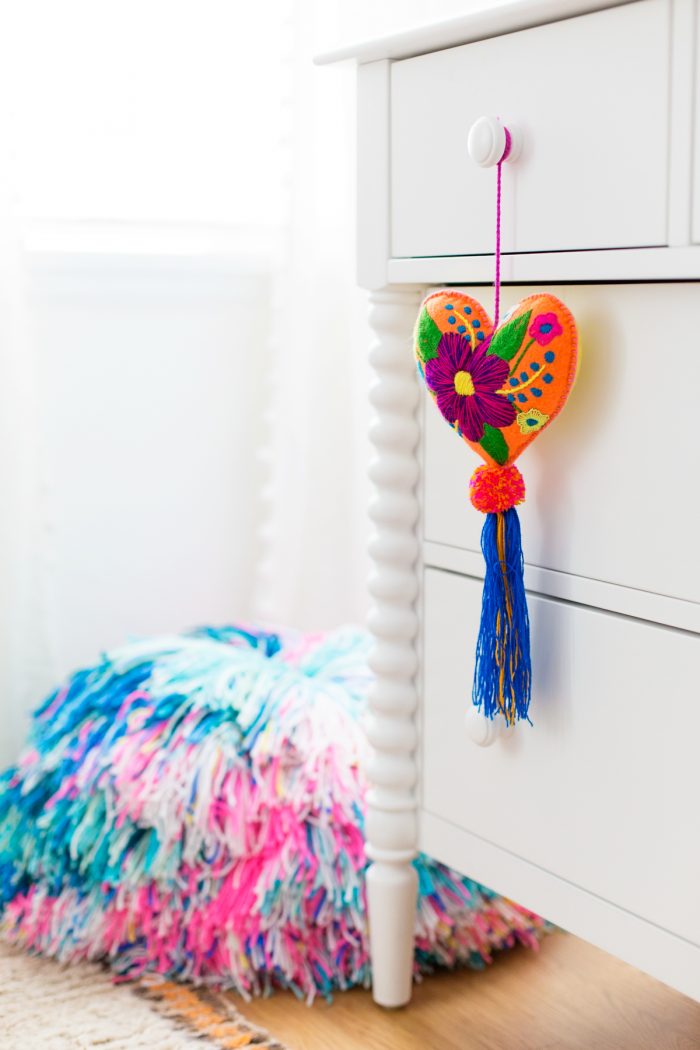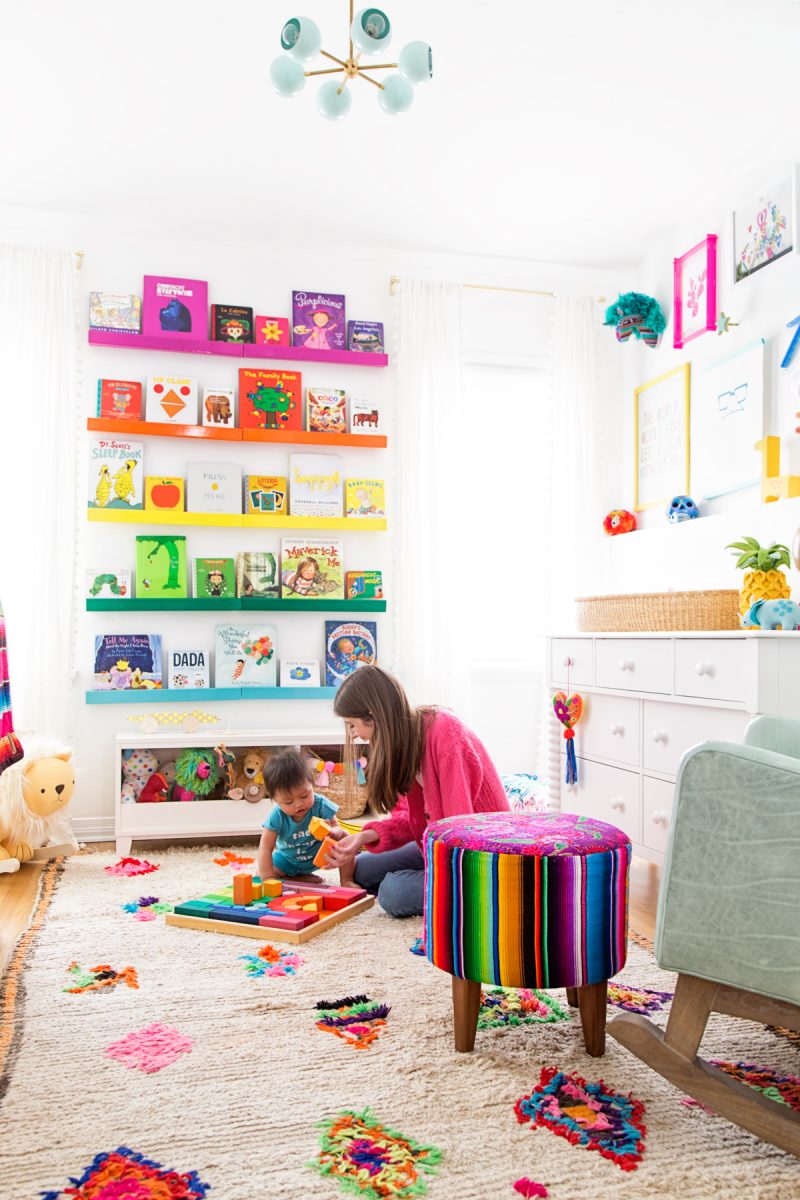 Photos by Jeff Mindell
And there you have it! I really poured my heart into every detail of this room. Every single piece in it has meaning. I love that so many items are handmade or designed by talented artists I know. I love that there are gifts from friends, near and far.
I love that Morocco, Australia, Mexico, Guatemala, and more are represented here. I love that there's pink and there's blue and there's every color in between because all colors are for everyone. I love that there are items that I worked for months to make, just for him.
I know I make a really big deal out of everything having to do with Arlo, but it's because everything means so, so much to me. He's such a gift and the least I could do is give him a happy, joyful place to grow up and learn in. Kiddo, thanks for making mamas dreams come true!
Below you will find a detailed source list. If there is not a source, unfortunately that means it was either a gift or I don't have a source for that item!
Main Furniture + Storage Piece Sources
Crib | Organic Mattress | Organic Mattress Pad
Dresser | Rocking Chair
Rainbow Book Shelves from Land of Nod (No longer avail, but similar here or make your own!)
Storage Bench | Colorful Stool
Art Sources
Gallery Wall
Plush Unicorn Head | Pink Cactus | Chris Uphues Hearts*
Arlo Flag (DIY'd by me) | Abstract Art | Pineapple Print
Rainbow Print* | Paint Roller Print | Family Cross Stitch*
Neon Heart | Huichol Yarn Painting | VW Van
"Adventure" Neon Sign* | Acrylic Frames* | Acrylic Poster Hangers*
Star Wall Hook | Yellow Wall Hook | Cactus Wall Hook (No Longer Avail, Similar)
Other Art
Balloon Car Print | Bright Side Banner
Decor Items
Cactus Pillow | Rainbow Pillow | Banana Pillow
"Like You This Much" Pillow | Ceiling Light Fixture* | Rug*
Giant Yarn Pom* | Changing Basket* | Serape Blanket*
Polka Dot Sheet | Pom Pom Garlands | Tassel Heart
Blinds | Curtain Rods | Pom Pom Curtains
Toys
Lion Rocking Horse | Rainbow Blocks
Rainbow Stacking Toy | Alligator Pull Toy
Dinosaur Stuffed Animals | Neon Wool Hedgehog
Wool Elephant | Neon Giraffe*
Outfits
Arlo: "The Future Is Me" Romper
Me: Pink Cardigan | Jeans
Paint Colors
Walls: Dunn Edwards "White"*
Door: Dunn Edwards "Highlighter"*
This post was created in partnership with The Land of Nod. All content and opinions are that of my own! Thank you for supporting the sponsors that keep the Studio DIY party going! Read more about my editorial policies here.
SaveSave