Halloween Bingo is a fun game for all ages! It's perfect for class parties, costume parties, and for kids with food allergies who can't always easily participate in traditional trick-or-treating!
This free printable version is easy to print out and set up for any party or Halloween event!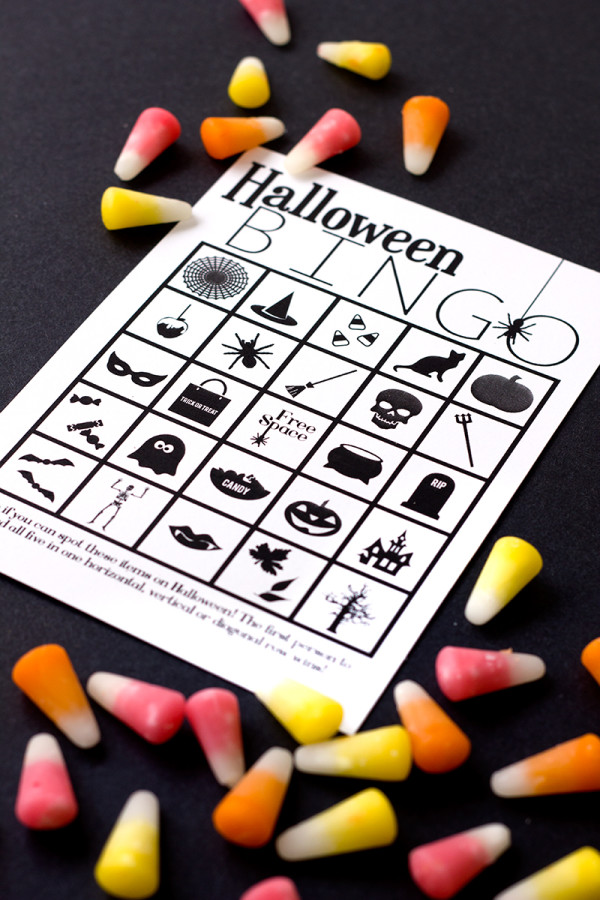 Kids can fill up their bingo board and get a special prize of their own, an extra bonus treat or an allergy safe one! What do you think?
Plus, we're sharing tons of other great ways to use this printable, too. Like during your next family movie night!
No matter what your reason is for playing this festive, spooky Bingo.. I can guarantee it'll be a blast for everyone!
Supplies Needed
Here's what you'll need to play Halloween Bingo:
Computer paper or cardstock
Printer – any inkjet or laser printer works!
Scissors
Candy corn, Halloween stickers or other "markers" to mark off the boards!
How To Make Halloween Bingo Cards
Print the bingo cards on white computer paper or cardstock. Cut them out using the guidelines on the printable.
Click here to download the free printable Halloween Bingo!
There are ten different free printable cards, so all the kids can play! Have more than 10 kids at your party or in your class? Pair them up or put them in groups to play!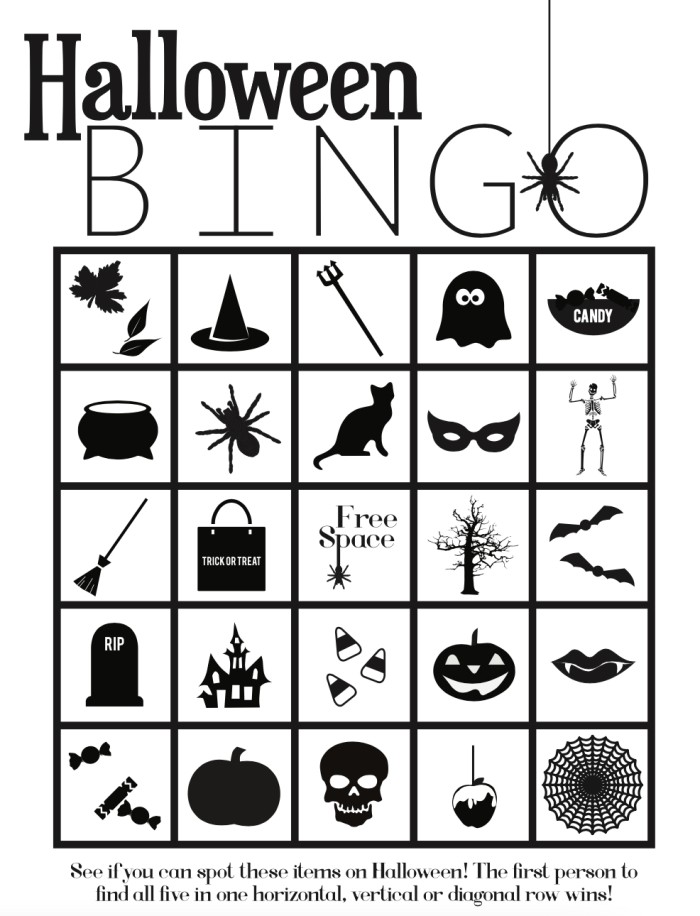 How To Play Bingo
Cut up one of the cards (or print an extra one!) to use as your draw pile.
Give each child a Bingo card along with candy, Halloween stickers or other markers. Candy corn or candy pumpkins make especially fun markers for this game!
Place the cut up icons in a bowl or plastic jack-o-lantern. Draw one at a time, showing the players what you drew so they can mark it off on their card.
First person to get five Halloween icons in a row, wins!
Hand out prizes like candy, a favorite Halloween book, caramel apples or pumpkins to the winners!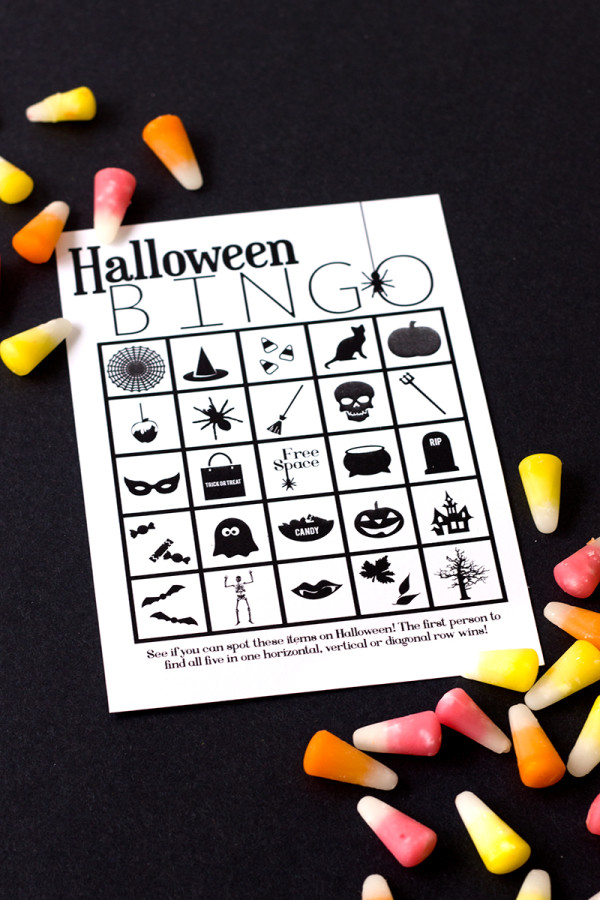 Other Ways to Use Halloween Bingo Cards
There are a few fun ways to play this Halloween bingo game:
While trick-or-treating: While out trick or treating and place a sticker over each item you see in everyone's decorations! Whoever marks five in a row first, wins!
While reading a Halloween book: Have your kids look for each item on the card in the book and place a sticker on it when they find it!
For a Halloween movie night: See who can be the first to get Bingo by spotting the icons in your favorite Halloween movie. Movie night has never been more fun!
As a classroom activity: Teachers, play this fun game with your class. A great way for them to practice counting and get excited for Halloween, too. Have them color each square if you don't have stickers or candy to use!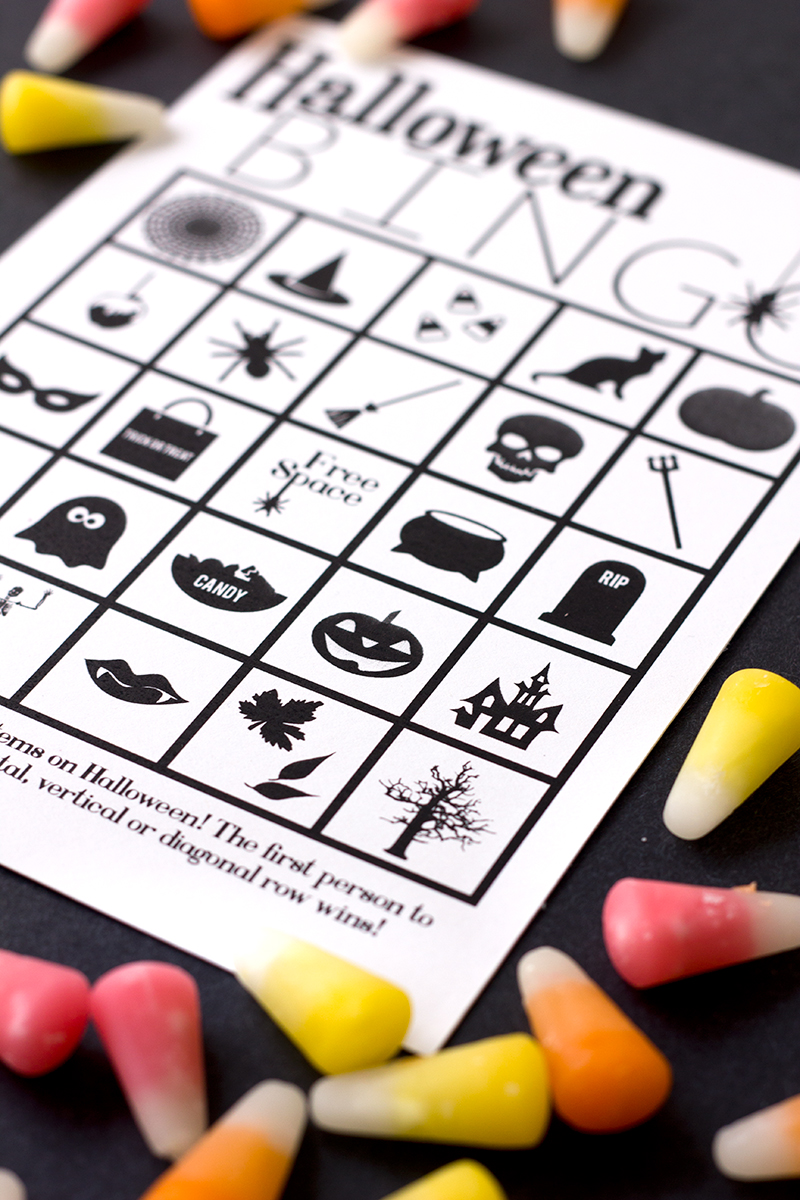 All Photos by Studio DIY
More Halloween Activities To Try!
Love Halloween Bingo? Try these other fun Halloween activities at your next Halloween party, or add them to your Halloween Bucket List to do with family at home!
Use this printable to add some excitement to an October night with your family, or at a Halloween event you're throwing, to get everyone in a festive, spooky mood! Happy Halloween!