Yesterday you saw what we wore to our Haunted Housewarming, and now I'm sharing the party itself! With your help, we selected a theme, a DIY project, a recipe and a favor… and it all came to life right here! I'll delve more into the DIY details tomorrow (Hey, I gotta keep you coming back for more, right?!) but for now, you get to see every last corner of the apartment in all it's spooky glory. Starting, of course, with the desserts.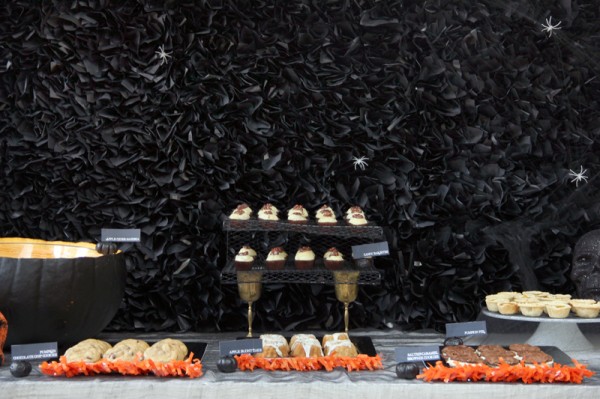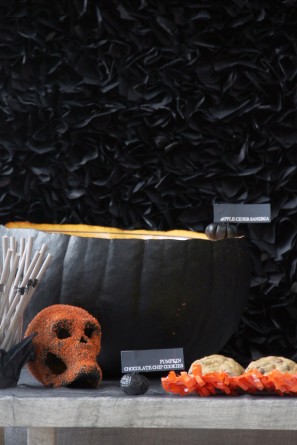 I've been obsessed with this DIY backdrop from Jenny ever since she posted it, and the texture was a perfect background for the mostly black dessert bar. I raided the 99cent Store for every plate you see on this table, and yes, that is a real pumpkin (sprayed black!) as our sangria bowl.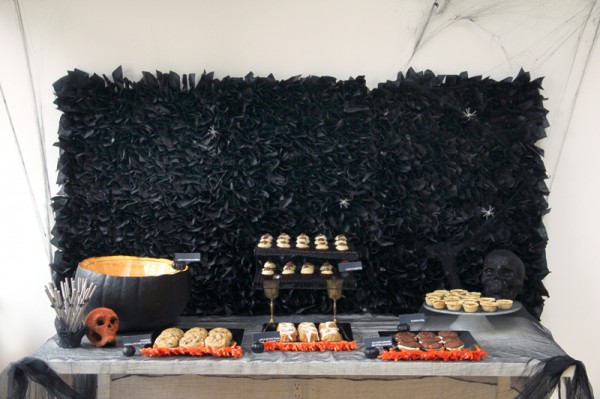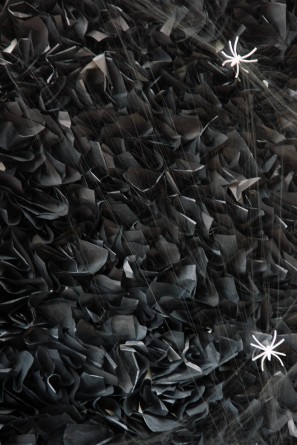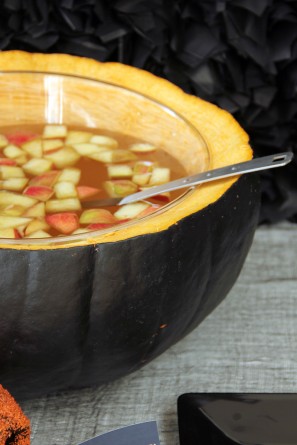 We limited the party to "Sips & Sweets" and I kept everything in a fall flavor palate, and very simple since work obligations cut me short on time. Here's the full menu:
Apple Cider Sangria from How Sweet It Is
Pumpkin Chocolate Chip Cookies (also) from How Sweet It Is (psst, her pumpkin butter trick… AWESOME!)
Candy Bar Bites from Reluctant Entertainer (More on this amazingness soon!)
Salted Caramel Brownie Sandwiches from Baker's Royale
Mini Apple Bundt Cakes with Brown-Butter Vanilla Glaze from A Farmgirl's Dabbles
Mini Pumpkin Pies from Bakerella (A slight adaptation to the winning pumpkin recipe, since I couldn't find the mini tart shells!)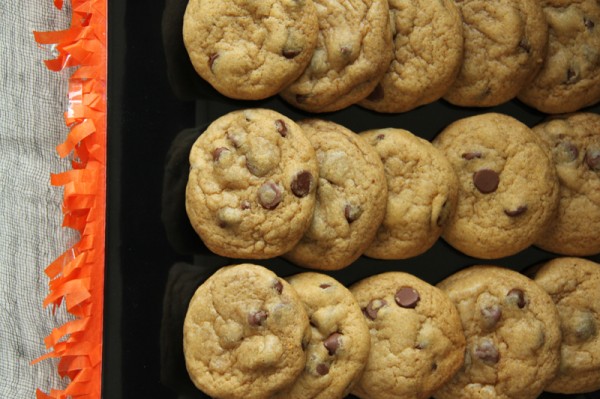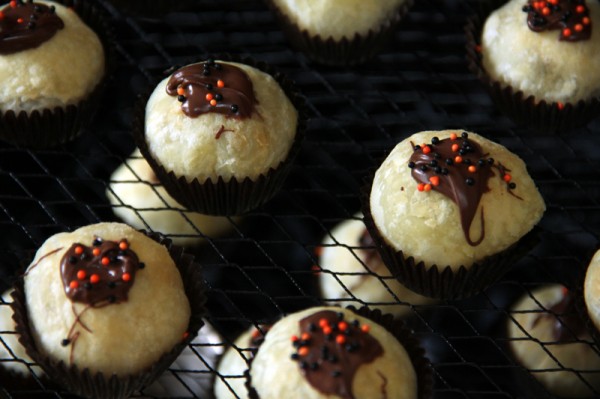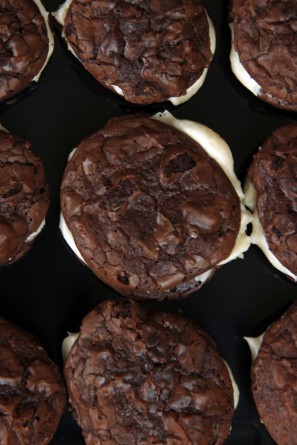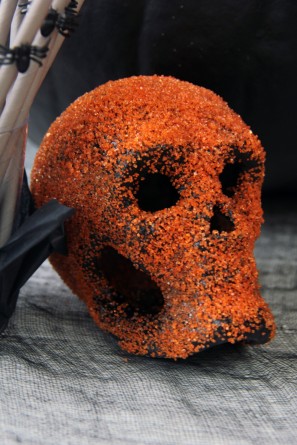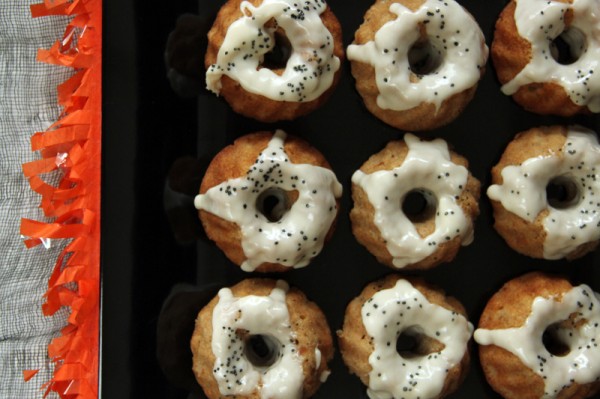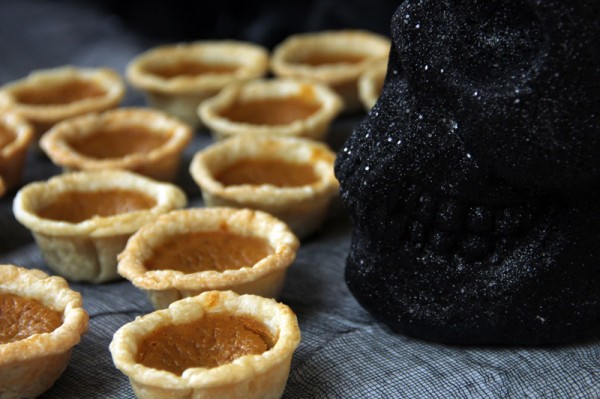 Scroll back up for a minute, see that orange skull? He's covered in sprinkles! Well, he's covered in sugar because I couldn't find solid orange sprinkles I liked. But he looks pretty snazzy nonetheless, doesn't he?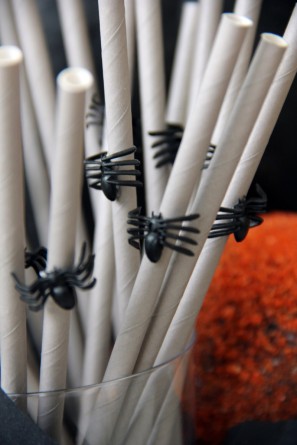 I attached mini spiders to paper straws with a glue dot and I printed up some quick dessert labels. See those little baby pumpkins? I plucked them off one of those pumpkin trees they sell at Trader Joe's and the farmer's market and sprayed them black!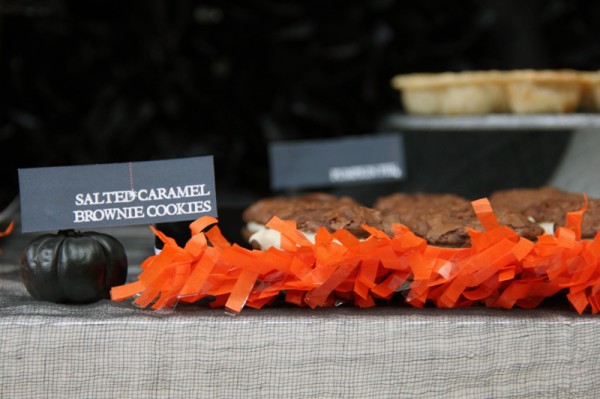 A little something something to liven up the stairs!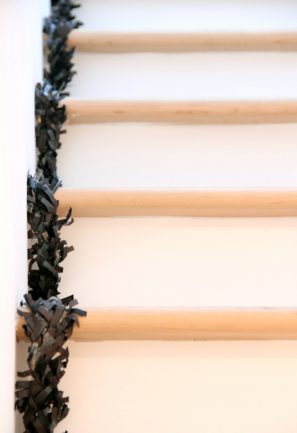 And my spider web balloons (Like I said, more coming tomorrow on the DIY!), which got a little cloudy due to our ridiculous weather changes, but still looked pretty awesome if you ask me.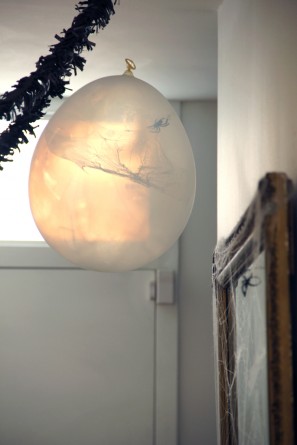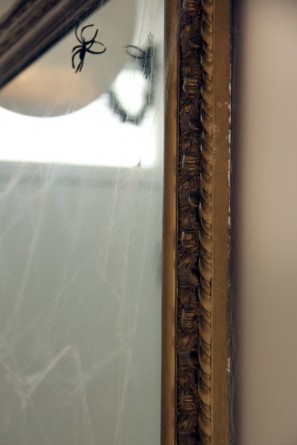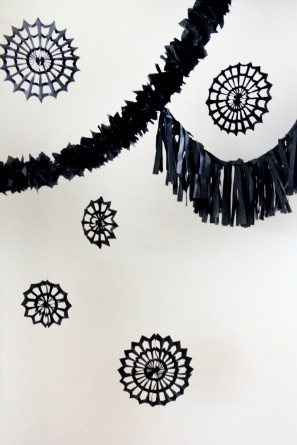 For the photo booth backdrop I hung a few garlands and some of my paper spiderwebs with fishing line. The bat garland above hung out in the hallway (and is still hanging out in the hallway, along with all the other decorations we're keeping up!)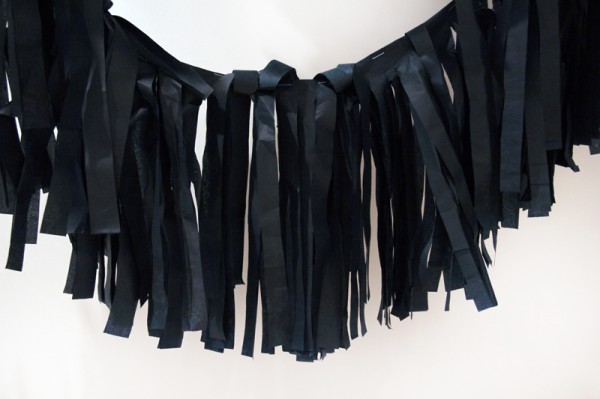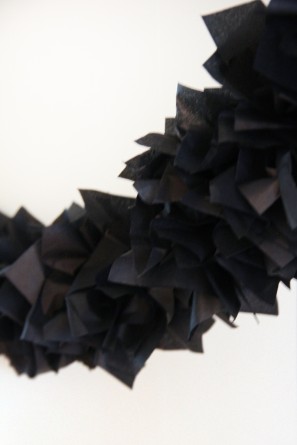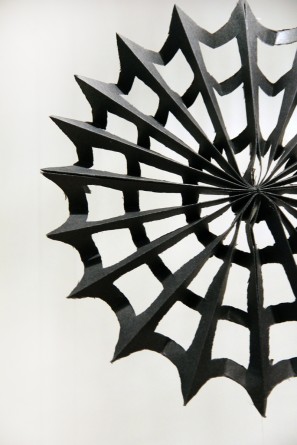 And for everyone to take home, boxes full of leftover treats for breakfast (duh!) and the infamous salted caramel apples. Now let me tell you, I had never attempted caramel apples before, and I don't know if I will again. Those guys are hard to work with! Packaging up was certainly fun but making them was a definite challenge.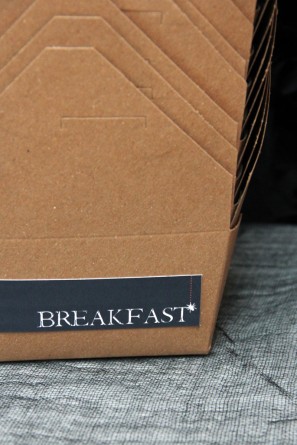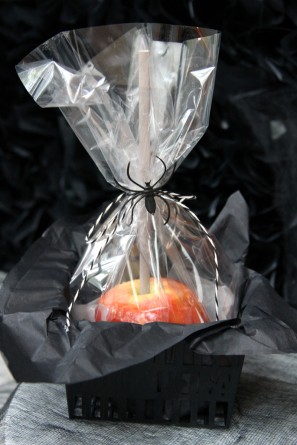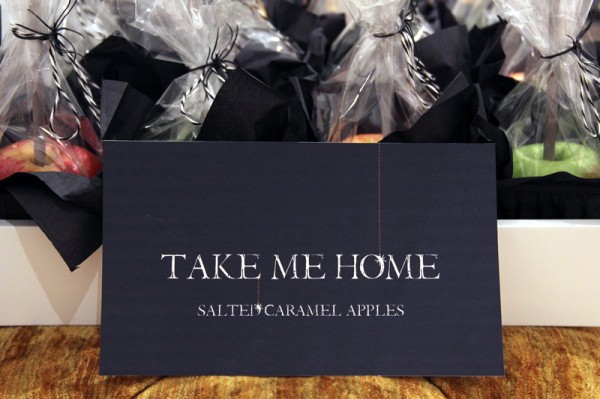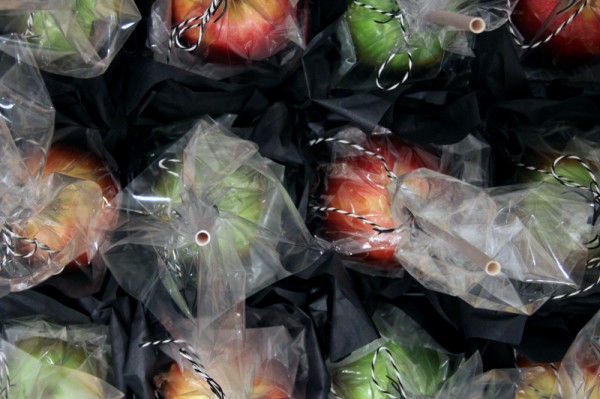 I'm very proud to say that Jeff put together the entire deck. I really picked a winner, didn't I!? He hung black gauze from the umbrella, strung up a bunch of lights (I may be more in love with the lights than I am him… kidding!!!) and took the rest of the mini pumpkin trees that weren't sacrificed to spray paint to jazz up our table. Doesn't it look great!?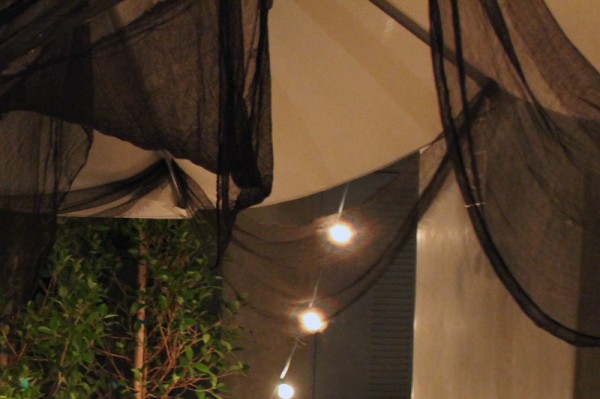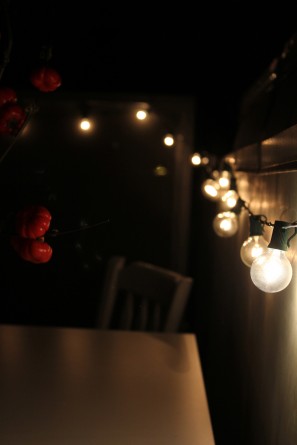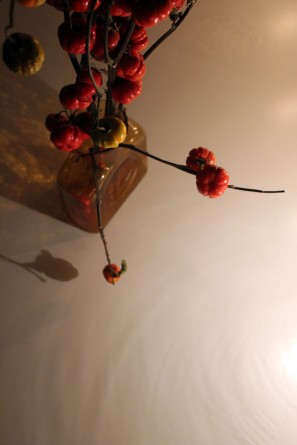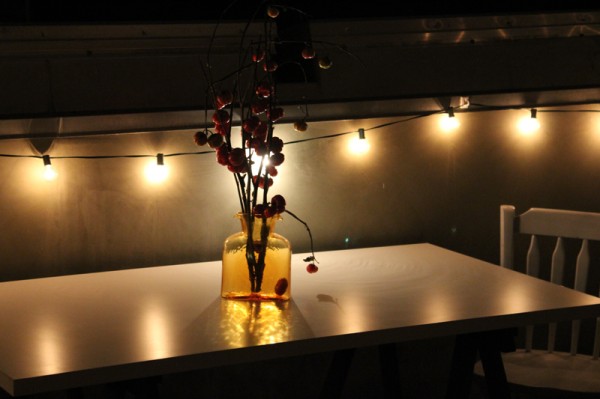 And that, my friends, is a wrap! How did I do bringing our vision to life? I can't thank you all enough for participating in this interactive party planning experience, it was a blast to take on your challenges and not be able to change my mind when I ran into little bumps along the DIY road! You can get all the intimate details of my DIYs tomorrow but I have a feeling this hefty Halloween dose is enough to keep you satisfied today!
Check out more from our Haunted Housewarming or get your Halloween DIY on here!