Our costumes!! I'm very excited to finally share what Jeff and I were for the big Halloween party (check out our guests' costumes here!), even if it took me up until the week before to settle on an idea! This year, I decided to keep the French theme going after making the French macaron costume. Jeff wanted to be a "person" and I wanted to be a "thing" and look at this compromise! He was a French Chef and I was his creation… a croquembouche! If you have no idea what that is (Don't worry, most people didn't!), you can check them out here. It's a French wedding cake, and it was a blast to DIY! More info on how we pulled it off below! (pssst.. there's a hilarious non-French surprise at the bottom of this post!)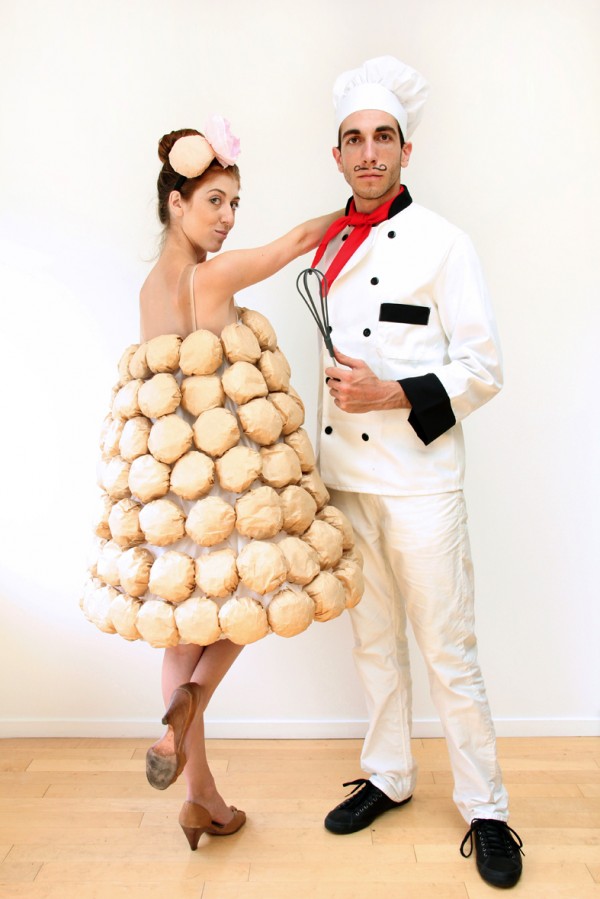 For Jeff's costume, we purchased an inexpensive chef's jacket at a local restaurant supply store and picked up the hat at our local party store. I had some red fabric that we tied around his neck and we drew a classic mustache with face paint.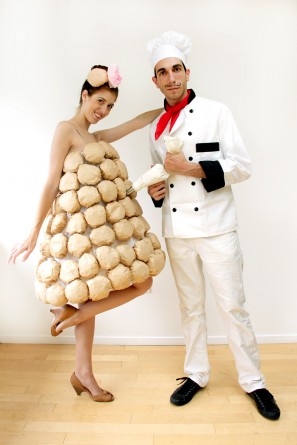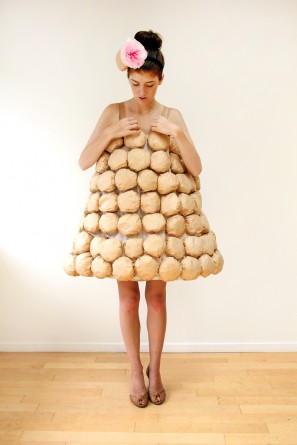 And for my costume! I ordered this hoop skirt on Amazon
and chopped off the bottom layer. I picked up a pack of those brown-colored coffee filters and bought white tissue paper in bulk. I made the "puffs" by balling up a sheet of tissue paper, wrapping it in a coffee filter and hot gluing it in rows to the costume. I think it took about 100 overall. Then I safety pinned ribbon as straps. For the headpiece, I glued another puff along with a paper flower to a headband. I put my hair in a sock-bun and wore a nude dress underneath and wedges. Voila! Sure, I could have added ribbon or string for the caramel strands that bind the croquembouche together, but I found it looked to cluttered when I tried. I'm so happy with how it turned out!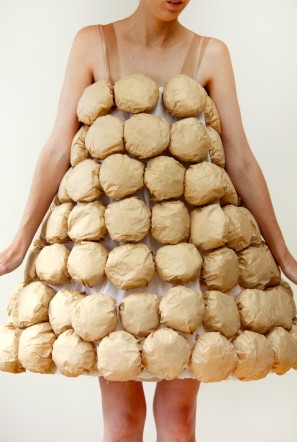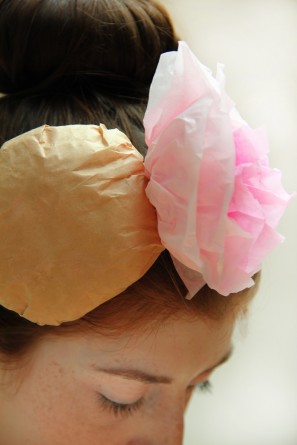 And that is what our little family paraded around the party as this Halloween! In case I haven't already mentioned, I love dressing up for Halloween! In fact, I already have a list going of costume possibilities for next year. Dog included.
Check out more from our Haunted Housewarming or get your Halloween DIY on here!