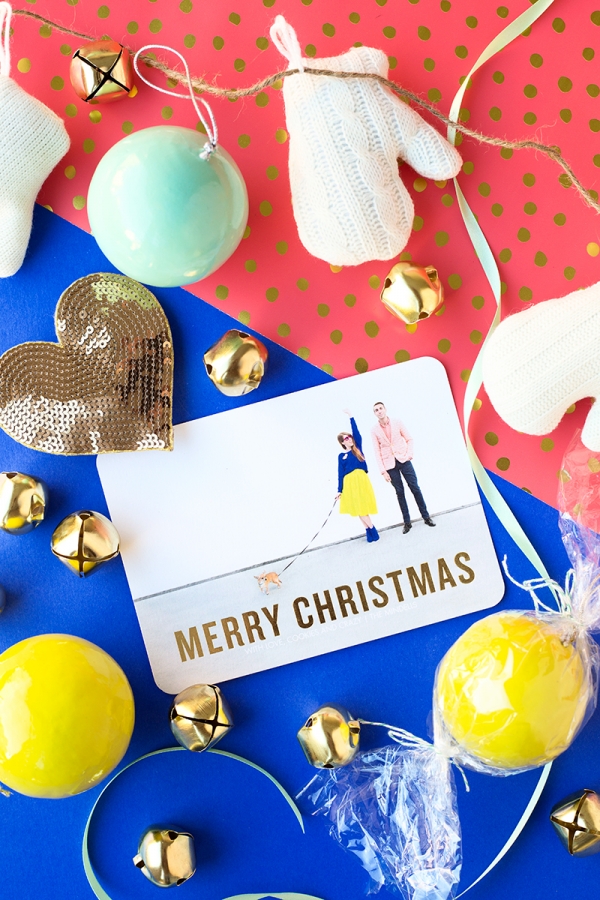 Jeff and I are pretty BIG on traditions. As newly-ish-weds, we've been pretty adamant about starting some new traditions as well as bringing back some of our childhood traditions, which we're pretty excited to share with our future kiddos someday! If you've been following for awhile, you know that a holiday card tradition is something we started a few years before we were even married. This year, we teamed up with Shutterfly to design our cards and share a little bit about some holiday traditions we're starting.. and keeping up! I'd love to hear yours too!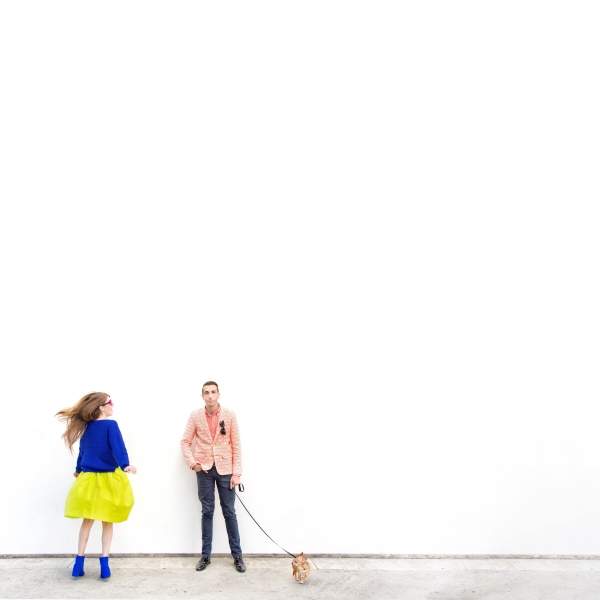 Post-Thanksgiving Grilled Cheese
Every year my mom makes her now-famous (to us) sweet potato casserole. Jeff was immediately hooked the first time he tried it and now that we aren't able to go back to the East Coast every Thanksgiving, I've taken to continuing the tradition myself! Except we added a new twist. Since the recipe makes two casseroles (I'm one of 5 kids, remember!), we make both and have one on Thanksgiving (or bring it to Friendsgiving) and save the other for… wait for it… sweet potato casserole grilled cheese!!! It's a recipe I found here and fell HEAD over heels for! We eat it almost every day for like a week after Turkey Day. If I'm being honest, I even look forward to that more than actually Thanksgiving. Shhhh!
Christmas Cookies + Candies
Luckily, we both come from families that like their Christmas cookies! AYYY-O! Jeff's uncle makes almond cookies every year, and this year I'm going to try making a batch of my own! They are Jeff's absolute favorite. My mom always makes a big platter of cookies but she also makes chocolate peanut butter crispy candies that she distributes to basically everyone she knows at the holidays (the garbage men, the mailman, neighbors, friends, etc!). That's something I started doing- giving out bags of candies to all the maintenance guys at the studio building, the parking attendants, etc. Everyone LOVEESSS them, and it's fun to hand out and say thanks to those who have helped us along the way each year!
Plan A Trip!
We had the trip of a lifetime when we took our Honeymoon in June to Greece and Italy and we were bitten by the travel bug for SURE! So we vowed that instead of any sort of "big" gift at Christmas, we'd plan a trip instead! Of course, it won't always be a lavish adventure to Europe, but even if it's just a fun trip to a new US city we haven't been to, we are excited to spend the holidays dreaming and scheming for where we'll head next.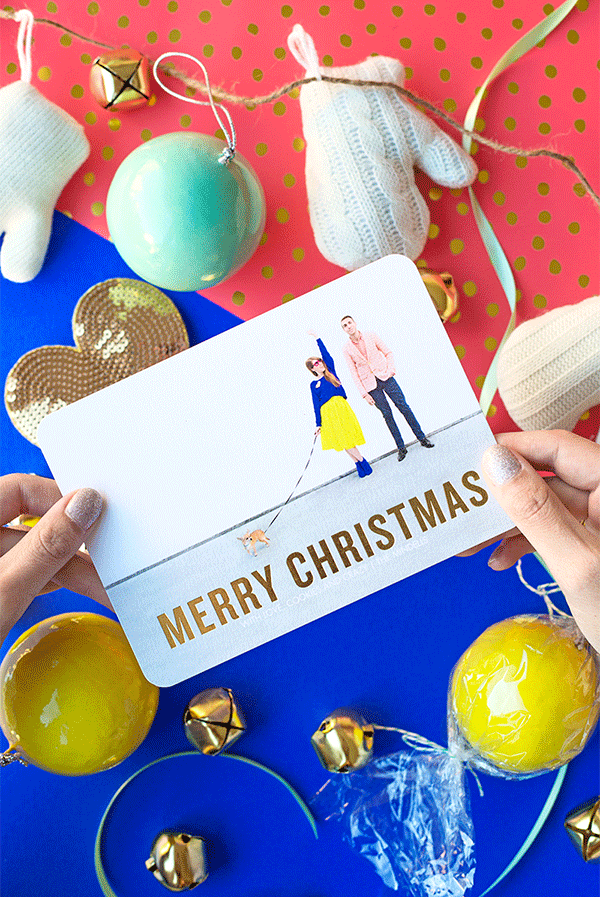 Holiday Cards
We started our holiday card tradition when we moved to Los Angeles. It's the perfect way of sending a quick update to our family and friends that live all over the country. We've taken it up a notch by doing a fun little photo shoot each year and we have a blast doing it! We always keep it pretty simple, but like to make sure we've donned coordinated outfits and we somehow force Bella to be involved, of course. Since we had travel on the brain when we were picking out our outfits we pulled a little inspiration from all the crazy awesome colors we saw on our honeymoon! The blue of Greece and all the bright doors and umbrellas made a great unexpected color palette for our holiday cards. We aren't the typical "red and green" kinda people anyway!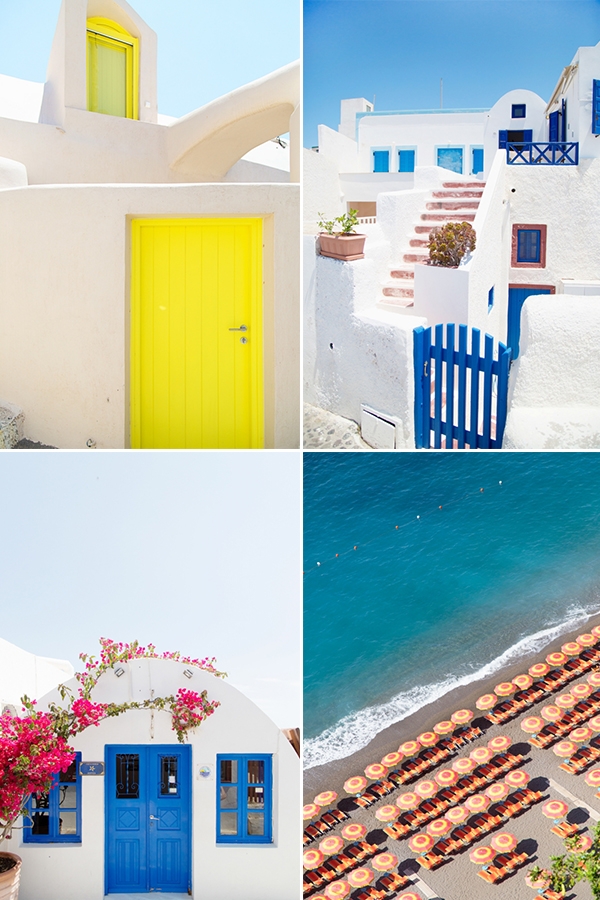 Wait for it…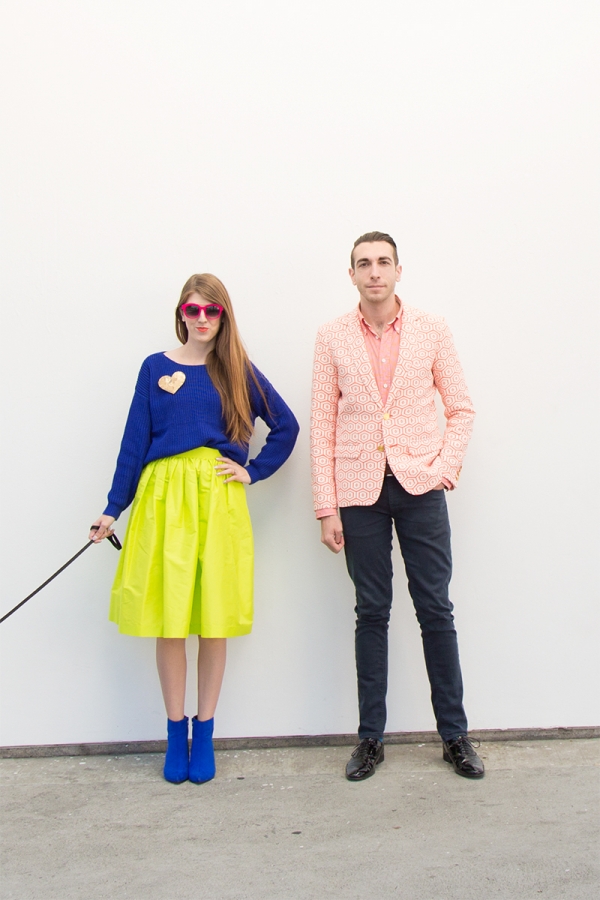 BAM! How is THAT for pulling inspiration!? You know I love a theme you guys!!!! Now, if only I could transport myself back to Greece for the holidays…
I know we're talking about traditions here, but I wanted to share one quick tip if you're working on your first card photo as newlyweds, and that is to take a look at some card options before you take the photo. We took a look a Shutterfly's card selection and loved their gold foil options. Jeff and I usually like a pretty clean and simple card, so we loved the "Modern Christmas" option that just used a clean font with that schnazy gold foil! Knowing the layout of this car in advance helped us for two reasons: First, we knew we needed a horizontal photo. Second, we knew that we needed to leave the bottom third of the card empty. If we did an up close shot, for example, we would have been mostly covered by the words and you KNOW that your Mom wants to see your face unobstructed and shining in all it's glory, you guys.
Luckily, Shutterfly has a TON of awesome options so if you already have your photo, you can definitely find a design to fit it in with! But if you're a picky planner like me, knowing your options beforehand is a stress reliever!
Yearly Ornaments
Jeff and my parents both sent us some of our favorite childhood ornaments for our tree, but we've also started a new ornament tradition! Every year we each pick out and gift the other with a new ornament! We figured this would be a great way to build our own collection of ornaments through the years that we can then pass down to our kids for their tree someday.
Christmas Morning Brunch
We still bounce around a bit for Christmas, ending up with different families and in different states, but when we did get the chance to host Christmas while we were engaged, we made sure to keep up the Lanza family tradition of Christmas morning brunch. It's simple, but it's literally my favorite meal of the year: chedder egg bake, coffee cake, bagels (We're from Jersey, you guys! Gotta have bagels!) and mimosas.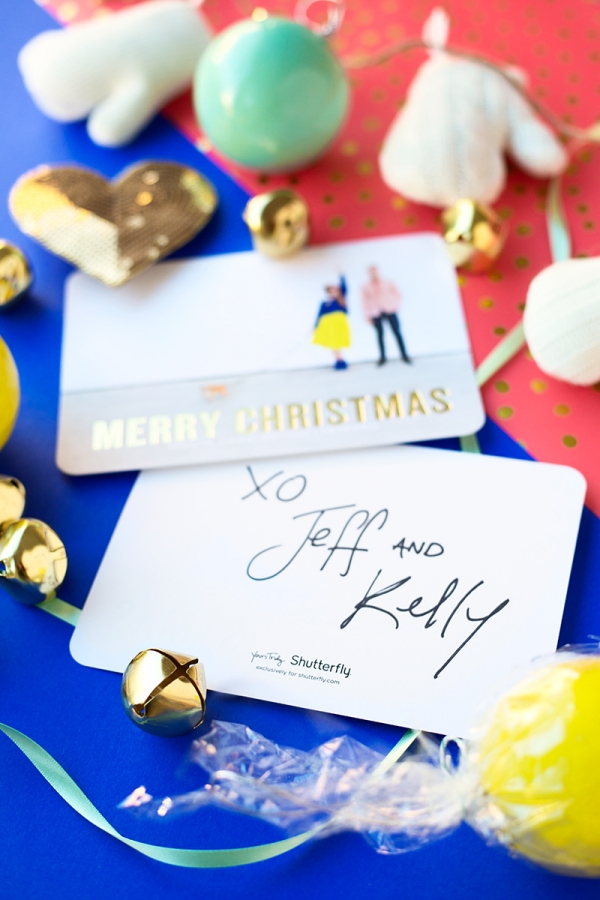 Photos by Jeff Mindell | Card by Shutterfly
Now I wanna know, what are some holiday traditions you started with your significant other? Or friends and roommates even! Did you start new traditions or bring back childhood ones? Traditions really are one of my favorite topics. Share yours in the comments below!!
Check out all of Shutterfly's holiday card options here, and snag a free card by entering "CARD4U" at checkout!
This post is sponsored by Shutterfly.