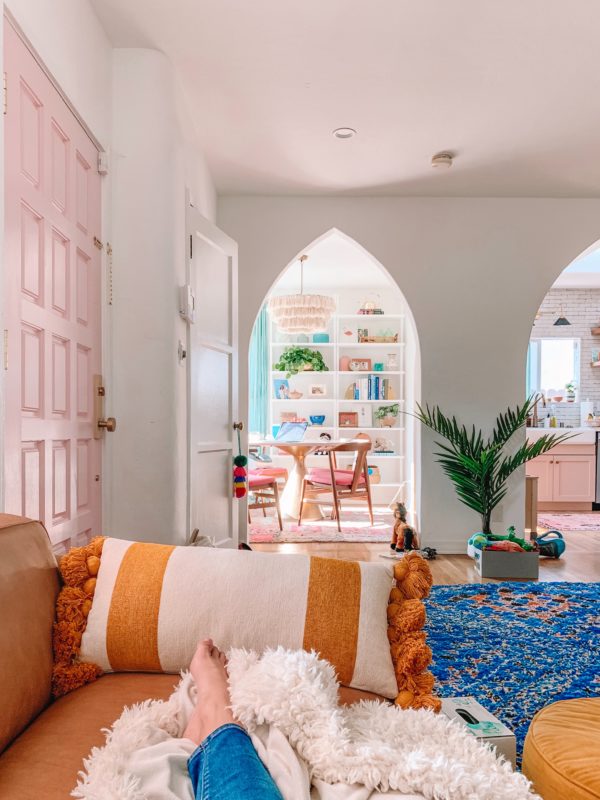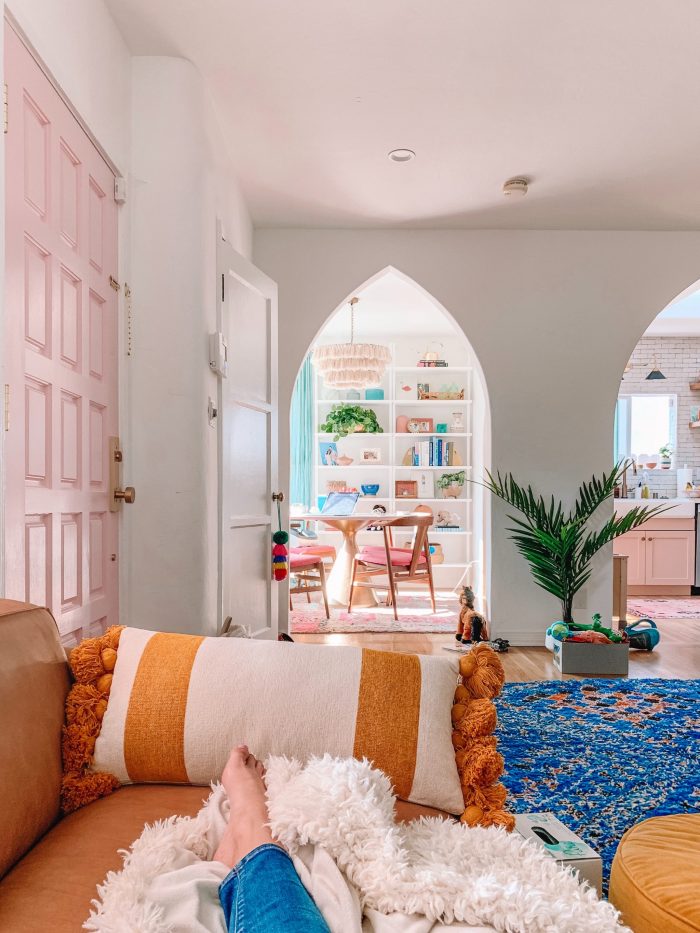 I almost let June pass me by without a rug round up! PHEW! Glad I caught that. 😉 I know that last time I totally lied and ended up buying one of the rugs from the post. To be fair! I gave you all 24 hours before I made the purchase! But ok, ok… this time I *promise* not to do that. Ha! Here's some amazing gems that I hope you'll scoop up!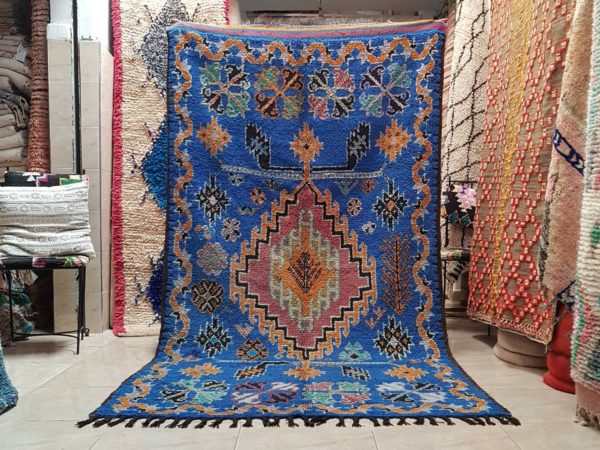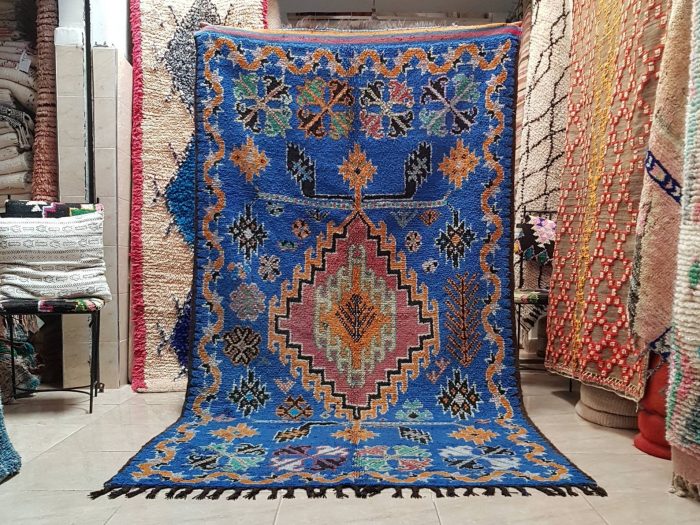 1. Blue Boujaad Rug: This one was in the running for our living room and since so many of you have asked about the one I ended up getting, I had to include this similar one here! The blue is SO SO pretty, and pretty rare in the Moroccan rug world. Believe me, I've looked. 😉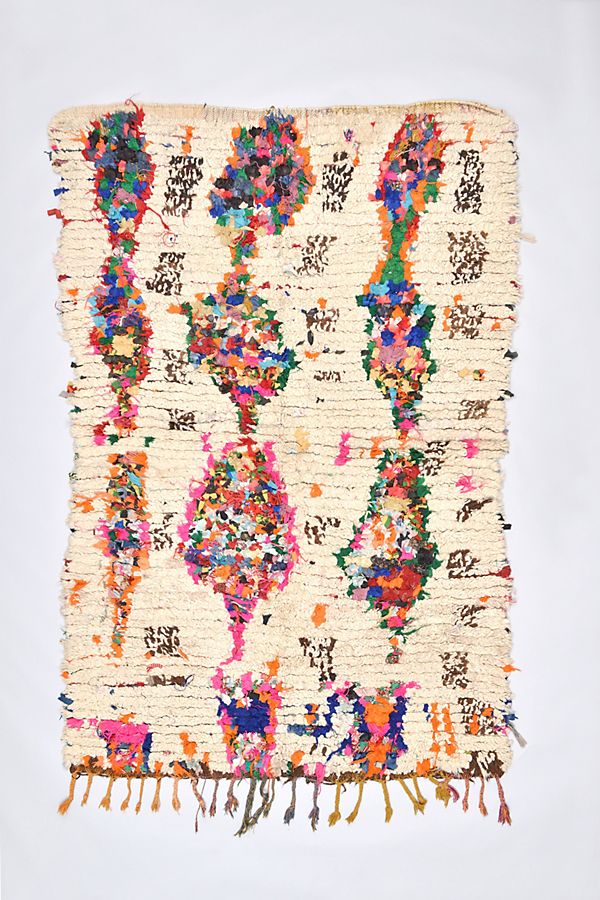 2. Bold + Neon Vintage Moroccan Ourika Rug: One of my fave rug shops, Soukie Modern, now has a select collection at Anthro and this is one of them! STUNNING! Would love to see this in an entry, hallway or as a pop of color in a neutral bathroom!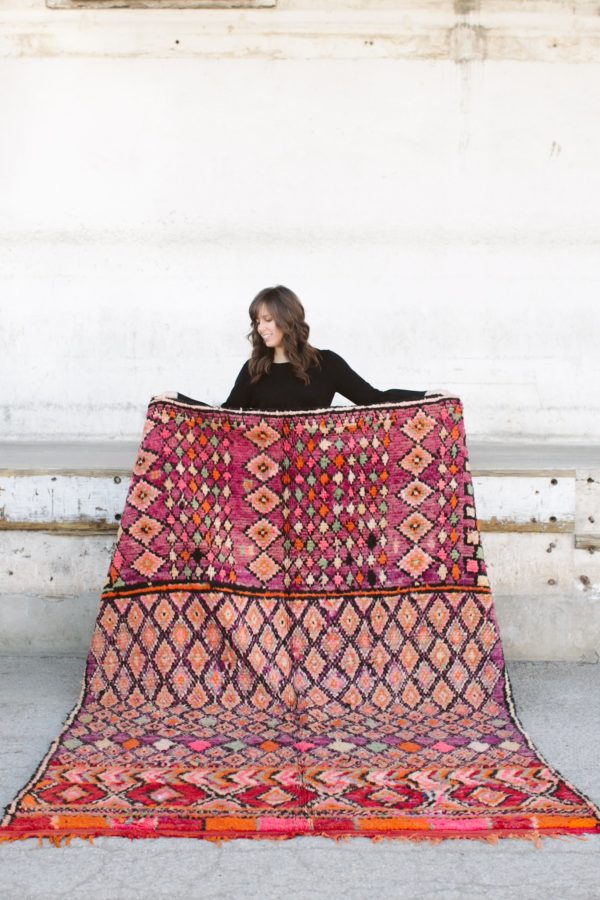 3. Geometric Vintage Boujaad Rug: This color palette doesn't really fit in our house but I have been SO DRAWN TO IT lately! The purples and deep pinks and oranges are so warm and inviting! This one belongs in a living room, right!?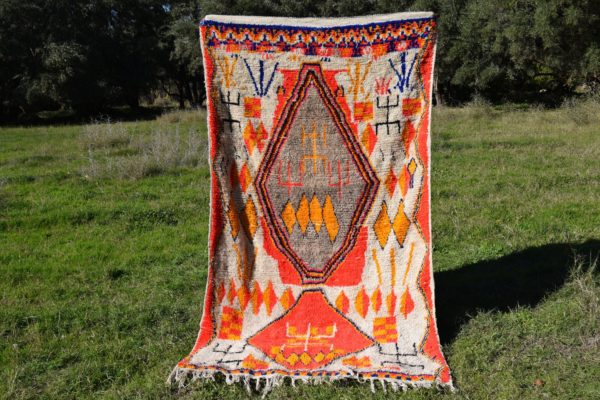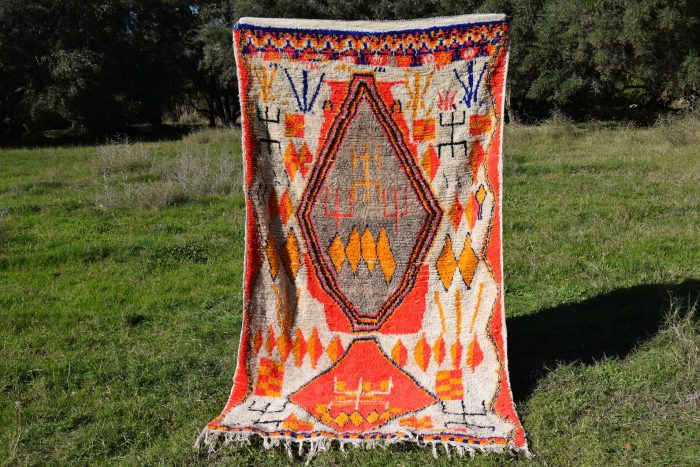 4. Vintage Orange Azilal Rug: I usually don't love orange but I've been drawn to it lately. Never seen a color combo like this one with that BOLD orange up there!! I think it would make a great piece in a kids bedroom. I'm picturing a blue stripe wall paper for some reason. It would be crazy but AWESOME.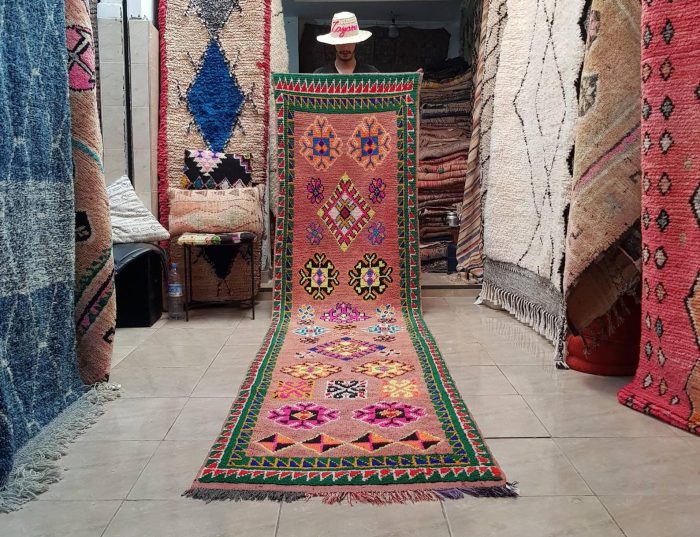 5. Pink and Green Vintage Beni M'Guild Runner: The colors in this are BLOWING MY MIND and I love how the green border really anchors it! (Click through to see some close ups.) Do you have the perfect hallway for this? Please tell me you do!!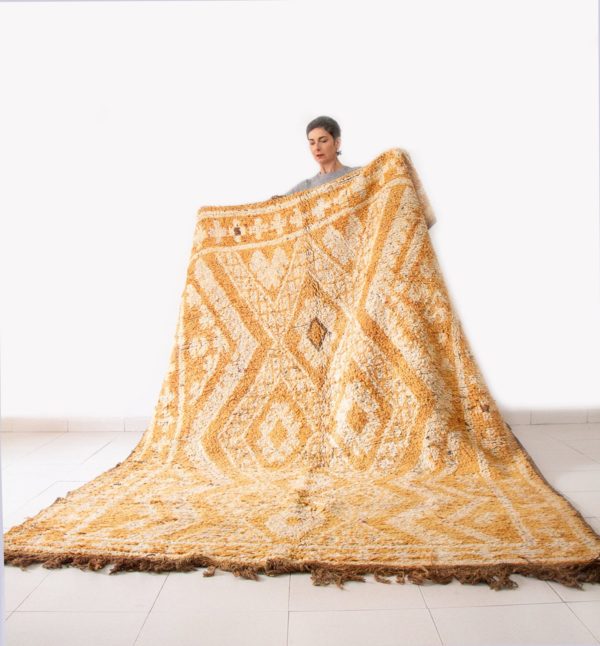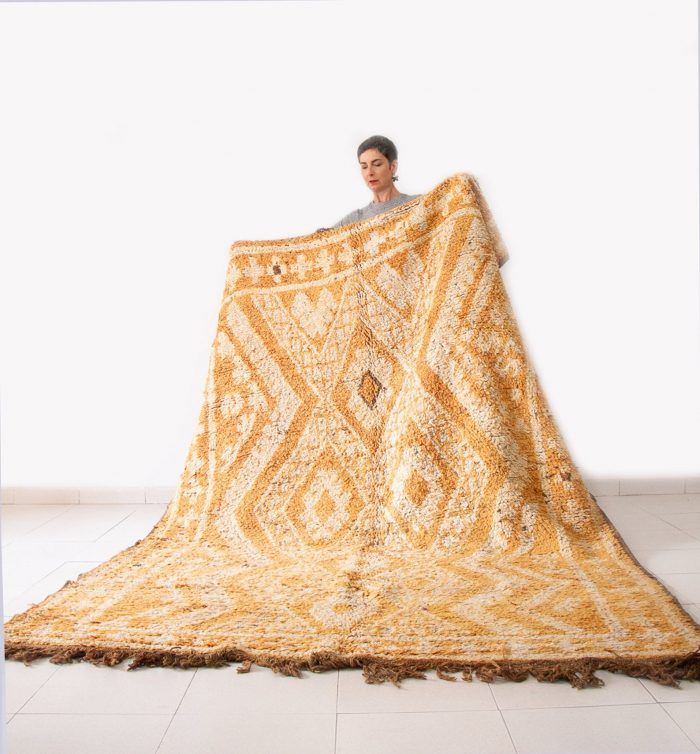 6. Saffron Vintage Moroccan Rug: Can you imagine this with a bold hot pink velvet couch in a living room!? 'Cause I sure can! I love that it's "neutral" in a way, but still brings that deep mustard color. I just keep coming back to this rug over and over again.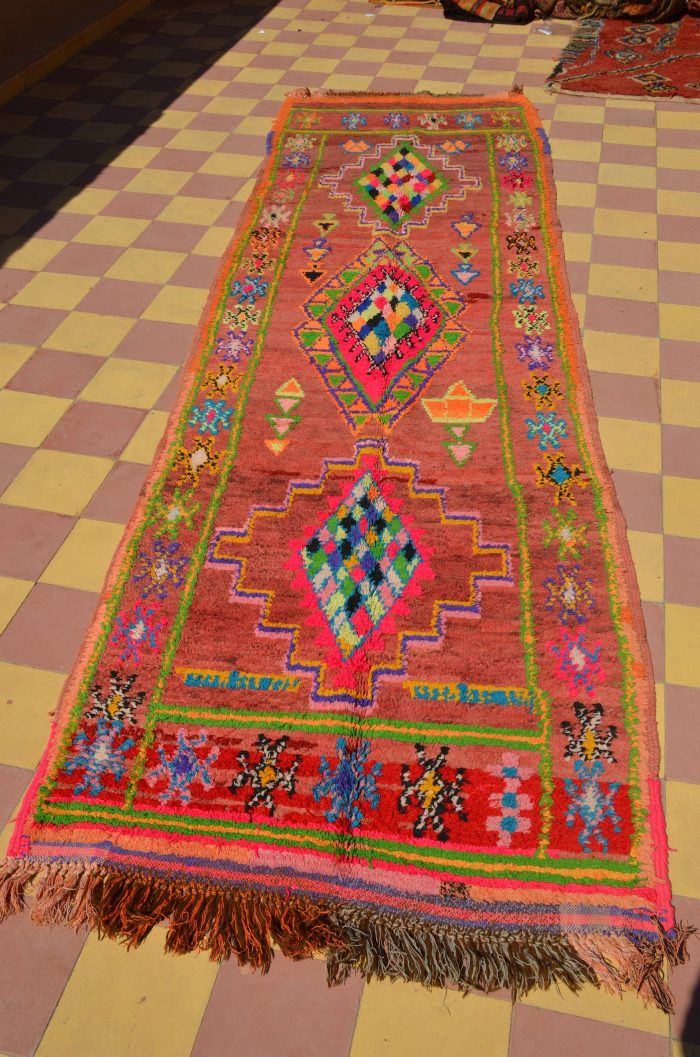 7. Neon Vintage Beni M'Guild Runner: Who's gonna be bold enough to have this neon runner in their home!? I want to be friends with you. If our hallway was more isolated and didn't compete with our living room rug, I would already own this.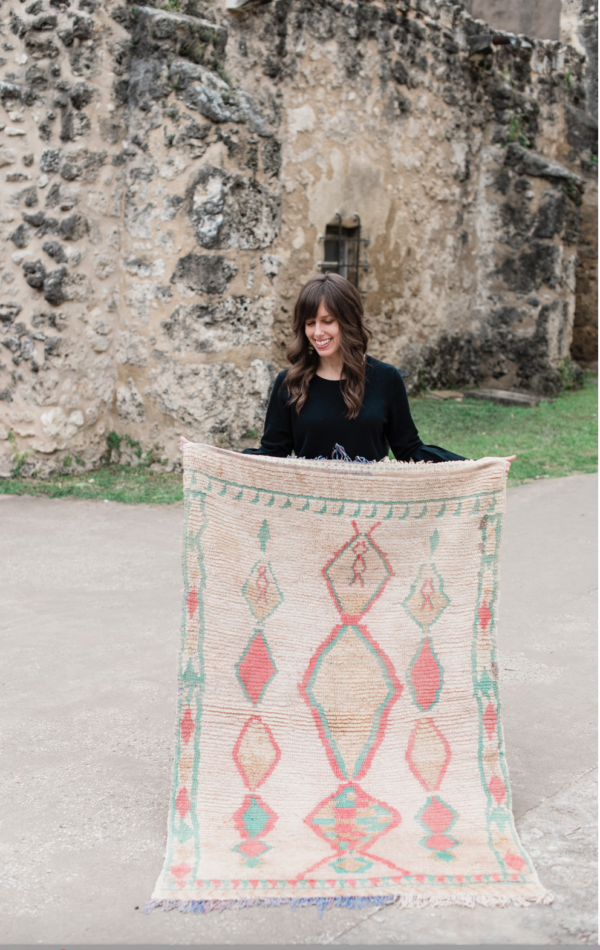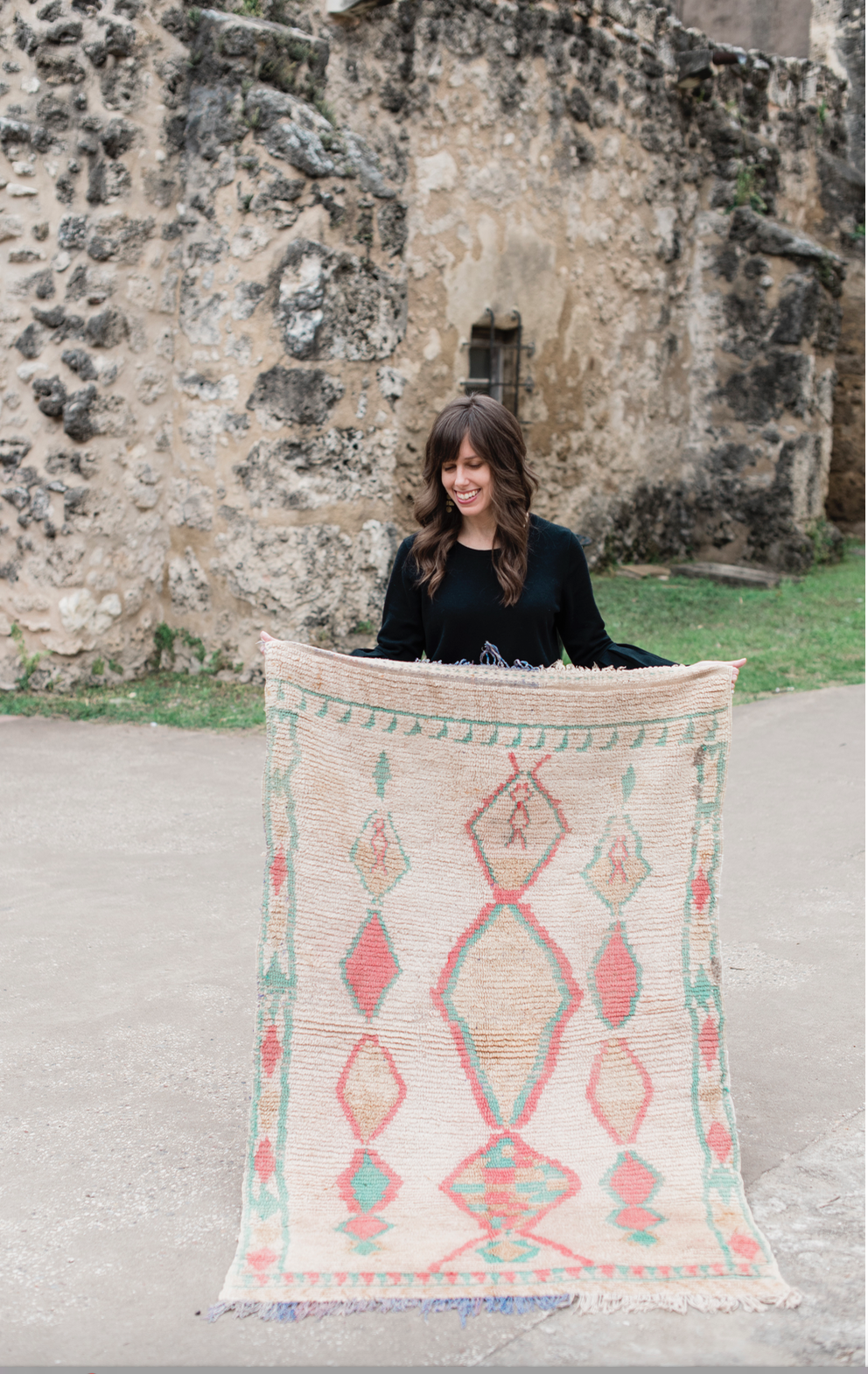 8. Vintage Pastel Azilal Rug: You know what I'm going to say here… nursery!!! A neutral, beachy nursery with this on the floor? SO perfect. It's named "Seaside" after all!!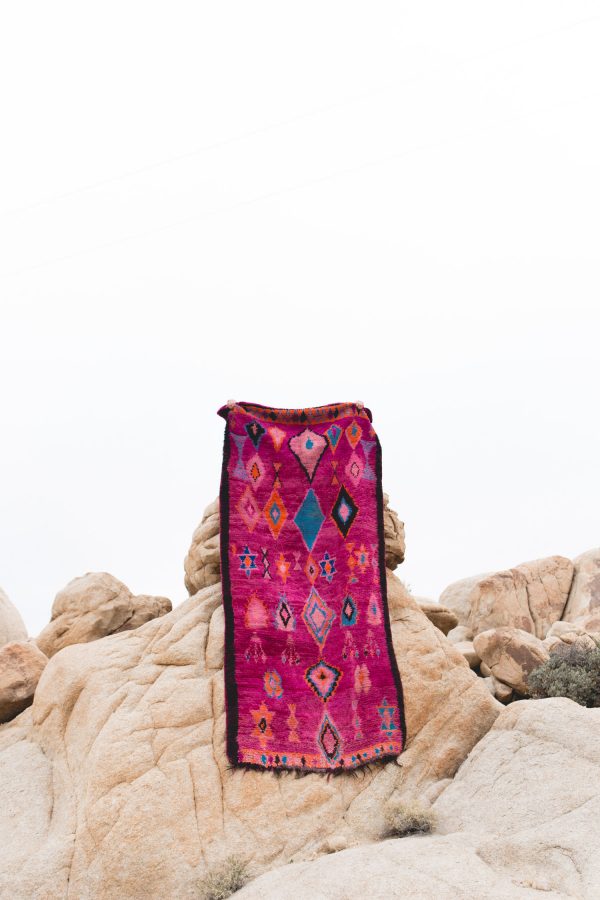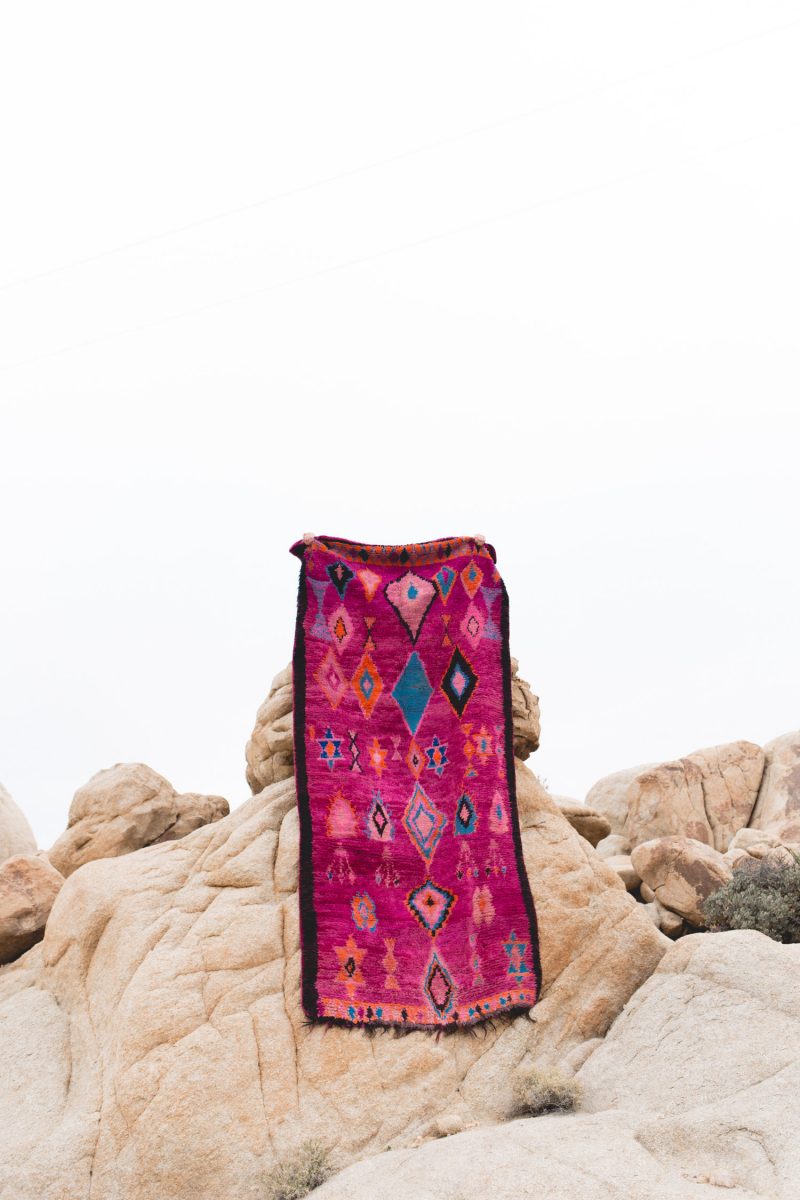 9. Vintage Jewish Tribal Rug: Did this berry hue stop you in your tracks like it did me!? Especially with those pops of turquoise on it. This would be a stunner with a tan leather couch OR at the foot of the bed with some sort of amazing cane headboard and black sconces!? I can't.
So, 1-9.. which one is your fave!? Let me know below!
How Do I Clean Moroccan Rugs?
Want to learn how to care for these rugs? Check out these professional tips for cleaning vintage rugs!
I regularly curate my favorite one-of-a-kind vintage Moroccan rugs, you can find more hand-picked selections below:
Vol 1, Vol 2, Vol 3, Vol 4, Vol 5, Vol 6, Vol 7, Vol 8, Vol 9, Vol 10, Vol 11, Vol 12, Vol 13, Vol 14