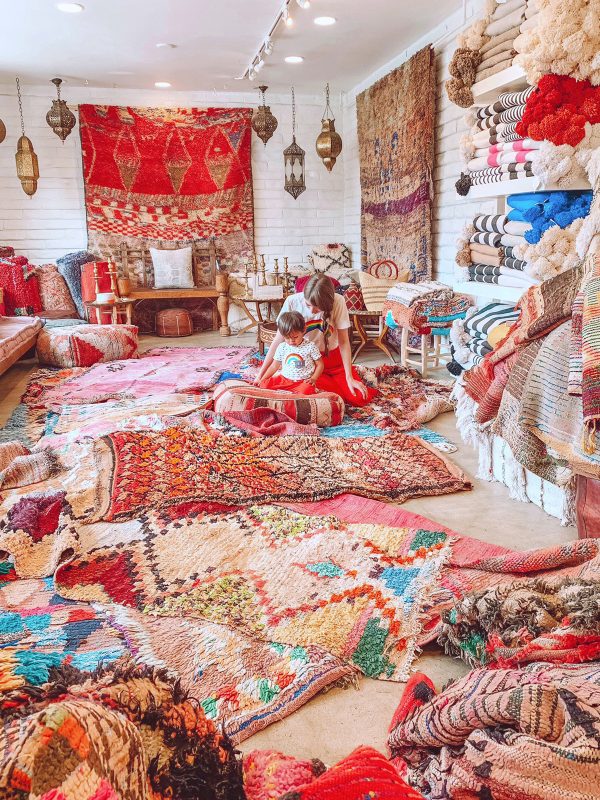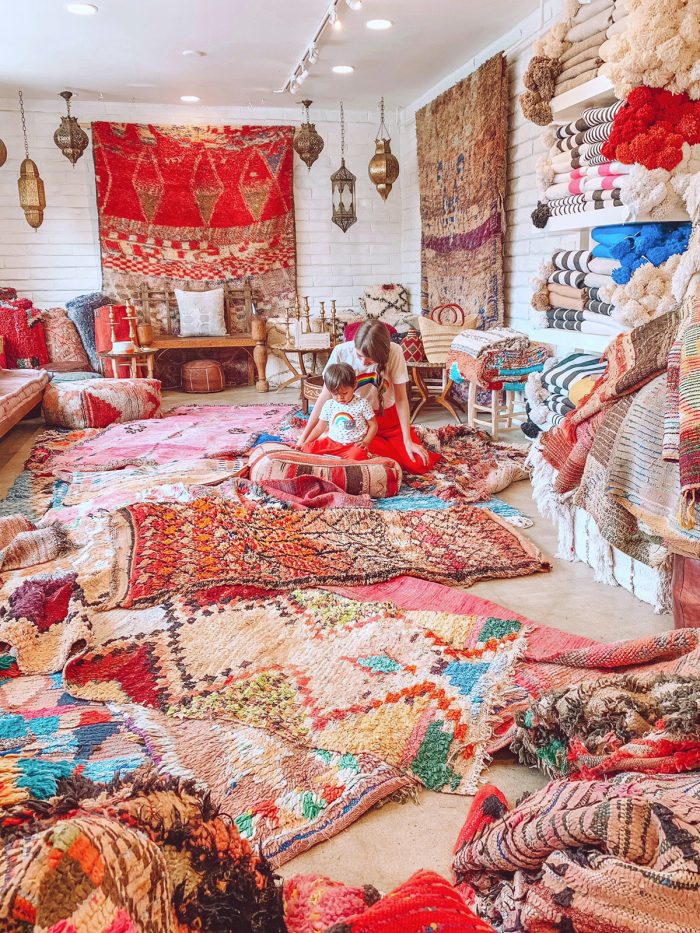 I'm finally doing it. A series of rugs I didn't buy, so you should. Partially to feed my obsession, partially to save my marriage, partially to take you all down with me. You're welcome?
If you're new here, or if you don't follow along on Instagram, I collect rugs. I'm not into fancy jewelry or shoes, but I absolutely love vintage rugs. I spend a good chunk of my time looking for them on the internet, whether it's for my house or just for fun, and my husband has mixed feelings about this habit. Haha!
I polled some of you on Instagram about starting this series, of rugs I find and love… but can't buy and you all said YES! I feel like blogging used to be so much more casual, with people finding cool random things on the internet, nothing fancy and no styled photos. So this is kinda my ode to that, too! Just a few rugs I love, every so often. Maybe you'll even find one that's perfect for you! But all I ask is for now is for you to tell me your fave in the comments 'cause I'm dying to know which ones strike your fancy! Mmmkay?? Let's do this!!!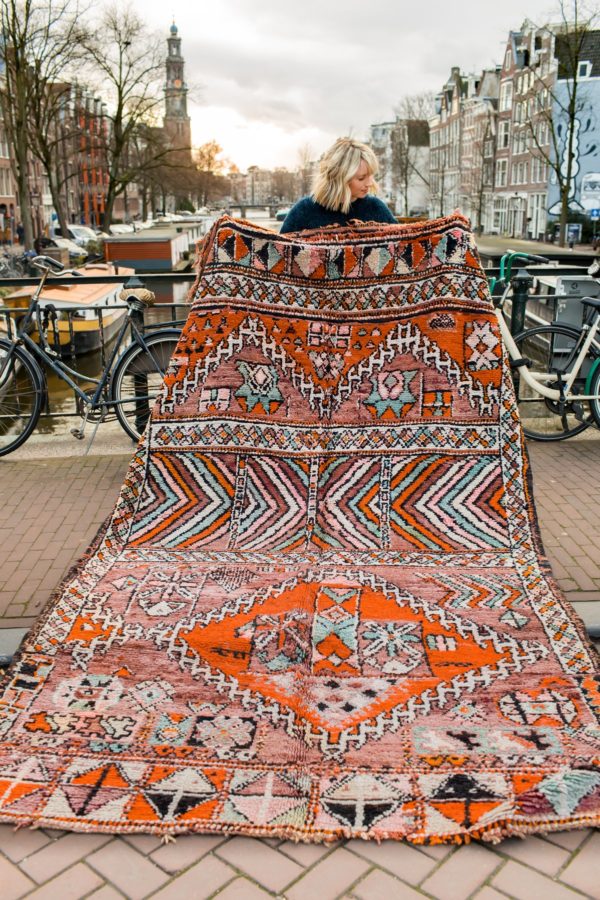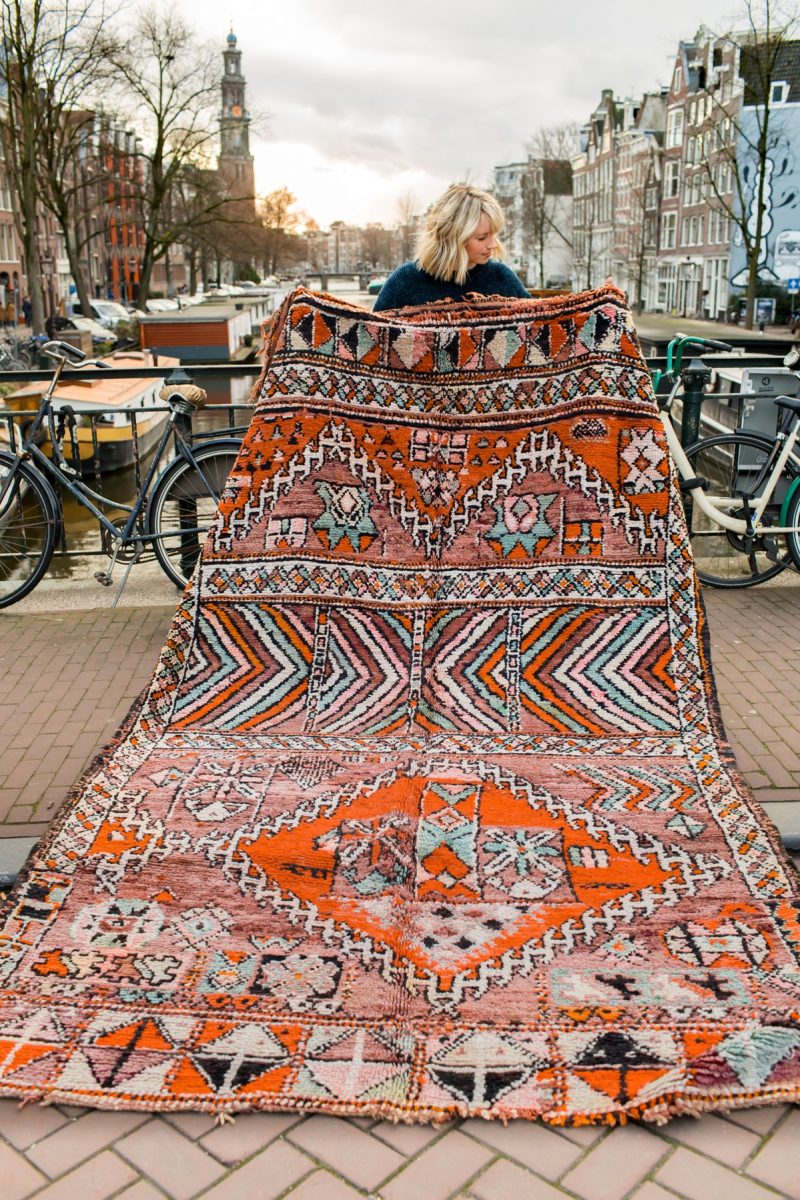 1. Orange and Aqua Vintage Boujaad Rug (Above)
I am not an orange person, but this rug could convert me. I considered it for my living room, but Jeff isn't in to orange either… and is not as easily swayed. Go figure! 😉 I just have never seen a color combo like this one before!!!! Truly, truly gorgeous and so unique!!!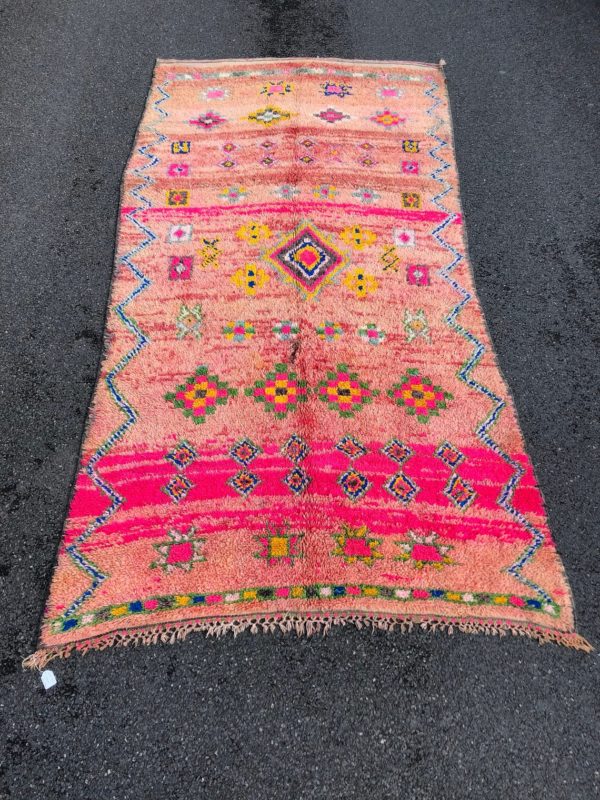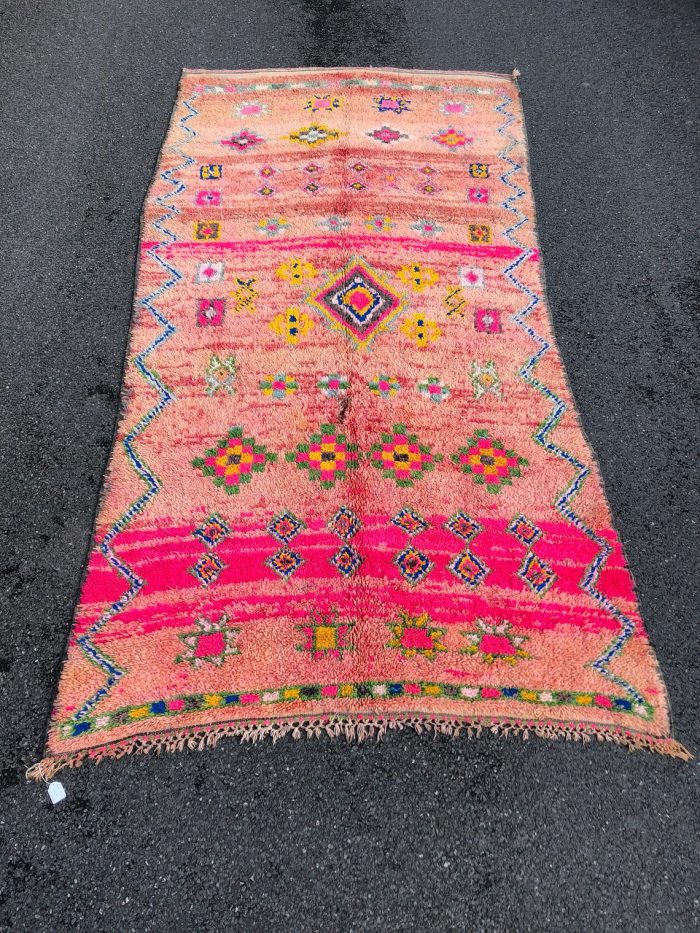 2. Peach and Pink Vintage Berber Rug – This color palette is the dreamiest. Those peaches and pinks together!!! It's obviously a gorgeous runner, but wouldn't this be perfect in a nursery too!?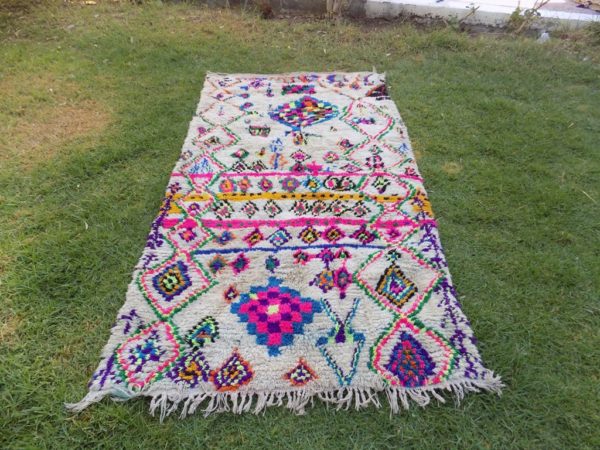 3. Colorful Vintage Azilal Rug – This one reminded me of the rug in Arlo's nursery, all the pops of bold neon colors!!! Would love to see this in a playroom, or in a living room with a gorgeous tan leather couch.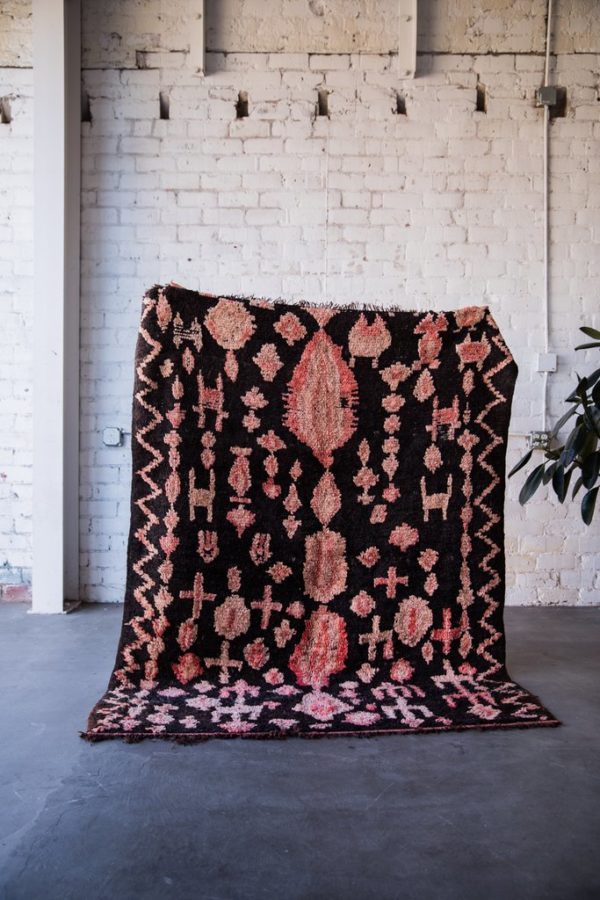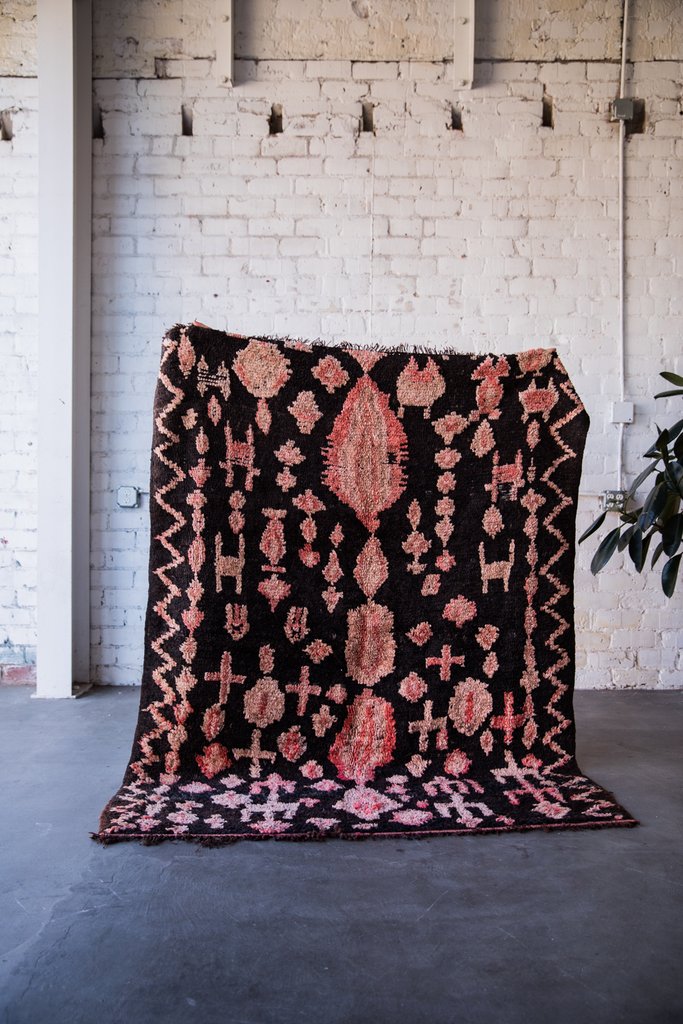 4. Black and Pink Vintage Ourika Berber Rug – Black moroccan rugs are some of my absolute favorite. I know, you'd all probably FREAK if I used one since I never wear or use black really in my home but the way it makes the colors pop. I can not BELIEVE someone hasn't scooped this one up yet!!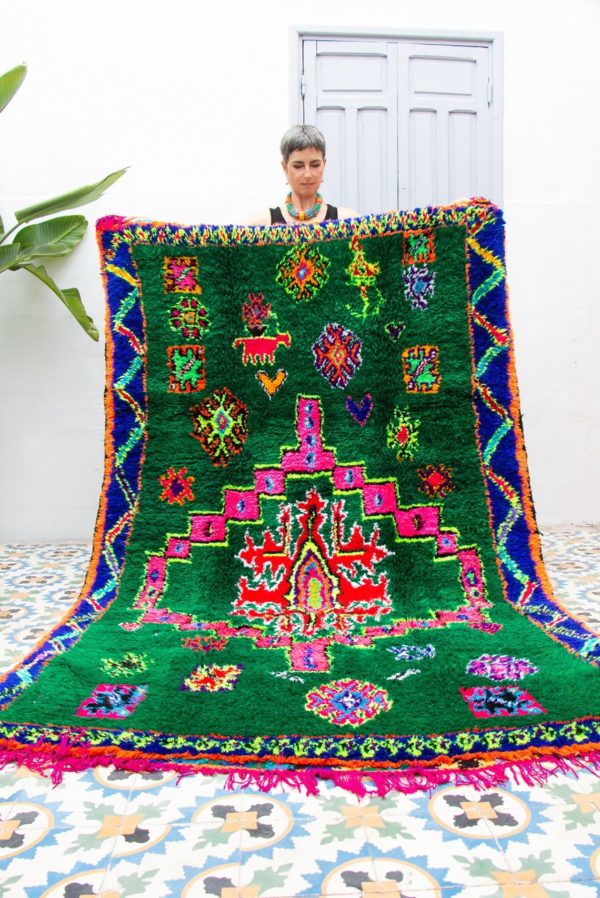 5. Emerald Green Vintage Boucharouite Rug – Can you EVEN with that green color!?!? I feel like someone could do such a bold dining room with this rug, with some sort of amazing wallpaper and just really going ALL OUT. I can't stop staring at it!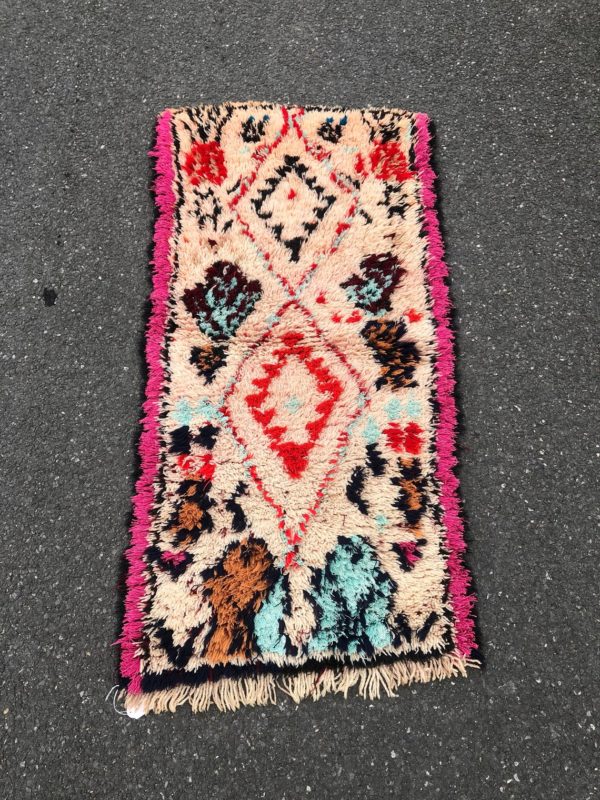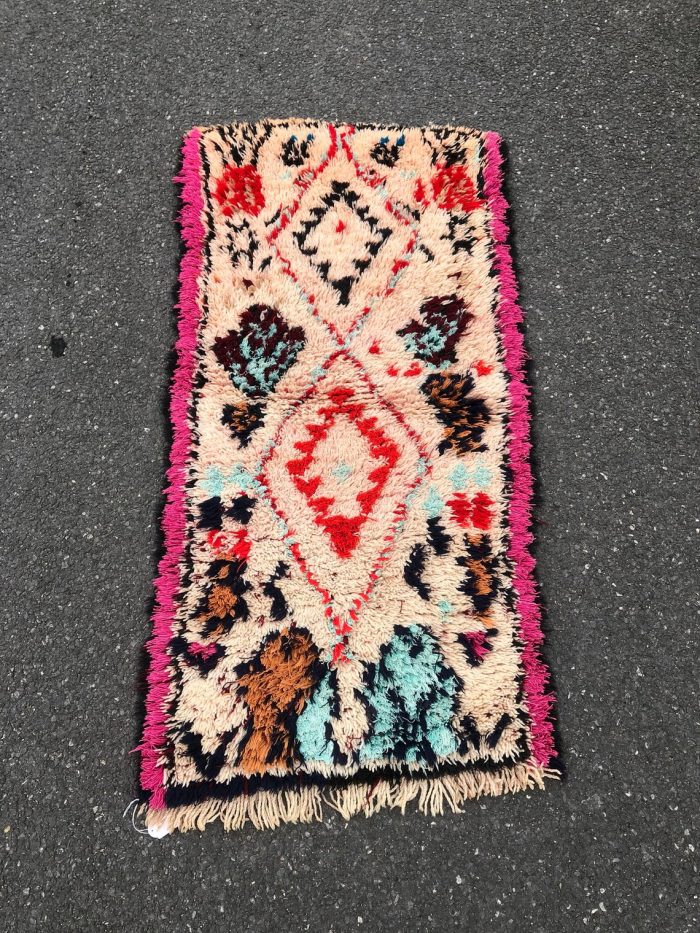 6. Hot Pink and Aqua Vintage Azilal Moroccan Rug – Something about this color palette really intrigued me. That pretty aqua blue contrasted against the hot pink and caramel colors… and the red thrown in there, it's so different! This would be perfect in a bathroom or a kitchen, in front of the sink!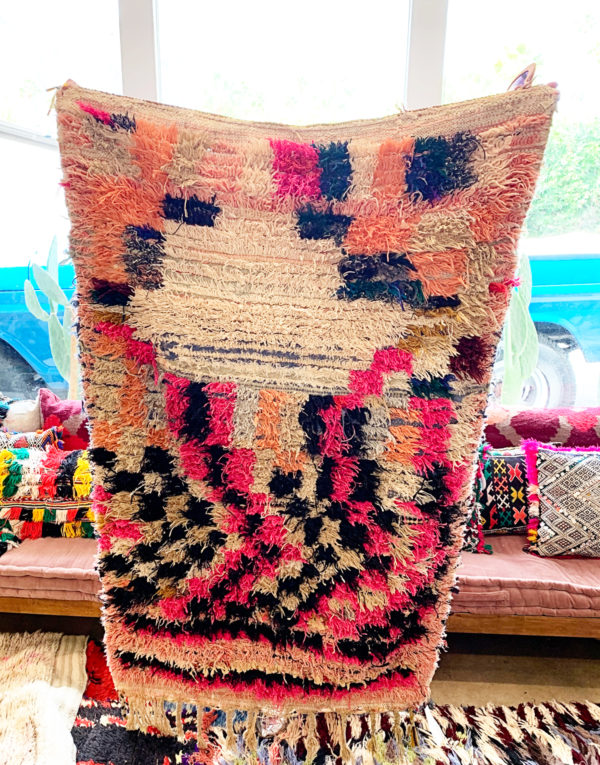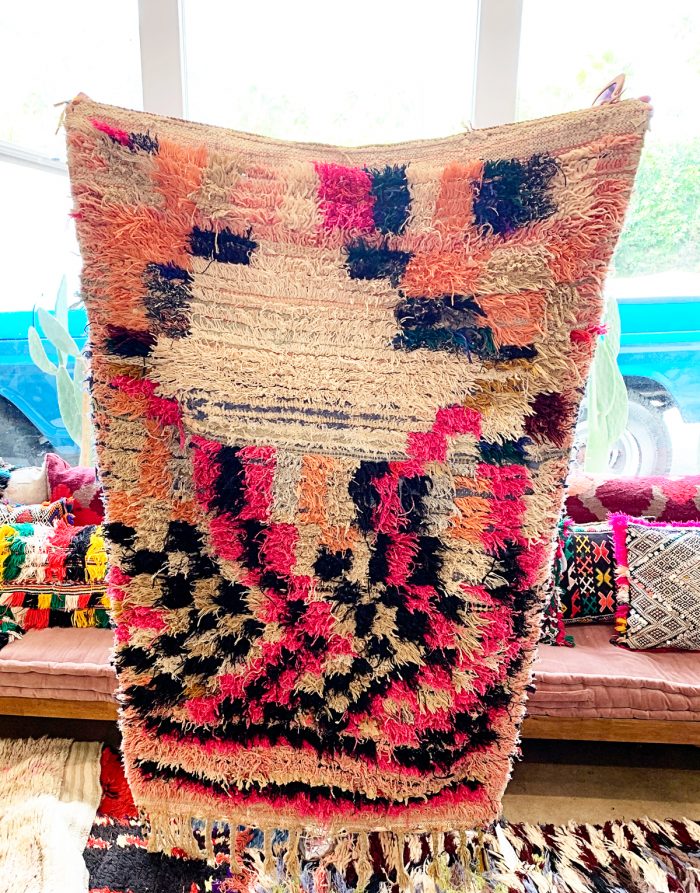 7. Shades of Pink Vintage Rug – You may recognize this pic from my Insta stories… it's from Soukie Modern where we picked up a few rugs recently. I can't quit thinking bout ti. I'm not usually one for the checkerboard pattern you see on many of these rugs but something about this one with the abstract design of the pattern and the shades of pink really hooked me. It's not listed online but you can shoot them an email to inquire about this or other rugs they sell!
Alright so tell me, which one is your fave!?!?
All images are by/from their respective shops (except for the last, which is an image I took), click through to view the full rug listings of each one!
Vol 1, Vol 2, Vol 3, Vol 4, Vol 5, Vol 6, Vol 7, Vol 8, Vol 9, Vol 10, Vol 11, Vol 12, Vol 13, Vol 14